I love making restaurant maps in all the countries I visit. In this article, I am going to share with you my Bangkok Thai food trail and I promise you, these are the best ones! Let me know which one you is your favorite!
📬 Reader Mail: Trisha, I have been following you since 2011. I am very amazed that you are still living the life of travel. Kudos to you! I can see you traveled Southeast Asia extensively and is an avid foodie!
Can you please share the best and authentic Bangkok Thai food? My family and I are visiting Thailand soon and I want to show off by giving them the most local eats!
Thank you for all that you do and more power to you and your blog!
-Joann Garner, New York
Hi Joann!
Thank you for reaching out! And thanks for following this journey! I am glad that you decided to come to Bangkok. Although it's not my favorite in Southeast Asia, it is one of the cities I frequented. I love the food culture in Bangkok because it's so cheap!
I have a few Bangkok Thai food places that I always go to whenever I am in the city. I never get tired of them! I also brought my family to Bangkok (we were 10 cousins traveling together) and they loved all these places!
Good luck in your travels and if you ever need more information about Bangkok travel, please feel free to get in touch with me via e-mail or Instagram. Thanks for all the support!
Xx,
Trisha
What food is Bangkok famous for?
When you hear the word Bangkok, you will always associate it with street food. There are over 10 Michelin star street food in Bangkok. 74-year old woman, Jay Fai is one of the Michelin star holders in Bangkok street food.
Apart from street food, Bangkok has a lot of very nice restaurants that offer different types of cuisine. For example, renowned chef Gaggan Anand operated in Bangkok for years but his restaurant is now closed.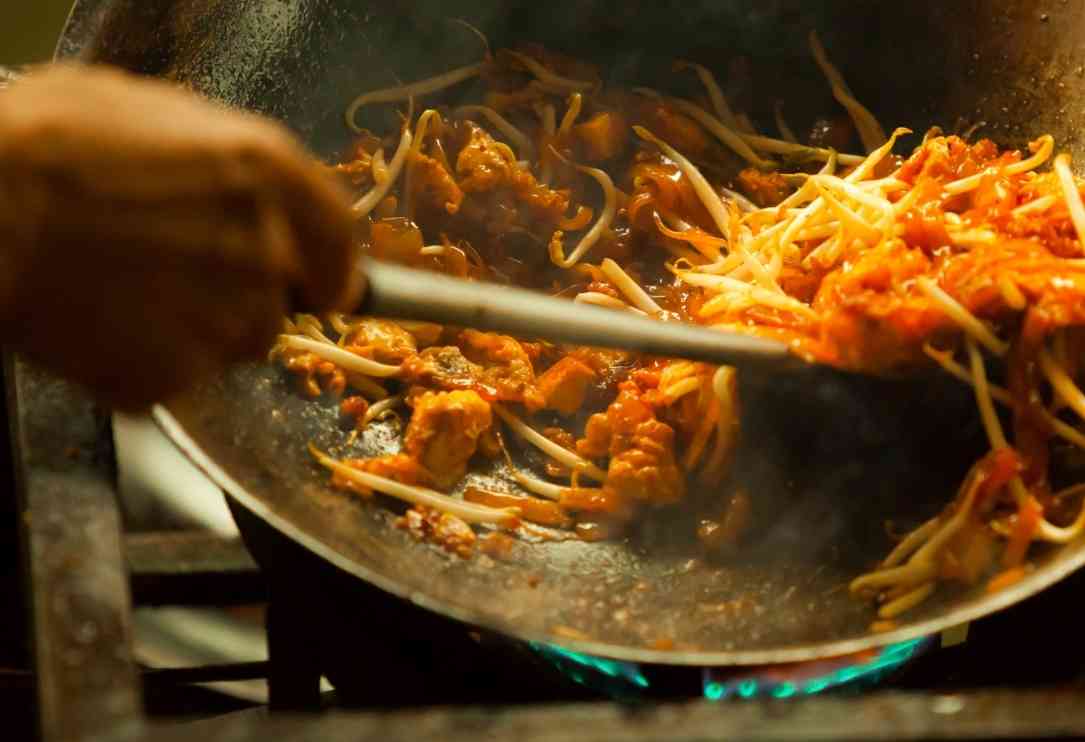 He became the top restaurant in Asia in the World's 50 Best Award and I must say it's quite an achievement to succeed with Indian cuisine in a country like Thailand who has strong ties with their food.
There are also many Italian restaurants popping in Bangkok. Chef Anthony Burd opened Tony's in the middle of a pandemic and he managed to pull through.
What is the most popular food in Bangkok?
The most popular food in Bangkok is pad thai. We all love it. It's a worldwide sensation. Pad thai is the top noodle dish of Bangkok, stir-fried with eggs, fish sauce, dried shrimp, tamarind paste, shallots, palm sugar, and then topped with lime.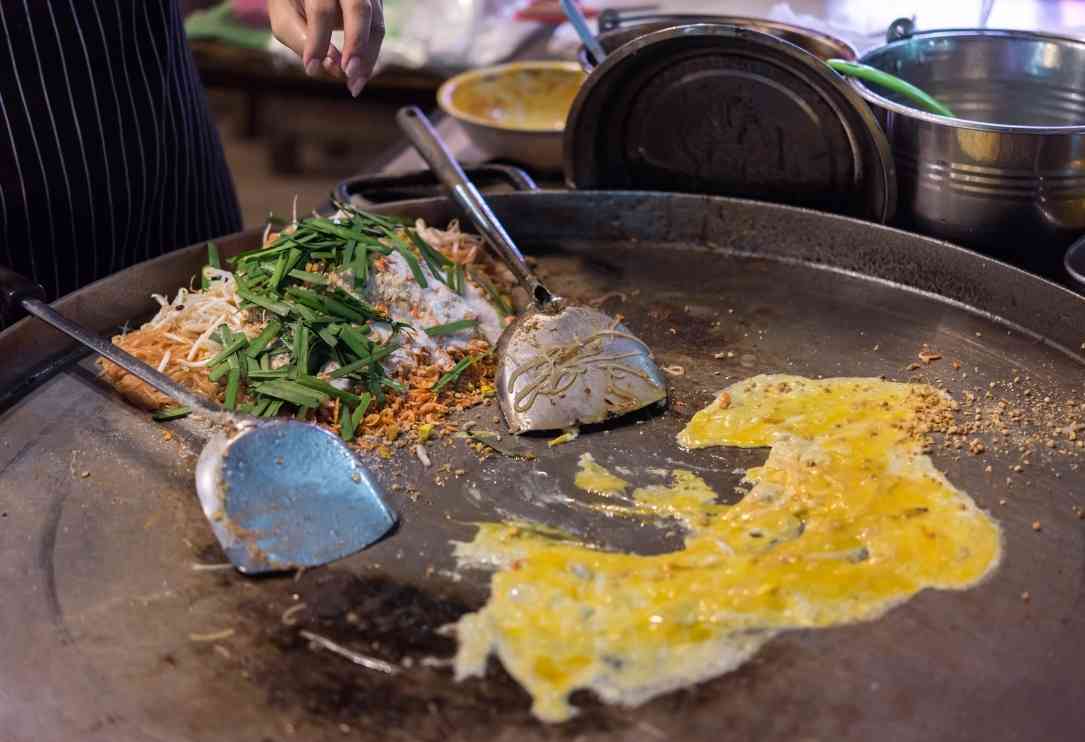 Another popular food in Bangkok is the mango sticky rice. All of the cooking classes in Bangkok that I attended are teaching mango sticky rice since it's very easy – a tasty Thai dessert that you won't find somewhere else!
Other Southeast Asia food guides that you may also like:
☕ Support this blog's honest and transparent journalism. Help us add value to our content! Keep P.S. I'm On My Way content free for all by donating to our coffee fund.
10 essential Bangkok Thai food
#1: Nara Thai Cuisine
💲 $7.45 USD – $15 USD | 📍 Central World, 7th Floor, Rama 1 Road, Pathum Wan, Bangkok
Affordable, authentic, and premium Thai food. Nara Thai Cuisine never fails whenever I visit Bangkok! At first, I thought it's going to be very expensive since it's located inside the shopping center but it turned out to be super affordable!
Imagine, you can get high-end Bangkok Thai food for as low as $7 USD! Before the food comes, you need to order their cocktails – they are all super good!
Nara Thai Cuisine has a great selection of noodles. My favorite is the Pad Thai Kai Krob with prawns and crispy egg floss ($7.50 USD).
For Kuay Tiew lovers, you can get the Kuai Gai which has chicken and marinated squid for only $4.75 USD!
Need more information? Check out all blog posts about Bangkok travel
They also have curry and soups. Try the Tom Yum Goong (river prawns in spicy lemongrass and lime soup) for $13 USD.
If you're coming with a group, the best side dishes to share are Phad Yot Mara, a stir-fried chayote sprout ($5 USD) and Nua Phu Phad Prik Reung which is stir friend crab meat with yellow chili ($14 USD).
The menu at Nara Thai Cuisine is really big and can be overwhelming but rest assured that whatever Bangkok thai food you are craving, you will find it here!
#2: Jay Fai (🌟 1 Michelin Star)
💲 $14 USD – $30 USD | 📍 327 Maha Chai Rd, Samran Rat, Phra Nakhon
Jay Fai is one of the street food in Bangkok that has a Michelin star! This is one of the most popular Bangkok Thai food and is flocked by many.
You will always see long lines here during peak hours. Prices are a little bit higher but all plates are for sharing. Make sure to bring your crew and don't eat alone!
Jay Fai's specialty is Tom Yum so if you are looking for a well-made Tom Yum, this is the place. My favorite Tom Yum here is the Tom Yum Goong, a very traditional sour soup with seafood, prawns, and fish.
For noodles, I really love the Guay Tiew which is rice or egg noodles with seafood and prawns. If you want noodles with your meat, try the Geaw nam which is minced pork wonton. Their congees are good too!
#3: Mae Varee mango sticky rice
💲 $3 USD | 📍 1 Thong Lo Rd, Khlong Tan Nuea, Watthana
Mango sticky rice is the most famous dessert in Thailand. You won't miss it because they sell it almost everywhere. However, there is this one go-to place in Bangkok when it comes to mango sticky rice and it's Mae Varee!
Mae Varee is a popular takeaway counter for mango sticky rice. Please bring your own Tupperware and cutlery. As you can see above, Bangkok has a crazy plastic problem and I feel very uncomfortable with their plastic culture.
#4: Blue Elephant
💲 $14 USD – $30 USD | 📍 BTS station, 233 S Sathon Rd, Yan Nawa Sathon, Surasak
If you want a complete lunch set, then Blue Elephant is the place! The menu is very small (with a selection of 3 for each course).
All three starters are super good! The steamed purple dumplings (with chicken) are my favorite and I always order it with my lunch set.
The rose spring rolls are made with minced (free-range) chicken, cabbage, shitake mushrooms accompanied with a sweet and sour chili sauce.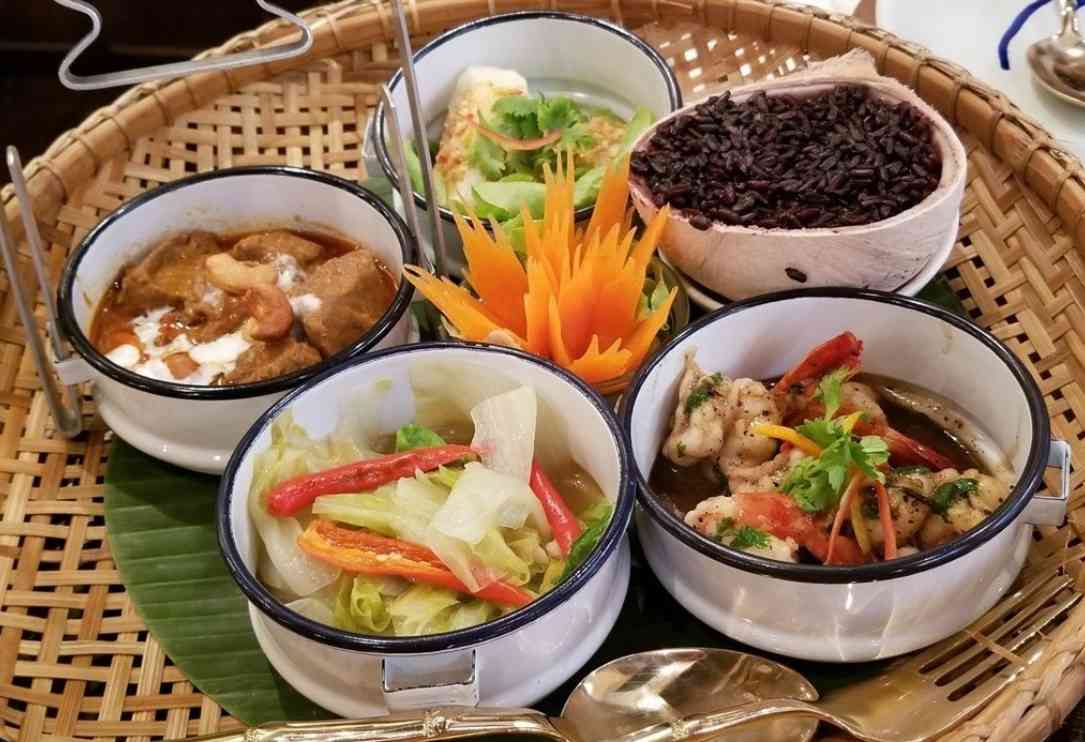 Then you have the crispy rice field catfish salad with mango, a starter in Blue Elephant that I have yet to try!
For the main courses, you can choose from duck salad with tangerine sauce, Penang beef, and stir fried prawns with butter beans and shrimp paste. (Yep, I tried the duck but not the shrimp).
You can order side dishes like Jasmine rice and stir-fried morning glory. Finally, the best dessert here is the taro ball and Thai melon for a refreshing finish!
#5: Si Morakot Khao Moo Daeng
💲 $3 USD | 📍 80-82 Sukon 1 Alley, Talat Noi, Samphanthawong
People flock Si Morakot for its very delicious Khao Moo Daeng. It's steamed rice with red pork on top, half-boiled duck eggs, and crispy fried pork.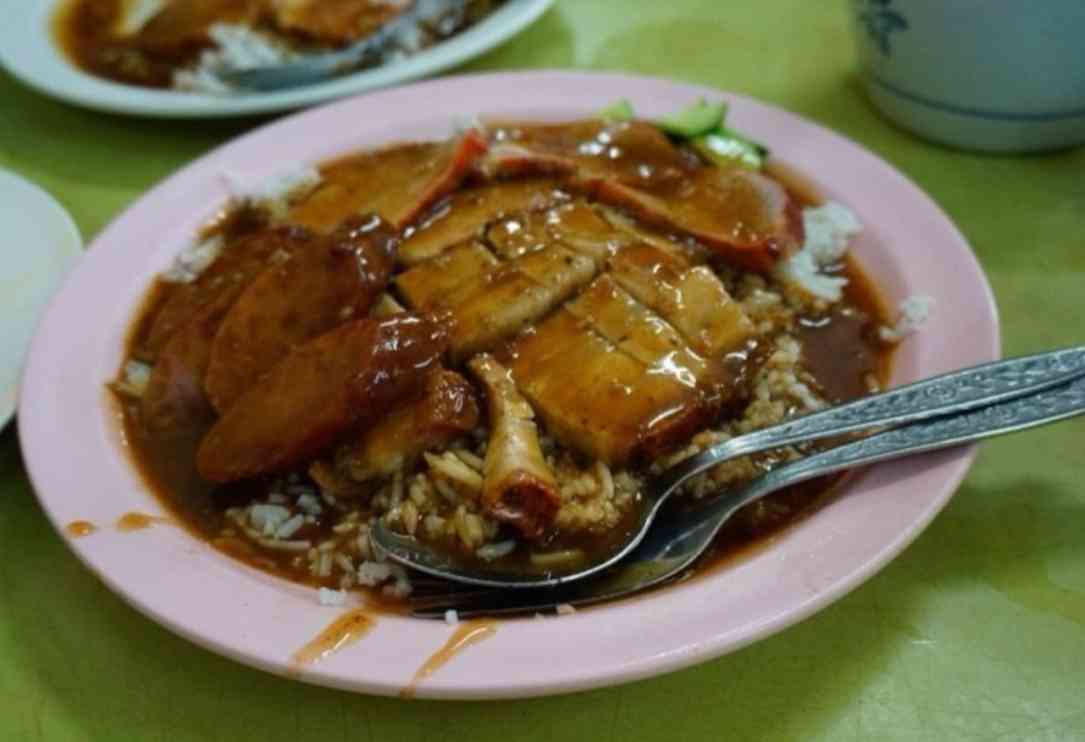 This dish is very common in China and I've seen it a lot in Taiwan. It's such a filling dish! It's also accompanied by cucumbers and green shallots topped with bean gravy.
#6: Nahm (🌟 1 Michelin Star)
💲 $10 USD – $50 USD | 📍 27 S Sathorn Rd, Thung Maha Mek
Nahm is a Michelin star restaurant but it's not a street food stall – it's a proper restaurant and can be classified as fine dining. A set meal at Nahm costs $48 USD.
Nahm has a wide selection of curry and it is one of their specialties. My favorite curry here is the chicken curry with pickled cucumbers ($23 USD).
I was always curious about the Muslim oxtail curry but never really had the chance to try it. For vegetarians, you can order the yellow curry with cauliflower, tomatoes, and cucumber ($18 USD).
The oyster and Thai salad topped with peanuts, toasted coconut, and shallots is also highly recommended ($23 USD). A good dessert to order at Nahm is the sweet Thai wafers with poached persimmon and golden duck egg noodles ($10 USD).
#7: Somboon Seafood
💲 $3 USD – $10 USD | 📍 169 / 7-12 Thanon Surawong, Suriya Wong, Bang Rak
Should you crave seafood, Sombon is your go-to place. You can always order everything for sharing and I love the ambiance of this restaurant! You can sit here, drink beers, and eat all day as many Thai people do. The seafood Tom Yum is a must-try.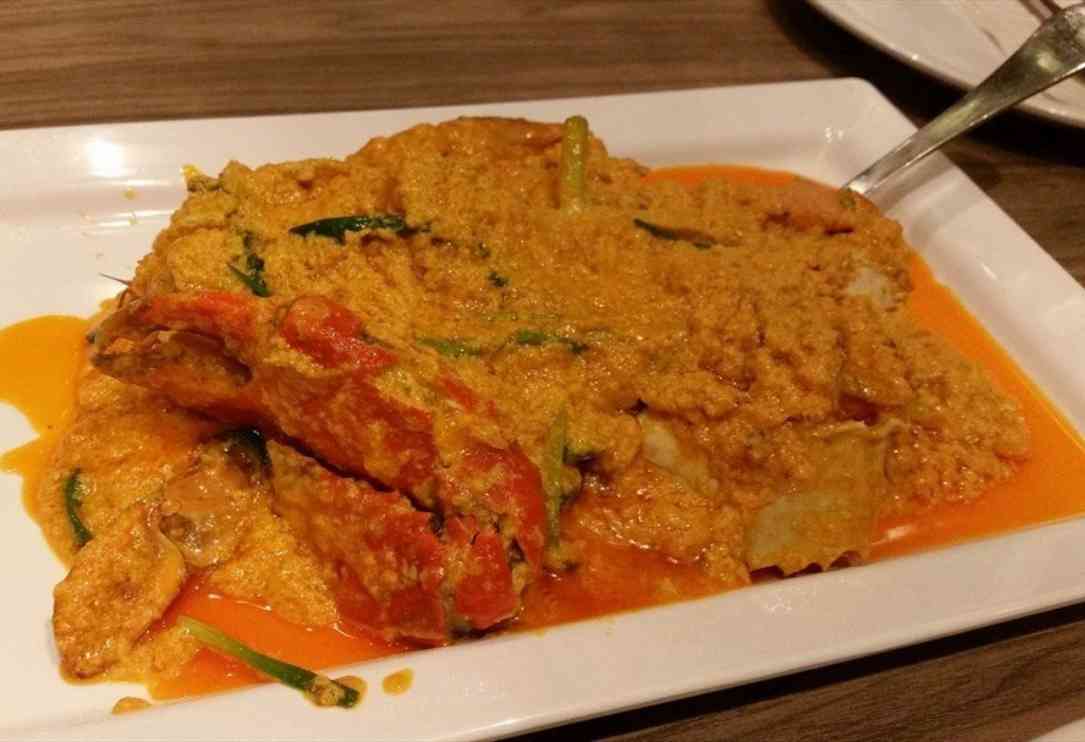 Somboon Seafood is famous for their fried curry crab so order that, too! It's not physically appealing but I swear, you will love it, especially if you like crabs! There is no dish similar to it!
#8: Somtam Nua
💲 $3 USD – $20 USD | 📍 392, 12-14 Rama I Rd, Khwaeng Pathum Wan, Pathum Wan District
Mega crazy long line all the time. I'm not kidding! I never came here without falling in line. You know why? Because everyone wants a hold of their delicious fried chicken basket ($4.50 USD). It's cheap, it's really delicious and somehow an automatic dish to order whenever you are at Somtam Nua.
Of course, this restaurant is very famous for the somtam which is the Thai green papaya salad. Choose from a great selection of Somtam with salted crab ($2.37 USD), somtam with dry shrimp and peanut ($2.23 USD), and my very favorite, the somtam with salted egg ($2.52 USD).
Aside from somtam, the fried fish dishes here are also worth trying. But beware because it's for sharing! Always order Jasmine rice on the side. It's a requirement when in Thailand.
#9: Ann Guay Tiew Kua Gai
💲 $3 USD | 📍 419 Luang Rd, Wat Thepsirin, Pom Prap Sattru Phai
Guay Tiew is a popular noodle dish not only in Thailand but also in China and many parts of Southeast Asia. The Thais have reinvented their guay tiew by using their own noodle types. They also added other ingredients like meatballs, beef, roast pork, and crispy egg.
While there are many Guay Tiew restaurants in Bangkok, Ann Guay Tiew Kua Gai is my favorite because I feel like the ambience of the place is more local and it's also very cheap!
Ann Guay Tiew Kau Gai does not have a Michelin star but is always on the yearly list of Michelin's Bib Gourmand restaurant (2018-2022).
#10: Thipsamai Phad Thai
💲 $2 USD – $10 USD | 📍 313 315 Maha Chai Rd, Samran Rat, Phra Nakhon
Pad thai wrapped in eggs? A pad thai omelet?! What?! Don't worry, that was also my first reaction and I couldn't really picture it in my head until it came to the table. And it works! Truly, a signature dish that I haven't tried anywhere else in the world.
Come to think of it, pad thai dishes area already with egg. The only difference here is that they covered the noodles with egg and made it like an omelet.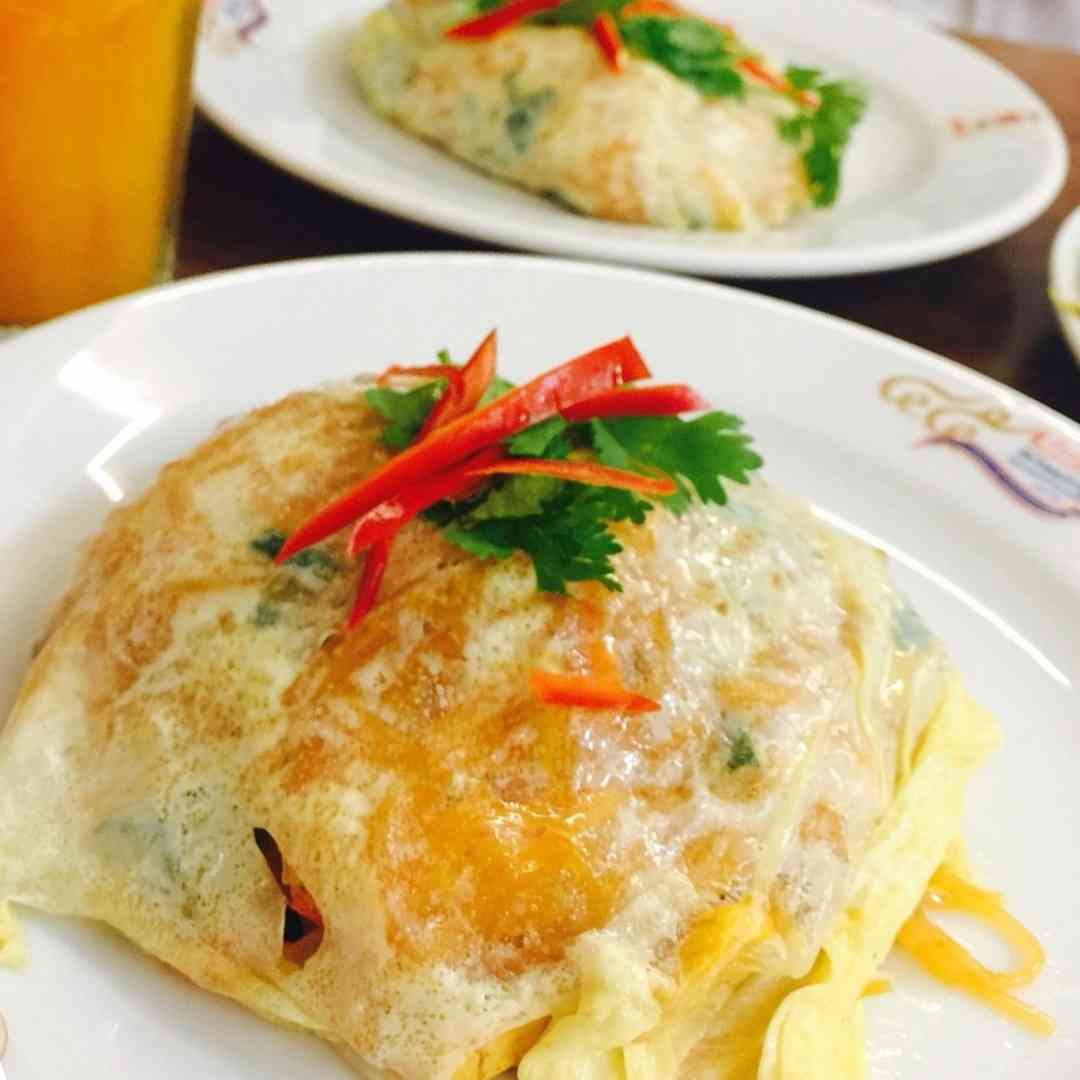 I really love it! This is what Thipsamai is famous for but they also have regular pad thais if you don't feel like having the omelet.
It's never hard to order at Thipsamai because they have such a short and straightforward menu. Although I freaked out when all their dishes have shrimp.
I know it's weird that I do not like shrimp! You can request to remove some ingredients for your pad thai or if you are really picky, order the vegetarian version.
Essential Bangkok Thai food on Pinterest: save it for your trip!
Trisha is one of those people who left their comfortable life to travel the world and learn about life. Her style is to stay in one place she likes for 3 months (or more) to know what it feels like to eat, cook, speak, and sleep in another culture that isn't hers. She'd like to believe she's not traditionally traveling but she just chooses to be somewhere else all the time. In no particular order, her favorite cities in the world are Barcelona, Buenos Aires, Hong Kong, Mexico City, and Tel Aviv.