I go to Valle de Guadalupe Mexico, almost every month since it's close to my home in Los Cabos. In this post, I will share my travel experiences and answer your question: "Is Valle de Guadalupe safe?" If you ever need more info, go to my Valle de Guadalupe travel guide!
📮 Hello Trish! I am glad to find your Mexico blog! I live in San Diego and I plan to have a bachelorette party in Mexico. The top destination in mind is Valle de Guadalupe but I am afraid I do not know a lot about this area even if it's near San Diego. Is Valle de Guadalupe safe? Can I do my bachelorette party there? It may seem like a dumb question for you since I've seen that you are always in Guadalupe. But I genuinely have no idea on what to expect there. Thank you for everything that you do!

Janie Perrotta, United States
Hola Janie!
No, don't worry! I never think that traveler questions are dumb! This blog thrives on questions from travelers like you so please, keep them coming – I love answering them!
Valle de Guadalupe Mexico is a great place for a bachelorette party! Every time I am there, it always seems like there is someone who's getting married. It is a popular destination for weddings, too!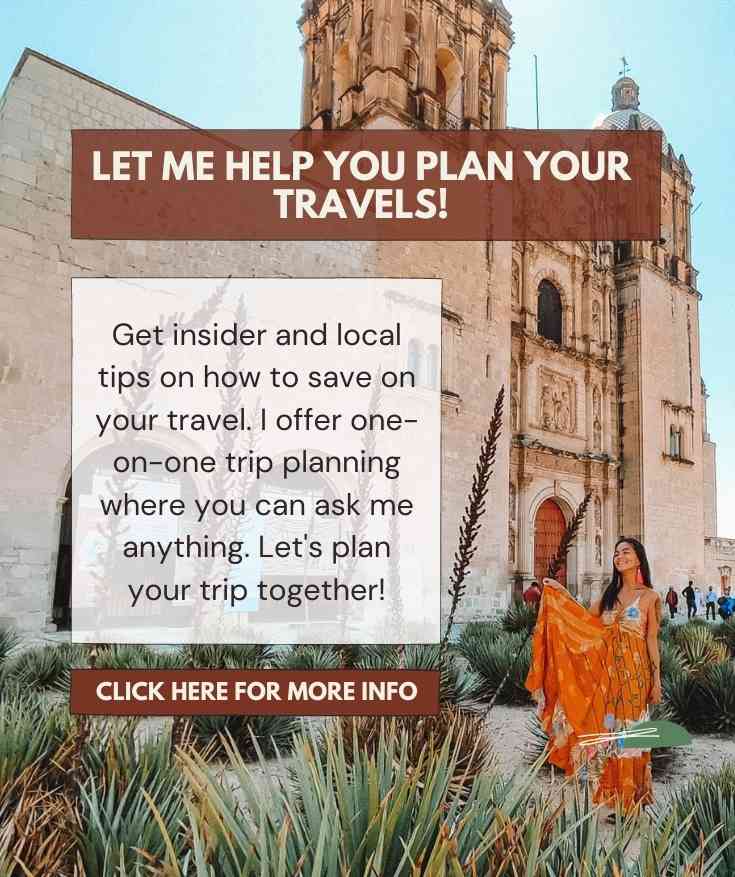 Anyway, in this post, I will share all my personal experiences about this fantastic wine country in Mexico. This is my favorite spot in Baja Norte; that's why I am here regularly!
Good luck with your bachelorette party, and congratulations! If you need help planning, my office can always assist – just let me know!
Xx, Trisha
🙋 Questions about Valle de Guadalupe, Mexico? Ask me on Tiktok!
🔗 Valle de Guadalupe Mexico: quick links
🗺️ Valle de Guadalupe Mexico Map
🚫 Is Valle de Guadalupe safe?
YES. And I am not only saying this because I am frequently in Guadalupe. As a solo female traveler, I never felt unsafe in Valle de Guadalupe Mexico.
But of course, let us clear my circumstance: I live in Mexico, and I speak Spanish. That definitely gives me the confidence to go around Mexico without feeling harmed.
In the case of Valle de Guadalupe, you don't have to speak Spanish because everyone speaks English. This is the biggest wine country in Mexico, so this is well-visited by tourists.
You don't have to worry about your safety in Valle de Guadalupe. Safety has a lot of layers so if your question is related to being a woman, nope, there is nothing to worry about.
Normally, I would add facts and crime rates in my safety posts, but I don't think that applies to Valle de Guadalupe Mexico – it is very safe!
I do regular group trips there so if you want to join me, let me know and I'll send you details!
💗 Why I love Valle de Guadalupe Mexico
It's where the sea meets the desert and the mountains
Despite its small size, Valle de Guadalupe is a multi-climate destination. I think this is the only wine region in the world I've visited where you have the sea every 10 KM.
No, I don't mean that there's a beach in Valle de Guadalupe, but Tijuana and Rosarito are under an hour's drive from Guadalupe if you want a little change of scenery.
I find this topography really unique and I've never seen anything like it anywhere else!
Well, I love wine trips in general
When I moved to Mexico in 2018, I made it a goal to visit all the wine countries of Mexico from north to south. Now that I have completed over 15 wine regions, I can say that Guadalupe tops them all!
When we think of wine, Mexico does not usually come to mind first but I've been to over 25 vineyards in Guadalupe.
And even if you are not interested in deep wine education, Guadalupe is a beautiful destination with vineyard hotels, events, and rich gastronomy culture.
Not so many tourists
The vineyards are never full. You can almost get a private wine tasting in every vineyard, especially during the off-season.
In the high season, the restaurants are full but I never really found myself in a crowded place. There seems to be a vast space for everyone. You'll always be outdoors when traveling here.
I also noticed that Guadalupe is still a more famous destination for Mexicans. I don't see a lot of foreigners and even if I do, the number of Mexican travelers is still higher.
Mexican wine is something to learn about!
If you're a wine lover, Mexican wines might not be the first thing that comes to mind when you think about great wines. But let me tell you, Mexico is home to some of the world's most delicious and unique wines!
From crisp whites to full-bodied reds, Mexican wineries are producing high-quality vinos that are worth trying.
One of the reasons why Mexican wines are so special is because of their terroir. The diverse landscapes and climates across Mexico offer ideal growing conditions for various grape varietals, resulting in distinct flavor profiles that can't be found anywhere else.
Plus, many Mexican winemakers use traditional methods like clay pots and underground cellars to age their wines, adding even more complexity and character to each bottle.
The best gastronomy scene in the country
Did you know that most of the best chefs in Mexico are in Valle de Guadalupe? This area is a foodie paradise that offers an exciting blend of traditional Mexican and contemporary cuisine.
The region's fertile soil and sunny climate make it an ideal location for growing grapes, olives, and other fresh produce that chefs love incorporating into their dishes.
From farm-to-table restaurants to street vendors serving up mouth-watering tacos, there's something for everyone in this culinary haven.
Gorgeous accommodations
Valle de Guadalupe is home to over 150 wineries and offers amazing accommodations nestled right among the vines.
From luxury villas to cozy cabins, there's an accommodation option for every type of traveler. Wake up each morning with the sun rising over the rolling hills and enjoy a cup of freshly brewed coffee on your private terrace before heading out for a day filled with wine tastings and delicious food pairings.
The picturesque surroundings make it perfect for romantic getaways or even solo travelers looking for a peaceful escape from bustling city life.
Many of these accommodations offer unique experiences such as grape stomping or horseback riding through the vineyards.
☕ Support this blog's honest and transparent journalism. Help us add value to what we are sharing. Keep P.S. I'm On My Way free for all by donating to our coffee fund.
💃🏽 Best travel experiences in Valle de Guadalupe Mexico
Harvest season in Valle de Guadalupe Mexico
From August to October, the grape vines burst with ripe fruit waiting to be picked off. Local farmers work tirelessly day and night to harvest these grapes by hand.
The tradition of harvesting grapes by hand dates back centuries in this region. The process is labor-intensive but rewarding as it ensures that only the best quality grapes are selected for wine production.
Tourists flock from all over the world during this period to witness firsthand the magic of grape harvesting. This is the best time to visit Valle de Guadalupe Mexico, and I myself go on the harvest tours every year.
If you want to join me every August, get in touch, and I'll send my list of tours and expeditions to you!
Outdoor BBQ parties every weekend
Every weekend, there is a special bbq party in all the vineyards, and it is seasonal. It usually falls every Sunday, and this is the best option for you to socialize outdoors when you get tired of fancy dining.
Northern Mexico has a unique cuisine, so this is a good time to know northern cuisine. Here, you will find dishes that you won't normally find all over Mexico, like the Borrego, for example.
Borrego is a marinated and grilled lamb that's been slow-cooked over an open flame. It traditionally comes from the state of Sonora, which borders Arizona in the United States. This area has its own unique flavor profile that sets it apart from other regions in Mexico.
The meat is usually rubbed with spices like cumin, oregano, and garlic before being cooked slowly over mesquite wood for hours until tender and juicy.
Another must-try is the lechon, a roasted whole pig over an open fire. One of the things that make Lechon stand out from other pork dishes is its unique blend of spices and herbs used in preparing it.
It's usually seasoned with garlic, salt, pepper, and other local herbs that give it a distinct flavor. It is cooked slowly, and it's quite a show to see this at outdoor bbq parties!
Valle de Guadalupe Mexico wine and food fest
Every year, Valle de Guadalupe hosts its food and wine fest (October). For 3 days, there will be events, music, and parties in Guadalupe. Popular chefs not just from Mexico but also from the US come to this event to showcase their food and wine pairings.
You can avail of an all-access weekend pass (from $800 USD) that includes transportation from the border of Tijuana and San Diego. There is also an option to add accommodations for the weekend.
The Wine Museum
Probably the only Wine Museum in the country, this is one of the most unique attractions in Guadalupe. Here, you can learn about the history of winemaking in Mexico and see artifacts from the region's past.
The museum also offers tastings of local wines, allowing visitors to sample some of the best vintages produced in this emerging wine country. To be honest, the tastings here are cheaper than at the vineyards and wineries.
The Wine Museum is open from 10:00 AM to 4:00 PM daily except Mondays. You can simply walk in – no need to buy tickets in advance!
I CUSTOMIZE TOURS IN VALLE DE GUADALUPE! 🎉🥳
You can get in touch with me and we can plan your trip to Valle de Guadalupe! You don't necessarily have to be a solo traveler: my travel clients range from couples to families traveling with kids! Send an e-mail to [email protected] or call my office at +52 473 171 5259 to get a quote.
✨ Travel tips for Valle de Guadalupe Mexico
There are more valleys to visit other than Guadalupe
During my frequent visits to Guadalupe, I discovered 4 more wine valleys in the area. Sure, Guadalupe has the most wineries and vineyards but if you're looking for something extremely local, more affordable, and less touristy, try visiting these other valleys:
Ojos Negros
Valle de La Grulla
Valle de Santo Tomas
Valle de San Jacinto
These other wine valleys are about 2-3 hours from Tijuana and there are many day trips that go to these valleys. I also do my own day trips here so contact me and I can show you around these lesser-explored wine valleys!
You can't visit more than 3 vineyards in one day
In 2021, my team and I attempted to do 7 tastings a day since we wanted to see how many hours it would take for each tasting. You see, a tasting lasts an hour according to tour descriptions, but it can actually go way beyond that.
1.5 hours per vineyard/winery is a more realistic time to set your visit. Please note that the wineries in Guadalupe are not close to each other (some are, but not all).
Some vineyards are prettier (and bigger) than others, so there's a big chance that you'd want to stay more in some of these more prominent wineries for taking pictures or going around the area.
You will still need to consider the 15-20 minutes travel time from vineyard A to B. In reality, you can only do 3 tastings for a full day if you want to spend more time in the vineyards and not just do a quick visit.
No public transport – you need a car!
You won't see any busses or taxi in Valle de Guadalupe Mexico. Like the USA, Baja California is a car country. Everyone drives here!
I only brought my car here once because I was on a Baja California road trip. On most of my trips, I always rent a car at Tijuana Airport.
I also thought the wine resorts could help you find a taxi driver, but they really can't recommend any! One time, I met a guy at the car wash and asked him if I could pay him for his transportation services (while he was washing the car).
He offered to drive me to the vineyard but said there was no such service in Valle. Even all the locals have cars!
Book restaurants and tastings ahead of time (like 2 weeks!)
Everything in the Valle is always booked! It took me at least 4 tries to get a Table at Fauna, one of the most visited restaurants in Guadalupe. I was really dying to try their tasting menu, but every time I try to go, they are fully booked!
The same goes for other restaurants that have popular tasting menus – you always have to book at least 10 days to 2 weeks.
On my first trip to Valle de Guadalupe, I did NOT book a single restaurant so I ended up walking in and hoping they would have a table.
The walk-in style, unfortunately, does not work in Guadalupe. Walking in is fine with normal restaurants without tasting menus or events. Always make sure you have a reservation because you don't want to be driving around hungry, hoping that a restaurant will take you.
Best time to visit
If you're looking for the best weather conditions and want to avoid crowds, go during spring or fall. During these seasons, temperatures range from 21°C – 26°C (70°F-80°F) during the day and cool off to a comfortable 10°C (50°F) at night.
In summer, temperatures can reach up to 37°C (100°F) making it quite hot for outdoor activities. And while winter is not as cold as in other parts of Mexico with temperatures rarely dipping below freezing point but it can rain frequently.
The rainy season starts in September and ends around December which makes traveling by car more difficult due to muddy roads.
Again, my last visit was in December which was poorly planned. It was so cold and Guadalupe was even colder than San Diego, California because of the mountains.
Where to stay
Whenever I visit Valle de Guadalupe, I only stay in two places. First is El Cielo Winery (from $200 USD) which is a wine resort with pools and all-inclusive services.
On a smaller scale, I like staying at Don Tomas (from $125 USD) because the accommodations are in the vineyards, they are authentic and more affordable than staying in a resort.
Both properties have restaurants and wine-tasting packages that can be included in your nightly rate.
✅ Valle de Guadalupe Mexico safety tips
Get a travel insurance
Do not travel to Mexico without travel insurance! I use SafetyWing, for my nomad insurance and only pay $40 USD per month (both travel and medical insurance).
Lately, I discovered Ekta Traveling and loved their services! Their medical insurance is as low as $0.99 USD and they accept travelers from 2 months to 100 years old.
Mexico will not ask you for mandatory travel insurance but make it a priority!
Don't drive to Guadalupe if you're not familiar with Mexican roads
From San Diego, there are 2 ways to drive to Valle de Guadalupe Mexico: drive through the coast through Rosarito and get spectacular views. The other way is through Tecate/Mexicali which is an inland route.
The inland route doesn't necessarily mean it's unsafe, but the last time I went there, there were checkpoints every 10 minutes, and there were police all over the road. Sometimes, you can even see the Mexican Army on this route.
Google Maps will also put you on roads where there is literally nothing (no lights, no people, no buildings) and I usually don't feel comfortable driving in areas like this.
It's just my personal preference. Always drive through the coast (through Rosarito) and there will be no checkpoints, but probably more traffic since this is a busy highway.
Actually, don't drink and drive
I've had many trips in Valle de Guadalupe where I had to drive. However, that isn't an issue for me since I always spit in tastings – I don't drink all the wine as my goal is just to know the wines, not to get drunk.
I always have travel companions who's goal is to get drunk, so they are happy that I am the designated driver. Plus, I know the place better than my travel companions.
But there are instances when I simply want to get drunk at night but have no taxi to call. My solution to this was to hire a driver for those days that I decide to get drunk.
I can recommend you my driver, if you like but it is smarter to plan your days ahead and mark the tastings, vineyards, and restaurants where you plan to get drunk.
With this, you don't have to hire a driver for the whole trip but on select days. This is a way cheaper, smarter, and safer way to travel in Guadalupe.
Do not buy drugs at all costs
Do not engage in any drugs nor look for drugs. Do not ask people you don't know about drugs or even weed. This is a no-no when traveling in Mexico, not just Guadalupe.
From living in Mexico, I've shared this tip in almost all my posts: you will only get in trouble in Mexico if you buy drugs. If you are just a tourist spending money on touristy things, then no one cares about you.
🇲🇽 Valle de Guadalupe Mexico Travel Planning
✈️ Flights to Tijuana
Use Kiwi.com to find the cheapest flights to Tijuana, the airport that serves Valle de Guadalupe. This is my favorite booking engine because they compare prices across all airlines for your route.
🛏️ Accommodations in Valle de Guadalupe
There are no budget accommodations or hostels in Guadalupe. If you want accommodations under $100 USD, Booking.com is the best choice.
🚑 Mexico Travel Insurance
Do not travel to Valle de Guadalupe without travel insurance! This is the top item you have to buy when traveling, and it is a must. Be prepared for the possibility that something can happen to you while traveling abroad. My favorite travel insurance is SafetyWing (for digital nomad and entrepreneur trips) and Ekta Travel for comprehensive medical insurance starting at $0.99 USD!
Trisha is one of those people who left their comfortable life to travel the world and learn about life. Her style is to stay in one place she likes for 3 months (or more) to know what it feels like to eat, cook, speak, and sleep in another culture that isn't hers. She'd like to believe she's not traditionally traveling but she just chooses to be somewhere else all the time. In no particular order, her favorite cities in the world are Barcelona, Buenos Aires, Hong Kong, Mexico City, and Tel Aviv.