Shabbat Shalom! As a foreigner who lived in Israel, I've always been asked what to expect during Shabbat in Israel. This guide will help you travel with ease around Israel during Shabbat!
I'd go straight to the point here before giving you some fun facts about this interesting culture: I lived in Tel Aviv, a secular city regarded as a "bubble", so this wasn't an issue in TLV.
This absolutely means that if you spend the weekend in Tel Aviv, you will have minimal issue about eating out, drinking or traveling around.
However, it is a different story if you are in Jerusalem for Shabbat in Israel. They are more strict when it comes to Shabbat there, but that doesn't mean that you can't do anything.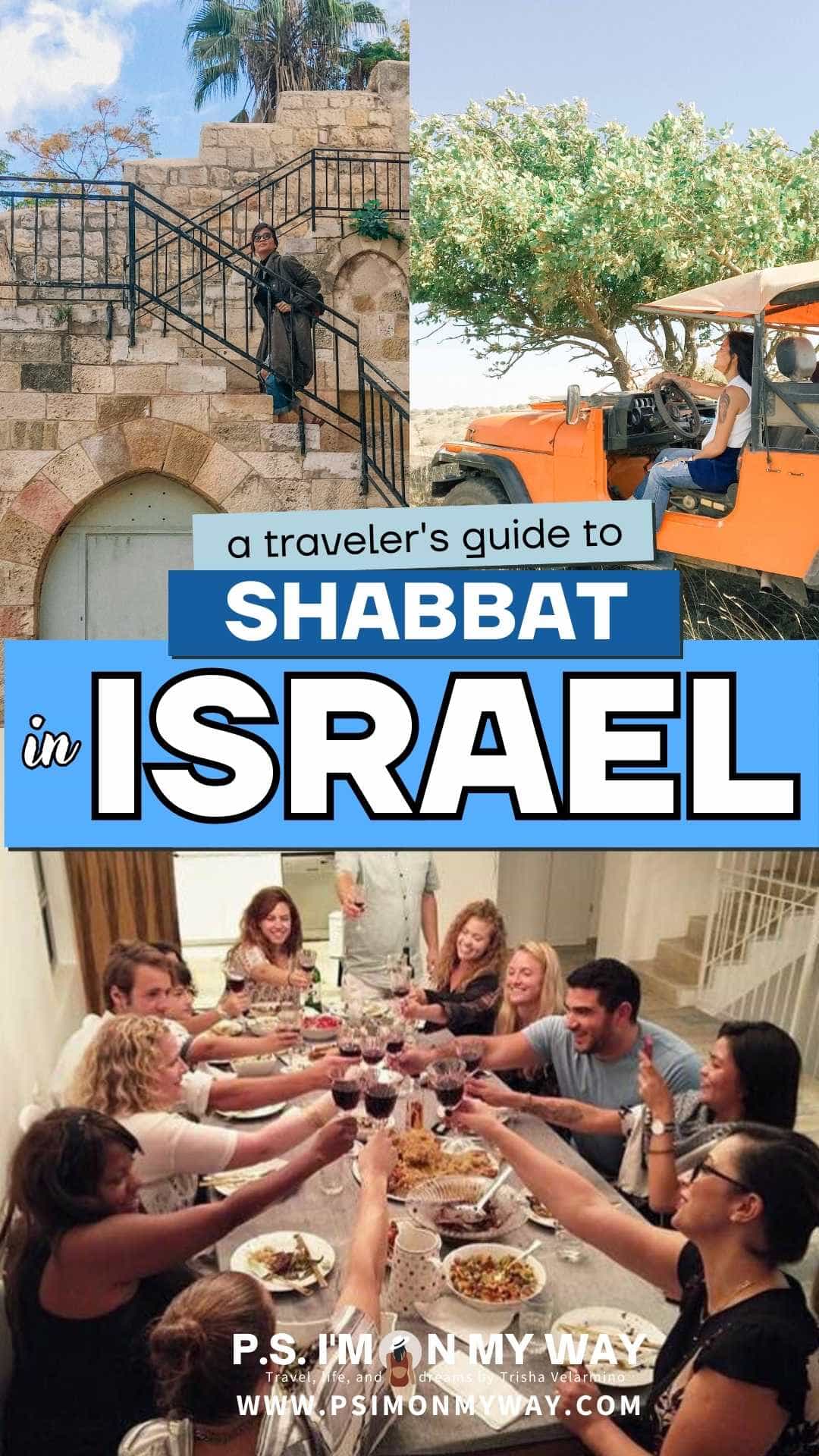 Jerusalem is quite interesting to spend the Shabbat in because you will learn deeply without trying. You'll see everyone observing Shabbat, and I highly recommend this if you are curious to know about Shabbat in Israel.
As I had a relationship with a Jewish guy, I had to spend time with his family during Shabbat, which was a joy for me; I was neither coerced nor obliged to do so.
In this guide, I will give you tips on how to spend Shabbat in Israel as a traveler. Just remember to relax — it's not a big deal and won't derail any travel plans you have.
Change how you travel and see the world by going deep into the culture. Come and travel with me!
🙋🏽 What is Shabbat in Israel?
Shabbat in Israel, known as the Sabbath, is prominent in Jewish culture and religious practice. Celebrated from Friday evening to Saturday evening, it signifies a day of rest and spiritual enrichment.
It serves as a weekly reminder of the Biblical creation narrative, where God rested on the seventh day after creating the world.
This 25-hour period is seen as a gift from God, providing a break from the hustle and bustle of daily life and creating space for family time, prayer, and introspection.
Shabbat is not just about refraining from work, but it's an opportunity to engage in positive, restful activities, a concept known as 'oneg Shabbat' or 'joy of Sabbath'.
As the week ends, the onset of Shabbat is eagerly awaited, with families rushing to finish their work, cleaning their homes, and preparing special meals.
The moment Shabbat begins is marked by women lighting candles, and it's customary to greet others with "Shabbat Shalom," a wish for a peaceful Sabbath.
In Israel, the observance of Shabbat is seen everywhere, from the silence on the streets as businesses shut down, to families walking to synagogue services.
💡 Fun fact: In the US, Shabbat observance largely depends on the individual's or community's level of religious observance and is often private. Public life generally continues as usual, with businesses and public transportation operating normally. In contrast, Shabbat in Israel affects the entire country's rhythm.
⏰ What time does Shabbat start in Israel?
Shabbat begins at sundown on Friday evening and ends after nightfall on Saturday night. The exact time changes throughout the year based on the time of sunset, which varies with the season and geographical location.
In Jewish tradition, Shabbat typically starts 18 minutes before sunset on Friday, known as "candle lighting time".
This ensures that all preparations for Shabbat are completed before it officially begins with the sunset.
⏰ Tip: Hebcal and Chabad websites offer Shabbat times based on your city or zip code.
🕍 How is Shabbat celebrated in Israel
The observance of Shabbat in Israel creates a unique ambiance, distinguishing it from the rest of the week.
As the sun sets on Friday, many businesses, shops, and restaurants close their doors, public transportation comes to a halt, and streets quieter.
This is particularly evident in religious neighborhoods and cities like Jerusalem, where the entire city seems to slow down in honor of Shabbat.
Synagogues throughout the country fill up with congregants for the evening prayer (Kabbalat Shabbat).
Family dinners on Friday evenings are common, where traditional rituals such as candle lighting, the kiddush (blessing over wine), and the hamotzi (blessing over bread) are observed.
Shabbat continues through Saturday, often involving synagogue attendance, rest, family meals, and study of religious texts. The day concludes with the Havdalah ceremony, marking the end of Shabbat and the beginning of a new week.
Let me help you plan your trip! I've been giving expert and genuine advice to all types of travelers for the last 15 years. You choose the destination and I will answer all your questions! [ Talk to Trisha ]
🗺️ Regional differences in Shabbat in Israel
While Shabbat observance is widespread across Israel, the intensity varies regionally.
Jerusalem, being the spiritual heart of the country, observes Shabbat strictly. Many streets are closed to traffic, and virtually all businesses shut down.
In contrast, Tel Aviv, known for its secular lifestyle, has a different rhythm. While many observe Shabbat traditionally, the city remains lively.
Some cafes, restaurants, and shops remain open, catering to locals and tourists. Beaches and parks become social hubs, filled with families and groups of friends.
Shabbat may be observed more privately in mixed cities like Haifa or regions with significant non-Jewish populations, such as Nazareth or Jaffa.
Businesses often remain open, providing more options for travelers. Regardless of regional differences, the spirit of Shabbat is tangible throughout Israel, shaping a unique and unforgettable cultural experience.
✅ Shabbat in Israel: what to expect
Public transportation
Most public transportation services, including trains and buses, cease operations for Shabbat. This starts from a couple of hours before sundown on Friday until after sunset on Saturday.
However, limited services continue in a few cities, like Tel Aviv and Haifa.
Shops and restaurants
Many businesses, including shops, restaurants, and cafes, close for Shabbat in Israel, particularly in Jerusalem.
However, in more secular cities like Tel Aviv, or Arab neighborhoods or towns, some establishments remain open.
Atmosphere
There's a unique atmosphere on Shabbat, particularly in cities with large religious populations. Streets are quieter, families spend time together, and many people walk to and from the synagogue.
Synagogue Services
On Friday evening and Saturday morning, observant Jews attend synagogue services. A Shabbat dinner at home follows the evening service, and a communal meal at the synagogue often follows the Saturday morning service.
Radio and TV
State radio and television stations do not broadcast, but private stations and internet services operate as usual.
Nature and parks
Parks, beaches, and nature reserves often become busy on Shabbat as families and groups enjoy their leisure time.
Shabbat Elevator
In many buildings, you might encounter a "Shabbat elevator". This is an elevator that stops automatically at every floor, to allow observant Jews to use it without doing work (i.e., pressing buttons).
Remember, the extent to which Shabbat is observed can vary greatly. In more secular neighborhoods or cities, plenty of shops and restaurants are open, and life proceeds more or less as usual.
But the rest day is observed much more strictly in more religious areas. Even in bustling cities, Shabbat brings a unique and often peaceful rhythm to the end of each week.
✨ Tips for traveling in Israel during Shabbat
Stay in one city
Firstly, planning your travel itinerary to accommodate Shabbat is crucial. With most public transportation services suspended, consider organizing your travels such that you spend Shabbat in one city.
This can reduce the need for long-distance travel and allows you to experience how Shabbat is observed locally.
Don't stress too much
If you are a foreigner or a traveler, Shabbat in Israel will not drastically affect your travel plans. Israelis and Jewish do not expect you to observe Shabbat as traditionally as they do.
All you have to do is respect customs and honestly, like I said in the first part, it wasn't a big issue for me when I was living in Tel Aviv. The weekends were pretty normal to us non-Jewish.
Join my group trips to Israel and Jordan!
If you plan to visit Israel and have a local companion, I do yearly summer trips to Israel (June) so feel free to sign up for next year. I will take you to all the local places!
Get in touch and I will introduce you to my Tel Avivian friends
From living in Israel, I have made long-lasting friendships and I assure you that my Tel Avivian friends will give you a great time during Shabbat in Israel!
Just e-mail me and I will make an intro. You will love them, I promise!
Plan your meals accordingly
Meal planning is another essential aspect. As many restaurants and shops close for Shabbat, consider arranging your meals beforehand.
Some hotels offer Shabbat dinners, or you can stock up on food from markets beforehand. In more secular areas, certain eateries remain open.
Respect local customs
Lastly, respecting local customs during Shabbat is paramount. In religious neighborhoods, avoid behaviors considered to violate the spirit of Shabbat, such as smoking, using electronic devices, or taking photographs in public.
Shabbat is a significant part of Israeli culture, and observing it as a visitor can offer profound insights into the heart of this diverse and vibrant nation.
Attend a Shabbat dinner
If you have friends or acquaintances who observe Shabbat, it would be a memorable experience to join them for a traditional Shabbat dinner.
Visit open cities
While many cities shut down for Shabbat, places like Tel Aviv, Eilat, and Haifa still have plenty going on. Many restaurants, cafes, and stores are open in these cities.
Enjoy Nature
Shabbat is a perfect time to explore the many natural wonders of Israel. Visit the Dead Sea, hike in the desert, or enjoy the beautiful beaches. National parks and nature reserves remain open on Shabbat.
Shabbat services
Attend Shabbat services at a local synagogue for a unique cultural experience. It's respectful to dress modestly.
Bike or walk around
Shabbat is an excellent day for walking or biking, especially in cities like Tel Aviv where traffic is considerably lighter.
Relax
Use this time to slow down and rest. Read a book, meditate, or write. Part of the beauty of Shabbat is the intention to take a break from the hustle and bustle of the week.
Do a trip to the Dead Sea
Located at the lowest point of the globe, more than 430 meters below sea level, the Dead Sea lies between Israel, Jordan, and the West Bank.
Known for its hyper-saline waters, it contains around ten times the salt content of regular seawater, creating an environment where life forms struggle to survive – hence, its "Dead" moniker.
You can easily visit the Dead Sea during Shabbat in Israel with a tour company.
🪩 Shabbat in Tel Aviv things to do
Go to Jaffa (Muslim neighborhood)
Jaffa is a Muslim neighborhood in Tel Aviv and they do not observe Shabbat in Israel. In Jaffa, you can still eat at restaurants, drink at bars, and go around with ease.
Visit Tel Aviv beaches
Tel Aviv is known for its beautiful Mediterranean beaches, which remain lively even during Shabbat. Whether you want to soak up the sun, swim, or play a game of matkot (Israeli beach paddleball), the beaches offer a relaxing Shabbat in Israel.
Explore the Port Area
The Tel Aviv Port area (Namal Tel Aviv) is a hub of activity during Shabbat. It's filled with shops, restaurants, and cafes, many of which remain open. The boardwalk offers stunning sea views and is perfect for a leisurely stroll or bike ride.
Tour the Neve Tzedek Neighborhood
As one of Tel Aviv's oldest districts, Neve Tzedek offers picturesque streets, unique architecture, and small, independent boutiques. It's a beautiful area to explore on foot during the quieter Shabbat hours.
Visit Yitzhak Rabin Center
This museum dedicated to the life and legacy of the late Prime Minister Yitzhak Rabin is often open during Shabbat. It offers insights into modern Israeli history and the pursuit of peace in the region.
Enjoy Tel Aviv's Parks
City parks, like Yarkon Park or HaBima Square, provide fresh air in the urban landscape. They are great spots for picnics, leisurely walks, or people-watching during Shabbat.
🛐 Shabbat in Jerusalem things to do
Go to non-Jewish areas
As you know, the Old City of Jerusalem is not only home to the Jewish. Every kind of religion is in Jerusalem so you can still visit the Armenian, Christian, and Muslim quarters.
In these quarters, they do not observe Shabbat in Israel, so you can still eat, drink, and go around like it's a normal day.
Visit the Western Wall
During Shabbat, many people flock to the Western Wall, one of the most sacred sites in Judaism. Even as a non-Jew, you can visit and witness the prayer services, which can be a powerful experience. Remember to dress modestly.
Stroll through the Old City
With its quieter streets, Shabbat can be an ideal time to explore the historic and atmospheric Old City. Wander through its ancient lanes, visit the various quarters, and soak up the timeless ambiance.
Explore the Jerusalem Biblical Zoo
Often open on Shabbat, this popular family destination is home to a variety of wildlife, including many species mentioned in the Bible. It's a great spot for those traveling with children.
Visit the Israel Museum
Though it's closed on Shabbat, the museum opens in the late afternoon on Saturday. This gives you a chance to explore Israel's national museum, which boasts a comprehensive collection of art and archaeology from the region.
Relax in Gan Sacher
The city's largest park is a perfect place for a leisurely stroll or picnic on Shabbat. You'll often see families and groups of friends enjoying the tranquility here.
🍽️ Book activities for Shabbat in Israel
⁉️ FAQ: Shabbat in Israel for travelers
Trisha is one of those people who left their comfortable life to travel the world and learn about life. Her style is to stay in one place she likes for 3 months (or more) to know what it feels like to eat, cook, speak, and sleep in another culture that isn't hers. She'd like to believe she's not traditionally traveling but she just chooses to be somewhere else all the time. In no particular order, her favorite cities in the world are Barcelona, Buenos Aires, Hong Kong, Mexico City, and Tel Aviv.