I visit Tel Aviv every year and lived here for 1.5 years after my first trip. I did not expect life to turn out like this, but here are some answers to your burning question, "Is Tel Aviv safe?"
Hi Trisha! Thanks for all your solo travel narratives. You have changed the way I traveled and I am not more confident about seeing the world because of all your advice! I have taken your advice in India and now, I am ready to do another adventure in Israel. First, is Tel Aviv safe? I know this is a question that probably is stupid and annoying for an experienced traveler like you but I would love to know your insights. Thank you for all you do!

-Maisie Rahman, United Kingdom
Girl, Maisie!!! There really aren't any stupid and annoying questions.
It is normal to ask "is Tel Aviv safe" (or any country for that matter) because this means you are not stupid and are looking out for yourself.
Pat yourself on the back for actually investigating how to travel alone to Tel Aviv and not just getting into it without preparing. Israel is one of the countries I write about a lot, and it has a bad press so I am used to this question!
Here, you will find all my experiences as a solo woman who traveled and lived in Tel Aviv. I hope you will get to visit because, seriously, no matter how strange this may be for you, this is the best solo female travel destination I recommend!
Keep the faith, don't hold your guard, don't worry too much, be smart and push through!
Xx,
Trisha
Change how you travel and see the world by going deep into the culture. Come and travel with me!
🧐 Why the question "Is Tel Aviv safe?" always pop out
Selective coverage
News and media outlets often focus on negative events, such as violence or political unrest in the region. This selective coverage can create a distorted image of the situation on the ground, leading you to believe that the entire city is unsafe for travel.
Governments issue travel advisories to warn citizens about potential risks in specific locations. Some countries may have active travel warnings for Tel Aviv, which can affect your perceptions of safety.
Geopolitical tensions
The geopolitical situation in the Middle East is complex and can be a cause for concern for some tourists. Israel has been involved in conflicts with various neighboring countries and internal groups over the years, which can create a perception of instability.
However, it's important to note that Tel Aviv is usually quite removed from these conflicts.
Terrorism
While the risk is minimal, the threat of terrorism has been a concern in Israel in the past. There have been isolated incidents of terrorist attacks in Tel Aviv over the years. However, such instances are rare and typically well managed by security forces.
Crime
As with any city, Tel Aviv has a certain level of crime. Let's be honest, crimes also happen in our hometowns.
While the city is generally safe, tourists should still take precautions such as avoiding certain areas at night, not carrying large amounts of cash, and being aware of their surroundings to prevent pickpocketing or other types of theft.
🙋 So, really, is Tel Aviv safe?
What I always tell people when they ask if Tel Aviv Israel is safe: safety is objective and personal. For the 1.5 years I was living in Tel Aviv, I did not experience any gunning on the streets, explosions, or anything violent.
So I would say that personally, I found Tel Aviv really safe. You can also read my narrative about safety in Israel if you want more insights, but I never experienced anything unsafe in Tel Aviv.
In the next few items, you will find a more detailed explanation of this question where I talked about more specific safety experiences (i.e. walking alone after midnight).
💃🏾 Why I feel safe in Tel Aviv
I already have friends here
Again, as I mentioned above, safety is subjective and personal. As I lived in Tel Aviv, I have made fruitful friendships here and have learned about the city in a deeper sense.
My friends in Israel are not foreigners, but Israelis. Not that I am avoiding foreigners when I live somewhere but as I am moving around the globe for the last 15 years, I realized that the experience is way different if you group yourself with fellow foreigners vs locals in another country.
This way, I am confident about traveling to Israel without worrying about being harmed. Traveling alone as a woman takes a lot of practice and I must admit: the first time I went to Israel, I was scared as hell, too.
I speak Hebrew
Hebrew is not an easy language, but when I lived there, my then-boyfriend's mom did not speak English so I had to find a way to speak Hebrew.
I mean, I was being welcomed and treated with kindness in their homes. The most effort I can do is to learn their language.
If you are already reading this blog for a while, you know that I can fairly speak a handful of languages, but this is the result of my years traveling solo. I made sure to really blend into the new cultures I immersed myself into.
Learning languages and fluently speaking them also made me feel very safe in any country I have been to. Even basic phrases really help! You will not be treated differently (or as a foreigner) if you speak their language.
Tel Avivians have a welcoming culture
Israel is known for its warm, welcoming culture, encapsulated by the Hebrew phrase "HaBayit Hayehudi," translating to "The Jewish Home."
This term reflects the open-hearted hospitality deeply ingrained in Israeli society. The diverse cultures that have influenced Israel – Jewish, Arab, Christian, Druze – all contribute to a rich tapestry of traditions and a spirit of inclusiveness.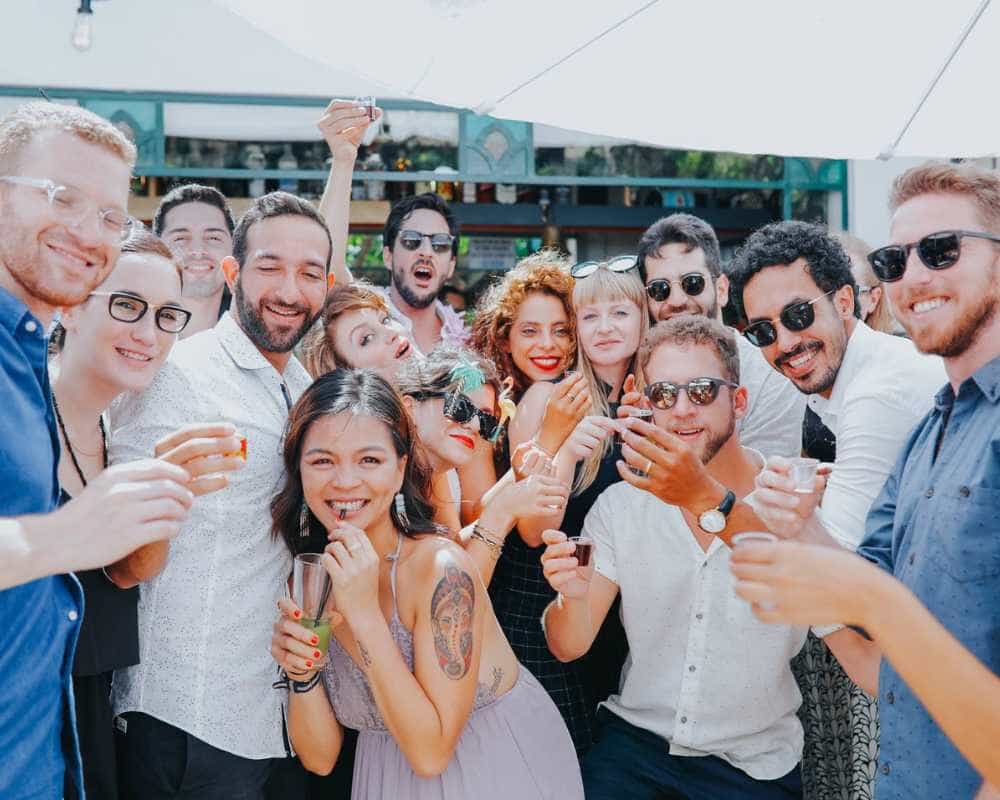 From offering home-cooked meals to engaging in friendly conversations, I have been received in over 30 homes in Israel. Often, they go out of their way to make you feel at home.
FYI, I am not Jewish and have zero Jewish roots. Regardless of religion or nationality, I felt embraced with genuine warmth and kindness in the Israeli culture.
Tel Aviv has a young population
Tel Aviv is known for its youthful vibe. The city has a relatively young population, with a substantial portion aged between 20-34, due to its universities, booming tech industry, and vibrant culture.
The older population is smaller in comparison as they tend to live in smaller towns and cities of Israel. Tel Aviv is too loud (and expensive) for some older populations.
I never had a 'bombing experience'
Though I was oriented on how to behave and what to do when a bombing occurred, I never had an experience where I had to evacuate because of it. Not once in those 1.5 years that I lived there.
You see all these in the news and expect it would be that way when you are already in Israel but none of those happened to me.
🚫 Tips for safety in Tel Aviv
Join my group trips to Tel Aviv
As I have called Tel Aviv home for a while, I decided to share my love for Tel Aviv to readers of this blog by conducting a yearly group trip, best for those who want to travel Tel Aviv solo (but not really!).
My group trips take place every June and have limited slots. I love to host small groups to make sure everyone gets the local experience. I would love for you to join me!
Consider your source
Let's be honest: the people around us are always highly opinionated on places they have never been to. Once you announce you are going to Tel Aviv, there will be a lot of stories that are not first-hand nor verified.
We live in a world where everyone is just an expert about anything, so carefully consider your source and do not base your decision to travel to Tel Aviv on people who can't give you facts.
FACTS, FACTS, FACTS: Israel is visited by 1.2 million visitors each year. There are also many foreigners living in Israel for years, so those are the people you should be getting your resources from.
Tel Aviv is safe but still keep your belongings secure
While Tel Aviv is generally safe, pickpocketing and petty theft can occur in crowded areas. Use a money belt or hidden pouch to store your valuables, and avoid displaying expensive items like jewelry or electronics.
Use registered taxis
Only use registered taxis with meters, such as Gett or those found at official taxi stands. Avoid accepting rides from strangers or unmarked vehicles to ensure your safety. Registered taxis in Tel Aviv are usually easy to identify. They typically have some common features, which include:
Color: Most registered taxis in Tel Aviv are white or pale yellow, making them easily distinguishable from private cars.
Taxi roof sign: Registered taxis have a yellow illuminated sign on the roof, which displays the word "מונית" (taxi) in Hebrew and sometimes also in English. When the sign is lit, the taxi is available for hire.
Official markings: Registered taxis have a unique identification number and the taxi company's name displayed on the side doors. There may also be a licensing sticker or emblem on the front windshield or rear window.
Taxi meter: All registered taxis are required to have a visible and functioning meter inside the vehicle. Make sure the driver turns on the meter at the beginning of your ride to avoid being overcharged.
Driver's identification: The taxi driver should have their official ID card with their photo and name displayed on the dashboard or near the driver's seat.
Again, if you have the Gett app, you don't have to worry if a taxi is licensed or not. Just use the app as it is the safest and fairly priced.
Avoid discussing politics
Tel Aviv is a diverse city with a wide range of political opinions. It's best to avoid discussing sensitive political topics to prevent misunderstandings or conflicts with locals. Read more about this above, where I shared my experiences about discussing politics in Israel. Do not do this at all costs.
Be mindful of bicycle lanes
Tel Aviv has a well-developed network of bicycle lanes. Stay aware of your surroundings and avoid walking or standing in bike lanes, as cyclists often travel at high speeds and can cause accidents if you're not paying attention.
Bicycle is the most efficient way to get around Tel Aviv so make sure to rent a bike when you travel here!
Observe local customs during Shabbat
From Friday evening to Saturday evening, many businesses close, and public transportation is limited due to Shabbat, the Jewish day of rest.
Be respectful of local customs by not smoking, using electronic devices, or playing loud music in public spaces during this time. Although in Tel Aviv, they are not so strict about it but really, some older people mind.
Know the emergency numbers
In case of an emergency, dial 100 for the police, 101 for an ambulance, or 102 for the fire department. Save these numbers in your phone or write them down and keep them handy.
Tel Aviv has public wifis but always use VPN!
Cybersecurity threats are a concern worldwide, and Tel Aviv is no exception. Avoid using public Wi-Fi for sensitive tasks like online banking or sharing personal information. Use a VPN to protect your data when connecting to public networks.
Do not use your browser in Tel Aviv without a VPN! My recommendation is NordVPN – always connect to your home country, and not in Israel when using Nord.
Dress code in Tel Aviv
Like I said, Tel Aviv is a young city so nobody really cares what you wear. If you plan to visit Jerusalem as well, dress codes only apply to religious sites.
Stay hydrated and use sunscreen
My very first trip to Israel was in August 2016, and I have seen many people collapse on the streets because it was too hot!!! Tel Aviv's hot climate, especially in summer, can lead to dehydration and sunburn. Carry a reusable water bottle to stay hydrated, and apply sunscreen regularly to protect your skin from harmful UV rays.
Get in touch with me, and I will introduce you to the cool kids!
If you feel like we have the same energy and you love the way I travel, YOU WILL DEFINITELY LOVE MY FRIENDS. I know that traveling alone to Tel Aviv feels scary but I promise you, it is one of the best destinations for solo female travel.
Just email me, and I will definitely make an intro to my friends! You'll love them, I swear!
🇮🇱 Tel Aviv travel recommendations
Trisha is one of those people who left their comfortable life to travel the world and learn about life. Her style is to stay in one place she likes for 3 months (or more) to know what it feels like to eat, cook, speak, and sleep in another culture that isn't hers. She'd like to believe she's not traditionally traveling but she just chooses to be somewhere else all the time. In no particular order, her favorite cities in the world are Barcelona, Buenos Aires, Hong Kong, Mexico City, and Tel Aviv.