I traveled solo to Tel Aviv Israel, and decided to live here for 1.5 years after that first trip. I did not expect life to turn out like this, but here are tips for Tel Aviv solo travel.
📧 Hi Trisha! I just spent the whole afternoon reading all your Tel Aviv Israel blogs and I am impressed! So many short stories you have that made me convince that I can go alone. Your way of writing and presenting Israel is so sincere that these first-hand accounts are really convincing! I understand that you lived there but what are your tips for solo travel to Tel Aviv? I want to know more – I hope I can chat with you!

Alix Kuppens, Denmark
Hi Alix,
Thank you for reading those narratives! I am glad you took the time! People don't read these days anymore and I am happy that you are being very meticulous with your research about Tel Aviv Israel.
I get attacked a lot on the Internet for writing about Israel (like really really bad comments!) so I hope you keep an open mind. I also want to tell you that I am not a politics blogger so my Israel posts are all about traveling and living there.
My golden tip for traveling solo to Tel Aviv: CONSIDER YOUR SOURCE.
Only take advice from people who have been there or who are living there. If you are going alone, I have LOTS of friends there that will welcome you.
If you want me to connect you to the locals, please email me and I will definitely make an intro to my Tel Avivian friends!
Good luck and I hope you push through. Tel Aviv is one of the most solo female travel friendly cities in the world!
Good luck and I really really hope you push through!
Xx, Trisha
Change how you travel and see the world by going deep into the culture. Come and travel with me!
💙 Why I love traveling to Tel Aviv Israel solo
Black and white and no grey areas
The Israelis, in general, are black and white people. There are no grey areas. "Are you coming for lunch?" Yes or no is their answer.
There is no maybe which leads you to more precise and straight-to-the-point thinking.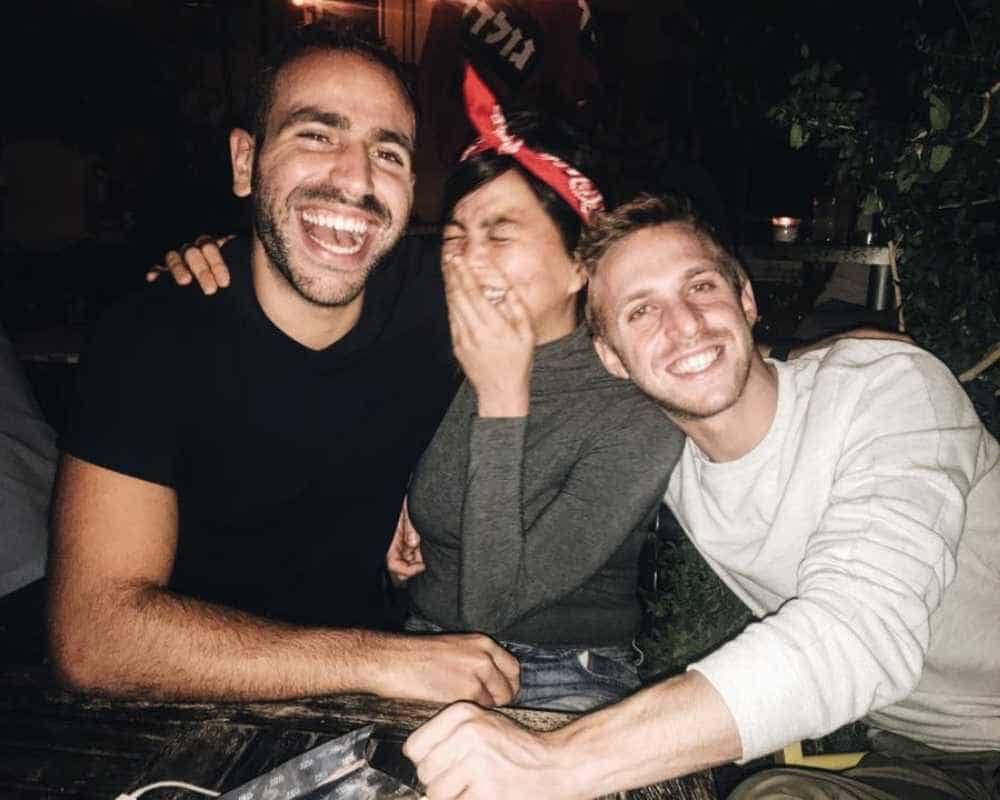 I myself have learned this while living in Israel: it is way easier to go along in life if you are clear. The Israelis are clear and will not give you answers they are unsure of.
So, let's say, for example, you are planning a day trip to Jerusalem. Nobody will tell you "Maybe I am coming," or "I will confirm later."
It is simply the most straightforward culture I have ever experienced in my life, and I LOVE IT.
Tel Aviv is the highest vegan per capita (restaurants) in the world
I am not vegan but vegan food in Israel is not your ordinary lame salad or your usual beyond meat burger that you have at home.
Food here is always tasty and even if you are not vegan, you will frequent vegan restaurants and you won't even feel the need to order meat.
Tel Aviv boasts a vibrant and thriving vegan food scene that caters to the diverse palates of both locals and tourists alike.
The city's progressive culinary landscape offers an impressive variety of plant-based delicacies that celebrate the flavors of Mediterranean, Middle Eastern, and international cuisines.
From delicious street food staples like falafel and hummus to innovative fine dining experiences, Tel Aviv's vegan offerings are a testament to the creativity and culinary expertise of its chefs and restaurateurs.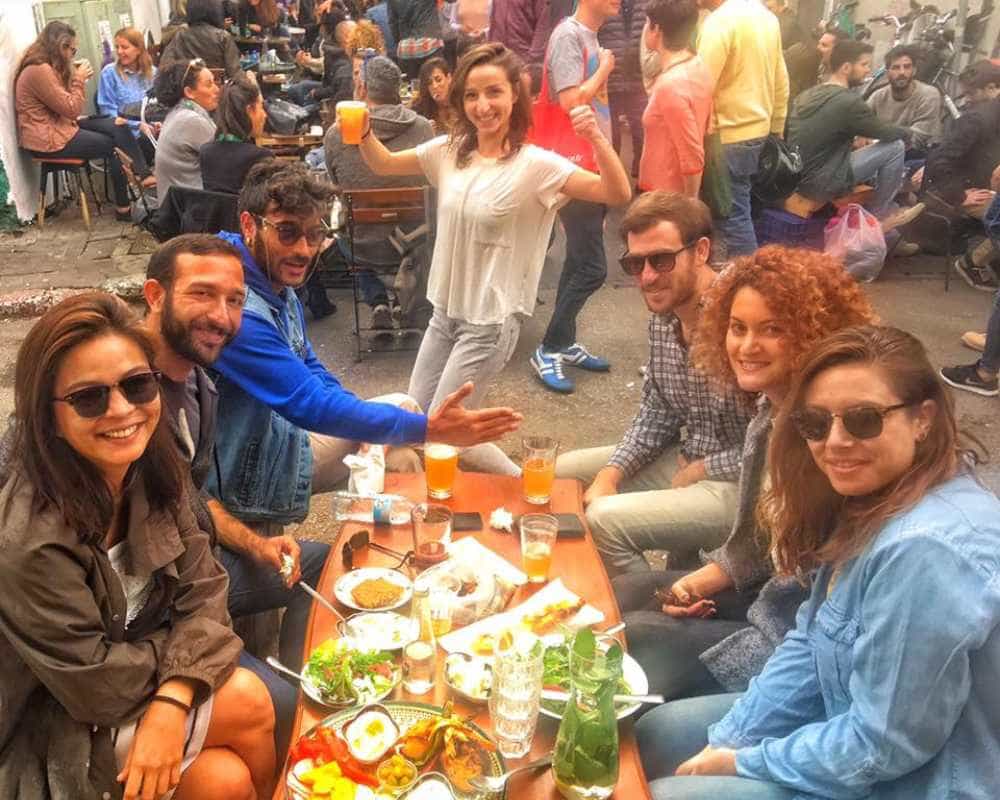 The vegan culture in Tel Aviv is characterized by a strong emphasis on fresh, local, and organic ingredients, which are thoughtfully incorporated into dishes that are as visually appealing as they are delicious.
In addition to the vast selection of dedicated vegan eateries, many traditional restaurants have embraced the plant-based movement and expanded their menus to include vegan options.
This widespread adoption of veganism has contributed to Tel Aviv's reputation as a global gastronomic hotspot for vegans and food enthusiasts alike, who are drawn to the city's unique fusion of culinary innovation and rich cultural heritage.
Everyone is in Tel Aviv!
I am of Asian descent and when traveling solo, I usually find myself as the only Asian girl traveling on her own. But in Israel, everyone in different colors, shapes, sizes, cultures, and backgrounds is here!
It is one of the most diverse cities I have visited and it's beautiful to see different people in the world come together.
I also loved hearing different languages all the time on the streets, in the markets, in restaurants, and in hotels.
Israelis also speak English pretty well (because of their mandatory military training), so I didn't have any difficulties being here.
Of course, I did learn Hebrew and can speak Hebrew well. However, if you are just traveling, there is no need to learn Hebrew.
Tel Aviv is a melting pot of diverse cultures, with a rich history that spans thousands of years. The city's unique blend of ancient and modern elements can be seen in its architecture, historical sites, and museums.
You can explore ancient Jaffa, a port city with a storied past, or visit the UNESCO World Heritage-listed Bauhaus-inspired White City to appreciate the city's distinct architectural styles.
A city with a beach
There are 3 places that I have lived in that have the same layout as Tel Aviv: Puerto Vallarta (Mexico), Rio de Janeiro (Brazil), and Barcelona (Spain).
If you are looking for a place that has both city life and beach life, Tel Aviv has this combo!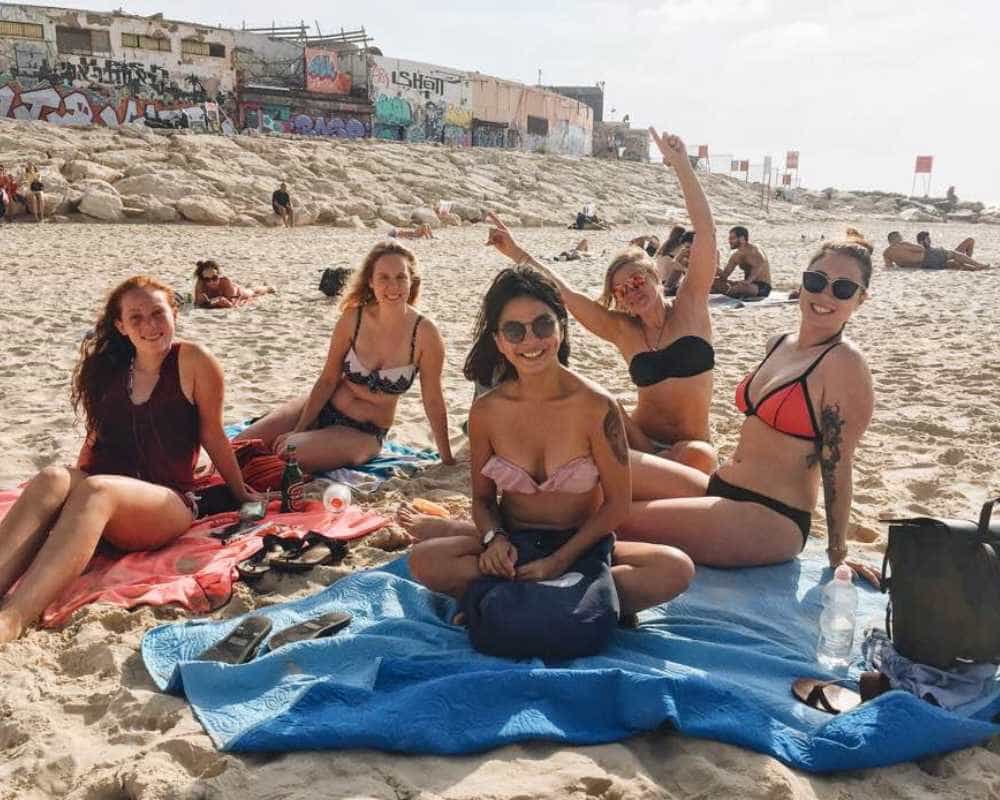 Tel Aviv's gorgeous coastline boasts miles of pristine sandy beaches, perfect for sunbathing, swimming, and watersports.
The city's beachfront promenade, lined with cafes, bars, and restaurants has stunning views of the Mediterranean Sea and is the ideal setting for a leisurely stroll or a vibrant night out.
Thriving Art Scene
The whole city is a piece of art. From the neighborhood of Florentin and Jaffa (which, btw, you shouldn't miss when in Tel Aviv) to the markets, restaurants, and cafes – Tel Aviv is a big canvas that has every type of art you can imagine.
And mind you; these are not just murals. There are many creative art installations.
For example, one friend of mine converted his apartment into an art gallery so when you pass by his house, it is always open and you can see the gallery from outside!
The Israelis are truly unique and true to their art, and here, you will see the most outrageous and never-before-seen art installations in your life.
Additionally, Tel Aviv is home to renowned institutions such as the Eretz Israel Museum, the Tel Aviv Museum of Art, and the Design Museum Holon.
The flourishing street art scene, particularly in neighborhoods like Florentin, adds a vibrant touch to the urban landscape.
The city that never sleeps
During my first solo travel to Tel Aviv Israel, I had many experiences when we entered a club at 2:00 AM and ended up leaving at 11:00 AM.
The underground club scene in Tel Aviv is so unique and I have never seen anything like it anywhere.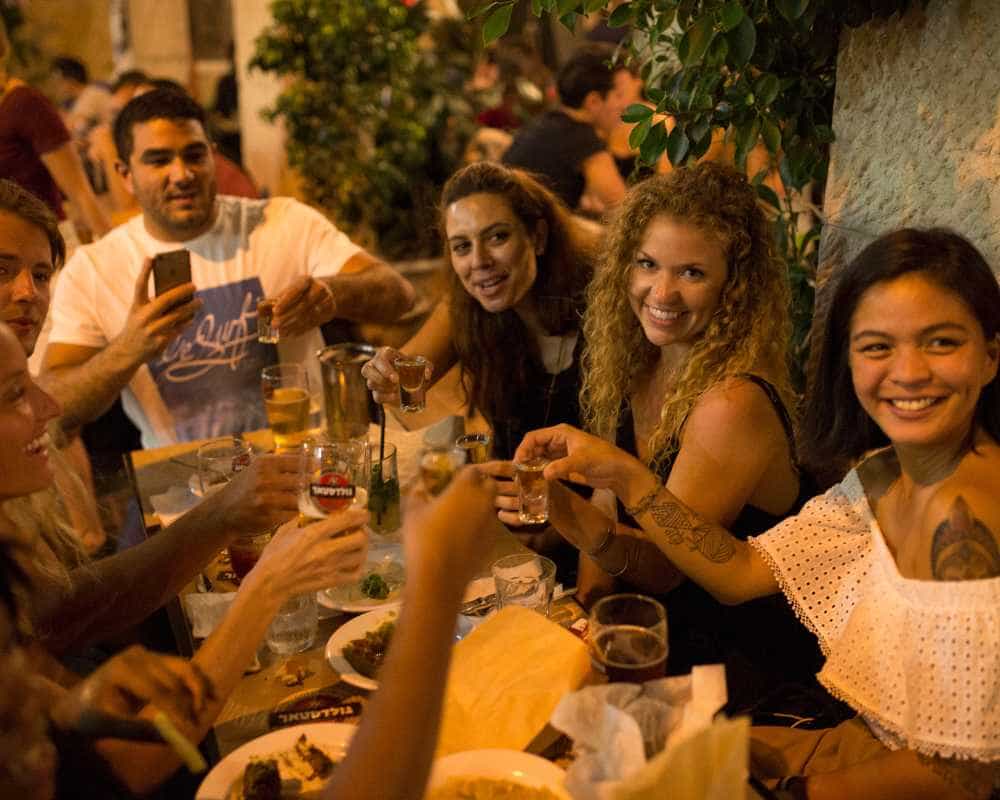 Known for its energetic nightlife, Tel Aviv offers a wide variety of entertainment options to suit different preferences.
From trendy bars and clubs to intimate live music venues, the city's nightlife scene caters to an eclectic mix of party-goers and music lovers, making it a popular destination to DJs, music enthusiasts, and bar owners all over the world.
💃🏽 Solo travel to Tel Aviv Israel experiences
I walked alone at night. A lot
… and most of the time, I was a little bit tipsy. I do not really recommend you to do this but I was already very Tel Avivian and deep into the Israeli culture to be that confident to do this.
Walking alone at night sober is definitely OK, and it does not matter even if you walk after midnight. In Mexico, my friends will never let me walk alone at night because they're too overprotective and Mexico has this notorious safety reputation.
In Tel Aviv, it's not that my friends don't care about me but they are 100% sure that nothing bad will happen to me on the streets if they let me walk alone.
Dude, where's my bike?
The thing with Tel Aviv is, you are going to start the evening at one restaurant and 8 hours later, you will find yourself visiting and hopping to 5 different places. More often than not, I park my bike at the restaurant and after the night ended, I will forget about my bike.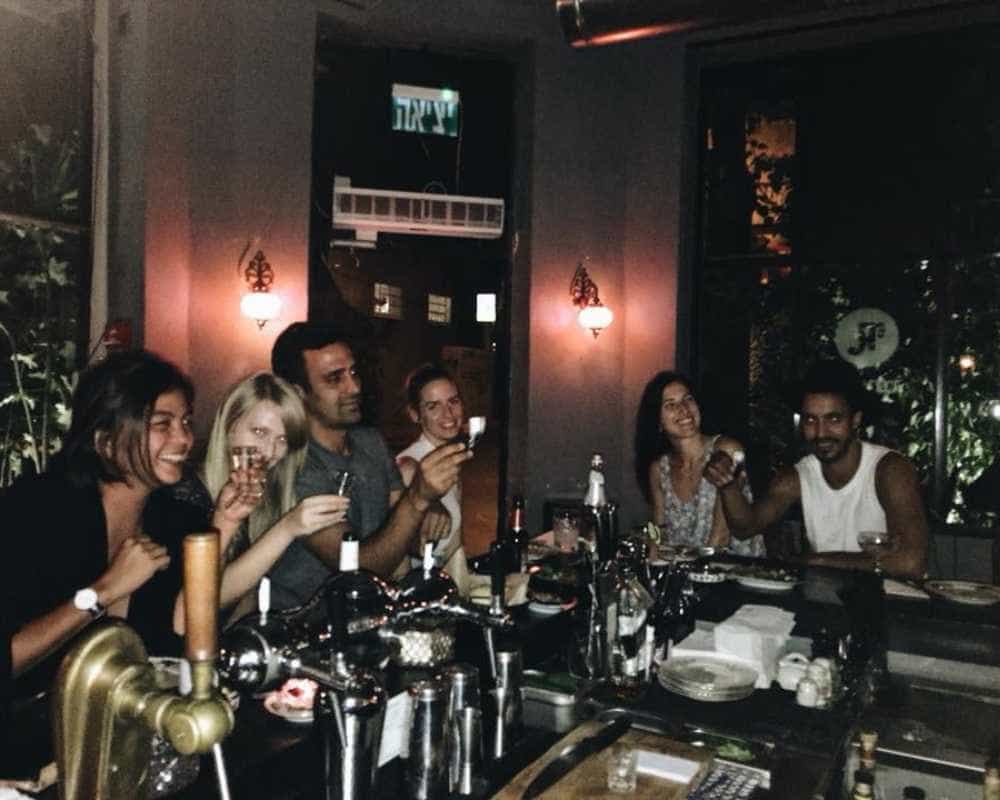 Which is totally normal in Tel Aviv. The next day, I will post in a group and ask "Has anyone seen this bike," and most people will respond even if they don't know you. However, like many European cities, bicycles are easily stolen in Tel Aviv and I lost at least 2 bikes when I was living there (unless you have an electronic bike).
It is easy to make friends with Tel Avivians
Now that I live in Mexico, I MISS MY FRIENDS SO MUCH! I have made so many meaningful relationships here; these types of friendships last. They are not my travel friends – we keep in touch and I am updated with their lives.
If it's your first time to travel to Tel Aviv and you are alone, I guarantee you that even without Tinder or Bumble, you will find friends at a bar or anywhere in seconds. I mean that, in seconds. The population of Tel Aviv Israel is so young that everyone is outgoing, friendly, and warm.
A small conversation in Tel Aviv can make you friendships that will last forever so go ahead and chat, be friendly, and be open-minded! Just avoid talking about politics at all costs – more on that later…..
Shabbat dinner experience with a family
Shabbat dinner is a traditional Jewish meal held on Friday evenings in Israel and around the world to welcome the Sabbath, a day of rest and spiritual rejuvenation. It is a time for family and friends to gather, reflecting the importance of community and togetherness in Jewish culture.
The meal typically starts with the lighting of the Shabbat candles and the recitation of blessings over wine (Kiddush) and challah, a braided bread.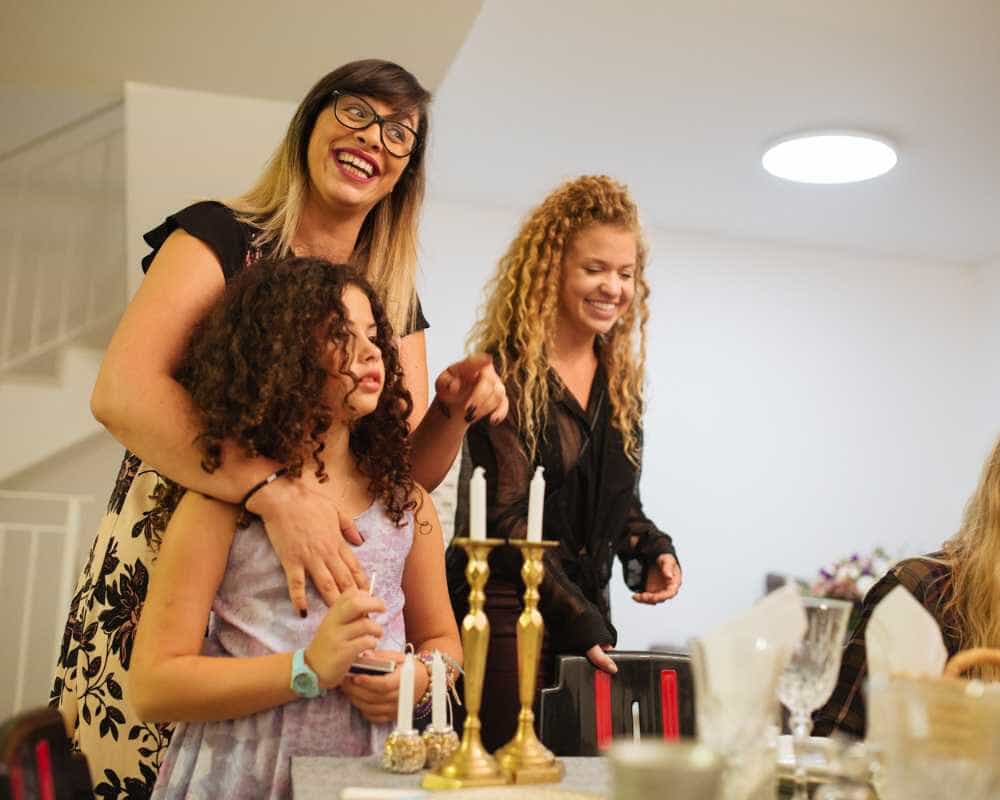 The dinner menu often includes traditional dishes, such as gefilte fish, chicken soup with matzo balls, and roasted chicken or brisket. Side dishes like kugel, salads, and vegetables complement the main courses. Desserts, such as babka or rugelach, add a sweet touch to the meal.
Of course, from living in Israel, I had many Shabbat dinners in different homes and cultures, but the most memorable to me was my first.
It was with a local family in the southern neighborhood of Tel Aviv, and it was one of my best Shabbat dinners, mostly because that family is so special to me because I lived with them.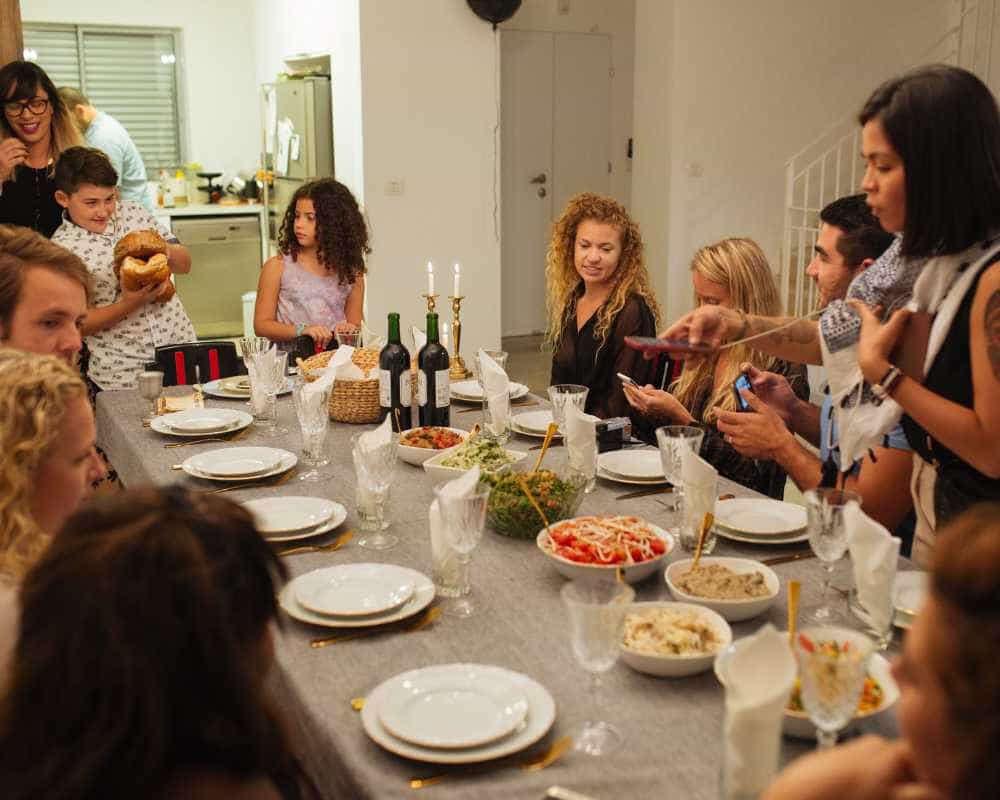 Alright, Shabbat dinners are not all about food. If you are new to Jewish culture, you need to read about this if you want to go visit a family. What I found out is that every family and household has a distinct Shabbat dinner – some are longer than others.
Shabbat dinner is more than just a meal; it is a spiritual and cultural experience that fosters a sense of unity and provides an opportunity for rest, reflection, and connection with loved ones.
Mimuna, Purim, Pesach, Burning Man, and other festivals in Tel Aviv
The Jewish calendar, at first, was quite weird to me. In March, I found myself shopping for Halloween costumes because of Purim. I was like, "Halloween in March, seriously?!"
On the week of my birthday (September 20th), it's always New Year's in Israel which is called Rosh Hashanah. I love that my birthday week falls during this Jewish festivities because I never had to plan a birthday party: everyone's planning it for me and there were so many parties to go to!
There's the Pesach (Passover) which is the longest dinner of my life. I have been to many Pesach dinners and you'll really die of hunger (depending on how long each family's ceremonies are) so make sure to eat before coming to a Pesach dinner.
There are so many more events that I have been to in Israel, but my point is, the Jewish calendar is so amusing that I did attend all these events just to see how it goes. The timings are so odd (i.e. Halloween in March) that makes the Jewish culture more interesting.
✨ Tips for first-time Tel Aviv solo travel
Do not talk about politics at all costs
I do not know if you know but the Israelis, like all of them, are known for their overly progressive politics that some of you may not agree about. Like many cultures, every single Israeli has a political view that you will be confused about what to believe in or what to take.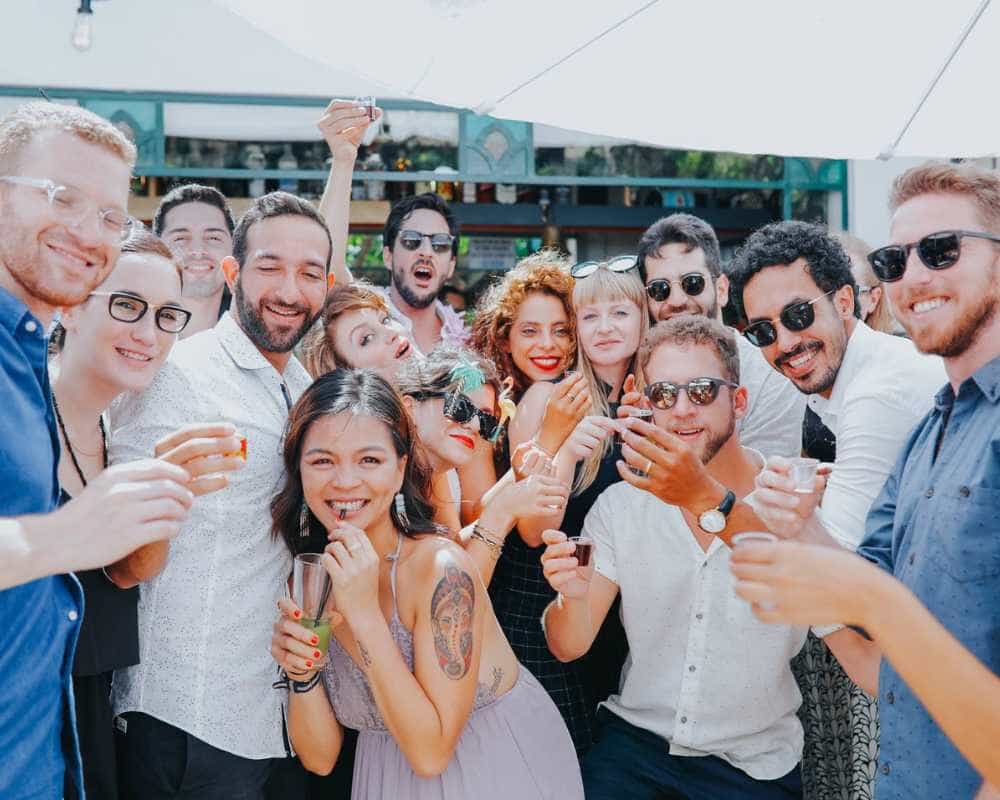 From living in Tel Aviv, I have learned not to listen to ANYONE, not even to my close friends regarding politics because it just confuses me and politics is not really my strong fort.
If you want to know about this, read history books, learn what happened during the holocaust, and focus on facts. Much of what happened in the past has a big influence on what is Israel now but don't listen to individuals because you are going to be overwhelmed and confused.
Best time to visit Tel Aviv Israel
The best time to visit Tel Aviv, Israel, typically falls between April and June or September and November. During these periods, the weather is pleasant, with temperatures ranging from the high teens to mid-twenties degrees Celsius, offering comfortable conditions for sightseeing.
The spring (April-June) season welcomes blooming landscapes while the fall (September-November) provides slightly cooler temperatures and less crowded sites.
Summer months (July-August) can be hot and humid, although it's the best time for beachgoers. Winter (December-February) can be cooler with occasional rain.
The city's cultural scene thrives year-round, with many festivals like "White Night" in summer or "Docaviv" in spring.
Ladies, Israeli men are harmless
I 100% assure you that you will be approached in Tel Aviv if you are sitting alone on the bar or even hanging out at the beach. But that does not mean they will harm you!
Let's be honest – if you are a woman, of course, a guy would approach to make the small chat but most Israelis are just curious about you. Some of them can't believe that their city is popular with tourists because of what is appearing on the news.
I have discovered and met many people in Tel Aviv this way and this made my Tel Aviv solo travel experience deep and meaningful.
Be open-minded but of course, don't let your guard down until you get to know the person(s).
Best areas to stay in
Tel Aviv's center (near Ha-Carmel Market) is very centric and expensive. To be honest, it does not matter which neighborhood you stay in Tel Aviv because this is a walking city.
You can also rent a bike during your stay but honestly, it is a small city so you won't really be far from landmarks no matter you are.
Choose between Jaffa or Florentin for cheaper accommodations and a livelier and more artistic crowd. If you decide to stay in the center, check the areas of Allenby and Rothschild but expect higher prices.
Tel Aviv is expensive
Israel is an expensive country in general so you may need to be really smart about planning your solo trip to Tel Aviv. It is considered one of the more expensive cities in the Middle East.
Prices for accommodation, dining, and entertainment can be relatively high compared to other cities in the region. However, the cost of living and traveling in Tel Aviv can vary depending on your preferences and travel style.
Budget travelers can find affordable hostels (check Florentin for hostels!), street food, and free or low-cost attractions, while those seeking a more luxurious experience will find plenty of high-end hotels, restaurants, and activities.
Use travel apps
Download useful apps like Moovit for public transportation, Waze for driving directions, and Gett for taxis to make navigating the city easier. These apps are in English, and it is very helpful.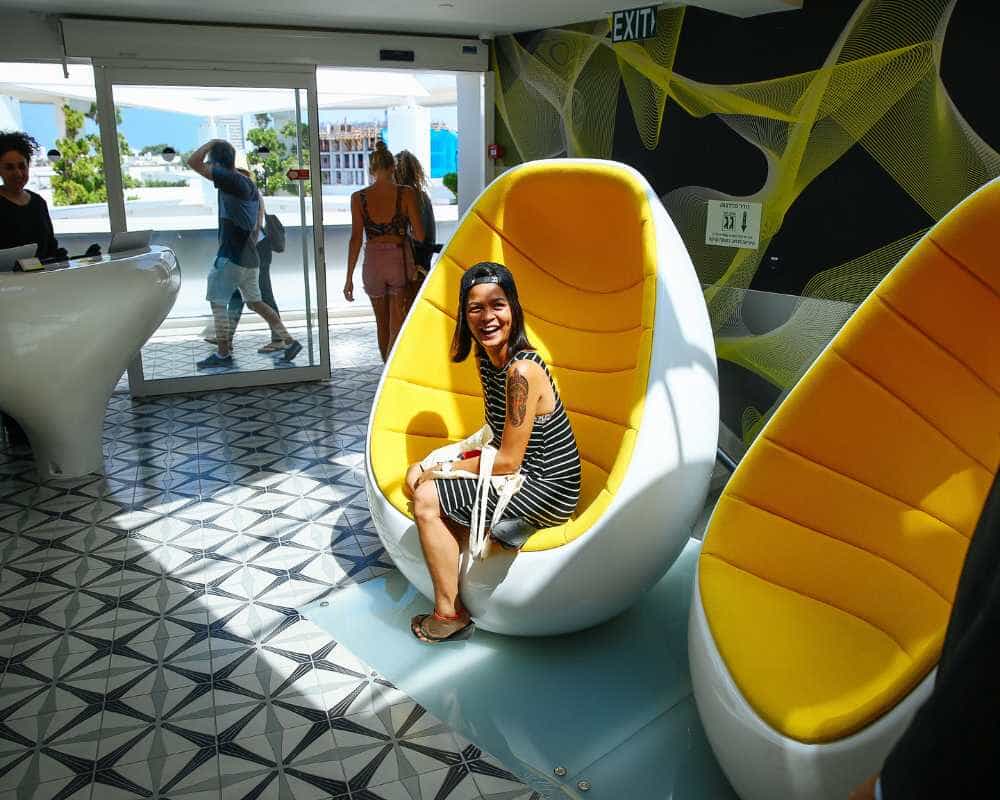 Remember that Israel is also the Silicon Valley of the Middle East so expect these apps to be easy to use and has a state-of-the-art interface that will make any non-Israeli navigate it with ease.
Get a Rav-Kav card
Rav-Kav is a public transportation card that allows you to use buses, trains, and the light rail system at discounted prices.
A Rav-Kav card is free, but you need to load it with credit to use it for public transportation. You can get the Rav-Kav card at various locations, such as train stations, central bus stations, or Rav-Kav service points. There are also dedicated stands and kiosks in some shopping malls and at the airport.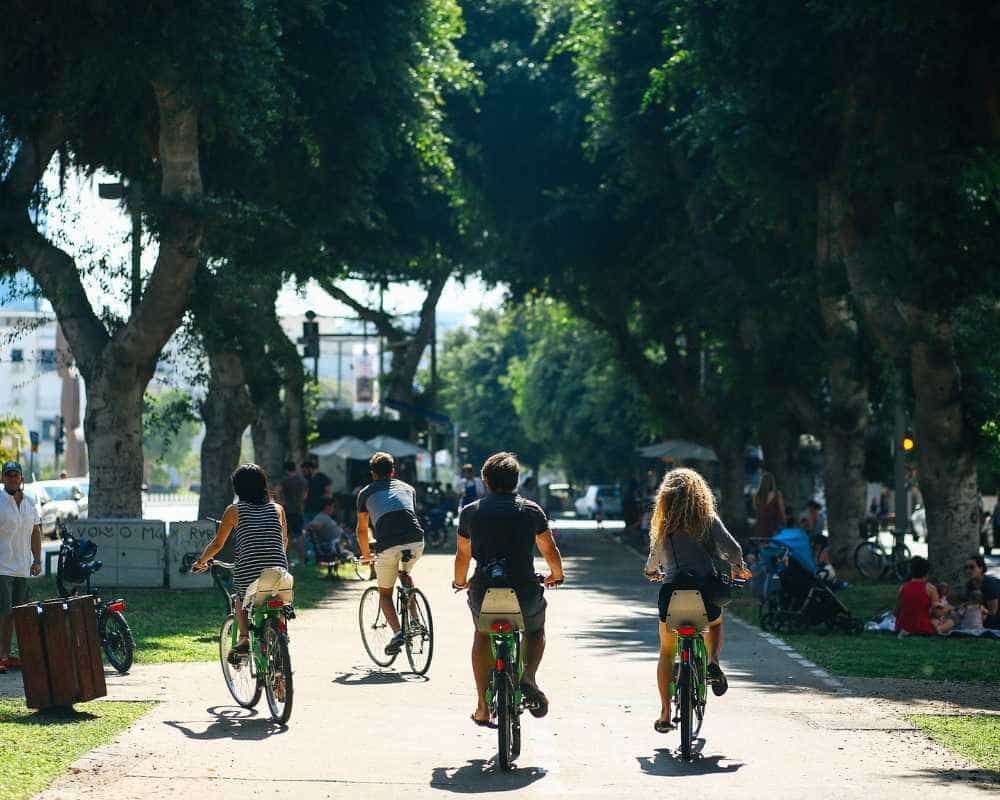 You can load the Rav-Kav card with different types of passes, depending on your travel needs. For example, you can choose between a daily, weekly, or monthly pass or load it with a pay-as-you-go option called "stored value," where you pay per ride.
The price for each type of pass may vary depending on the regions you plan to travel to and the duration of your stay.
My best advice for Rav Kav: consider the "pay-as-you-go" option or a daily pass. The cost of a daily pass within Tel Aviv and its surrounding cities is around $5.50 USD.
The pay-as-you-go fare for a single ride within Tel Aviv is about $1.90 USD. Keep in mind that prices may change, so it's advisable to check the most up-to-date information when you arrive in Tel Aviv.
🤝🏽 How to meet people in Tel Aviv as a solo traveler
Join my group trips to Tel Aviv
As I have called Tel Aviv home for a while, I decided to share my love for Tel Aviv to readers of this blog by conducting a yearly group trip, best for those who want to travel Tel Aviv solo (but not really!).
My group trips take place every June and have limited slots. I love to host small groups to make sure everyone gets the local experience. I would love for you to join me!
Be friendly, but be aware. Don't be such a drunk
Funny, I am saying this because most of the meaningful friendships I made happened when I was extremely drunk. This is personal subject as we are all different human beings.
I lived in Tel Aviv so I already knew how to move like a local and can easily read if the people approaching me are harmful or not. Most of the time, they are not.
I had zero experiences of being harmed in Israel as a woman but I can't speak for you. We attract the people that we are so I believe that all these are based on the energy we put out there.
If you are not comfortable about handling yourself in a city you don't know, drink, but don't get drunk.
Hang out in these bars
If you are in the Carmel Market area, you can check out bars like The Prince and Salon Berlin. These are the places where young people hang out.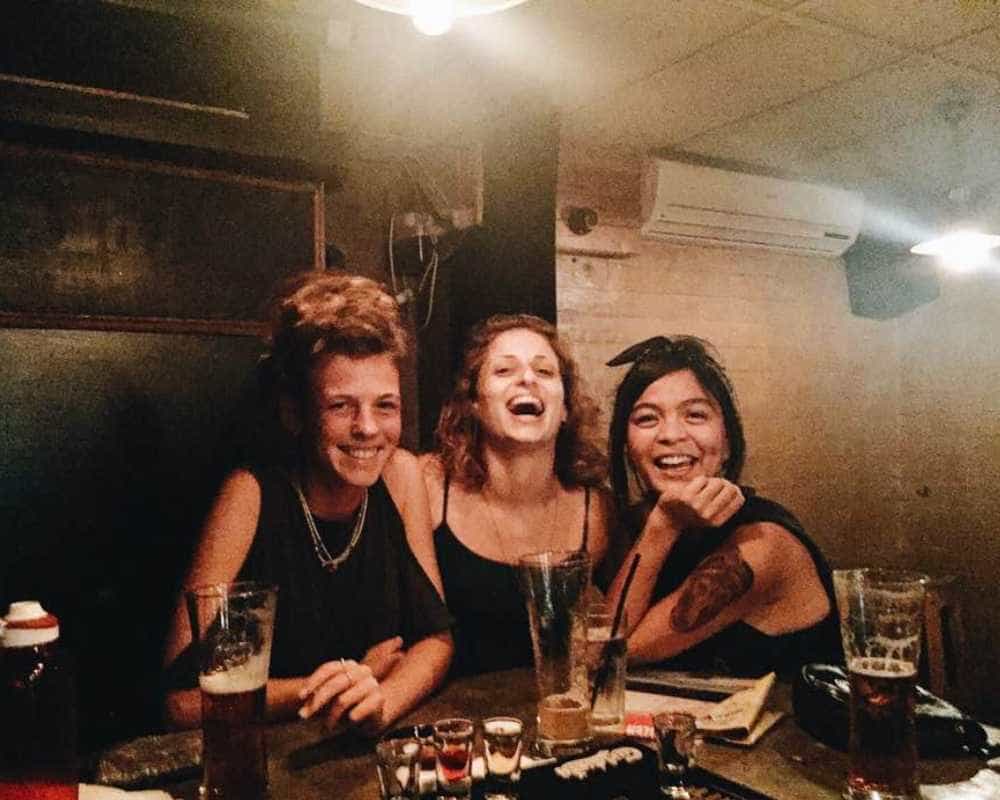 For Jaffa, I recommend Cuckoo's Nest (my friends work there!). Israelis are naturally friendly so order a drink, sit on the bar, and within seconds, they will chat with you, especially if you are alone!
Stay in hostels
Staying in hostels as a solo traveler is a fantastic way to meet like-minded individuals from around the globe. The communal nature of hostels fosters interaction through shared dormitories, communal kitchens, and common areas.
Many hostels also organize social events such as group tours, cooking classes, or game nights, which are perfect opportunities to mingle and make new friends.
Abraham Hostel is a great option. The only downside with Abraham is that it's a big hostel so people tend to group themselves (or not to talk to each other at all).
If you are in another neighborhood like Florentin, I love Florentine Hostel because it's smaller and has more opportunities to engage with people.
Get in touch with me, and I will introduce you to the cool kids!
If you feel like we have the same energy and you love the way I travel, YOU WILL DEFINITELY LOVE MY FRIENDS. I know that traveling alone to Tel Aviv feels scary but I promise you, it is one of the best destinations for solo female travel.
Just write to me via e-mail, and I will definitely make an intro to my friends! You'll love them, I swear!
⁉️ FAQ: Solo travel to Tel Aviv Israel
Trisha is one of those people who left their comfortable life to travel the world and learn about life. Her style is to stay in one place she likes for 3 months (or more) to know what it feels like to eat, cook, speak, and sleep in another culture that isn't hers. She'd like to believe she's not traditionally traveling but she just chooses to be somewhere else all the time. In no particular order, her favorite cities in the world are Barcelona, Buenos Aires, Hong Kong, Mexico City, and Tel Aviv.