I visit Taiwan quite often and from my many bad weather experiences, I have mastered the best time to visit Taipei. In this post, I will share with you a month-by-month account including what to pack for your trip!
Weather, weather, weather… Are you one of those people who just don't simply check the weather when traveling? I feel like I've always failed in this department since I am traveling for an indefinite time.
The way I move around places really depends on my mood but that's not really good practice, especially when traveling constantly. On one of my trips to Taipei, I did not know that it was the rainy season so I packed the wrong clothing. Good thing I have so many good friends in Taipei to assist!
Whether you are going backpacking or planning a short trip to Taipei, here's what you need to know about the weather, what to pack, and the best time to visit Taipei.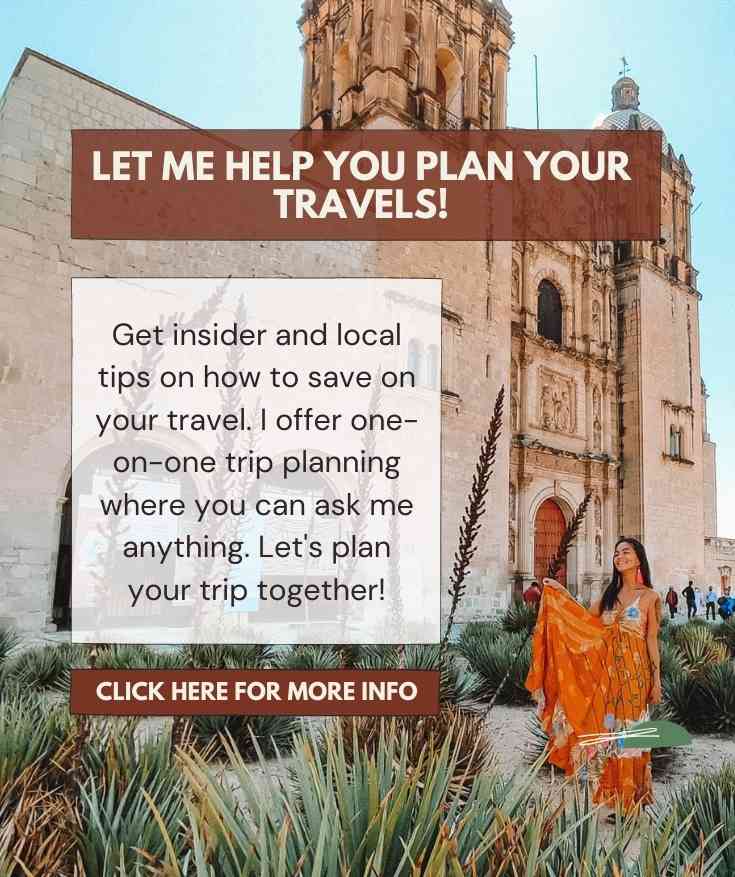 ????️ How often does it rain in Taipei?
The rainy season in Taipei falls in the months of June to September. I have to be honest though – I have never visited Taipei without rain! It rains almost half the year in Taipei (about 165 days) with 2,370mm of rainfall per year.
There are many things to do in Taipei even if it's raining and this is actually a good opportunity to travel outside of Taipei to explore mountains and hikes in Taiwan.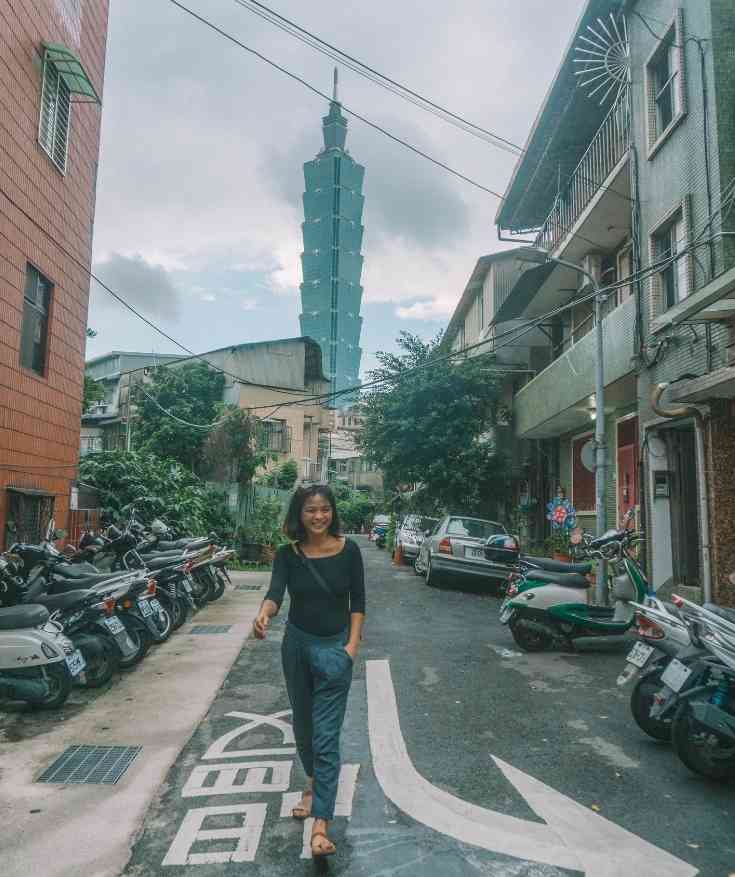 ☀️ The best time to visit Taipei, Taiwan
July and August are high seasons in Taipei. This is Taiwan's summer so expect the heat to reach up to 30°C (86°F). Walking the streets of Taipei would be unbearable from noon but by sunset, the weather becomes cool.
November to March is the low season with scattered rain showers and thunderstorms. This is still the low season in Taipei with winters up to 13°C (55°F). This is the best season for hikes and outdoor activities as you won't get so sticky from the humidity.
March, April, October, and November are shoulder months. Taipei has four seasons but the Spring only lasts for one month (March-April). This is also the time to see the cherry blossoms in Taipei if you want an alternative to Japan.
Temperatures during this month are more comfortable and for me, this is the best month to visit Taipei. Expect lower prices and fewer tourists during the shoulder season.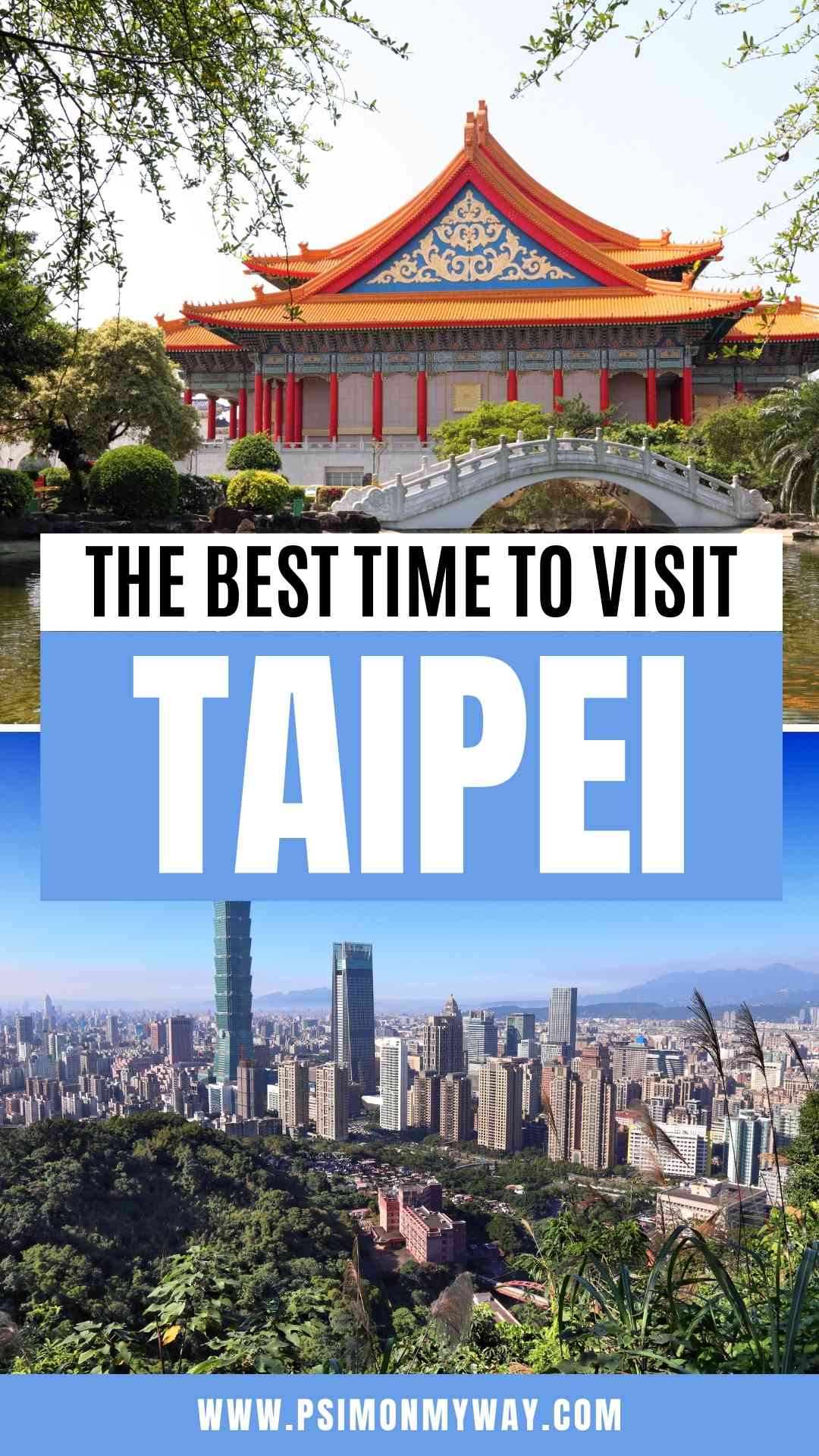 You might also like:
????️ Taipei weather: month by month
January in Taipei
Many tourists go home from spending New Year's and Christmas in Taipei but that doesn't mean that January will be calmer. Some even arrive this month for the most awaited Chinese Lunar New Year which is Taiwan's most grandiose holiday. The coldest is at 13°C (55°F) and the hottest is 20°C (68°F).
February in Taipei
February is still sort of Chinese New Year and the biggest event during this month is the Pingxi Lantern Festival. This Taiwanese tradition believes that if you write your wishes on the lanterns and let them fly away, then the Gods will make your wishes come true. In February, the coldest is 12°C (53.6°F) and the hottest is 19°C (66°F).
March in Taipei
I would say March is the best time to visit Taipei because of the cool weather. This is the beginning of the short-lived Spring and is also the best time to see the cherry blossoms in Taiwan.
Average temperatures at this time are like February for the first two weeks. During the last 2 weeks of March, it is 24°C (75.2°F) and can go up to 16°C (60.8°F) during the evenings.
April in Taipei
April is the end of the Spring in Taipei and is a great time for events and festival enthusiasts. The biggest event is the Baosheng Cultural Festival that happens in Bao'An Temple.
The temple will be packed all week so it could get hard to get into this celebration. The first two weeks of April are at a steady 24°C (75.2°F) while the last weeks can go up to 27°C (80.6°F)
May in Taipei
May is the beginning of summer so everyone heads to the beaches near Taipei. Taiwan is not actually well-known for its beaches and I only discovered these beaches from local friends on my one visit in May. You will probably spend most days of May on the beach as the heat can go up to 31°C (87.8°F) towards the end of May.
June in Taipei
June in Taipei is pretty busy because of the annual Dragon Boat Festival, a Chinese sporting event that is followed by many. This is still summer in Taipei with high temperatures up to 32°C (89.6°F) and the lowest being 23°C (73.4°F).
July in Taipei
July is Chinese Valentine's Day (July 7th) so expect locals to go out and celebrate. Maybe you'd also reserve a great meal with your partner at some of the finest Taipei restaurants to participate in this occasion.
July heat is up to 33°C (91.4°F) so you may want to schedule your activities in the afternoon when temperatures drop to 24°C (75.2°F).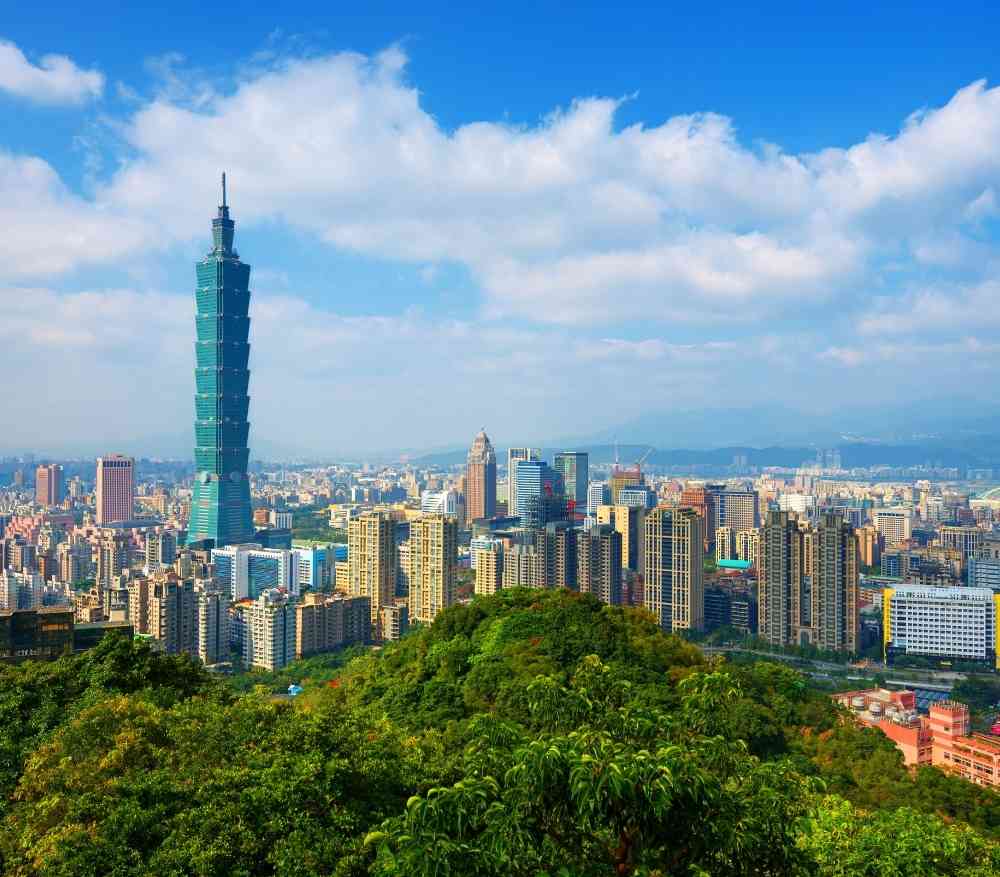 August in Taipei
August is ghost month in Taipei, not because there are fewer visitors but because this is the month where they celebrate the spookiest of the Tao tradition.
During this month, you will see a lot of food and trinkets on the streets of Taipei that serve as an offering to the Gods. August in Taipei has similar temperatures to July.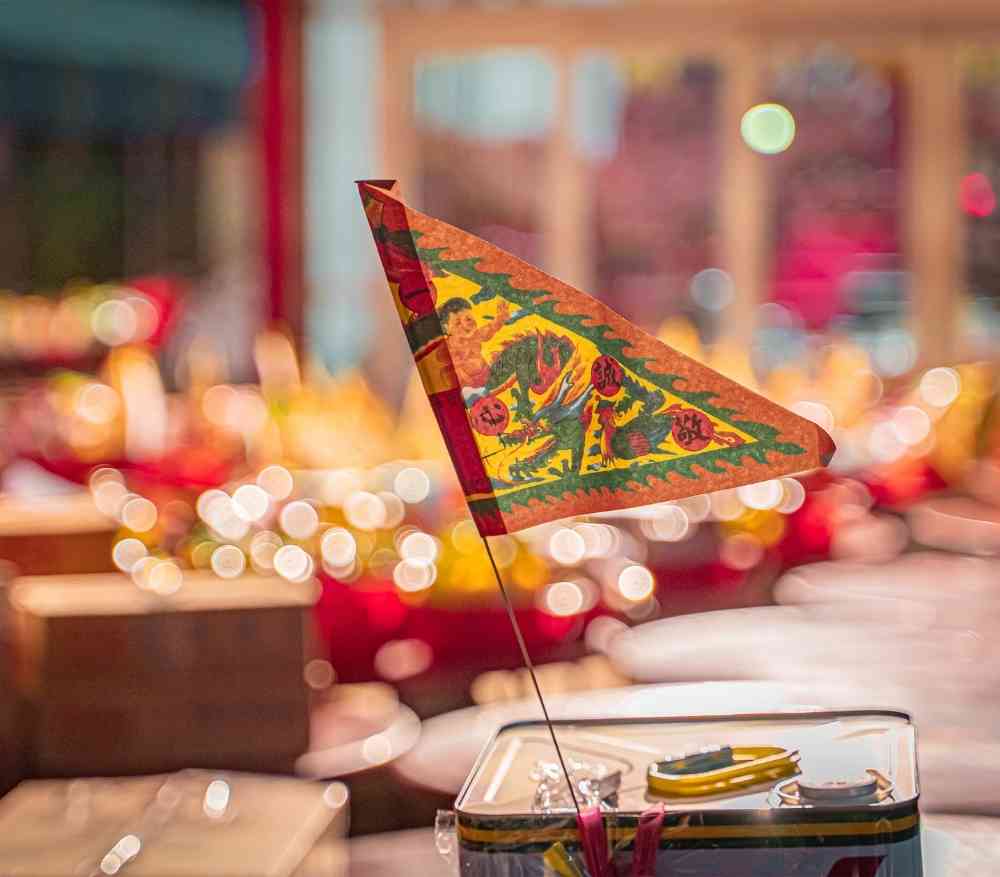 September in Taipei
Taipei celebrates the mid-autumn festival during the month of September and you will see many locals having barbecues in parks or on the patio of their homes to celebrate the biggest full moon of the year.
The first two weeks of September are still super hot (like July and August) but towards the end of September, the weather calms down and becomes cooler 30°C (86°F) high and 21°C (69.8°F) low.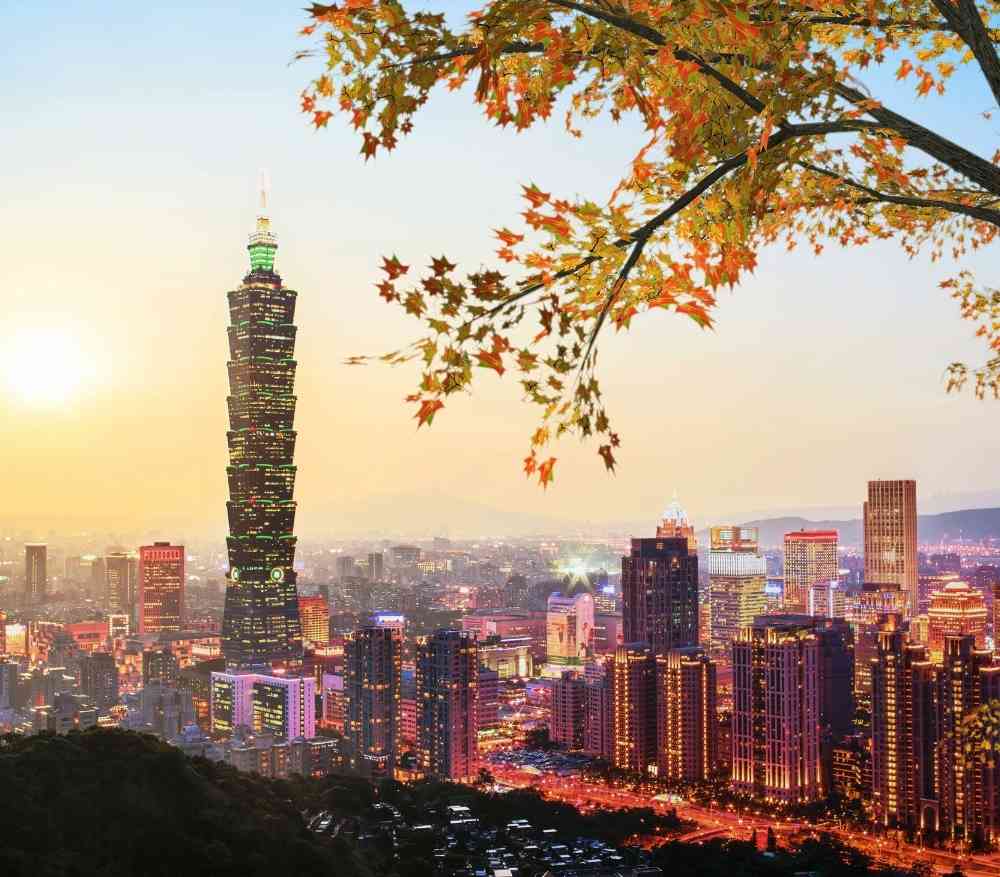 October in Taipei
Taiwan is a free and progressive nation and although Pride Parades usually fall in June, Taipei celebrates in style in the month of October! You will see a splash of colors on the streets of Taipei and this is a family event!
Everyone comes to the streets for the parade! The last two weeks of October become much cooler with 26°C (78.8°F) as the hottest temperature. Temperatures during the evening can drop to 18°C (64.4°F).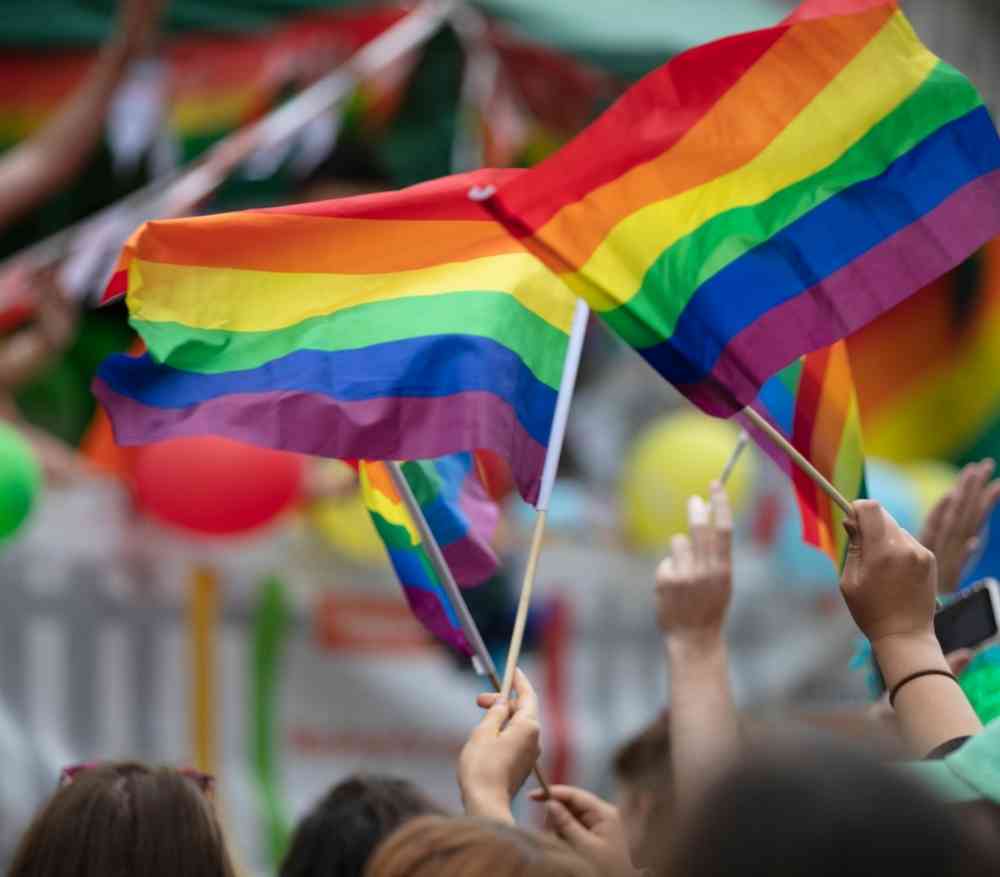 November in Taipei
November is also the best time to visit Taipei: it's not too hot, it's not too cold. You can walk the streets of Taipei without heavily sweating with the privilege of not having overcast weather – the sun is always out in November! The hottest days are at 25°C (77°F) and in the evenings, expect temperatures to drop up to 15°C (59°F).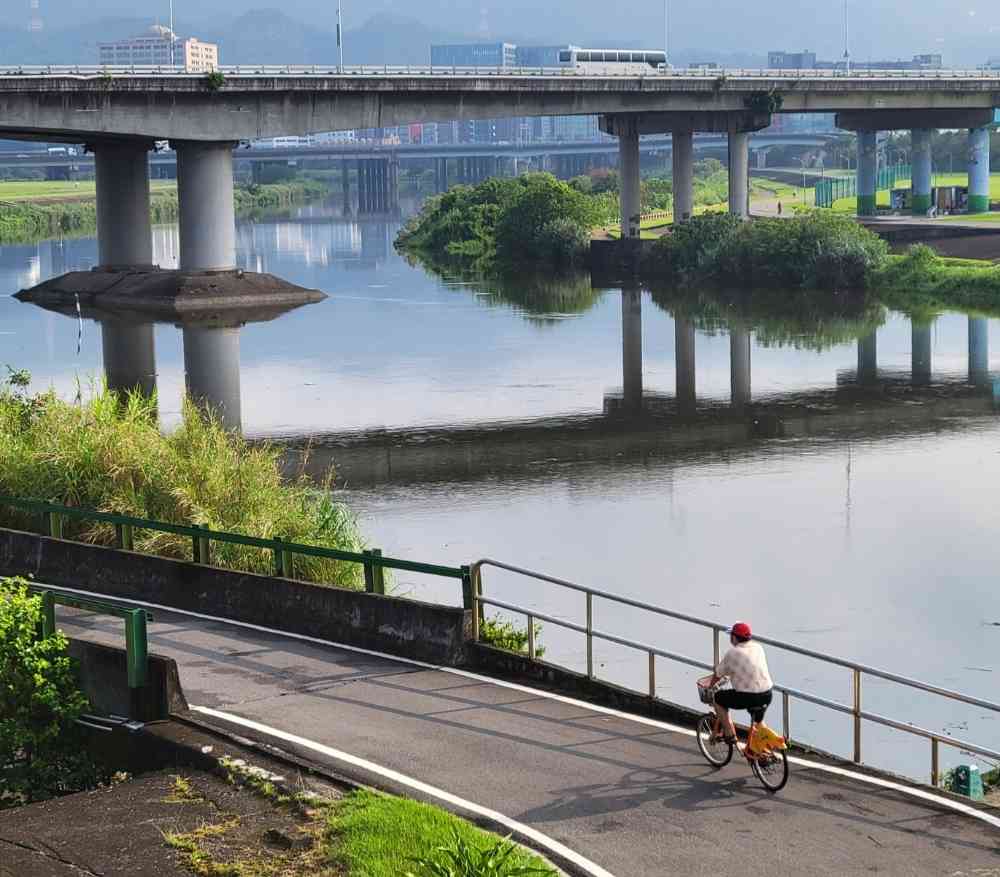 December in Taipei
As usual, this is a high season almost everywhere because of North Americans and Europeans escaping the winter in their respective countries.
Taipei is one of the cheapest countries in Asia to celebrate Christmas and New Year so expect a larger volume of tourists at this time.
The grand fireworks show happens at Taipei 101. It can go up to 13°C (55.4°F) during the evenings so make sure to pack a light jacket!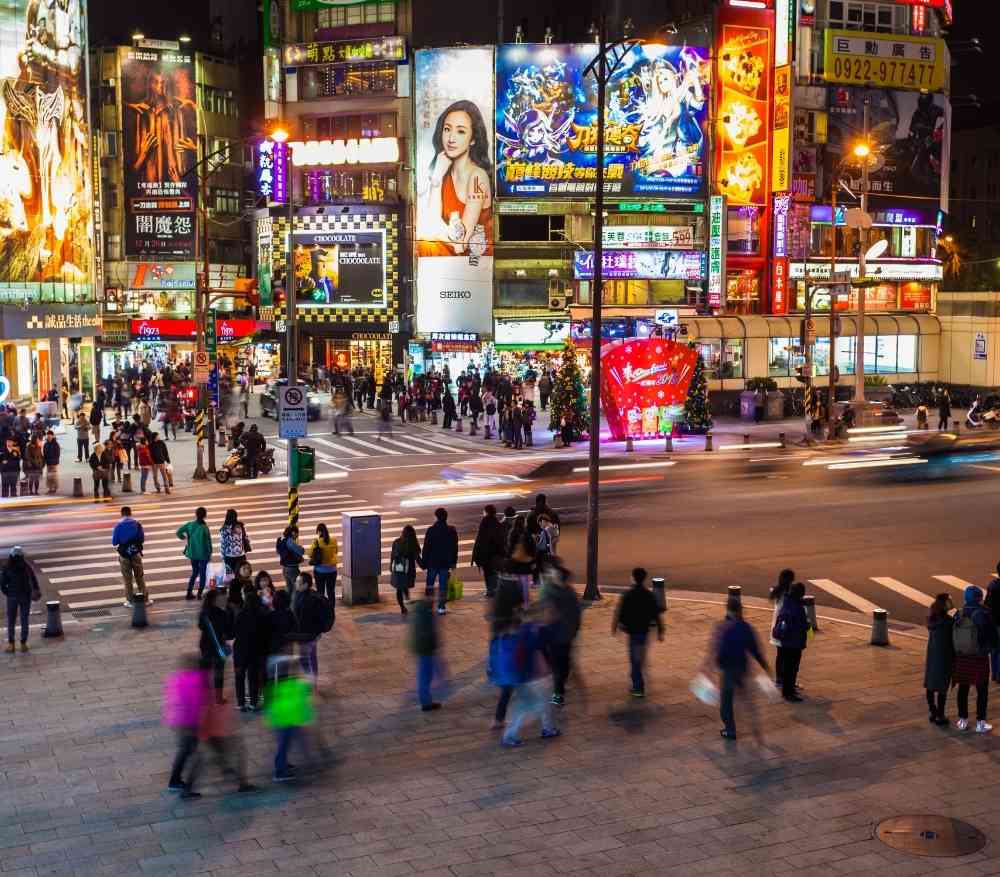 ???? What to pack for Taipei
As I said, Taipei is a very modern and progressive city. There are no dress codes and the Taiwanese people are super fashionable and expressive in regard to what they wear.
Most of the items on this what-to-wear section have everything to do with the weather and activities that you will do in Taipei. Below is my packing list for Taipei: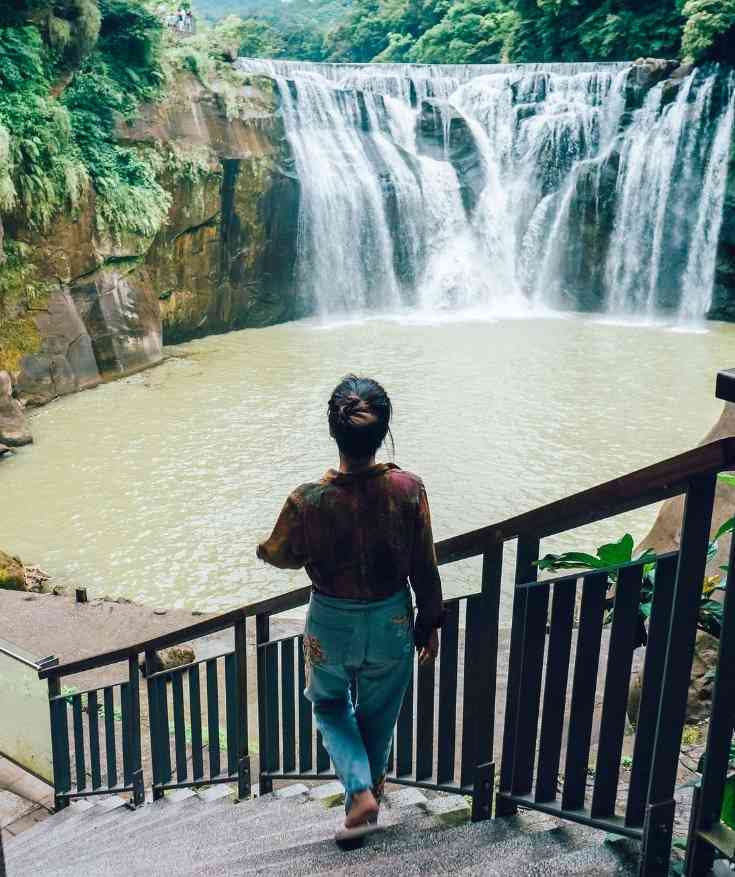 Rain jacket
???????? Buy for US$85
I love this rain jacket from Marmot because it is light and easy to travel with. I've had it for years and is very reliable when traveling to rainy cities like Taipei. When choosing a rain jacket, make sure you choose something with a hoodie so as to avoid bringing umbrellas everywhere.
White rubber shoes
???????? Buy for US$125
I love these Nike basketball women's shoes because I can wear them with anything – even with dresses! I don't really like bringing a lot of pairs so when you have something like this, it can fit all! This is ideal for comfortably walking around Taipei – I swear, you can wear these for hours and your feet won't hurt.
Light cabin suitcase
???????? Buy for US$650
If your trip to Taipei will fall during the summer, don't bring a large suitcase since you will be packing light stuff. My Rimowa luggage set is not that cheap but I have been using the same one for over 7 years!
Asian outfits
???????? Shop Korean clothing
To make sure you fit in and don't have an 'off' fashion, take it from the Koreans as they are the ones who set the fashion trend in Asia! The Korean style is loose and comfortable and is fit for every season. Girls, you will definitely love this kind of fashion!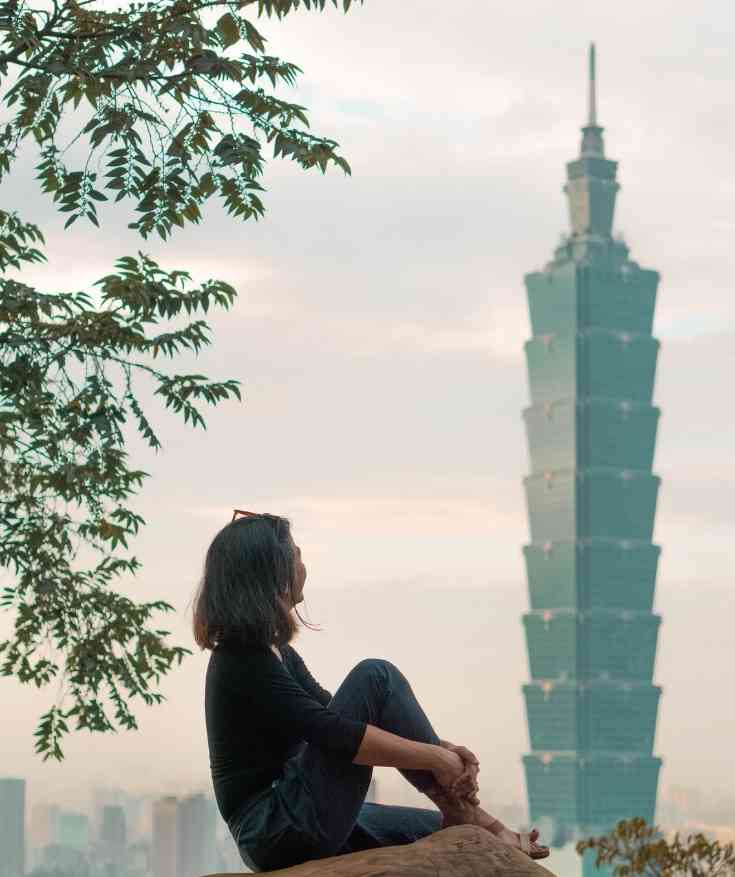 ✈️ Ready for your trip to Taipei? This blog thrives on reader questions so feel free to ask questions about the best time to visit Taipei by using the comment box below. You can also sign up for 1-on-1 coaching with me if you need more help!
Trisha is one of those people who left their comfortable life to travel the world and learn about life. Her style is to stay in one place she likes for 3 months (or more) to know what it feels like to eat, cook, speak, and sleep in another culture that isn't hers. She'd like to believe she's not traditionally traveling but she just chooses to be somewhere else all the time. In no particular order, her favorite cities in the world are Barcelona, Buenos Aires, Hong Kong, Mexico City, and Tel Aviv.