Is solo female travel in Jordan safe? Here are my experiences in traveling solo as a woman for 5 weeks in Jordan including my family stay experience, diving adventures, and more travel safety tips.
Reader Mail: Hello Trisha! I found your blog site in the UK travel awards 2017 and I've been in love with your content since then. I know you spent a lot of time in Jordan and I am planning to go this November. My friends are telling me it isn't a good idea since there are a lot of travel bans to Jordan here in the UK. Now, I do consider you as a reliable source so I'd like to ask if you think solo female travel in Jordan is safe? What are the parameters should I consider? Thank you so much and I hope you can help me decide!"
– Amy Bailey, England
Dear Amy,
Glad you decided to visit Jordan! In the beginning, I was also scared to go to Jordan but then I was doing a visa run for Israel – I had no choice but to conquer my fear. For Philippine passport holders like me, Jordan's visa application is not that easy so that was another factor that hindered me from visiting.
To my surprise, once I was already in Jordan, I learned to love it and ended up staying long-term! I learned a lot about the Jordanian culture and how very open this Middle Eastern country is when it comes to tourists. I know that you will love it!
Good luck and if you have any questions about Jordan, feel free to get in touch with me via Instagram.
Xx,
Trisha
Is Jordan open for tourism?
Jordan was closed for a long time and did not accept international flights and travelers. As of January 14, 2021, Jordan is accepting tourists with the following conditions:
Self-quarantine: this used to be a requirement to enter Jordan in 2020 but now, you can enter Jordan without self-quarantining.
A negative PCR test is required for tourists entering Jordan. It should be done within 72 hours before the flight. When you arrive in Jordan, you will undergo another mandatory PCR test at your own expense.
Fill out the application form to upload your PCR test. You need to do this prior to your flight. Click here to fill out the form.
Solo female travel in Jordan: personal experience
When I thought about visiting Jordan, the words "unsafe" kept roaring in my head. I was living in Israel when I visited Jordan so I gave it a try.
It was a 6-hour bus ride from my former home in Tel Aviv. First, I spent some time in the Israeli city of Eilat where I visited some friends I met in Peru. I took a taxi to get to the border and it was pretty easy.
As usual, the Israeli border is very strict and this is probably the craziest check I underwent while living in Israel. Note that when leaving Israel by land or by plane, you will still have to undergo a thorough check. I was surprised to see that most of the border personnel in the Israeli-Jordan border were women.
As soon as my backpack passed security, they asked me to take out the contents of my backpack. At first, I said "no." Growing up, I was trained never to open my backpack/luggage in any airports as airport personnel can plant something that may implicate me.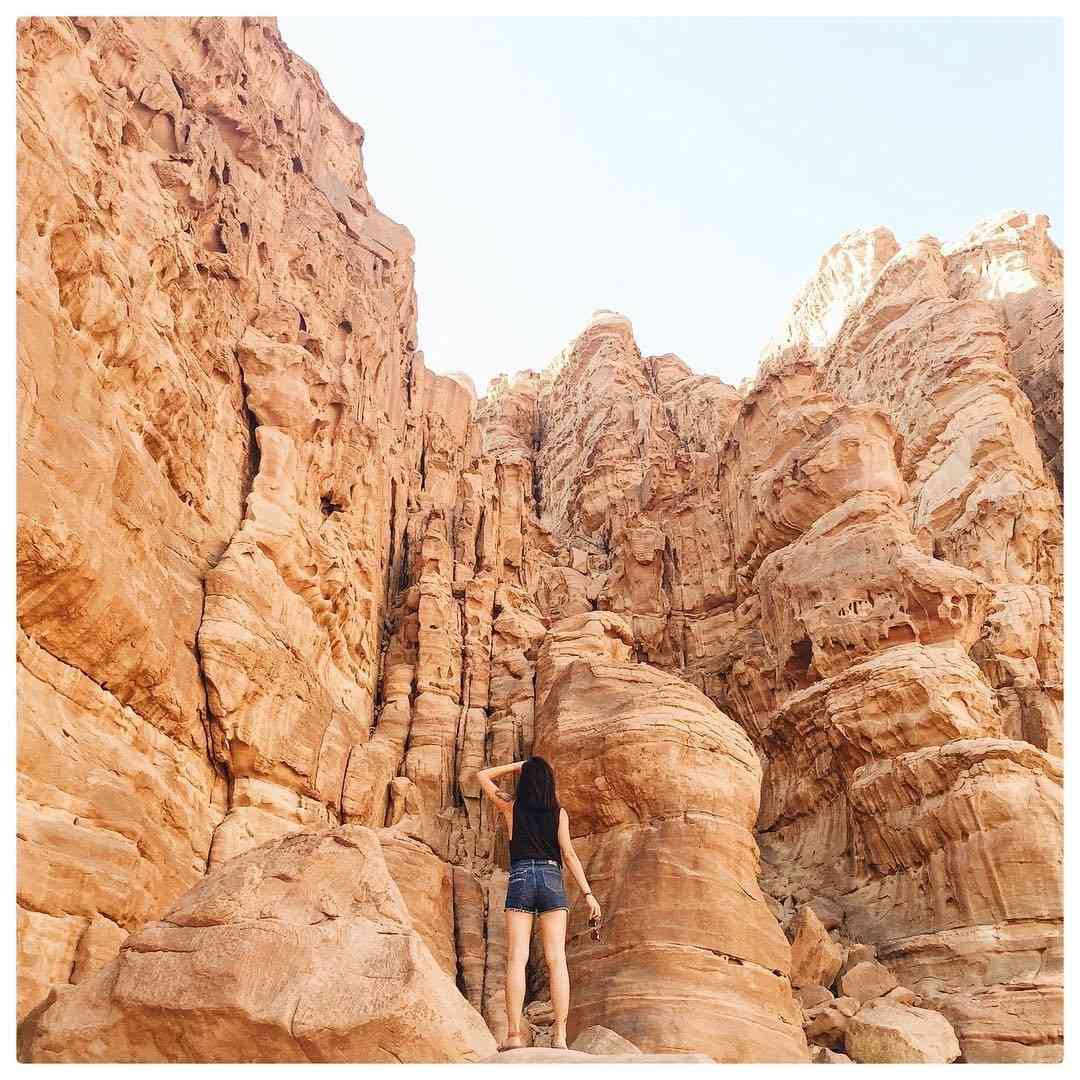 It happens a lot in Asia. When I refused, the Israeli soldier pointed at all the cameras they have on the premises. She told me that the border is equipped with security cameras in all corners so I had nothing to worry about.
Convinced with that state-of-the-art system and the reputation of Israel when it comes to high-end technology, I obediently emptied my bags. It was a tedious process as I had a lot of things but in the end, they let me exit.
Philippine passport holders like me need a visa to enter Jordan. On normal days, it is very difficult for us to obtain a visa to Jordan (unless you are a Filipino with a resident visa in the Middle East) but I was sponsored by a tour company to come to Jordan.
They were waiting for me at the border when I arrived. They needed to escort me as they paid a security deposit of $2,000 USD that they will get when I exit Jordan. If you are from the Philippines and need visa assistance to Jordan, get in touch with me!
I can assist you in getting a visa to enter Jordan! I entered Jordan from Israel through Aqaba (south) but there's another border where you can go directly to Amman. It's called King Hussein Bridge crossing.
Is Jordan safe to travel solo?
ABSOLUTELY SAFE!
No one ever told me to not walk alone at night in Jordan so I tried to do it myself during my time in Petra and Aqaba. The people are very friendly and often greet me as I do my daily routines. I found Jordan to be more lenient but not as Western as Morocco.
Some small towns still look at women differently. A lot of people (especially the men) will still question why you'd like to travel to Jordan solo and as a woman. They will rigidly ask but they will not make physical contact. According to Muslim practices, men are not allowed physical contact with women to who they are not married.
However, I came across men who received the message differently. As I was being nice and jolly to everyone, one of the guys near the street I was staying in thought I was indecently proposing that we sleep together.

My smile has sent the wrong message but I managed to get out of it in a smooth manner. Note that countries like Jordan often have the notion that Western women are promiscuous, as portrayed in Western films.
I also didn't find the Jordanians heavily talking about religion, culture, or belief, nor was it imposed on me. Gandhi was right when he said, "be the change you want to see in the world." We all want to change the world, yes? AND WE CAN.
We just have to change the way how we look at it and how we exist in it. I realized this when I met a Jordanian driver the other day who was very popular in his group. Everyone waved and addressed him with his first name as we roam the lost city. I told him he was so popular in the city and he said it's because he doesn't choose who to greet or be kind to.
"My friend, I am a Muslim. You are China. But we are all brothers and sisters. I wish everyone here will see the world the way I do. We don't need to discriminate. We are all humans, equal in all ways. Petra is my home. If you treat Petra right, you are always welcome. I am the fish and Petra is my sea. I cannot imagine myself swimming/living in a different sea."
"You speak very good English and you are right. I am with you, brother. But I am not from China."
"You are a tiny human. Of course, you are China." he responded.
Originally, I went to Jordan with the hopes of working at a Syrian refugee camp called Zaatari. It is the world's largest refugee camp for Syrian refugees and has become a permanent settlement.
My contact there said I needed to have UN training and proper education in order to volunteer. Though I have experience in working in distressed areas, I do not have credentials (aka diploma) that will allow me to work in a refugee camp like Zaatari.
Geographically, Jordan is locked between the most volatile countries in the world (Israel, Syria, Iraq) so terrorism is mostly a concern not only for solo female travelers but also for everyone planning to visit Jordan.
I don't mean to scare you but it is very important that you know the history of "terrorism" in Jordan. For the past 5 years, there were 2 incidents:
On December 18, 2016, a series of shootings took place in a southern city of Jordan called Al-Karak. This fort is a popular spot for tourists to visit. During this incident, two Jordanian locals and one Canadian tourist were killed. I was there in 2016 and did not feel the weight of this incident.
My family was very concerned because the news exploded all over the world but I think news like this makes people who are not in the place more worried because of how it is delivered. I am not saying this was a minor incident but personally, I think it's about being in a place at the wrong timing.
The second incident took place in July 2017. One of the largest tribes in southern Jordan protested over a Jordanian soldier receiving a life sentence over the death of three US military trainers.
Jordanian authorities had to close the road from Petra to Wadi Rum (that's a really long road. I drove this route). Most tour operators regarded this as an overreaction and were unnecessary to stop tourism activities in the country. They said that this only hurt Jordan's reputation for safety.
Jordan is still one of the most epic adventures of my life and I want you to enjoy it as a solo traveler. Now let's move on to female travel tips and safety!
Solo female travel in Jordan guide: what to wear, things to do, and many more!
What to wear in Jordan as a solo female traveler
I thought I needed to cover myself when traveling to Jordan but when I reached Amman, I found out that I didn't have to do that. Jordan is very modern and is very open to tourists. They don't require female travelers to "dress properly" but you can do it for the experience.
View this post on Instagram
I am not saying you can easily wear sleeveless tops or bikinis in Jordan. You still have to follow an appropriate dress code. For most days, I wore pants and shirts with sleeves. However, I noticed that touristy places don't really require this dress code so I had the freedom to wear sleeveless in Amman and Petra.
Wearing a swimsuit on public beaches like the Dead Sea was also okay. But in small towns and provinces, always make sure you have knee-length dresses/skirts and cover your shoulders and upper arms. Again, you do not have to cover your head with a scarf.
This is deemed inappropriate for non-Muslims, particularly by the women of Jordan's Christian communities who do not wear headscarves.
Best things to do in Jordan for solo female travelers
I didn't expect to spend 6 weeks in Jordan. Originally, I was there for a weekend but when I realized how comfortable I felt in Jordan as a woman, I opted to stay more! Here's my list of top things not to miss in Jordan:
Diving in Aqaba
I worked in a dive shop in Aqaba and was able to experience the Red Sea! The south of the country is known for its diving sites but I didn't really find the waters as appealing as where I am from (ahem, the Philippines). The marine life isn't that rich but there are a lot of wrecks that you can explore!
I did this twice already and loved both times I visited. When asked by many about the most beautiful thing I have seen in all my travels, I always say Wadi Rum – I've never seen anything like it! Of course, I still haven't been to the USA where there are many similar rock formations. But until I visit the USA, Wadi Rum will still be the most beautiful for me!
Check prices and availability for Wadi Rum Tour »

Amman is probably something that exceeded my expectations. When I arrived in Amman, I was behaving well and following my made-up Jordan etiquette for women. Little did I know that I can move freely as I do in my home in Tel Aviv. Amman is often skipped by tourists but if you want to see the modernity of Jordan, Amman is the best place to do it.
Check prices and availability for cooking classes in Amman »
The Indiana Jones movie location is as true as it was on film. Next to Wadi Rum, Petra is the most amazing place I've ever seen in my life. The vibe, the culture, how it looks like – it's all a wonder for me. I even thought about living in Petra!
Check prices and availability for Petra tours »
Trisha's best experience in Jordan
I stayed with a local family for 3 weeks and was able to enjoy the Eid festivities. During Eid, my host family offered a goat, a very bloody experience that I learned to respect at that moment. For outsiders, it may be a brutal ritual for festivity but Muslims have their ways and means that we should understand and respect.
Being in Jordan made my views on religion and culture different. I realized I am only a visitor in this country and I have no right to question their beliefs, just as I wouldn't allow my beliefs to be questioned.
Jordan travel and safety tips for solo travelers
Jordan is not one of those Middle Eastern countries where you have to take extreme precautions when traveling solo as a woman. You can definitely relax and enjoy your vacation without having to worry about being harmed. Here are some of the basic solo female travel in Jordan tips that I can share with you:
Get a Jordanian sim card
The main provider in Jordan is Zain. You can find it in airport kiosks but they are also seen all over the major cities. They will ask for your passport when buying a sim card so make sure you have it handy. A call and text package costs $13 USD approx. This will be enough for you to use in case of an emergency. For data plans, unlimited internet costs less than a dollar per day but is considered more expensive as opposed to the call, text, and data package.
Be persistent when you feel harassed
Saying no and walking away is the technique that worked well for me. I don't consider this as a harassment but there was a guy in Petra who aggressively asked me to hang out with him. When I said no, he didn't relent. He still insisted that I come with him.
I went to the nearest store where there were a lot of people. In my experience in Jordan, if you are being harassed, people around you will help willingly, most especially if you send a signal that you are in trouble. When caught in a situation like this, it's best to stay calm and do not fight or raise your voice. This only makes them more aggressive.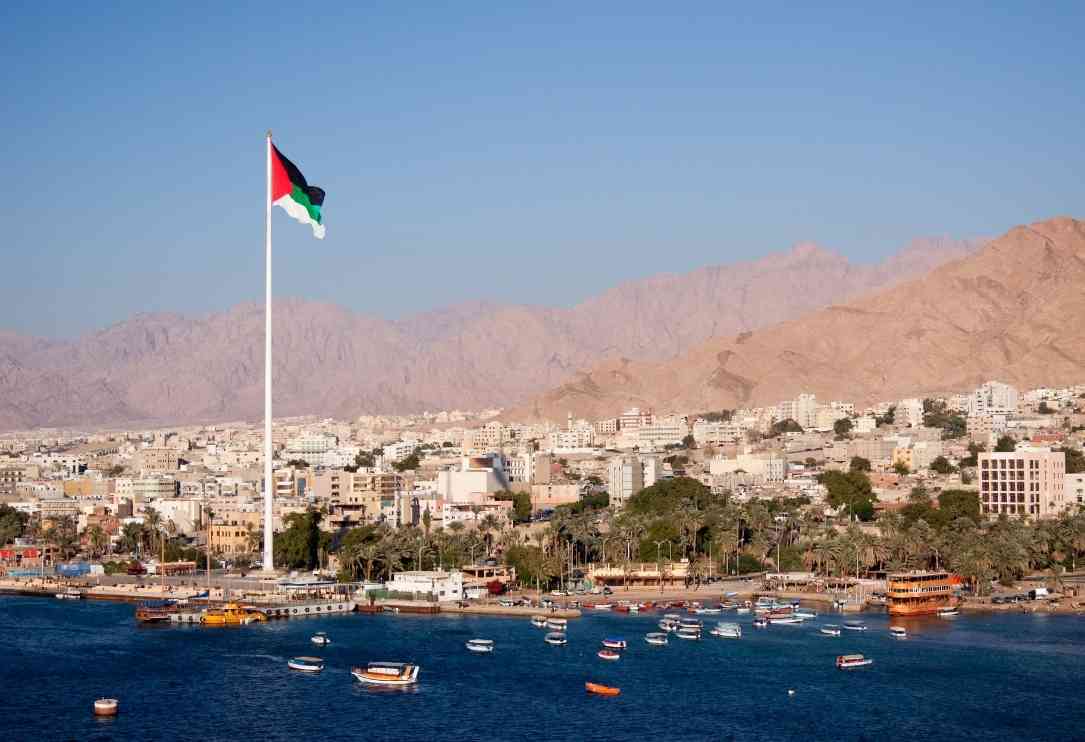 Assault and rape is very rare in Jordan
I don't know the extent of harassment one can experience in Jordan as I consider it a really safe country. But if someone physically attacks you, you can go to a police station or a tourist police booth to ask for help. I heard that police in Jordan take this kind of report seriously, especially if it's from a woman. In case of emergency, 911 is the number to call where there is English-speaking staff to assist you.
Always stick with the girls/women
I rarely saw a lot of women in the streets of Jordan but when I am taking public transport, I make sure to sit next to older women.
Check for peepholes in rooms and bathrooms
This is the most disgusting tip I ever received in Jordan as I didn't think people would do such a thing just to see a woman naked. Cigarette holes in curtains are pretty common, too.
Always lock your doors even in 4 or 5-star hotels
Some women go to extremes. I met someone who keeps a chair against her locked hotel room door just in case of an intrusion.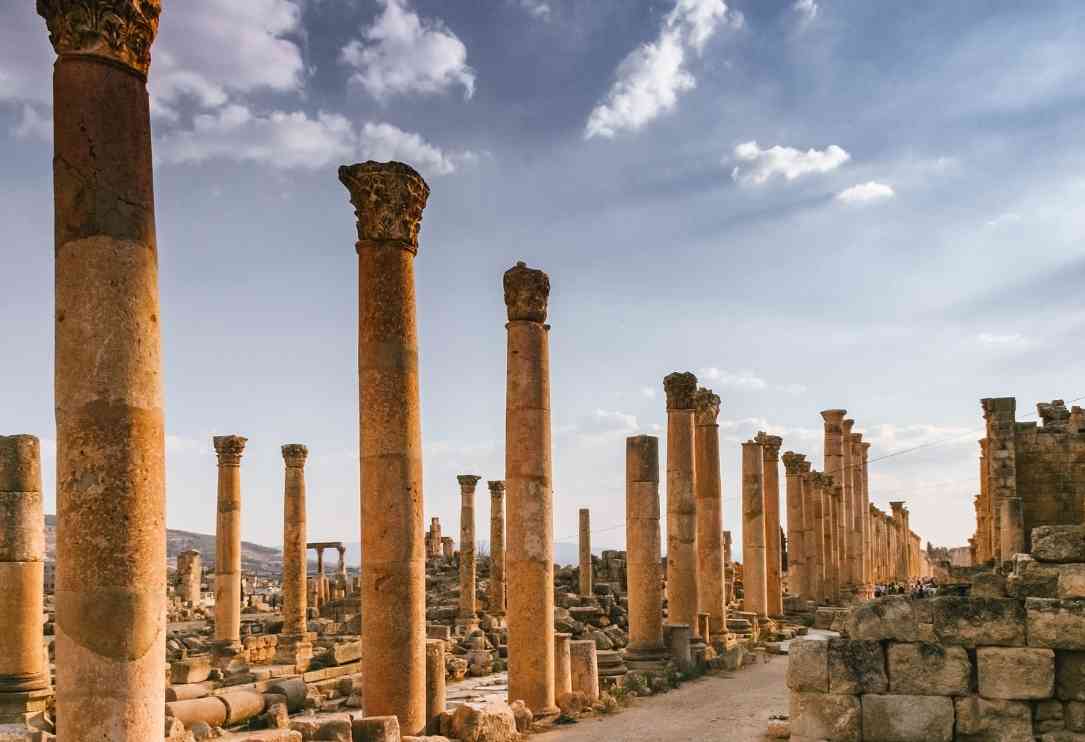 Do not sit on the passenger seat
I did this only once and never felt harmed but I heard a lot of women who came across bad drivers who tried to touch them. Sit at the back and engage in conversations with taxi drivers only if you want to. The little they know about you, the better.
Prepare a cover story
As I said, people are still not used to solo female travel in Jordan so it's best that you have a cover story. Never say you are. traveling by yourself. Make up a story that your family or husband is waiting for you at a hotel or a restaurant. When distressed, it's best to pretend you are talking to your husband on the phone. Make up whatever story you can so people wouldn't think you are alone.
Do not say "boyfriend". Use the word "husband."
In a culture like Jordan, the word "boyfriend" is not easily recognizable. Take note that this is also a culture of arranged marriage so people don't start their relationships as boyfriend-girlfriend. It's marriage right away. When people think you are married, you kind of have immunity. If you can wear a fake wedding ring, that will also save you from a lot of unwanted attention.
Tampons and contraceptives are hard to find
I would normally bring tampons with me but when I came to Jordan, they didn't exist! They still have the old school towels and if you're not a pro-towel user, you will have a hard time looking for tampons, even in Amman. As for the contraceptives, I didn't try to buy them as I didn't know how to say it! Societies like Jordan don't use contraceptives so I found it hard to talk about it, even to fellow women.
Do not go out with wet hair
In Jordan, this implies that you just had sex. I don't know why this is relevant but most of my friends in Jordan said people will make you feel uncomfortable.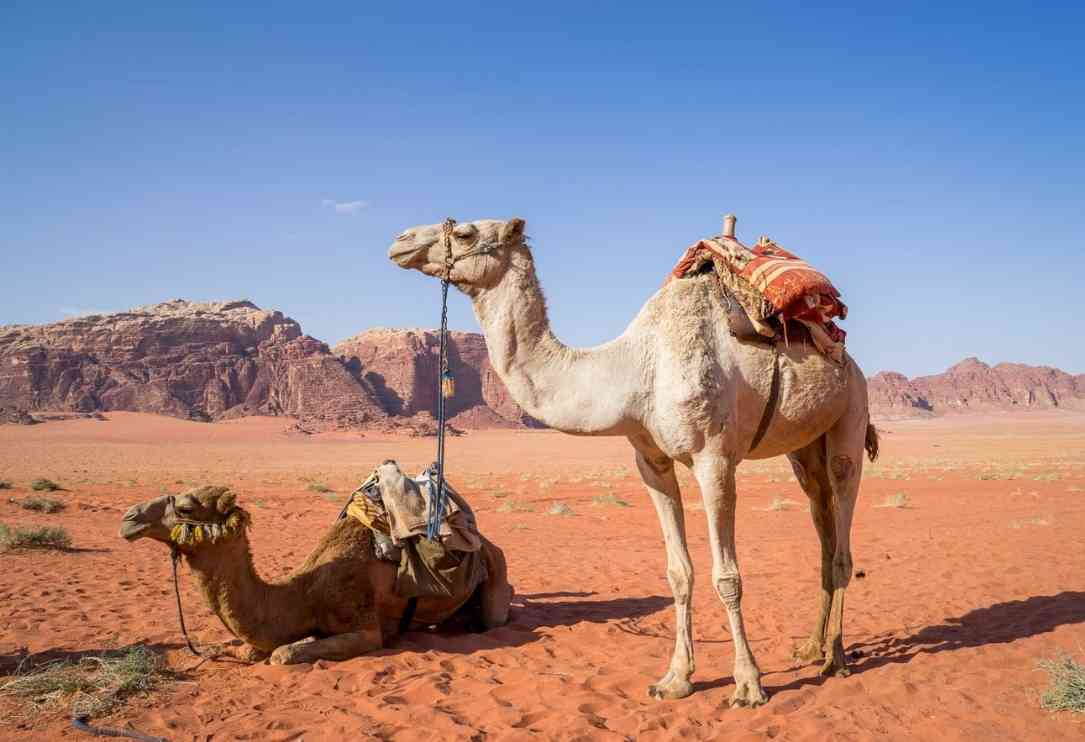 Alcohol in Jordan can be purchased in Christian liquor stores
I came across a lot of Christian-owned liquor stores. Unlike Morocco where you have to travel miles, alcohol shops can be easily located in Jordan. Make sure you bring your passport as you will be asked for identification. You can also go to local bars but make sure you are accompanied.
Consider your source
I know the news is one of the most reliable platforms we cling to as it appears to be the only resource we have when planning our travels but before saying no to solo female travel in Jordan, make sure you've exhausted all your efforts to investigate.
You may contact locals on Couchsurfing to see the current situation (that's what I do). Just make sure the person/local you are going to contact has enough Couchsurfing credentials. Check references and vouches from guests they hosted.
Get in touch with your country's embassy/consulate in Jordan
I always do this, especially when in doubt in the countries I visit. I send an email to the embassy or consulate of my country to see the situation. When I planned to go to Pakistan, I wrote to the Embassy of the Philippines there and asked if it's safe for a Filipina woman to travel to Pakistan. The consulate staff, which was also a Filipina responded and told me it's okay. She gave me a go signal and wished me well in my travels to Pakistan.
Please, please, please. Do not travel to Jordan without travel insurance
I've had enough of people comfortably traveling without insurance. I know it's another expenditure in your travels but more than anything else, it is important! I've had medical emergencies in the past where I found myself without travel insurance. It's really painfully expensive!
I only pay $40 USD per month for my travel insurance and it has helped me a lot during my long-term travels!

The best way to meet people in Jordan
Join a dive crew in Aqaba
Jordan is known for diving and there are a lot of dive trips arranged by female travelers in Jordan. Girls That Scuba is a diving group that regularly does group dives in Jordan. The owner is my friend and I have traveled the Middle East with her, too! If you don't have a diving certification, you can get that in Jordan, too!
Meet people in Amman through ShowAround.com
Discover Amman, Jordan, with one of 551 locals who are ready to show you around. Some people will charge for meet-ups and small tours but if you check the Amman page, most people are willing to meet for free.
Couchsurfing Hangouts
This new feature in the CS app allows you to get in touch and hang out with people who are traveling in Jordan. I've used it a lot and find it one of the most effective (and quick) ways to meet people when I am traveling anywhere in the world.
☕ Do you like what you're reading? Does it help? I take a lot of time creating valuable and meaningful content. If you like to support my content creation and my blog, consider donating to my coffee fund. Thank you in advance!
Solo female travel in Jordan on Pinterest: save it for later!
Trisha is one of those people who left their comfortable life to travel the world and learn about life. Her style is to stay in one place she likes for 3 months (or more) to know what it feels like to eat, cook, speak, and sleep in another culture that isn't hers. She'd like to believe she's not traditionally traveling but she just chooses to be somewhere else all the time. In no particular order, her favorite cities in the world are Barcelona, Buenos Aires, Hong Kong, Mexico City, and Tel Aviv.