In this Argentina volunteering guide, I will share with you how I manage to pay $0 USD in accommodations for 70 days of travel in Argentina. I also included how to find volunteering jobs in Argentina for free!
📬 Reader Mail: Hi Trisha! I love all your volunteering articles and I love all your experiences! I did not find an Argentina volunteering guide in your blog but I loved your volunteering experience in Mendoza. Is there any other interesting volunteering stuff that you can recommend? I will really appreciate it! Thank you!
– Carley Smith, USA
Hi Carley,
Thanks for reaching out! I am just starting to revise my volunteering articles and Argentina is on my top list to edit! I spent months there without paying for accommodations (not even once!) so I want to share with you my experiences.
In this Argentina volunteering guide, I will explain how I got free volunteering gigs and give you tips and everything you need to know (and expect) when you decide to volunteer in Argentina.
If there are any questions that weren't answered in this post, just send me an Instagram DM and I'll update this post! Good luck and I hope everything's fine on your end!
Xx,
Trisha
What does volunteering mean?
When we hear the word 'volunteering,' we always think it's about charity or NGO work. In this case, it's not. Volunteering means work exchange.
It's as simple as you working for 5 hours a day and getting food and accommodations in exchange. Some volunteering opportunities in Argentina provide a daily stipend but not all. It all depends on the workload.
When you do work exchange in Argentina, you don't necessarily have to have a degree or certificate in a particular field. This exchange is based on a skillset.
For example, if you are good with pets, then you can volunteer in a horse ranch in Salta. Most hostels in Argentina are looking for help in reception. I will discuss more of these as we go but in order for you to volunteer in Argentina, you need to identify what skills you have.
There is always an opportunity for every skill set so don't worry – I am sure you are good at something!
Argentina quick information
Currency: The currency in Argentina is called the Argentine peso (AR$). $1 USD = AR$ 88 as of February 9, 2021. Check this South America travel budget article to see how much do you need to prepare for your Argentina travels.
Electricity socket: Argentina uses the standard EU plus which is types I and C. Check the pictures here to see what you need to pack for Argentina.
Visa in Argentina: As a Philippine passport holder, I need to apply for a visa in the Embassy of Argentina and undergo an interview. Yes, the story of my life! Most of the world doesn't need a visa to Argentina so check if you need a visa prior to your travels.
Wifi in Argentina: As a digital nomad, this is part of my concern whenever I am traveling and volunteering all over the world. Luckily, Argentina is a modern country with great infrastructure. I can say that wifi in Argentina is very good for digital nomads!
Is it safe to volunteer in Argentina?
While crimes are inevitable in any country in the world, notice that you don't see a lot of bad press about safety in Argentina. However, I can only speak for myself and how I felt safe when I was in the country. I lived in Buenos Aires for a year after all these volunteering gigs and I never felt harmed.
I walked the streets at night by myself. The streets are well-lit. There is a European vibe particularly in Buenos Aires that just makes you feel like you're not in a Latin American country.
Argentines are super friendly and I can vouch for this because I've met many Argentines (not only in Argentina but in many parts of the world) and have become good friends with them.
I also lived with a family in Cordoba where I taught English to their kids. Argentine families are very welcoming and in my 3-month stay with them, I felt like I was really part of it.
They included me in everything – from football watching football to their grandparents' birthdays, they made sure that I come with them.
With this, I was able to dive deeper into the Argentine culture and honestly, if you hear me talking Spanish right now, I sound like an Argentine (sometimes).
Do I need a visa to volunteer in Argentina?
Some volunteering jobs in Argentina will require you to apply for a work visa but this is not required in 90% of the jobs. Volunteering agreements require only a maximum of 5 hours a day so it's not really considered a job, especially if it's not paid.
You should check with your volunteering host if they require an Argentine work visa but in my experience, nobody asked me to apply for this kind of visa.
Do I need to speak Spanish to volunteer in Argentina?
As many volunteering opportunities in Argentina involve tourism, some of them (like hostel work) do not require fluency in Spanish but I still encourage you to learn.
I am fluent in Spanish because of these volunteering gigs. I feel like interacting as a receptionist, for example, gives you more room to make Spanish your environment. It's all about practice!
Not all Argentines speak English. In fact, many of them don't. You will not find yourself speaking in English in this country because Argentines are very proud of their language.
They don't feel like they need to learn English but that is constantly changing. I just don't know a lot of Argentines who speak English but you'll come across some.
Don't travel without insurance! Get one for only $40 USD per month
Finally, Argentine Spanish is really different from Spanish in other Latin American countries. For a lot of Spanish-speaking countries, this type of Spanish is absurd but personally, I love the Argentine accent! If you want to learn about Argentine slang, check my Youtube video.
How many hours a day am I required to volunteer in Argentina?
This is what I always tell readers whenever they inquire about volunteering hours: KNOW YOUR RIGHTS! Volunteering should only be a maximum of 20-25 hours a week, 5 hours a day.
You should also have at least 2 days off. Lots of beginner volunteers don't know their rights so if the host is asking you to work more than these hours, you should report them immediately.
Your volunteering contract should also include at least one meal a day but I feel like all meals should be paid for – I mean, food is not expensive! As a volunteer, you should also have free access to all amenities, tours, and experiences that your host has.
The rule of thumb: if you don't ask, you don't get. There are no official rules about work exchange or volunteering so it's best to be assertive.
Again, know your rights as a volunteer! On your days off, you can explore the area you are volunteering in. You don't need to report or tell them what you're going to do for the day. Days off are the best time to travel and explore your area so take advantage!
☕ Support this blog's honest and transparent journalism. Help us add value to our content! Keep P.S. I'm On My Way content free for all by donating to our coffee fund.
Argentina volunteering guide: everything you need to know
You won't believe this but I spent 70 days traveling around Argentina without paying for food and accommodations. That's the beauty of volunteering in Argentina or anywhere in the world.
What I love about Argentina is the wide array of volunteering gigs and options that are super interesting!
In the beginning, I only want to volunteer in hostels as this was the most fun for me. I met a lot of people all over the world through volunteering programs and the thought that these people are now my long-time friends still amazes me. We still keep in touch up until today!
Types of volunteering opportunities in Argentina
Hostel volunteering in Argentina
This is the most common volunteer work not just in Argentina but all over the world. The bulk of my volunteering trips are in hostels just because I love meeting new people and the workload is not that heavy!
Volunteering in a hostel can entail many things like reception work, cleaning, tour manager, cooking. It really depends on what the hostel needs but in my experience, the majority of the workload is housekeeping and reception.
NGO Volunteering in Argentina
If you are supporting a personal cause, this type of volunteering is a great opportunity for you. Non-government organization (NGO) volunteering is an incredible opportunity and I've done this a lot in Sri Lanka and India. If you want to leave a positive impact on communities, this is the right volunteer work for you.
NGOs are non-profit so their budget is very low. They won't be able to pay you for the job but personally, I think the experience is more than enough as a payment!
Permaculture Volunteering in Argentina
At the beginning of my volunteering trip, I have to be honest that I only did permaculture volunteering because it was an emergency – I was just in a hurry to find free accommodations. However, I learned to like this type of volunteering job as I go – it really is interesting!
Permaculture stands for Permanent Agriculture which is the philosophy of living in harmony with nature through developing creative solutions on how the world can become sustainable in agriculture (long-term solution).
Health and wellness volunteering in Argentina
If you are into yoga or anything about health and wellness, there are a lot of volunteering opportunities in holistic centers. Yoga retreats are most popular and you can even join these retreats for free as a volunteer.
Community volunteering in Argentina
I've done this a lot and this is probably my favorite as it allows you to delve deeper into a country's culture. Community work is extremely beneficial and it's sometimes a requirement for University degrees. This is the best way to learn how a culture speaks, eats, and sleeps.
If you are good with people (I know some of you are not), this is definitely the best volunteering job for you and there's a lot in Argentina!

Where to find volunteering opportunities in Argentina: the best platform to use
There are many volunteering websites but my personal preference is Worldpackers, a platform that has thousands of volunteering opportunities not just in Argentina but all over the world. Their membership fee is very affordable and you can always choose the plan you want to avail.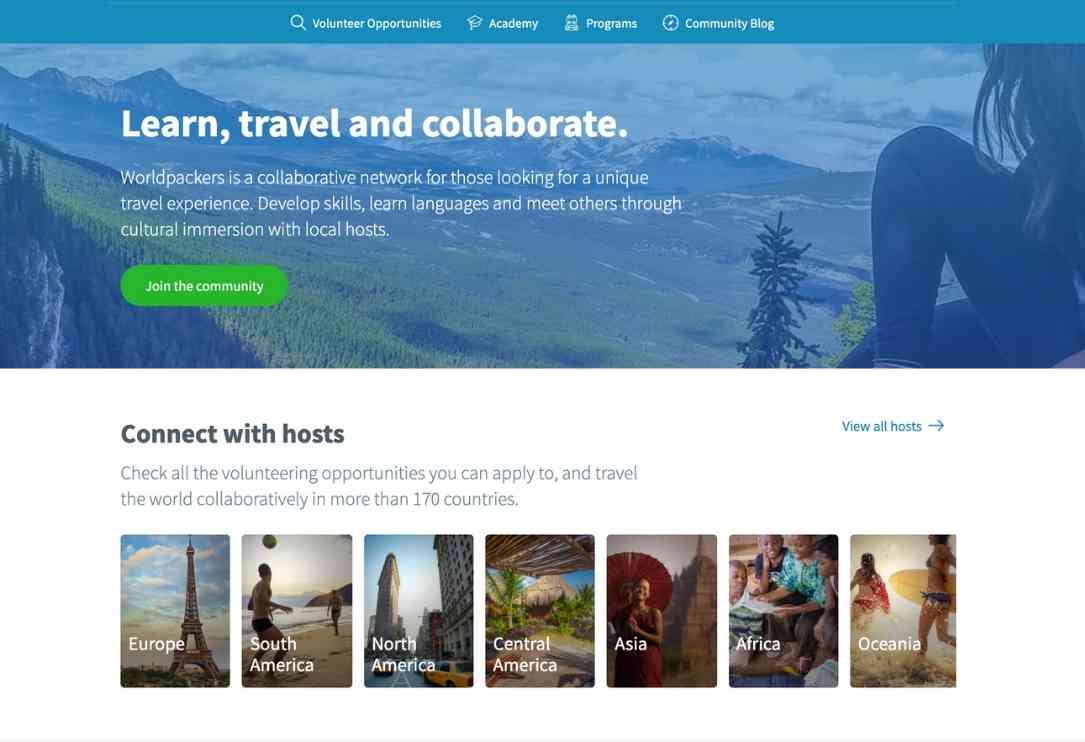 When I was new to volunteering, I also didn't understand why I have to pay for a membership fee if I am doing free work but whatever platform you use, websites like this protect you from everything (money, security issues, etc) especially if you are not knowledgeable with the area you are visiting. For me, it's better to pay $75 USD a year if that means I will be protected during my trip.
Remember, you are also going to stay with people you don't know and you can always see testimonials, references, and comments about the hosts if you sign up to a volunteering website like Worldpackers.
Best places to volunteer in Argentina
Here are my favorite areas to volunteer in Argentina and what I did in each city. If you are planning to apply to these volunteering opportunities, you can sign up using this link and you will get a $10 USD off. You can also use the code PSIMONMYWAY10 upon checkout.
I only included my top 5 cities to volunteer in Argentina but there are opportunities in all areas of Argentina on Worldpackers. I just want to share personal experiences and can't really speak for other areas I did not visit.
Volunteering in Buenos Aires, Argentina
Why should I volunteer in Buenos Aires?
If you've been following this blog for some time, you will know how obsessed I am about living in Buenos Aires. The food, the tango, the people, the surrounding – BsAs is definitely a must when you travel to Argentina!
Most travelers avoid big cities when traveling to a certain country and mind you, Buenos Aires is not one of those capitals that you skip.
The cost of living is also very cheap and you will definitely make friends here easier than in most Argentine cities. Everyone's in Buenos Aires and I can't wait for you to experience my former home!
Hostel volunteering in Buenos Aires: most common jobs in BsAs
The most common work exchange in Buenos Aires is hostel volunteering. This hostel in Palermo is looking for volunteers to do their reception night shift.
Although night shifts are not my favorite (I've done it a lot, especially in Colombia), the workload is lighter during the night. Palermo is also where I lived in BsAs and is one of my favorite neighborhoods.
This volunteering job requires 24 hours og help per week. You may also be assigned to help clean the kitchen, bedrooms, bathrooms and common areas.
You must be familiar with their booking system or payments but don't worry, there's always a one-day training before you start working.
Volunteering in Mendoza, Argentina
Why should I volunteer in Mendoza?
Mendoza is my favorite area in Argentina because of its wine culture. As you all know, wine is all I drink (literally can't drink anything else) so spending time in Mendoza is one of the best things I've seen and done in my traveling life.
I volunteered in a very big wine brand in Mendoza where I learned about the difference between wine in Argentina and the rest of the world.
The funny thing is when I was volunteering in Mendoza, most of the winery owners were Italians and Spanish! They moved all the way here because Mendoza has the best weather conditions (and soil) for wineries.
Types of volunteer jobs in Mendoza
As of 2021, since wineries are not open, the most common work exchange gigs you will find in Mendoza are hostel work. I never did this in Mendoza but the bulk of my travels all over Latin America involves hostels!
Meeting people in Mendoza is not that easy since it's a really big area and most people are out and about doing their wine tours. Volunteering in hostels in Mendoza will give you the opportunity to meet people who travel the same way as you do!
Volunteering in Bariloche, Argentina
Why should I volunteer in Bariloche?
If you're not into hostel volunteering, Bariloche is for you. This is the farthest I've been in Argentina. The southern part of the country is where Antarctica expeditions take place every summer (December – March).
When I was in Bariloche, I did not have the budget to join these expeditions (I was extremely poor. HAHA!).
Bariloche's volunteering experiences include permaculture, mountain stays, home stays in gorgeous cabins, and a lot of outdoor/nature activities!
Most common volunteering jobs and opportunities in Bariloche
Eco lodges and Earthship studios are the most common opportunities in Bariloche and you will love it! Get a chance to stay in these properties and most of them are listed as unique stays on Airbnb!
My favorite volunteering job in Bariloche is with this dome greenhouse. They're always full and applying for this wasn't easy as you are competing with thousands of other volunteers!
Volunteering in Cordoba, Argentina
Why should I volunteer in Cordoba?
Alright, Cordoba is not really a place that people visit in Argentina as more tourists stay longer in Buenos Aires. I taught English in Cordoba for 7 weeks and that's when I realized how beautiful this underrated city is!
I was also very surprised with the number of expats in the community I was staying in – there are a lot and I did not expect it! Not that I am looking for expats as the point of volunteering is to immerse in the local culture.
But knowing this, I found out, can give you more confidence in traveling in a certain area that is not popular yet.
Volunteering opportunities and jobs in Cordoba
Just a note: there is also a Cordoba in Spain so don't confuse it with this Cordoba! Make sure to put the right location when you are looking for volunteering gigs.
Many Latin American cities (and Spain) have the same names. Hostel work is the most common in Cordoba but if you have a TEFL, you can also apply for a job in the British School in Cordoba instead of volunteering.
Volunteering in Rosario, Argentina
Why should I volunteer in Rosario?
I'm a big football fan and I played football growing up. In fact, one of the greatest accomplishments in my life is being able to go to the 2014 World Cup in Brazil – I saved for that trip for 4 years! I followed Premier Leagues, went to a lot of Spanish Cups when I was living in Spain, followed the Arsenal, Liverpool, and Manchester City tours in Asia – I traveled a lot for football!
You might find this funny but the only reason I went to Rosario, Argentina is I wanted to see Messi's hometown. Yes, Lionel Messi is my football idol (don't go all Cristiano on me. I love him too) and he is from Rosario! Little did I know that I will get to know Rosario apart from football. I also went here to visit some people I met while backpacking in Ecuador. Rosario was a lot of fun!
Volunteering opportunities and jobs in Rosario
Hostel jobs are popular in Rosario but my favorite is camping site volunteering which involves a lot of outdoor activities. Though Rosario is a city, it is surrounded by nature and adventures so if you are looking for an underrated destination in Argentina, try Rosario!
Argentina volunteering guide on Pinterest: save it for later!
Trisha is one of those people who left their comfortable life to travel the world and learn about life. Her style is to stay in one place she likes for 3 months (or more) to know what it feels like to eat, cook, speak, and sleep in another culture that isn't hers. She'd like to believe she's not traditionally traveling but she just chooses to be somewhere else all the time. In no particular order, her favorite cities in the world are Barcelona, Buenos Aires, Hong Kong, Mexico City, and Tel Aviv.