A list of all the best Osaka restaurants that I've personally tried in all my trips to Japan – make food your priority when traveling to Osaka!
Historically, the Japanese spend most of their money on food so Osaka is definitely one of the richest food cultures in Japan. The Osaka-style regional cuisine (batter the ingredients before grilling) has spread all over Japan through the years.
There are many dishes in Osaka that you will not find anywhere else like the Hako zushi (boxed sushi) and the kitsune udon which is hot udon with sweeet aburaage.
The world-famous Takoyaki is originally from Osaka and it has spread not only in Japan but all over Asia as a street food staple.
See also: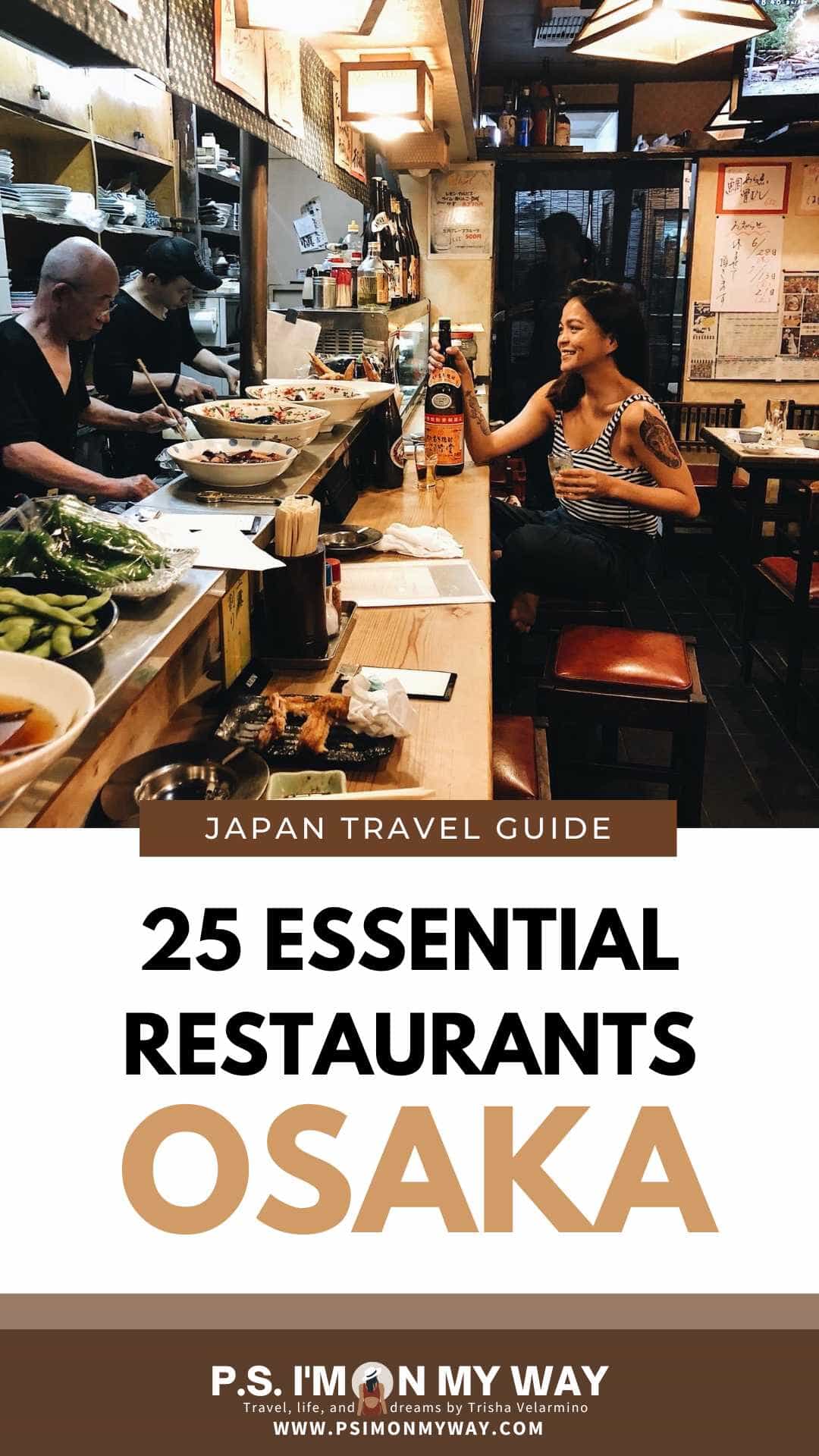 Osaka restaurants: quick links
🗺️ Osaka Restaurants Japan Map
⭐ Essential Osaka restaurants
#1: Sanuki Udon Byakuan
📍6-chōme-12-7 Niitaka, Yodogawa Ward
💲 from US$5
Sanukiudon Byakuan is a Michelin-recommended restaurant, serving authentic sanuki noodles. It is just located in front of Kanzakigawa Hanku, making it accessible for travelers.
However, if you want to visit, go as early as possible to avoid long lines because reservations are not available.
The restaurant's best-seller is its take on authentic sanuki udon noodles. Another must-try is their tempura which is always served freshly fried. Sanukiudon Byakuan's Dashi was surprisingly rich and mouth-watering.
#2: Houzenji Sampei
📍1-chōme-7-10 Dōtonbori, Chuo Ward, Osaka, 542-0071, Japan
💲 from $8 USD
Houzenji Sanpei is a small okonomiyaki restaurant located at the heart of Namba District. The restaurant is quaint, tucked somewhere in a slim alley, behind a temple in Dotonbori.
Luckily, you can make an advance reservation before dining in so you don't have to wait in line waiting for a seat.
Houzenji Sanpei's best-selling menu is the authentic Okonomiyaki. What makes it unique from other restaurants is, you can select your own toppings (the best choice for picky eaters).
Plus you can control the portion of your food because you'll have the experience of making it yourself. I recommend you get toppings like shrimp, shiso, cheese, and konjac for your Okonomiyaki.
#3: Yonemasu
📍1-chōme-9-16 Ōyodominami, Kita Ward, Osaka, 531-0075, Japan
💲 from $113 USD
Get to experience authentic traditional Japanese Multi-Course in Yonemasu, a Michelin-recommended restaurant. Their monthly themed dishes are served in a clean and arresting appearance with a minimalistic aesthetic.
When dining in, you will be seated in a room with wooden decor. Also, make sure to make reservations because they do not accept walk-in customers.
Yonemasu is a restaurant that lets you experience "Kaiseki" (multi-course dinner). You will be served 12 dishes depending on their monthly theme, composed of delicious dishes made with high-quality ingredients.
#4: Ketobashiya Champion
📍4-chōme-16-12 Higashimikuni, Yodogawa Ward, Osaka, 532-0002, Japan
💲 from $30 USD
If you want to try horse meat dishes, check out Ketobashiya Champion. It has different locations in Osaka, but this address is much less crowded. You can also contact them for reservations if you do not want to waste time lining up for a seat.
Ketobashiya Champion is known for its horse meat dishes. I recommend you try their horse meat sashimi platter.
It has no odor at all, making it enjoyable to eat. The horse meat yakiniku was also mouthwatering, so don't miss out.
#5: Moeyo Mensuke
📍5-chōme-12-21 Fukushima, Fukushima Ward, Osaka, 553-0003, Japan
🍲 Asian, Japanese
💲 from $8 USD
Moeyo Mensuke is a little restaurant located in an unsuspecting alley near Fukushima Station. It is famous for serving ramen with duck meat as toppings.
The restaurant can only house about 15 customers at a time, so expect long queues (especially during peak season) when dining in.
Moeyo Mensuke's ramen has a wide variety of complex flavors, depending on your choice of broth. I recommend you get shoyu ramen, and top it with bamboo and duck meat.
Duck meat was tender and flavorful, Don't forget to get some eggs and roasted garlic on the side too.
#6: Maeda Tofu Shop (traditional homemade)
📍 3-chōme-4-9 Tenjinbashi, Kita Ward
💲 from $10 USD
Maeda Tofu Shop basically sells traditional homemade tofu and other related food products. It is an old-fashioned shop located on the longest Tenma shopping street.
The shop owner here is friendly and smiles a lot, which helps you feel at ease while purchasing food.
I highly recommend you try Maeda Tofu's soymilk. It's delicious, thick, and made with high-quality and domestically grown fresh ingredients.
Of course, their Tofu, which is served with different flavors, is also a must-try. I also tried the shop's pudding and it made an impact because of its strong taste.
#7: Rikuro-Ojisan no mise (Namba store; cheese cake)
📍Japan, 〒542-0076 Osaka, Chuo Ward, Nanba, 3-chōme−2−28 2階
💲 from $6 USD
Rikuro-Ojisan is an Osaka Cheesecake bakery, renowned widely in Japan. TThe Namba store is strategically located in the bustling Ebisu Bashi-Suji Shopping Street, a 5-minute walk from Osaka-Namba Station. They serve freshly baked cheesecake with a sweet aroma that passersby can't resist.
Their original baked cheese cake is a must-try especially if you're a first-time customer. You can also get their best selling "The Super Cheesecake Set", which already includes an entire freshly baked cheesecake and a large serving of your choice of drink.
Rikuro-Ojisan's cheesecake is for only $6.04 USD. Prices will vary depending on what you'll be purchasing. For its flavor and quality, the price is reasonable.
#8: Hokkyokusei Shinsaibashi Main Shop
📍 2-chōme-7-27 Nishishinsaibashi, Chuo Ward, Osaka, 542-0086, Japan
💲 from $5 USD
The Main Branch of the Hokkyokusei Shinsaibashi was the first branch to have Omu-rice in Japan, established back in 1922. It is located in Amerika-Mura. Although the restaurant is quite big, the line still gets really long from opening to closing time.
The main dish you should order is their famous standard chicken Omu-rice. I suggest you add some seasonal ingredients for your Omu-rice, like shrimp and beef. I also tried their Fried Chicken set menu which was really good.
🍣 Sushi restaurants in Osaka Japan
#9: Kani Doraku Dotombori Main Branch
📍1-chōme-6-18 Dōtonbori, Chuo Ward
💲 from $23 USD
The main branch of Kani Doraku, located at Dotonbori is famous for its big 3D crab signage outside the restaurant. Kani Doraku serves a lot of different crab dishes, among other Asian menus.
Its maximum seating capacity is 308 seats, with available 11 private rooms (each good for 20 pax).
When dining in Kani Doraku, do not miss out on their crab dishes. One of the best I've tried is their crab sashimi and crab sushi.
The restaurant's seafood hotpot was really delicious and packed. Serving-wise, the proportions are really big and well-presented, especially if you get their set menus.
#10: Kuromon Sanpei
📍1-chōme-22-25 Nipponbashi, Chuo Ward
💲 from $6 USD
Kuromon Sanpei is a fresh food market that serves sushi and sashimi in the heart of Kuromon Ichiba Market. The shop can accommodate up to 100 seats making it easier for tourists and locals to munch on their food.
The packaging and portion sizes of their fresh sushi and sashimi are superb! I suggest you get their sashimi set with different fish choices.
Also, add to your list their big crab and sea urchin. I also had a taste of their miso soup, which was delicious.
#11: Ganso-Butchigirizushi Uoshin Minami
📍 1 Chome-7 Sennichimae, Chuo Ward
💲 from $8 USD
Ganso-Butchigirizushi Uoshin Minami is an established sushi joint located at Hankyu Higashi-Dori shopping street, right by Osaka Station.
The restaurant has 25 counter seats in front of the sushi chef and 4 tables (seating of 4). It is a hit among the locals and tourists because of its generous-sized portions of food and diverse selection of dishes.
Ganso-Butchigirizushi Uoshin Minami serves a diverse food selection with a generous amount of serving (4x larger than usual).
I suggest you try their famous grilled eel which is freshly cooked in front of you. You should also not miss sushi when dining in.
#12: Daiki-suisan kaitenzushi Namba
📍Japan, 〒542-0076 Osaka, Naniwa Ward, Nanbanaka, 2 Chome−10−1 なんばCITY 南館ビル 1F
💲 from $0.76 USD
Daiki-suisan kaitenzushi is a conveyor belt sushi restaurant located in Namba. It is directly operated by a fisheries company, ensuring the freshness of their food. Queues can get really long so expect to wait in line for a few minutes.
The restaurant has a conveyor belt that rotates different kinds of sushi and seafood dishes you can try. All ingredients are fresh and of good quality. The aurora salmon, negotiated maguro and deep fried tuna are extra good – a must try!
#13: Zauo Fishing Restaurant
📍Japan, 〒542-0086 Osaka, Chuo Ward, Nipponbashi, 1-chōme−1−13, Sotetsu Grand Frésa, B1F
💲 from $53.30 USD
Zauo Fishing Restaurant is a themed restaurant for sashimi lovers. Inside, you'll be greeted by a giant boat where live fish are being caught. The atmosphere is also lively and buzzing, adding up to your dining experience. There are a couple of seats inside, but reservation is recommended.
Inside the restaurant, you can rent a rod and buy fishing bait for you to choose the type of fish you want to catch (and eat). During my visit, their sea bream and lobsters were really delicious. I suggest you have your seafood grilled or made into sashimi (or both).
🥘 Yakiniku restaurants in Osaka Japan
#14: Rikimaru Shinsaibashi
📍Japan, 〒542-0085 Osaka, Chuo Ward
💲 from $23 USD
Rikimaru Shinsaibashi is an All-You-Can-Eat Yakiniku Restaurant, strategically located near the Osaka Metro Midosuji Line's Shinsaibashi Station.
The restaurant is designed to have booth seats with high partitions around the table, and a roaster that sucks up all the smoke from the grill. Fortunately, they accept early reservations.
Since Rikimaru Shinsaibashi is an All-You-Can-Eat Yakiniku Restaurant, make sure to try all the premium cuts of meat they have on the menu.
Among those, the salted beef tongue stood out the most for me. You can also add unlimited drinks to your meal if you wish.
For only about $22 USD per person, the price is already worth it is given that they serve premium cuts of meat and high-quality dishes.
#15: Yakiniku Rikimaru Sennichimae
📍Japan, 〒542-0074 Osaka, Chuo Ward, Sennichimae, 2-chōme−9−17 アムザ 1000 2F
💲 from $11 USD
If you're looking for a relaxed all-you-can-eat Yakiniku restaurant, the Yakiniku Rikimaru Sennichimae is a good choice. It is located in Sennichimae, serving classic meals, beers and cocktails, alongside the all-you-can eat option. You can make advanced reservations if you want to avoid the hassle of waiting for an available table.
Yakiniku Rikimaru Sennichimae serves a generous amount of different cuts of meat. I recommend you try every kind when you dine-in. Although, you should not miss out on their beef cuts, especially the loin. They're soft and thick, you can totally say they're high in quality.
#16: Isomarusuisan Dotombori
📍 1-chōme-4-18 Dōtonbori, Chuo Ward, Osaka, 542-0071, Japan
💲 from $5 USD
Isomarusuisan Dotombori is a done-in restaurant conveniently located at Isomaru Suisan. They serve mainly fresh seafood dishes good for grilling. The restaurant has a clean and lively ambiance, making it a great spot to enjoy food.
The restaurant is famous for their seafood dishes. You must try ordering their set menu that includes 4 different kinds of selfishness. You can grill this on your table and watch them cook to perfection. Other recommended dishes are king crabs and sashimi.
#17: Yakiniku Itcho Namba
📍3-chōme-1-25 Nanba, Chuo Ward, Osaka, 542-0076, Japan
💲 from $13.97 USD
Yakiniku Itcho Namba is a casual Yakiniku restaurant that has cozy private rooms, traditional decor and tableside grills to accommodate customers. The restaurant offers classic steakhouse cuts. You can also make advance reservations for a table or seat.
Yakiniku Itcho Namba's food portions are generous, considering that it is not an all-you-can-eat restaurant. I suggest you order the beef tongue when you dine in. You can also get their set-menus and platter for a wide variety of meat selection.
#18: Yakiniku M Hozenji yokocho
📍 1-chōme-1-19 Nanba, Chuo Ward, Osaka, 542-0076, Japan
💲 from $28.71 USD
Yakiniku M Hozenji yokocho offers a Japanese classy and modern style restaurant set-up. It is located in a building with three floors, where private rooms and banquet rooms are available for reservations or walk-ins. The restaurant is well-known for serving Matsusaka beef, one of Japan's most famous and prized brands of beef.
You should not miss trying the famous Matsusaka beef when you dine in. I also suggest you get other cuts of beef, especially short ribs and flank. Yakiniku M Hozenji yokocho's beef miso soup is also incredibly delicious.
#19: Gyukatsu Motomura
📍Japan, 〒542-0076 Osaka, Chuo Ward, Nanba, 3-chōme−3−1 スガタビル 地下一階
💲 from $8 USD
Gyukatsu Motomura has locations all over Japan, but Oska in particular is the one by the Naba BIC Camera. The restaurant is also located underground. To avoid long lines, you can always contact them to book tables in advance.
Gyukatsu Motomura is famous for their beef cutlets. This is a dish highly-recommended which you should not miss out on. They are slightly undercooked when served, but only because you can grill them yourself on the hot stone grill.
🍜 Osaka restaurants Japan: best ramen
#20: Ichiran Ramen
📍1-chōme-4-16 Dōtonbori, Chuo Ward, Osaka, 542-0071, Japan
💲 from $6.72 USD
Ichiran Ramen is a well-known Ramen chain in Japan. The branch in Dotonbori offers a quintessential solo ramen dining experience. Lines can get really long during the day, especially peak season, so expect to wait before you get a seat.
Ichiran ramen's tonkotsu ramen is one of the best among all ramen dishes. It can be personalized in numerous ways. If you like your food spicy, you can ask for extra red pepper sauce. I also suggest you get extra toppings like green onions and garlic.
#21: Hanamaruken Namba Hozenji
📍 1-chōme-2-1 Nanba, Chuo Ward, Osaka, 542-0076, Japan
💲 from $5
Hanamaruken Namba Hozenji is a famous 24 hour ramen restaurant in Osaka. Inside the restaurant, there is a vending machine for food menus. However, the establishment is small and only has a few seats available.
Hanamaruken's Pork Rib Ramen is a must-try! The broth is super tasty and rich in flavor. If you want something other than ramen, I suggest you get the Fried Rice set. It already has gyoza and ramen (with char siu) included.
#22: Sakunosaku Ramen
📍 1-chōme-1-1 Nanba, Chuo Ward, Osaka, 542-0076, Japan
💲 from $8 USD
Sakunosaku Ramen is an Izakaya serving Japanese and Asian food (specifically ramen). It is conveniently located near Namba Station and Nihombashi Station. Seats inside the establishment are little in number and are designed to be counter seats.
Ramen is the best choice when it comes to dining in Sakunosaku Ramen. Their ramen has a lot of pork and is thinly sliced. Among all ramen dishes, I suggest you get their chashu, spicy garlic and yuzu ramen.
#23: Kinryu Ramen Dotombori
📍 1-chōme-7-26 Dōtonbori, Chuo Ward, Osaka, 542-0077, Japan
💲 from $5 USD
Kinryu Ramen Dotonbori is one of the most eye-catching restaurants in the streets of Dotonbori because of its huge foam dragon, leaping out of a bowl of ramen. The restaurant ise self-serve, where you will need to order from a vending machine. It also offers free seating, so you can sit wherever you like.
The menu of Kinryu Ramen Dotonbori only has two choices. If I were to choose one, I suggest you get their ramen. It has many toppings and has a pretty mild flavor, compared to other ramen dishes.
🫓 Osaka restaurants for Okonomiyaki
#24: Okonomiyaki Mizuno
📍 1-chōme-4-15 Dōtonbori, Chuo Ward
💲 from $8 USD
Okonomiyaki Mizuno is a Michelin-recommended specialty shop in Dotonbori that has been loved for over 75 years.
Their menu has been well kept by the 3rd generation owner and is keeping up with the "evolved vintage" concept. If you eat and dine here, you will be seated right in front of the teppanyaki grill, inside an air-conditioned establishment.
Okonomiyaki Mizuno serves a normal size serving. When you visit, the first dish I recommend you get is their Mazeyaki.
You can choose from pork, seafood, or plain veggies for your toppings. Another dish you should try is their famous Yamaimo-yaki. This is another version of Okonomiyaki, but yam is used instead of flour for the batter.
#25: Chibo Okonomiyaki Restaurant
📍Address: Japan, 〒542-0071 Osaka, Chuo Ward, Dōtonbori, 1-chōme−5−5 道頓堀ビル 1~6F
💲 from US$11.31
Chibo Okonomiyaki is one among the famous restaurants in the bustling Dotonbori Arcade. For a good reason, Chibi is famous because of their popular Okonomiyaki. It's also tourist friendly because the staff here can speak English.
The menu offers different Okonomiyaki styles based from several regions of Japan. Best choice (for me) is the Osaka style, which I recommend you try as well. Food is served right away off the girl located at each table so it's ensured hot and freshly cooked.
🏆 What is the famous food in Osaka?
Takoyaki is the most famous food in Osaka and you will find it in every corner. It is a street food staple that you won't miss as there are many takoyaki carts all over Osaka.
Other must-try food in Osaka include okonomiyaki (savory pancake), Kushikatsu (battered skewers), kitsune udon (thick noodle dish), and Teppanyaki (metal plate grilled food).
🍛 Is Osaka known for street food?
ABSOLUTELY! Takoyaki definitely stars the street food in Osaka but if you are looking for other street food types, I recommend Mitarashi-dango, a grilled sticky rice dumpling that you can try at Kiyasu Sohonpo.
If you like fried street food, go to Matsuba Sohonten and try their famous kushikatsu. Osaka is also big on sweet street food like the long ice cream. Overall, the best place to eat street food in Osaka is at Kuromon Market – you will find hundreds of street food choices so make sure to go here!
🙋 Questions about Osaka Japan? Leave a comment below or connect with me on Instagram or Tiktok where I answer questions without a cost.
🇯🇵 Osaka Travel Resources
🚑 Do I need insurance to travel to Osaka Japan?
Yes, you do! This is the number one requirement when traveling to Japan. I use SafetyWing and I only pay $40 USD per month for my digital nomad travel insurance!
✈️ Where can I find cheap flights to Osaka Japan?
You can find cheap flights to Osaka, Japan by using WayAway. This is my current flight search favorite and I have proven that flights on this website are way cheaper!
🛏️ Where can I find cheap hotels in Osaka Japan?
Budget travelers, use Hostelworld when looking for accommodations in Japan. A bed in a hostel dorm starts at $25 USD per night. Booking.com is best for boutique hotels while you will find many luxury hotels on Expedia.
Trisha is one of those people who left their comfortable life to travel the world and learn about life. Her style is to stay in one place she likes for 3 months (or more) to know what it feels like to eat, cook, speak, and sleep in another culture that isn't hers. She'd like to believe she's not traditionally traveling but she just chooses to be somewhere else all the time. In no particular order, her favorite cities in the world are Barcelona, Buenos Aires, Hong Kong, Mexico City, and Tel Aviv.