☕ Support this blog's honest and transparent journalism. Help us add value to what we are sharing. Keep P.S. I'm On My Way free for all by donating to our coffee fund.
Traveling to Sao Paulo Brazil solo: is it safe? I have been to Sao Paulo many times and on one of those occasions, I spent 3 full months in Sao Paulo! This is going to be a long story so buckle up and read about my experiences in one of the Internet's "most dangerous cities in the world."
Reader Mail: Hi Trisha! You are one of the first solo female travelers I follow. I started reading your stuff when you went to the World Cup in Rio de Janeiro in 2014. I wasn't a traveler back then and I was so amazed how you traveled South America by land! Now, I am ready to do it, too!
I read your piece about solo female travel in Brazil and got encouraged by your story. I am planning to move to Sao Paulo as a digital nomad (single, female) and I want to pick your brain about safety in Sao Paulo. Any tips and stories will be greatly appreciated. Thank you!
-Mal Jones, New York, USA
I didn't mean to scare you by opening this article with "the most dangerous cities in the world." As always, the intention of this blog is to give transparent and honest information, especially on women's safety when traveling.
It is probably contradictory to you to hear that I spent three months in Sao Paulo despite its reputation as a dangerous destination. Well, you are in for a treat. In the beginning, I also didn't understand why I ended up staying that long but in this traveling to Sao Paulo Brazil solo guide, I will share with you why I decided to stay in this city.
🇧🇷 Sao Paulo Brazil at a glance
Quick info
Currency: The currency in Brazil is called the Brazilian Real (R$). US$1 = R$5. It's a little bit below R$5 but it's just easier to remember this way instead of converting each time.
Power plug: Brazil uses types C (two round pins) and N (two round pins with a grounding pin).
Visa: Americans, Canadians, and Australians used to need a visa to enter Brazil but Brazil waived that in 2018. European citizens don't need a visa to enter Brazil. You can stay up to 90 days on a tourist visa but don't ever overstay in Brazil since they have expensive overstay fees.
Language: Brazil speaks Portuguese but it's not the same Portuguese as it is in Portugal. Sao Paulo is one of the biggest business hubs in the world so people can speak English well.
Culture: Sao Paulo is NOT the capital of Brazil but it is always mistaken to be the capital. This is where Brazilians from all over the country go for work. Sao Paulo has great nightlife, there are many restaurants, and it is also a bicycle city! It's a cosmopolitan city with cool things to do.
Suggested trip duration: The minimum suggested number of days to stay in Sao Paulo is 3 days and 2 nights. With this time, you will be able to explore the important landmarks of Sao Paulo. I only stayed longer because I was traveling on an indefinite period of time and I work remotely.
Is Sao Paulo safe?
Sao Paulo has a reputation for being an unsafe city but according to a report by Statista, the most dangerous destination in Brazil is Natal, based on numbers by murder rate per 100,000 inhabitants. I already visited Natal, by the way, and thank God I didn't read Internet statistics like this otherwise I will be discouraged.
Traveling to Sao Paulo Brazil solo: is this a good idea?
Remembering why I visited Sao Paulo brings back a lot of memories. My first visit was in 2013 when I was undergoing a break-up with my ex. I didn't have any plans in life after the break-up so what made sense to me was to follow him to Argentina.
Since I needed a visa to Argentina (and not in Brazil), I decided to go to the neighbor and process my visa there. Of course, that took a while to do so in the end, I gave up and stayed in Sao Paulo.
Traveling to Sao Paulo Brazil is only a good idea only if you are not a first-time traveler. I must tell you that this is an intermediate to professional solo travel destination so better come here if you already have experience in traveling alone.
If you decide to push through your trip, I visit Sao Paulo every year (en route to Rio) so I can introduce you to some cool friends who can introduce you to the local stuff.
You may also like:
✈️ Sao Paulo Brazil travel planning
Quick info
Currency: The currency in Brazil is called the Brazilian real (R$). US$1 = R$4.74
Power plug: Brazil uses types C and N adapters. Click here to see photos.
Visa: Many nations are visa-free in Brazil. In 2018, the visa requirement for Canadians, Americans, and Australians have been lifted. Brazil opened its digital nomad visa program in January 2022 and it is currently in the works.
Language: The language in Brazil is called Brazilian Portuguese. Even if you speak Portuguese (from Portugal), it is very different. Most Portuguese people I know say they don't understand anything when they visit Brazil.
Culture: Sao Paulo is one of the biggest cities in the world with bustling nightlife. It is where the Brazilians go for jobs so a big population of Brazilians lives here. Sao Paulo is also known for its Japanese-Brazilian communities.
Wifi: Sao Paulo is the business capital of Brazil so the infrastructure is excellent. The average download speed in Sao Paulo is 9 Mbps (basic Internet) and there is also fiber optic. As a digital nomad, I find Sao Paulo as one of the best destinations in Brazil for remote workers.
Best time to visit Sao Paulo Brazil
Remember that the South American climate is opposite the North. Summer in Brazil is from December to March which are the hottest and rainiest months of the year. This is definitely a great getaway to escape winter in the US and Canada.
The warmest month is February with an average temperature of 69 °F (21 °C). It continuously rains from October to March but that does not stop people from traveling to Sao Paulo Brazil. Note that at this time of the year, it is very humid and there is a lot of pollution in Sao Paulo.
The coldest month in Sao Paulo is in the month of July with temperatures of 58 °F (14 °C). It does not snow in Sao Paulo but it can get really cold during the winter.
How to get to Sao Paulo
How to get to Sao Paulo downtown from the airport
There are two airports in Sao Paulo: Guarulhos Airport caters to international flights while Congonhas to domestic flights. Below are some ways how to get to downtown Sao Paulo:
By bus: Sao Paulo is a big city and there are many busses outside the airport to get you to the city center. The busses at Guarulhos Airport goes to Tatuapé Metro Station, Congonhas Airport, Republic Square, Hotels Circuit, Itaim Bibi, and Barra Funda Bus terminal. Depending on where your hotel is, the average cost of the bus fare is US1 – US3.
By taxi: Uber works in Sao Paulo and you can call Uber without restrictions at the Airport. Uber in Sao Paulo is way cheaper than the white taxis, plus you may have to speak Portuguese with local drivers. They don't speak a lot of English. A VIP private transfer from the airport to downtown starts at US$100 (4 pax).
By rental car: You can rent a car at Guarulhos Airport for as low as US$15 per day. I have driven in Brazil before and it's complete chaos so only do this if you're doing a road trip in nearby areas.
By train: The train at the airport has many routes so again, it all depends on where you are staying in Sao Paulo. What you need to remember is the operating hours of the train at Guarulhos. It is open from Sunday to Friday from 4:00 AM to midnight. On Saturdays, it extends its closing hours to 1:00 AM.
💃🏽 Tip: Rome2rio is a website where you can find detailed instructions on how to get to point A to point B. You can check their transportation guides to see more options on getting to Sao Paulo.
How to get to Sao Paulo from Rio de Janeiro
By flight: You can fly directly from Rio de Janeiro to Sao Paulo. The flight duration is 2 hours and flight prices start at US$100.
By bus: As for me, I always take the night bus from Rio de Janeiro to Sao Paulo. It is very comfortable and is very affordable than the flight. Bus tickets start at US$21. It's a sleeper bus with reclining seats so you'll save on accommodations during this evening trip.
Getting around Sao Paulo
Sao Paulo is a big city and has different modes of transport. The train runs from all over the country and is the easiest way to get around Sao Paulo. Uber is relatively affordable but it depends on the distance of your trip. For short rides, expect to pay less than US$7.
I only tried using the bus within Sao Paulo once (back when Uber was not a thing in 2013) and they are modern, safe, and comfortable. It is also the cheapest way to get around the city. The rides are less than US$1.
💰 Sao Paulo travel costs
The cost of living in Sao Paulo is still cheaper than in Rio de Janeiro. Below are some helpful prices on how to prepare your travel budget to Sao Paulo:
Accommodations: Hotels in Sao Paulo start from US$35 for 2 people. At this price, you can get a private double room in a nice area in Paulista or Bela Vista.
Food costs: Food in Sao Paulo start at US$5 per meal. You can also go to all-you-can-eat meat restaurants for as low as US$25. The Brazilians are voracious meat-eaters and they call these restaurants a rodizio.
Tour costs: The tour costs in Sao Paulo vary. Walking tours are free (tip-based) and you can also avail day trips from US$50.
Cash/ATMs: Sao Paulo is one of the biggest business hubs in the world so there are many big Brazilian banks in the city. However, because of theft and pickpocketing, Brazil is not a cash culture. Almost all Brazilians are dependent on their credit cards. Nobody brings cash for safety purposes.
I don't really know what you'll need cash for but if you really do, Bradesco and Santander are good Brazilian banks. They are safe and you won't have problems. Note that there is a US$5 withdrawal fee for International debit cards but this really depends on your bank. I use my Wise card or Charles Schwab. I don't get charged that much but if I use my Bank of America, I get charged a few dollars.
Credit Cards: Credit card is the more preferred way of payment in Brazil and credit cards are accepted everywhere, even by street food vendors!
Tipping: Brazil is NOT a tipping country but I still give a 10% service charge especially if the service was great. They will be surprised when you tip but it always brings a smile to their faces!
Lastly, unlike Mexico, Brazil does not really accept US dollars. My advice is to just use your credit card everywhere as this is the Brazilian way of life. It's also best if you ask your bank to activate your pin when you are traveling to Brazil. This way, you will have control of every transaction.
🗺️ Things to do in Sao Paulo
Since I was in Sao Paulo for 90 days, I did a lot of local things and mostly hung out with my local friends but I won't list down all the things I did. Below are some of the suggested things to do when you are only here for a few days but you can check out more Sao Paulo activities here.
Get to know the neighborhoods of Sao Paulo
💲 from US$70
👉🏽 Check prices
Sao Paulo has a lot of young neighborhoods with historical murals and colorful streets. Paulista is where I lived for three months but during my visit in December 2021, I got attached to Bela Vista because of the digital nomad community!
Explore the football history of Brazil at Pacaembu Football Stadium and get to know the business center of Sao Paulo (Paulista). Visit the House of Roses, Ibirapuera Park, and the Palacio 9 de Julho.
Day trips from Sao Paulo: Santos, São Vicente & Guarujá
💲 from US$70
👉🏽 Check prices
If you're staying in Sao Paulo for more than a week, you may want to explore the neighboring areas on a day trip. These three destinations are about 43 miles (70 km) from Sao Paulo.
In these small destinations, you will see beaches and scenic landscapes that are not similar to Sao Paulo. Sao Paulo is a city and not a beach destination so if you want to take a break from city life, head out of the city!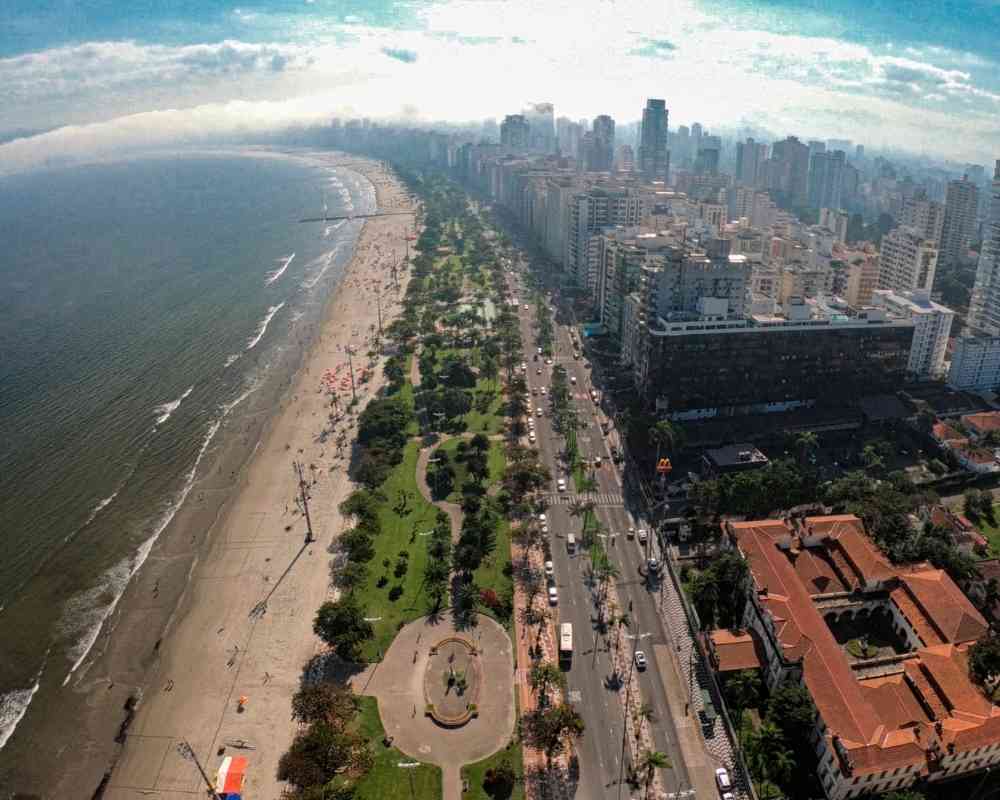 Go on a bike tour
💲 from US$70
👉🏽 Check prices
Sao Paulo is a bicycle city. When I was staying here for three months, a friend of mine lent me a folding bike (that you can take inside the trains) and I didn't feel unsafe. In the beginning, I was afraid to do it because of the crazy Sao Paulo traffic but it turned out fine since there were bike lanes in many neighborhoods.
However, if you are only in town for a few days, joining a biking tour (especially if you are traveling solo) is not only the best way to get to know the city but to also meet other travelers.
🛏️ Sao Paulo hotels
The best accommodation option in Sao Paulo is to stay in hostels especially if you are traveling solo. I've stayed in many hostels in my life and I've worked in hostel bars all over Latin America for 7 years of backpacking. I consider it the best time of my life because I got to meet many people who are still my friends until now.
Vila Madelena in Sao Paulo is a good and safe neighborhood for travelers. I always stay at Selina Madalena because it's one of the most affordable and beautiful hostels. A dorm at Selina is at US$25 but I sometimes avail of their private rooms (for US$125 per night). They also have a branch in Aurora if you prefer that area.
Here are more hostels in Sao Paulo that I recommend that are located in a safe neighborhood:
O de Casa Hostel (Vila Madalena): a bed in a dorm starts at US$25. The rooms here are really nice but you may want to reconsider – this is a hostel bar so it can get loud and wild but you'll get to meet a lot of people!
Brazilodge All Suites Hotel (Vila Mariana): a bed in a dorm starts at US$17 while private rooms are as low as US$37
Hostel More (Paulista): a bed in a dorm costs US$17 and a standard family room for 3 starts at US$75
Hotels in Sao Paulo are a little bit more expensive than the hostels but I understand if you don't want to socialize and just really travel on your own. I always stay at Bhomy Vila Madalena because of the great value and spacious apartment.
Hotels are really not my preference when it comes to Sao Paulo Brazil travel. I have many friends here to stay with but sometimes, I do rent my own Airbnb or Vrbo in Sao Paulo if I want to have a quiet time. Sao Paulo is big and has a lot of accommodation options.
My best tip is to always just choose the areas of Vila Madalena and Aurora. Paulista is also okay because it's a busy and touristy area.
🍲 Sao Paulo restaurants
When it comes to getting to know Brazilian food, you need to try rodizio when in Sao Paulo. Brazilians are voracious eaters and Brazilians, (like their neighbors Uruguay and Argentina) know how to make good meat.
A rodizio is an all-you-can-eat type of meat dining in Brazil. The waiters will come out of the kitchen every 2 minutes carrying large skewers of different types of meat for you to choose from. There will be a card on your table that says "stop" and "go." You have to flip it to your preference when you want them to stop serving meat otherwise, they won't.
Eating at a rodizio starts at US$25 and you get unlimited meat for this price. You just have to pay for your drinks separately. It's more fun to go to a rodizio with people so if you've met friends during your tours or at your hostel, invite them to a rodizio!
I would usually have a huge restaurant list suggestion but Sao Paulo is a big city so I can't just choose a few! You also have to know that Brazil has a large immigrant population from Japan so there are many influencers on Japanese food.
🍸 Sao Paulo bars
Sao Paulo is a young city and there is a lot of nightlife! If you are going to take my advice to only stay in Vila Madalena, that area of Sao Paulo has a vibrant nightlife – you don't have to leave the area. Another good thing about staying in a hostel is that people always go out together so you don't have to worry about your safety. You'll never be alone when you stay in a hostel!
Below are some cool bars to check out in Sao Paulo:
Gracia Bar: a Spanish cocktail bar when you crave tapas and wine
Bar Astor: a casual beer place with vintage interior
Tap House: this beer place has over 40 types of beers! Best for craft beer lovers
Frank's Bar: best cocktail bar in Sao Paulo
Pitico: a local hang out where you will see all the young people and digital nomads of Sao Paulo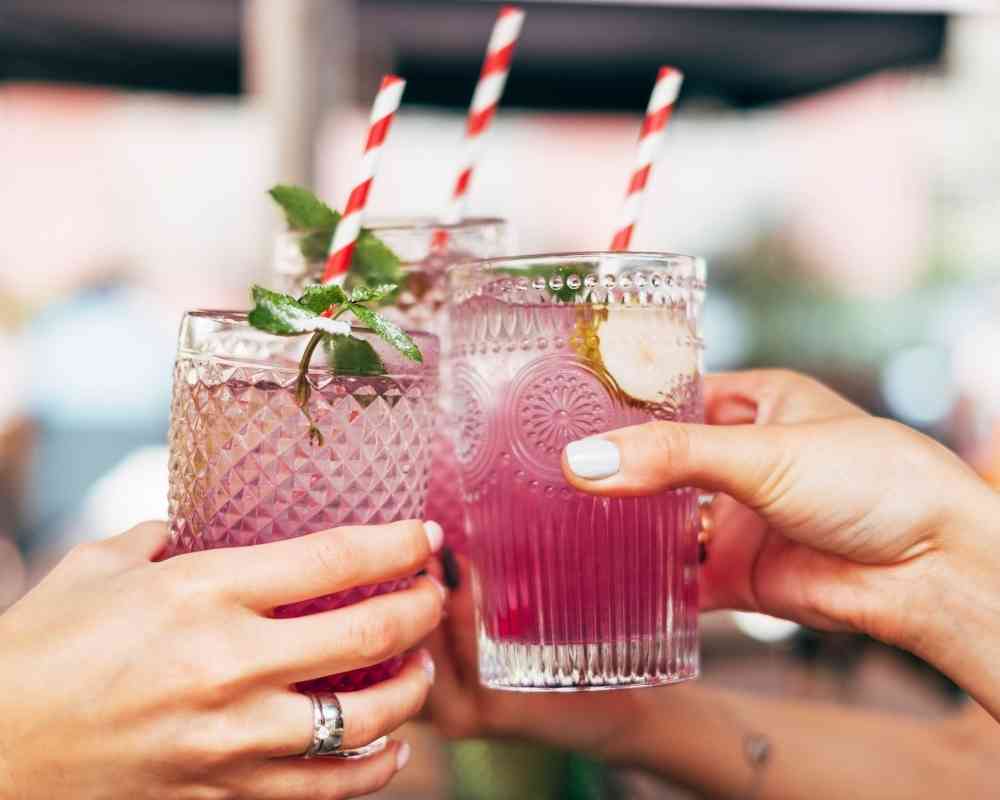 ✨ Sao Paulo travel tips
How to meet people in Sao Paulo
I've made so many friends in Sao Paulo which made me feel more comfortable traveling Brazil solo. Sao Paulo was my very first destination in Brazil and when I first came here, I was a little bit scared because of what I keep hearing on the news (plus the voice of my mother blaring at the back of my head).
As usual, this is my 14th year on the road ALONE so my rule of thumb is to always check it out myself before concluding if it's unsafe or not. If you are traveling here solo or beginning your digital nomad journey on your own, send me a message on Instagram or e-mail and I will introduce you to my friends. I swear, they are the best!
Another tip I can give is for you to join meet-ups in Sao Paulo for travelers where you can meet other travelers who you can end up traveling with. Every week, there is a Couchsurfing meet-up in Vila Madalena and those are the best events in Sao Paulo.
I've been a member of Couchsurfing since 2010 (though I'm not using it regularly for the past 5 years to host or stay). It's one of the best solo travel apps I recommend I've made long-lasting friendships with this app. I am truly thankful for Couchsurfing! (disclaimer: not sponsored – I really just love the app and the community!)
For digital nomads and backpackers who are traveling for an indefinite time, you can try to do work exchange and get accommodations and food for free! I volunteered a lot in Brazil and there are many opportunities aside from hostel work.
Areas to avoid in Sao Paulo
Again, if you are not confident about traveling to Sao Paulo on your own, just stay in Vila Madalena. It's the safest. Downtown is not a safe area to walk at night including the neighborhoods of Consolação and Sé. Avenida Rebouças and Pedroso de Morais Street are known for robberies so don't drive/walk here at night. Don't go out of the city center when wandering during the day, avoid the areas of Giovanni Gronchi, Morumbi Avenue, Perdizes, Lapa, Capão Redondo, Campo Limpo, and Vila Clementino.
Is it safe to walk alone in Sao Paulo?
Do not walk alone in Sao Paulo at all costs! Always take the Uber after 9:00 PM. I've taken the train many times at night alone but I always just use the green line since it's safer. The not so safe stops for the red and blue areas are Barra Funda, Carandiru, Itaquera (Corinthians), Carrao, Tatuape, and Republica stations.
Don't travel to Sao Paulo without insurance
You already know the drill. Not being able to pay for insurance absolutely means you're also not able to pay for your travels. Sao Paulo is not a very friendly destination, especially if you don't know the language and/or it's your first time traveling the country. I pay US$40 per month for my insurance with COVID coverage.
Consider your source
We always get discouraged by people from back home, especially if it's a destination with a notorious reputation for safety. I understand that sometimes, you'd want to listen to them (believe me, my mother has been giving me sermons for 14 years) but you'd want to get information from people who's actually been to Sao Paulo.
For sure, there are many travel blogs about safety in Sao Paulo but only connect with bloggers/blogs who can give you first-hand information about their experience. Another thing I do in places I've never been before is to contact people from Facebook groups and Couchsurfing. Unfortunately, the Facebook groups in Brazil are mostly in Portuguese so I can't recommend groups for English-speaking travelers. You can just do Google translate, though!
You can get your yellow fever vaccine in Sao Paulo for FREE
Many of my friends who were visiting Brazil got a yellow fever vaccine prior to entering Brazil. This vaccine is only required if you are traveling to neighboring countries that share the Amazon Rainforest with Brazil. Brazil does not require the yellow fever vaccine but Colombia, Ecuador, and Peru may ask for it if those are your next destinations.
I got my yellow fever vaccine in Sao Paulo for FREE. You can read this article and see how I did it as a tourist.
✈️ Ready for your solo trip to Sao Paulo? If you have any doubts or questions about traveling to Sao Paulo Brazil, leave a comment below and I will try my best to answer them for you!
Trisha is one of those people who left their comfortable life to travel the world and learn about life. Her style is to stay in one place she likes for 3 months (or more) to know what it feels like to eat, cook, speak, and sleep in another culture that isn't hers. She'd like to believe she's not traditionally traveling but she just chooses to be somewhere else all the time. In no particular order, her favorite cities in the world are Barcelona, Buenos Aires, Hong Kong, Mexico City, and Tel Aviv.