I've been living in Cabo San Lucas since August 2021 and have been discovering the best things to do in Cabo for the last two months. Here's what's on my list! And if you ever visit, don't forget to get in touch – I'd love to meet you!
📬 Reader Mail: Hi Trisha I'm so glad to have stumbled upon your blog! I really need some local and genuine information. My sister is having her bachelorette party in Cabo next year and I am tasked to do an itinerary.
Can you please recommend the best things to do in Cabo? If I could also do a private consult or hire you as an organizer during the weekend we are there, please let me know!
Just an FYI, we are 6 girls going to Cabo for the weekend. Super great blog and thank you so much for all the information you give about Mexico. Looking forward to speaking with you!
-Angela Dupre, Manchester, MO
✈️💃🏻 Need help on finding the best Cabo activities? I live here and I can help you! Click the image below and get in touch with me!
Hi Angela!
Cabo has been a famous destination for bachelorette parties so great decision on your part! Congratulations to your sister and I admire you for organizing this for her!
Yes, I do private consultations and trip planning. Just simply click the picture above to see my services. I have a lot of Mexico articles on my blog so you can start with that.
If you feel like you will need a private consult after reading the posts, then let's chat! Anyway, here are the best things to do in Cabo.
I constantly update this since I just moved here two months ago so feel free to save this for your trip. Good luck and I hope to meet you here in Cabo! Let me know if you have any other questions.
Xx,
Trisha
🎁🎉 Bonus: Use the code PSIMONMYWAY10 upon checkout to get a 10% discount on all things to do in Cabo!
What is Cabo best known for?
Cabo is known for its famous water activities and of course, the crazy nightlife. Cabo has been an American's favorite destination at the same level as Cancun.
But because I live here, I am super biased with Cabo! Northern Mexico is really very different from the south and I always prefer Cabo over Cancun!
Need more resources? Check out our Cabo travel guide
View this post on Instagram
What should you not do in Cabo San Lucas?
Well, like in all of Mexico, you need to avoid drugs at all costs. The thing is Cabo is a very famous destination for foreigners and people always have the idea they can just do whatever here.
In Cabo, many locals will sell you drugs on the street (most especially if you are a tall, imposing, white man) – they can't help it. They have will offer you drugs no matter what.
And of course, when we are drunk, most of us have the initial reaction to say yes because we think it's part of the fun. Cabo is super safe but if you buy drugs in Cabo, you are putting yourself in a very complicated situation.
See all our Mexico travel guides for your next Mexican vacation!
When is the best time to visit Cabo?
The best time to visit Cabo is from November to May. This is the high season in Baja California Sur and all of Mexico. I stayed in Cabo all summer and man, it was really hot. I don't think that a foreigner can take this kind of heat.
However, I also lived in the mainland (Puerto Vallarta and Sayulita) and I noticed the difference in the summers in Mexico. Cabo has dry heat while the mainland has humid heat.
Personally, I prefer dry heat because there is still wind coming from the sea. I never really suffered during the summer here in Cabo but remember that I am used to hot weather. I've almost never lived in cold countries!
The summer season in Cabo falls from June to October where you experience super dry heat. Take note that Cabo is located in the deserts of Baja California so that's the kind of heat you will experience.
Recommended: Weekend in Cabo (itinerary + budget)
View this post on Instagram
Is it expensive to go to Cabo?
Honestly, Cabo is more expensive than any other place in Mexico that I lived in. Cabo is already considered as expensive as California but that doesn't stop Americans from taking a vacation here.
If you compare it to the US, it is still a little bit cheaper so nobody really cares about the prices here. If you are a budget traveler and you want your money to go further, consider going to Puerto Vallarta instead.
I wrote a detailed article called Is Cabo expensive? on the blog. You can head to that article to see a breakdown of prices should you decide to have a Cabo weekend getaway!
You might also like other things to do in Mexico
Things to do in Puerto Escondido, Oaxaca
☕ Support this blog's honest and transparent journalism. Help us add value to our content! Keep P.S. I'm On My Way content free for all by donating to our coffee fund.
Top things to do in Cabo San Lucas and San Jose del Cabo
#1: Marina Cabo San Lucas
The Marina is the most popular spot in Cabo. This is where you take all the boats of the tours you take, which will be discussed in the best things to do in Cabo post.
Cabo Marina is also a great spot as a meet-up point especially if you are traveling with a group. It is in the center of town so you won't have a hard time getting here.
🍺☀️ Local tip: Tiki Bar at the Cabo Marina is a great place to drink a beer and people watch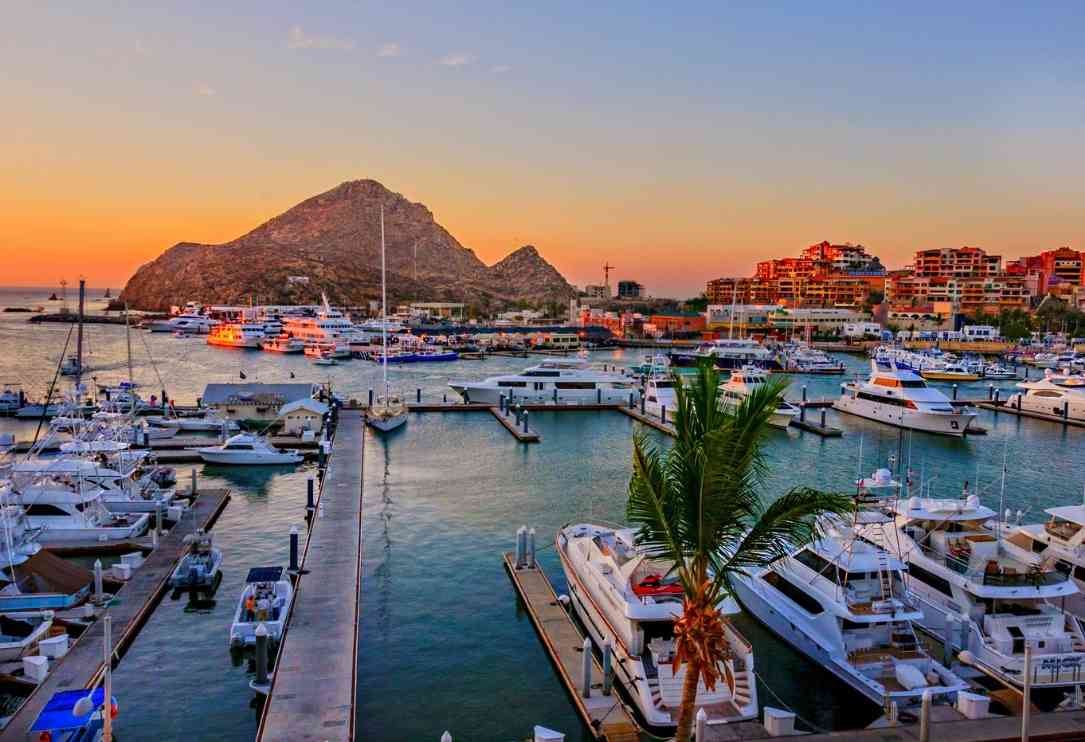 Most people say that the best restaurants in Cabo are here but in my exploration, I always found the best places to eat outside of the marina and downtown.
Personally, I feel like the marina is for sunset drinking. There are many nice bars here that are facing the ocean so it's definitely a great sunset or day drinking spot (if you don't want to do it on the beach).
📍Get directions to Marina Cabo San Lucas
#2: Explore Los Cabos: San Jose del Cabo and Cabo San Lucas
When people visit Cabo San Lucas, they never really know the difference between San Jose del Cabo (SJC) and Cabo San Lucas (CSL). People Google 'Los Cabos' and take the information that's on the first page. I did the same mistake and I was really confused if I should live in SJC or CSL.
I went on this tour and saw the difference. We're not the same people but I prefer Cabo San Lucas more although I am so open to trying to live in San Jose del Cabo as well.
This Los Cabos City tour will take you to both cities including the tourist corridor. Then you will go on a glass-bottom boat to the Land's End area, the famous Arch, and the Sea Lion colony.
You will also get to see Lover's Beach with an excellent view of the Sea of Cortez. This tour is about 4.5 hours (approx).
👉🏽 Check prices and availability for Los Cabos City Tour
#3: Camel safari in the desert
I actually didn't know about this until 2 friends of mine from Seattle (shoutout to Aaron and Brady!) did it. They were inviting me to do it and I was like, "what are you talking about?! Camels in Cabo?! No way!"
I didn't go with them but I ended up doing it on my own. There are real camels in Los Cabos and I was really amazed! Not only that – the area where the camel safari takes place is really beautiful!
What's next after Cabo? Check out Todos Santos
I kept coming back to this beach on my own since I already live here! This tour lasts for 2 hours. Prices for adults and children are different. This is a great activity for families traveling with kids so don't miss it!
👉🏽 Check prices and availability for Camel safari in the desert
#4: ATV ride at Migriño Beach
Migriño beach in Cabo is one of my favorite beaches! It's just an 8-min drive from downtown and the dogs and I always walk to this beach (which takes us about 40 minutes)
💃🏻🌟 Travel tip: combine the ATV ride with the camel safari tour! Click here to know more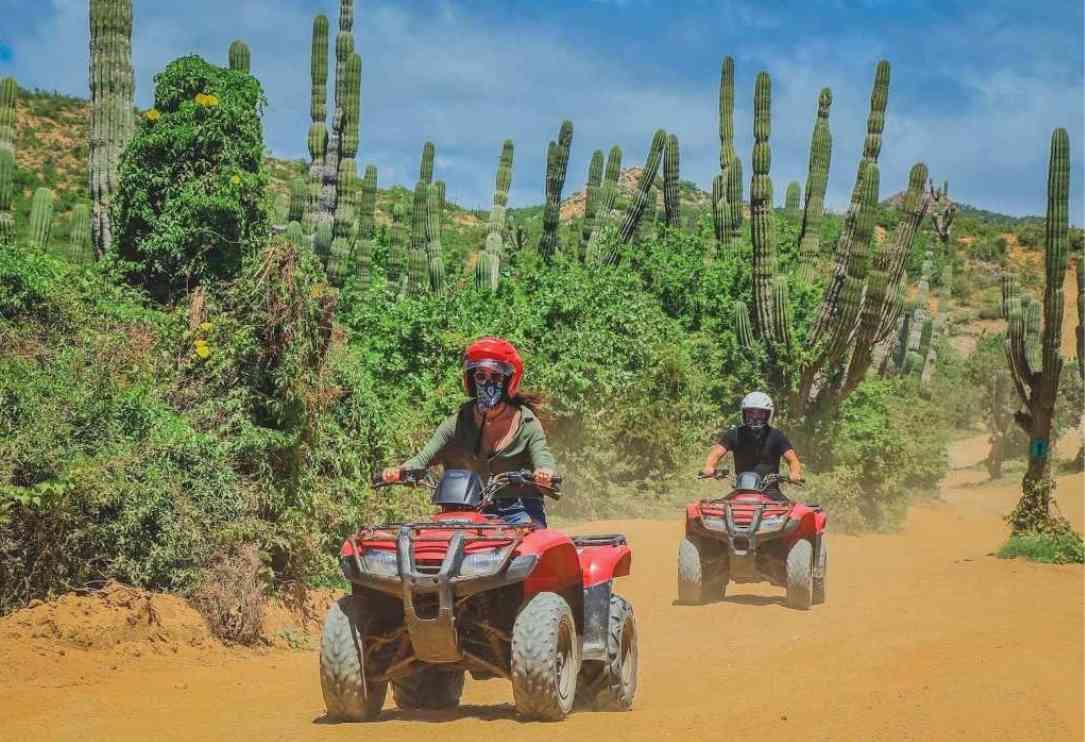 You can visit this beach through an ATV tour in Los Cabos. Desert, mountains, beaches, sand dunes, canyons – Baja California Sur has everything for you!
And the Migriño ATV tour is the best way to know the sand dunes of our area! This tour lasts for 2 hours.
👉🏽 Check prices and availability for Migriño beach ATV tour
#5: Learn salsa with locals
You can't go to Mexico and not learn salsa, especially the guys! Guys, in salsa culture, men are the one leading the dance so I always tell my friends who visit me in Cabo to learn salsa if they want to get girls (LOL).
Not just Mexico but if you also travel to Colombia and other Latin American countries, knowing how to dance salsa will take you a long way!
In Cabo, we have salsa classes with locals daily. It's only $40 MXN ($2.50 USD) per class and you will be trained by a top salsa master who is a local in Cabo.
Most of the people you will take the class with are Mexicans and expats so if you want to dig deeper in the Cabo life, take at least one salsa class!
📞 If you want to attend a class, get in touch with Kike Alvarado via Whatsapp: +52 984 164 6998
#6: Parasailing in Cabo
One of the best things to do in Cabo is parasailing. Adventure and adrenaline-rush seekers, I promise you'll love this activity. You'll have the front seat (and aerial) view of the arch, the bustling Medano beach, and the whole city of Cabo San Lucas!
You will be fitted with a harness and be pulled by the boat. You can choose to go with a guide if you're afraid but you can definitely do this on your own! It's safe!
The maximum flight is 600 feet but this all depends on the weather and water conditions. I did this one in Acapulco and the experience was way different because Cabo has better views!
👉🏽 Check prices and availability for Cabo parasailing
#7: Snorkel at Lover's Beach
Lover's Beach is one of my favorite spots in Cabo. When Playa Medano, I bring the dogs to Lover's Beach for our very own Cabo weekend getaway! If you live in Cabo, the main beach is really tiring because it's full of people.
You're going to love Lover's Beach and the best method to see it is through by boat. Snorkel in the area and feel free to stay on the beach for as long as you like.
Cabo is one of the best diving spots in the world (Sea of Cortez) so you'll very much enjoy seeing the underwater life here.
👉🏽 Check prices and availability for Lover's Beach snorkeling tour
#8: Hike Mt Solmar
My dogs and I love hiking so when my friend from Tulum visited, we decided to do the hike ourselves. The map took us to Solmar Hotel, which was odd because it has the same name as the mountain.
The guard told us that we can't enter with the dogs (bummer!) and that we have to sign up with a private guide because it was private property.
Technically, you can't do this on your own (operative word, private) so the guard gave us the phone number of the guide. This is one of the best hikes in Cabo as you can see the whole city from the top.
It is also not a very hard hike and you can bring kids with you. Unfortunately, pets are not allowed to do this hike. This hike may be private but is also for FREE! You just need to tip the tour guide and that's it!
The private hikes to Mt Solmar happen daily. One at 8:00 am and another at 4:00 pm. The afternoon hikes are uncommon so you need to ask the tour guide about the schedule.
📞 Contact Mt Solmar certified guide Enrique via Whatsapp: +52 624 122 1316
#9: Day drinking at The Rooftop 360
The Rooftop 360 opened just when I moved to Cabo. Since then, I was going here every Monday! I choose not to go on weekends because it's usually packed and hard to reserve.
The minimum amount to spend to stay in the Rooftop 360's beach club is $50 USD per person. They have a great selection of food and my favorite here is the mixed ceviche (with octopus).
View this post on Instagram
The pool is overlooking the famous Cabo Arch. Make sure to ask for the lounge chairs by the pool! They also have strong wifi so I work here a lot (while day drinking).
📞 Reservations at the Rooftop 360, call +52 624 163 7860
Best things to do in Cabo on Pinterest: save it for your trip!
Trisha is one of those people who left their comfortable life to travel the world and learn about life. Her style is to stay in one place she likes for 3 months (or more) to know what it feels like to eat, cook, speak, and sleep in another culture that isn't hers. She'd like to believe she's not traditionally traveling but she just chooses to be somewhere else all the time. In no particular order, her favorite cities in the world are Barcelona, Buenos Aires, Hong Kong, Mexico City, and Tel Aviv.