This solo trip to Prague was written by Rose Munday, a solo traveller originally from the UK, now living remotely around the world while working online. Read on to know how to travel and have fun in Prague by yourself!
Reader Mail: Dear Trisha, I have been following you since your Italy days! I really love your authentic content and stories. I know you are in Mexico now but do you plan on going to Europe soon now that it's open? In your very old posts, I saw that you've been to Prague. I am looking for a cheap European destination and I think Czech Republic is one of the cheapest? Furthermore, I need to know about safety. Do you think I can manage a solo trip to Prague???? I am super scared but now I am convinced that I need to go out of the United States and try something new. Thanks for all your helpful blogs!
– Bonnie Noack, USA
Hi Bonnie,
Thank you for writing! I don't think you're giving yourself enough credit. Of course, you can do it! Especially now that I can sense that you are very willing to push through. Please do not doubt yourself! Through the years that I am traveling the world solo, I realized that 'doing' is more important than anything else.
People keep talking and talking about traveling – and they end up living in their parents' basements by doing so. in You'll make it through, I promise!
I've been to Prague and I really love it! You're right – it's cheaper than other EU countries. However, I haven't visited in a while – maybe 5 years?! I plan to visit Europe but not for another year. As always, this blog aims to help and encourage people like you to travel so I called for reinforcements.
My friend Rose from Where Goes Rose traveled to Prague solo and she's going to give you advice on how to navigate your trip to Prague. If you have any additional questions, please feel free to reach out to both of us. I'm at @psimonmyway on Instagram and Rose is at @wheregoesrose.
Good luck and may the force be with you!
Xx,
Trisha
Hey! My name is Rose and I am a solo traveller from the UK. I've been travelling on and off for the past 6 years, but the times 'off' have really just been sessions at home saving up for travel. I'm from a small town near Oxford in the UK so after uni, I moved to London and got a job as a marketing copywriter. I didn't hate my life – in fact, I enjoyed it – but I knew there was more out there and wanted to see it.
I assumed I'd quit my job, spend a year travelling, then come home and pick up where I left off. As it happened, travel became my life! I've only returned to save up and leave again. The more I travel, the more I want to and the more I learn, the more I want to know about the world!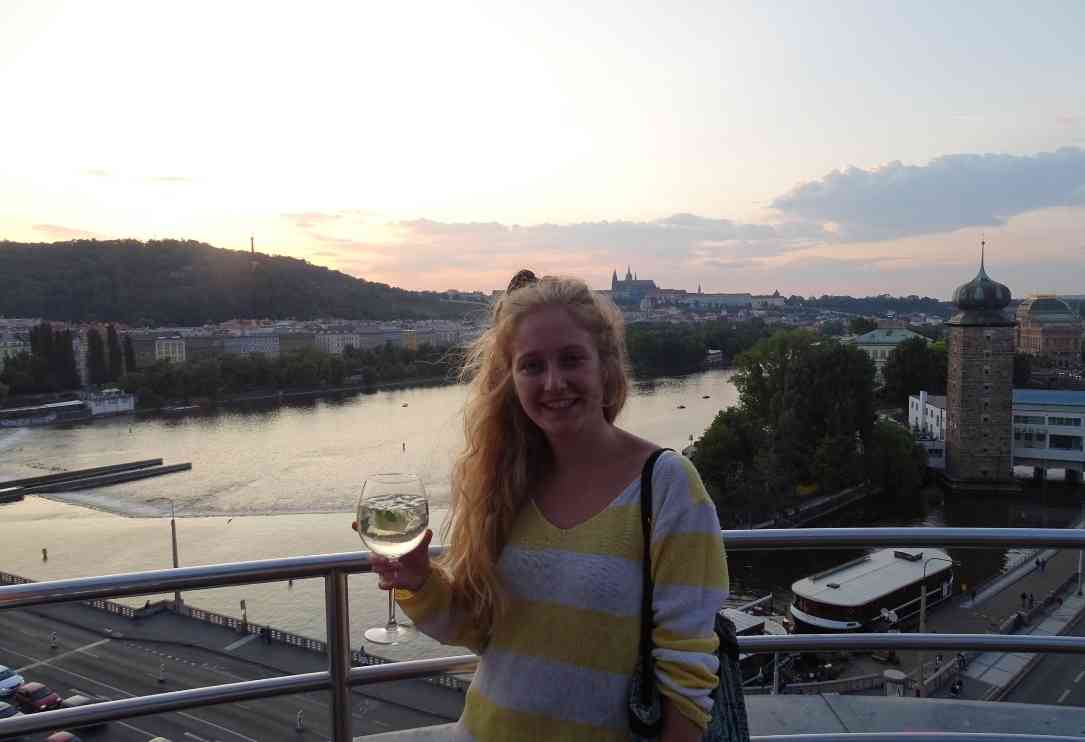 For my first trip in 2015 – a year-long backpacking trip around India and Southeast Asia – I invited a few friends as I was nervous about travelling solo. I worried I would get lonely, lost or overwhelmed. Friends joined me for parts of the trip but actually, I came to prefer the freedom and independence of travelling alone.
After that first year away, I saved up again and headed on a budget camping tour around East and Southern Africa then backpacked solo around South Africa. Afterwards, I decided to go freelance so I could travel more and base wherever I wanted. Since then, I've been based around Asia and more recently, in Mexico.
Is the Czech Republic open for tourism?
On June 22, 2021, the Czech Republic announced that the country is open for vaccinated US citizens. Quarantine or COVID PCR tests are not required and Americans can stay in the country for 90 days without a visa. However, all US citizens are required to bring their proof of vaccination.
Entry to other foreign nationalities is still limited. To see the full list, you may refer to this page under the 'open for travel' tab.
Is Prague good for solo travel?
Prague is a beautiful city. Apart from its low costs than other European cities, the crime rate in Prague is also low. Of course, like many other destinations in Europe, there are petty crimes such as theft so if you are on your own, you know the drill on how to take precautions. But don't be too paranoid!
The Czech Republic is also one of the most less-taken paths in Europe. Some even don't think to include it on their Eurotrip itinerary. It is rich in history, culture, and there is a lot of beauty to discover. Prague is the most visited destination in the Czech Republic but make sure to see other parts of the country, too. It will surprise you!
Is it safe to walk in Prague at night?
Personally, I felt very safe walking by myself in Prague. The only thing you need to be mindful of are petty crimes like theft. I travel with a lot of camera gear but I only take pictures during the day. When I am out at night, I usually just bring my phone and avoid bringing all my flashy gear. I also did not bring a lot of cash since I can use credit cards in Prague.
Is English widely spoken in Prague?
I didn't have problems communicating in English with the bar and restaurant staff. These people are used to tourists so they've trained themselves to speak English. As long as you are in tourist areas, someone will speak English.
I did have a hard time asking random people on the streets for directions but sign language usually works. Taxi drivers and police officers also have almost zero knowledge of English but don't let this be a hindrance for your trip to Prague! Take it as an opportunity to learn a new language.

Solo trip to Prague: things to do, where to stay, how to meet people, and more!
Rose's solo trip to Prague: personal experience
I visited Prague as part of a Europe backpacking trip, beginning in Germany and heading through the Czech Republic, Slovakia, Romania and Bulgaria. I'd always been fascinated by Eastern European countries. It's a region that many solo travellers don't know what to make of: these countries rarely come up as the safest places to travel but they never come up as the worst, either.
The Czech Republic was somewhere I knew about from fellow Brits visiting as bachelor/bachelorette parties. I had a limited preconception of boozy nightlife but it was so much more! I visited two cities in the Czech Republic and felt safe in both. For solo travellers, there are plenty of things to do in Cesky Krumlov and Prague, from learning about the history to exploring the architecture, culture, cuisine and countryside.
I felt very safe in Prague even when walking around in the evenings. The streets are brightly lit and public transport is busy enough to feel safe but also not overcrowded. During the summer, Prague has a lovely ambience with outdoor concerts and green open spaces.
I even managed to meet a few locals. I took a free walking tour and a food tour led by local Czech tour guides; it was great to hear what they love about their city. I also met up with a friend and her local boyfriend and got to learn what life's like for young people in Prague. It seems plenty come to the city for job opportunities and quality of life. I can see why!
Fun things to do in Prague for solo travelers
Visit Prague Castle
Don't miss the chance to wander around the world's largest ancient castle (according to the Guinness Book of World Records). The Czech crown jewels are hidden inside but you'll have to get through a chamber door, iron safe and seven locks to see them!
Instead, wander the grounds, cathedral, tropical garden and, from the top point, look out over panoramic views of Prague. Visiting Prague Castle is like being inside a fairytale!
Take a food tour
One of the biggest struggles of travelling solo is trying all the local foods without getting full! The food in Prague is fantastic, from touristy chimney cakes to more authentic local dishes with years of history. Check out my Prague food guide for a full round-up of everything to eat in Prague!
The national dish is svickova, a dish of bread dumplings and braised beef in a parsnip stew topped with cranberry sauce and a dollop of cream. It sounds weird but is surprisingly satisfying. Other hearty dishes include goulash, roasted pork, schnitzel and chlebičky (open sandwiches topped with egg and meat). Now you see why you need a tour to sample all this in one go!
The John Lennon Wall
After the exquisite detail of Prague Castle, take yourself to a colourful and quirky corner of Prague. The John Lennon wall might not have centuries of history like the castle but it has important contemporary history nonetheless. During the communist era, the Beatles' music became a beacon of hope for those living beyond the Iron Curtain in Prague.
After John Lennon was assassinated, the people of Prague took to the streets and covered this wall with colourful murals in his honour. It's regularly added to. Visitors from all over the world come to take photos! It's a fun and vibrant spot where you may meet other travellers.
Wander Old Town Square
The centre of Prague is walkable and pedestrian-friendly with colourful buildings and wide-open spaces. It's a great vibe for solo travellers and the best part of the city for history, architecture and taking beautiful photos. You can go inside the Church of Our Lady before Týnor or admire the distinctive church from outside while eating a warm trdelnik (a local spit cake made with rolled dough, sugar and walnuts).
Visit the Dancing House
Mix it up from the traditional architecture by visiting one of the most famous and quirky buildings in Prague, the Dancing House! It's nicknamed 'Fred and Ginger' and very occasionally called by its full name, the Nationale Nederlanden building.
After the Communist era when much of the city was drab and grey, the new president who was a writer and philosopher, wanted to bring modern culture to the Czech capital. The result? This quirky building with 99 differently shaped panels. Locals thought the two buildings resembled a couple dancing and the nickname, Dancing House, stuck!
The best bit is getting a panoramic view from the top floor. The entrance fee to the terrace is 100 CZK or free if you purchase a drink. With cocktails from 120 CZR, why not treat yourself? Having a drink in a bar solo is one of my favourite things to do while travelling alone. I always used to hide away and go back to my room in the evenings; nowadays getting a drink and enjoying myself instead is the ultimate 'FU' to that feeling!

Where to stay in Prague: best solo traveller accommodations
Hostels are my preferred form of accommodation. They're best for solo travellers on a budget and great for meeting people from around the world. Prague has a vibrant nightlife so meeting a group from the hostel is the best way to experience it while travelling solo!
The mosaic house is in a prime location in Prague. Major attractions like the National Museum of Prague and The Old Town Square are about 1-2 km walk. Don't take a taxi! There are also lots of bars and restaurants around the Mosaic House – you'll never have to go far!
➢ Check prices and availability at the Mosaic House: EXPEDIA | BOOKING.COM | AGODA
If you want a cheaper option, stay in dorms! Little Quarter Hostel is best in value as you can get a bed in an 8-bed dorm for only $22 USD. Everything from here is also walking distance like the Prague Castle and Charles Bridge. It's also super close to the Little Quarter Square (hence, the hostel name). You will get the change to meet a lot of people here as this is a top-rated hostel in Prague!
➢ Check prices and availability at Little Quarter Hostel: EXPEDIA | BOOKING.COM | AGODA
This is also one of the best hostels with a good location in Prague, however, at the moment, they only rent the dorms to groups. You can get a private from $68 USD. You will find a lot of people travelling in groups here so it's really easy to mingle! This is close to everything so Hostel Downtown might be your best option for privates.
➢ Check prices and availability at Hostel Downtown: EXPEDIA | BOOKING.COM
Safety tips for your solo trip to Prague
White travellers, female or male, won't stand out in Prague or receive unwanted (if any) attention. As a female traveller, I felt safe and wore the same clothes I would at home: denim shorts and short dresses. You don't need to dress conservatively.
However, Black travellers in Prague cite a lack of multiculturalism and attention (in the form of looks and stares) from the locals.
LGBT+ travellers are welcomed in Prague. While the ex-Communist countries are known for being behind in this area, Prague is the queerest city in the region with plenty of LGBT+ bars, clubs and the annual Prague Pride celebrations.
Violent crime is uncommon in Prague but you'll want to keep an eye out for scams. Sometimes restaurants will add extra items to the bill like bread that you didn't order or eat. They may also encourage to leave an additional tip on top of the 10% already added by government law.
Taxi drivers might also charge an informal 'tourist tax' so be sure to agree on a price beforehand or only pay what's on the metre. The other transport tip to look out for is fake ticket inspectors in the Metro deeming your ticket invalid and asking you to pay again – directly to them.
Meeting people in Prague as a solo traveller
If hostels aren't your bag but you still want to meet new people while travelling solo in Prague, I would highly recommend taking a tour. One option is a free walking tour (check out Free Walking Tour Prague or New Europe Tours). Everyone on the tour will be a newbie in Prague like you.
The other option is taking a food tour, cookery tour or anything else within your interest area. You can guarantee people on the tour will have the same shared interest which is a great start!
Rose is a solo traveller originally from the UK, now living remotely around the world while working online. She quit her job in London in 2015 and never looked back after her backpacking trip in Asia, going on to camp around East and Southern Africa and backpack solo in South Africa, Eastern Europe, India and East Asia, before basing semi-permanently in Mexico.