This solo trip to Prague was written by Rose Munday, a solo traveler originally from the UK, now living remotely worldwide while working online. Read on to learn how to travel and have fun in Prague by yourself!
Dear Trisha, I have been following you since your Italy days! I really love your authentic content and stories. I know you are in Mexico now but do you plan on going to Europe soon now that it's open? In your very old posts, I saw that you've been to Prague.

I am looking for a cheap European destination and I think Czech Republic is one of the cheapest? Furthermore, I need to know about safety. Do you think I can manage a solo trip to Prague???? I am super scared but now I am convinced that I need to go out of the United States and try something new. Thanks for all your helpful blogs!

Bonnie Noack, United States
Hi Bonnie,
Thank you for writing! I don't think you're giving yourself enough credit. Of course, you can do it! Especially now that I can sense that you are very willing to push through.
Please do not doubt yourself! Through the years that I am traveling the world solo, I realized that 'doing' is more important than anything else.
People keep talking and talking about traveling – and they end up living in their parents' basements by doing so. You'll make it through, I promise!
I've been to Prague, and I love it! You're right – it's cheaper than other EU countries. However, I haven't visited in a while – maybe five years?!
I plan to visit Europe but not for another year. As always, this blog aims to help and encourage people like you to travel, so I called for reinforcements.
My friend Rose from Where Goes Rose traveled to Prague solo and will give you advice on navigating your trip to Prague. If you have any additional questions, please feel free to contact both of us.
I'm at @psimonmyway on Instagram and Rose is at @wheregoesrose. Good luck, and may the force be with you!
Xx,
Trisha
🔗 Prague solo travel: quick links
Hey! My name is Rose, and I am a solo traveler from the UK. I've been traveling on and off for the past 6 years, but the times 'off' have really just been sessions at home saving up for travel.
I'm from a small town near Oxford in the UK, so after uni, I moved to London and got a job as a marketing copywriter. I didn't hate my life – I enjoyed it – but I knew there was more out there and wanted to see it.
I assumed I'd quit my job, spend a year traveling, then come home and pick up where I left off. As it happened, travel became my life! I've only returned to save up and leave again. The more I travel, the more I want to, and the more I learn, the more I want to know about the world!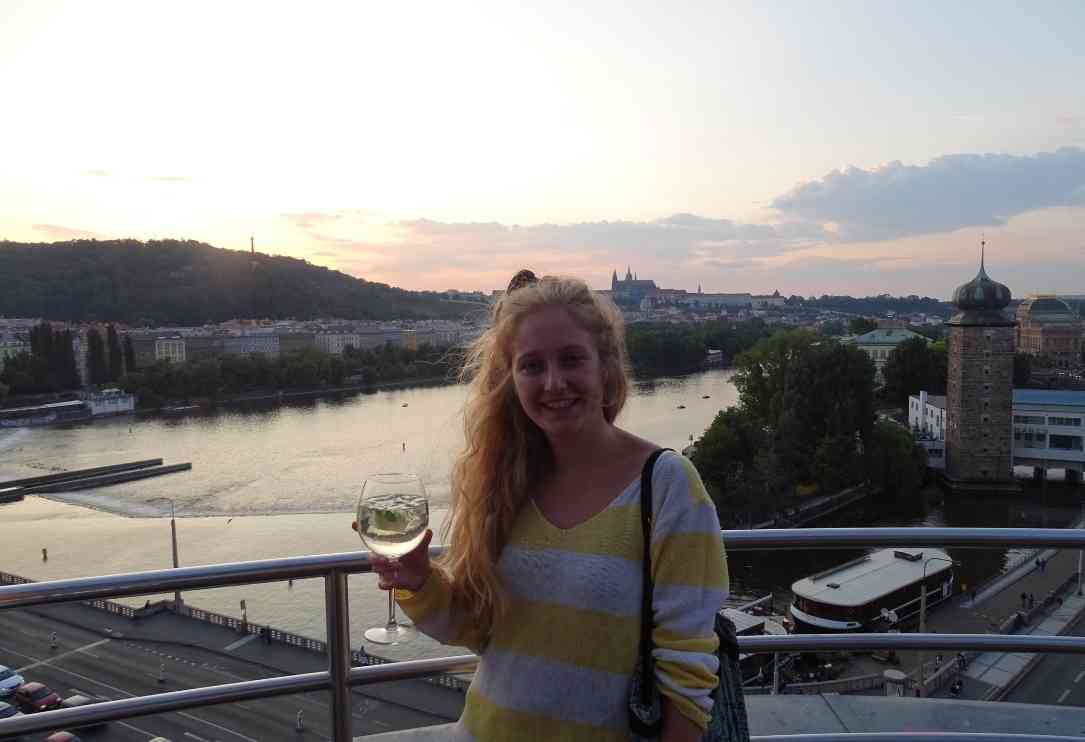 For my first trip in 2015 – a year-long backpacking trip around India and Southeast Asia – I invited a few friends as I was nervous about traveling solo.
I worried I would get lonely, lost, or overwhelmed. Friends joined me for parts of the trip, but I came to prefer the freedom and independence of traveling alone.
After that first year away, I saved up again, headed on a budget camping tour around East and Southern Africa, then backpacked solo around South Africa. Afterward, I decided to go freelance so I could travel more and base wherever I wanted.
Since then, I've been based around Asia and, more recently, in Mexico.
🧐 Is Prague safe for solo travel?
Prague is a beautiful city. Apart from its low costs than other European cities, the crime rate in Prague is also low. Of course, like many other European destinations, there are petty crimes such as theft, so if you are alone, you know how to take precautions. But don't be too paranoid!
The Czech Republic is also one of the less-taken paths in Europe. Some even don't think to include it on their Eurotrip itinerary.
It is rich in history, culture, and there is a lot of beauty to discover. Prague is the most visited destination in the Czech Republic, but make sure to see other parts of the country, too. It will surprise you!
💃 My solo travel to Prague experience
I visited Prague as part of a Europe backpacking trip, beginning in Germany and heading through the Czech Republic, Slovakia, Romania, and Bulgaria.
I'd always been fascinated by Eastern European countries. It's a region that many solo travelers don't know what to make of: these countries rarely come up as the safest places to travel but never the worst.
The Czech Republic was somewhere I knew about from fellow Brits visiting bachelor/bachelorette parties. I had a limited preconception of boozy nightlife, but it was much more! I saw two cities in the Czech Republic and felt safe in both.
For solo travelers, there are plenty of things to do in Cesky Krumlov and Prague, from learning about the history to exploring the architecture, culture, cuisine, and countryside.
I felt very safe in Prague, even when walking around in the evenings. The streets are brightly lit, and public transport is busy enough to feel safe but not overcrowded. Prague has a lovely ambiance during the summer with outdoor concerts and open green spaces.
I even managed to meet a few locals. I took free walking and food tours led by local Czech tour guides; it was great to hear what they love about their city.
I also met up with a friend and her local boyfriend and learned what life's like for young people in Prague. Plenty comes to the city for job opportunities and quality of life. I can see why!
Things to do in Prague alone
Don't miss the chance to wander around the world's largest ancient castle (according to the Guinness Book of World Records). The Czech crown jewels are hidden inside, but you'll have to get through a chamber door, iron safe, and seven locks to see them!
Instead, wander the grounds, cathedral, and tropical garden, and, from the top point, look out over panoramic views of Prague. Visiting Prague Castle is like being inside a fairytale!
One of the biggest struggles of traveling solo is trying all the local foods without getting full! The food in Prague is fantastic, from touristy chimney cakes to more authentic regional dishes with years of history.
Check out my Prague food guide for a full round-up of everything to eat in Prague!
The national dish is svickova, a dish of bread dumplings and braised beef in a parsnip stew topped with cranberry sauce and a dollop of cream.
It is surprisingly satisfying. Other hearty dishes include goulash, roasted pork, schnitzel, and chlebičky (open sandwiches topped with egg and meat). Now you see why you need a tour to sample all this in one go!
After the exquisite detail of Prague Castle, take yourself to a colorful and quirky corner of Prague. The John Lennon wall might not have centuries of history like the castle, but it has essential contemporary history nonetheless.
During the communist era, the Beatles' music became a beacon of hope for those living beyond the Iron Curtain in Prague.
After John Lennon was assassinated, the people of Prague took to the streets and covered this wall with colorful murals in his honor. It's regularly added to. Visitors from all over the world come to take photos! It's a fun and vibrant spot where you may meet other travelers.
The center of Prague is walkable and pedestrian-friendly, with colorful buildings and wide-open spaces. It's a great vibe for solo travelers and the best part of the city for history, architecture, and taking beautiful photos.
You can go inside the Church of Our Lady before Týnor or admire the distinctive church from outside while eating a warm trdelnik (a local spit cake made with rolled dough, sugar, and walnuts).
Mix it up with traditional architecture by visiting one of the most famous and quirky buildings in Prague, the Dancing House! It's nicknamed 'Fred and Ginger' and occasionally called by its full name, the Nationale Nederlanden building.
After the Communist era, when much of the city was drab and grey, the new president, a writer, and philosopher, wanted to bring modern culture to the Czech capital. The result?
This quirky building with 99 differently shaped panels. Locals thought the two buildings resembled a couple dancing, and the Dancing House nickname stuck!
The best bit is getting a panoramic view from the top floor. The entrance fee to the terrace is $4 USD or free if you purchase a drink. With cocktails from $5.50 USD, why not treat yourself?
Having a drink in a bar solo is one of my favorite things to do while traveling alone. I always used to hide away and go back to my room in the evenings; nowadays, getting a drink and enjoying myself instead is the ultimate 'FU' to that feeling!
Where to stay in Prague: best solo traveler accommodations
Hostels are my preferred form of accommodation. They're best for solo travelers on a budget and great for meeting people worldwide. Prague has a vibrant nightlife, so meeting a group from the hostel is the best way to experience it while traveling solo!
The Mosaic House is in a prime location in Prague. Major attractions like the National Museum of Prague and The Old Town Square are about 1-2 km walk. Don't take a taxi! There are also many bars and restaurants around the Mosaic House – you'll never have to go far!
If you want a cheaper option, stay in dorms! Little Quarter Hostel is the best in value, as you can get a bed in an 8-bed dorm for only $22 USD. Everything from here is also within walking distance, like the Prague Castle and Charles Bridge.
It's also super close to the Little Quarter Square (hence, the hostel's name). You will get the chance to meet a lot of people here as this is a top-rated hostel in Prague!
Hostel Downtown is also one of the best hostels with a good location in Prague. You can get a private for $68 USD. Many people travel in groups here, so mingling is effortless! This is close to everything, so Hostel Downtown might be your best option for privates.
Getting attention as a solo traveler in Prague
White female or male travelers won't stand out in Prague or receive unwanted (if any) attention. As a female traveler, I felt safe and wore the same clothes I would look at home: denim shorts and short dresses. You don't need to dress conservatively.
However, Black travelers in Prague cite a lack of multiculturalism and attention (in the form of looks and stares) from the locals.
LGBT+ travelers are welcomed in Prague. While the ex-Communist countries are known for being behind in this area, Prague is the queerest city in the region with plenty of LGBT+ bars, clubs, and the annual Prague Pride celebrations.
Violent crime is uncommon in Prague, but you'll want to watch for scams. Sometimes restaurants will add extra items to the bill, like bread you didn't order or eat.
They may also encourage you to leave an additional tip on top of the 10% already added by government law.
Taxi drivers might also charge an informal 'tourist tax,' so agree on a price beforehand or only pay what's on the meter. The other transport tip to look out for is fake ticket inspectors in the Metro deeming your ticket invalid and asking you to pay again – directly to them.
Meeting people in Prague as a solo traveler
If hostels aren't your bag, but you still want to meet new people while traveling solo in Prague, I highly recommend a tour. One option is a free walking tour (check out Free Walking Tour Prague or New Europe Tours). Everyone on time will be a newbie in Prague like you.
The other option is taking a food tour, cookery tour, or anything else within your interest area. You can guarantee people on the tour will share the same interest, which is a great start!
✨ Tips for your solo trip to Prague
Join a free walking tour
One of the best ways to explore Prague as a solo traveler is by joining a free walking tour. These tours are usually led by locals who deeply understand the city's history, architecture, and culture. They'll guide you through the main highlights and hidden gems, and it's also a great opportunity to meet other solo travelers.
Visit Farmer's Markets
Prague has several farmer's markets that offer a unique opportunity to interact with locals and taste authentic Czech food. The most popular ones are Naplavka, Jiriho z Podebrad, and Dejvice. You can sample local produce, buy homemade products, and enjoy a meal at these markets.
See all the street art!
Prague is home to a vibrant street art scene. Embark on a self-guided street art tour and visit neighborhoods like Zizkov, Karlin, and Holesovice. You'll discover unique murals and creative installations that might not appear in traditional guidebooks.
Watch a classical music concert
Prague is known for its rich classical music heritage. As a solo traveler, consider attending a classical music concert at venues like the Rudolfinum, the Municipal House, or one of the many historic churches. These concerts offer an immersive cultural experience and can be enjoyed without company.
Visit lesser-known museums
While most tourists flock to the popular museums, consider visiting lesser-known ones like the Karel Zeman Museum, the Museum of Communism, or the Strahov Monastery Library. These hidden gems provide unique insights into Czech history and culture.
Explore the local café culture
Prague has a thriving café scene, and visiting local cafes is a great way to spend some leisurely time alone. Seek out historic cafes like Café Louvre and Café Slavia or cozy, bohemian spots like EMA Espresso Bar and Kavarna Velryba.
Attend a Language Exchange Meetup
Join a language exchange meetup to practice your Czech skills and make new friends. Events like these are held regularly in the city and offer a fun, informal way to connect with locals and other travelers.
Participate in a Czech Cooking Class
Learn how to prepare traditional Czech dishes by participating in a cooking class in Prague. This hands-on experience teaches you about Czech cuisine and provides a fun and engaging way to spend time with fellow solo travelers.
☕ Support this blog's honest and transparent journalism. Help us add value to what we are sharing. Keep P.S. I'm On My Way free for all by donating to our coffee fund.
✅ Solo trip to Prague safety tips
Common tourist scams in Prague
In Prague, watch out for taxi drivers overcharging, fake currency exchanges, and street performers with accomplices who pickpocket unsuspecting tourists. Research common scams before your trip to stay informed and vigilant.
Public transportation safety in Prague
When using public transportation, stick to official providers like Prague Public Transit Company (DPP) buses, trams, and metros. If you need a taxi, use a reputable service like AAA Radiotaxi or Liftago instead of hailing one on the street.
Carry a whistle or personal alarm
A whistle or personal alarm can be a useful tool for solo travelers to draw attention in case of emergencies. Keep one handy and learn how to use it effectively.
Share your itinerary
Before embarking on your solo adventure, share your itinerary with a trusted friend or family member. This ensures someone knows your whereabouts and can check on you if needed.
Stay in well-lit, populated areas
Especially during nighttime, stick to well-lit and populated areas. Avoid poorly lit streets, parks, and unfamiliar neighborhoods. Utilize a GPS or offline maps to navigate the city confidently.
Don't get too drunk
While it can be tempting to indulge in the local beer scene, it's essential to drink responsibly and stay aware of your surroundings, especially when traveling solo. Limit your alcohol consumption and avoid accepting drinks from strangers.
Keep your valuables secure
Use a money belt, hidden pouch, or anti-theft bag to store your passport, cash, and important documents. When using a bag or backpack, keep it zipped and secured, and avoid placing valuable items in easily accessible pockets.
Trust your instincts
Sounds overrated but it is true. As a solo traveler, trusting your instincts is crucial. If something doesn't feel right, remove yourself from the situation or seek help from a local or fellow traveler. Don't hesitate to ask for assistance or directions from reputable sources like hotel staff or tourist information centers.
⁉️ FAQ: Prague solo travel
Is English widely spoken in Prague?
I didn't have problems communicating in English with the bar and restaurant staff. These people are used to tourists so they've trained to speak English. As long as you are in tourist areas, someone will speak English.
I had difficulty asking random people on the streets for directions, but sign language usually works. Taxi drivers and police officers also have almost zero knowledge of English, but don't let this hinder your trip to Prague! Take it as an opportunity to learn a new language.
Is it safe to walk in Prague at night?
Personally, I felt very safe walking by myself in Prague. The only thing you need to be mindful of are petty crimes like theft. I travel with a lot of camera gear but I only take pictures during the day.
I usually bring my phone when I am out at night and avoid bringing all my flashy gear. I also did not bring a lot of cash since I can use credit cards in Prague.
🇨🇿 Czech Republic Travel Planning
✈️ What's the best platform for booking flights to Czech Republic?
Kiwi.com is one of the most trusted sites to book cheap flights to Czech Republic. They compare all prices for all airlines! Also, try WayAway if you want to get cashback for every booking.
🏥 Is travel insurance mandatory in Czech Republic?
YES! You need to get into the habit of buying travel insurance, not just for Czech Republic. SafetyWing, is my digital nomad/remote worker insurance, while I use Ekta Traveling for short trips (from $0.99 per day).
🚗💨 Is it safe to rent a car in Czech Republic?
ABSOLUTELY! Use Discover Cars or Rentalcars.com for the best car rental deals in Czech Republic. Remember to book online prior to arrival and don't do it in person as cars run out fast!
🛏️ Where can I find affordable hotels in Czech Republic?
Booking.com is a great platform if you want boutique hotels. Budget travelers should still book using Hostelworld.
Rose is a solo traveller originally from the UK, now living remotely around the world while working online. She quit her job in London in 2015 and never looked back after her backpacking trip in Asia, going on to camp around East and Southern Africa and backpack solo in South Africa, Eastern Europe, India and East Asia, before basing semi-permanently in Mexico.