So, you decided to go to Todos Santos Mexico, for your next vacation: is it safe? Can you go there alone or with a group of girls? I live in this area and will tell you everything you need to know about this magical town.
📧 Hola, Trisha! Thank you for all the Mexico blogs!!! I found your content through Instagram. We are a group of girls traveling to Todos Santos this April for a bachelorette party. Our main concern is safety. Are you able to give me some information about Todos Santos safety? I know you live there and I am happy to buy you a drink when we are there! Muchas gracias for your content!

Carole M., Los Angeles (CA)
Hola, Carole!
Thank you so much for following me on Instagram! I'm having a little break there and spending more time on my site. So I am glad you found me here, too!
I lived in Todos Santos Mexico for a few months in 2021 with my crazy dogs and it is safe! It is actually a destination for bachelorette parties so you chose the right place.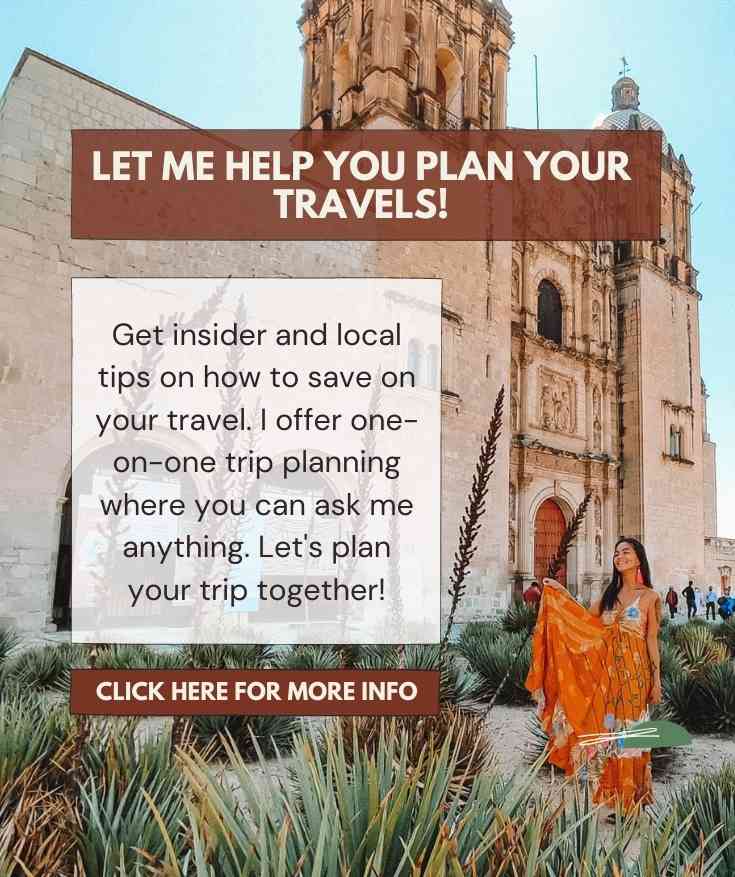 In this blog post, I will tell you more about Todos Santos safety and everything you need to know about traveling to this pueblo magico. I'd also be up for drinks, but I live in Cabo which is a 45-minute drive.
Let's keep in touch, and let me know when you are here!
Xx, Trisha
🙋 Questions about Todos Santos Mexico? Ask me on Tiktok!
🔗 Todos Santos Mexico quick links:
📍 Where is Todos Santos Mexico?
Todos Santos is in the state of Baja California Sur, located at the very tip of Mexico's majestic Baja Peninsula. It is about 75 km (46 miles) northwest of Cabo San Lucas and 85 km (52 miles) south of La Paz.
🗺️ Todos Santos Mexico Map
⛔ Is it safe to travel to Todos Santos Mexico?
ABSOLUTELY! Before moving to my home in Cabo San Lucas (where I live now), I tested the waters and lived in Todos Santos for 30 days just to see if it was a place I'd like to live in,
Ultimately, it wasn't for me when it came to living. But I love traveling there every weekend since it's less than an hour from Cabo!
When I was living in Todos Santos Mexico (single woman with 2 dogs), I didn't feel unsafe. In Mexico, small towns tend to be closer and have a tight-knit community of ex-pats, so everyone knows everyone.
I also have a car (Baja is a car country) so that's an extra added safety. Some nights, I walk by myself and I never felt unsafe. I guess it also helps that I speak Spanish and really immersed myself in the community.
💃 What's solo travel in Todos Santos Mexico like?
I want to be completely honest here. I was drawn to Todos Santos because of the crazy Pinterest craze. Everything I saw on the Internet was colorful streets.
When I arrived in Todos Santos Mexico to explore it myself, I found out that everyone was taking pictures on the same street, and that's the only pretty street in Todos Santos. HAHAHAHA!
I don't want to speak ill of Todos Santos because I made a great community there and I want to support them so here are some good things about traveling to Todos Santos Mexico.
Holistic and wellness activities in Todos Santos
One of the reasons why I love Todos Santos is because of the holistic and wellness activities. There is always yoga on the beach, full moon gatherings, and so forth.
It was so easy for me to make friends here and even if I am living in Cabo San Lucas now, I still go to their gatherings since its just a 45-minute drive from my home. I also do regular kambo and bufo sessions in Todos Santos.
Small-knit community
Everyone knows everyone! The moment I moved in to my apartment near Cerritos beach, a few locals helped me move in and even offered to walk my dogs!
It is estimated to cover an area of about 6 square miles (15.5 square kilometers). The town has a population of approximately 6,000 to 7,000 people, although this number can fluctuate depending on the season, as Todos Santos is a popular tourist destination.
People are extremely friendly
People will always say hi and they are always willing to help. No one has ever approached me as the town tends to be more private because privacy is gold here.
No cat-calling whatsoever, not even once. No man has approached me to take advantage or even chat. It is so amazing how a small town respects your space and privacy – they probably want you to do the same.
Of course, this only applies if you don't know anyone in Todos Santos yet but as time went and I made it my temporary home, I was able to make friends which absolutely made me feel that I know the whole town! The world gets smaller when you know a handful of people!
The town is super pet-friendly
As you know, I live and travel with 2 dogs and they have probably traveled around Mexico more than you do! Todos Santos is super dog-friendly! You'll likely encounter many dog owners walking their pets around the area.
There are several outdoor spaces, such as beaches and parks, where dogs can enjoy playtime and exercise. Some of the beaches, like Playa Los Cerritos and Playa Las Palmas, allow dogs to roam freely.
When it comes to hotels and accommodations, some hotels, vacation rentals, and Airbnb properties in Todos Santos allow pets, although there may be restrictions, additional fees, or specific pet policies in place. Always ask before booking!
Similarly, some restaurants and cafes in the area may allow well-behaved dogs in their outdoor seating areas, but it's always a good idea to call beforehand.
Is Todos Santos safe right now?
Todos Santos is considered a safe destination for travelers. It is generally known for its laid-back atmosphere, friendly community, and relatively low crime rate compared to other parts of Mexico.
Regardless of the destination, it's always important to exercise general safety precautions when traveling. Some tips for ensuring a safe trip to Todos Santos include:
Researching the latest travel advisories issued by your government and staying informed about the current situation in the area.
Keeping your personal belongings secure and avoiding displaying valuables in public.
Exercising caution when swimming or participating in water activities, as some beaches in Todos Santos have strong currents and rip tides.
Staying aware of your surroundings and avoiding isolated or poorly lit areas, especially at night.
Traveling in groups whenever possible and informing someone of your plans and whereabouts.
☕ Support this blog's honest and transparent journalism. Help us add value to what we are sharing. Keep P.S. I'm On My Way free for all by donating to our coffee fund.
✨ Travel tips for Todos Santos Mexico
Best time to visit Todos Santos Mexico
The best time to visit Todos Santos Mexico is between November and April. During these months, the weather is pleasant, and there is less rainfall compared to the summer months.
November to April is considered the high season in Todos Santos, with comfortable temperatures ranging from 18-27°C (64-80°F).
The weather is typically dry and sunny, making it an ideal time for outdoor activities like beach-going, surfing, whale watching, and exploring the town. However, keep in mind that tourist crowds and accommodation prices may be higher during this time.
If you're interested in whale watching, the best time to visit Todos Santos is between December and April, when migrating gray whales can be spotted along the Baja California coast. This natural spectacle is a must-see for wildlife enthusiasts.
During May and June, the weather starts to warm up, with temperatures ranging from 25-32°C (77-89 F). If you prefer warmer temperatures and slightly fewer tourists, this can be a good time to visit.
July to October is considered the low season in Todos Santos due to the higher temperatures (often reaching 90s Fahrenheit / 32-37°C) and increased humidity. The summer months also coincide with the region's hurricane season, which can bring occasional storms and rainfall.
However, this might be an appealing time to visit if you're looking for fewer tourists and lower accommodation prices. Just be prepared for the heat and potential weather disruptions!
I customize tours in Todos Santos Mexico! 🎉🥳
I live in Los Cabos and have traveled the whole Baja California Sur Peninsula. You can call or send a Whatsapp to my office at +52 473 171 5259 to get a quote: no hidden costs, just simple prices
Todos Santos is expensive. But wait, read on…
Todos Santos is expensive by Mexican standards but expect to have a higher-grade service here like Los Cabos. I LOVE FOOD, so it is not an issue for me to pay for expensive meals, especially if I am getting quality food.
For example, Oystera is a brunch place that specializes in oysters. Every day, they take their oysters from different spots in Baja like the Sea of Cortez (Gulf of Mexico) all the way up to Ensenada.
If it's that fresh from one of the greatest waters on the planet, of course, you need to pay more for it. My point is, it is expensive but it is probably expensive for me because I am living in Mexico for years now.
I no longer have my usual USD and EUR pricing or mindset. I adapt to Mexican prices because it is the right thing to do when you are a foreigner living here.
If you are traveling here, you probably won't feel that it's THAT expensive.
Todos Santos Hotels
When it comes to accommodation, this charming town has something for every taste and budget.
Hotel California is an iconic hotel, often associated with the famous Eagles song, offers a unique blend of luxury and historic charm. With beautifully appointed rooms, lush gardens, and exceptional on-site dining at La Coronela restaurant, Hotel California is one of the best hotels in Todos Santos.
I always stay in Guaycura Boutique Hotel & Spa, a luxury hotel that has the view of Punta Lobos. This beautifully restored 19th-century building features elegantly designed rooms, a rooftop terrace with stunning views, and a spa.
Budget travelers, note that there is only one hostel in Todos Santos (literally called Todos Santos Hostel).
Where to eat in Todos Santos
The dining and restaurants scene in Todos Santos is very impressive despite the town's small size. I go here almost every month and I still have not explored all the restaurants!
For a taste of authentic Mexican cuisine, you can head to the many family-owned and operated eateries that serve traditional dishes at reasonable prices. At these establishments, you can expect to spend around $5-$10 per meal.
A popular choice is the iconic Tacos y Mariscos El Sinaloense, where locals and tourists alike flock to savor their famous fish and shrimp tacos.
As a coastal town, Todos Santos boasts an array of seafood restaurants serving freshly caught fish, shrimp, and other oceanic delights. With price points ranging from $10-$25 per person, these establishments provide a delicious, fresh, and affordable dining experience.
The farm-to-table movement has made its way to Todos Santos, with several restaurants focusing on locally-sourced, organic ingredients. These establishments offer dishes showcasing the rich flavors of the region and typically range in price from $15-$30 per person.
For those seeking a taste of international cuisine, Todos Santos has a number of restaurants offering a unique fusion of flavors. These establishments often fall within the $20-$40 per person price range, making them a more upscale dining option.
If you're looking to splurge on a special evening out, Todos Santos is home to several high-end restaurants offering exquisite dining experiences. With prices starting at $40 per person and upwards, these establishments boast top-notch service and meticulously crafted dishes.
Renting a car for your trip to Todos Santos
The airport that serves Todos Santos is Los Cabos International Airport so you need to rent a car upon arrival. Baja California Sur is a driving region so it is more convenient to get there by car.
Upon arrival at Los Cabos Airport, you'll find several internationally recognized car rental agencies. To secure the best deal, it's better to book online prior to arrival.
To rent a car in Mexico, you'll need a valid driver's license from your home country, a credit card, and a passport. Mexican law mandates that all drivers carry basic liability insurance.
Your rental agency will offer you additional insurance options, which may include collision damage waiver (CDW) and theft protection. It's crucial to understand the coverage offered by each option and determine whether your existing insurance or credit card benefits cover any of these.
Driving in Baja California Sur is generally a pleasant experience, with well-maintained highways and picturesque scenery. Be prepared for occasional toll roads and be mindful of local driving customs, such as using your left turn signal to indicate that it's safe for the car behind you to pass.
🚫 Todos Santos safety tips
I have no safety tips for Todos Santos to be honest because there is nothing to worry about safety in Todos Santos Mexico! The only thing I can say is get travel insurance. Do not travel to Mexico without travel insurance! I use SafetyWing, for my nomad insurance and only pay $40 USD per month (both travel and medical insurance).
Lately, I discovered Ekta Traveling and loved their services! Their medical insurance is as low as $0.99 USD and they accept travelers from 2 months to 100 years old. Mexico will not ask you for mandatory travel insurance (upon entry) but make it a priority when planning your trip to Todos Santos Mexico.
Additionally, if you make it here, I'd love to hang out as I live in this area. Just send me a message on Instagram and I'll be down to hang out!
⁉️ Todos Santos Mexico FAQ
Is it worth it to go to Todos Santos Mexico?
ABSOLUTELY! Todos Santos is a charming and picturesque town that offers a unique mix of natural beauty, cultural experiences, and culinary delights.
Todos Santos is surrounded by beautiful beaches, such as Playa Los Cerritos and Playa La Pastora, perfect for sunbathing, swimming, and surfing. The town is also home to numerous art galleries, studios, and workshops, making it a haven for art enthusiasts.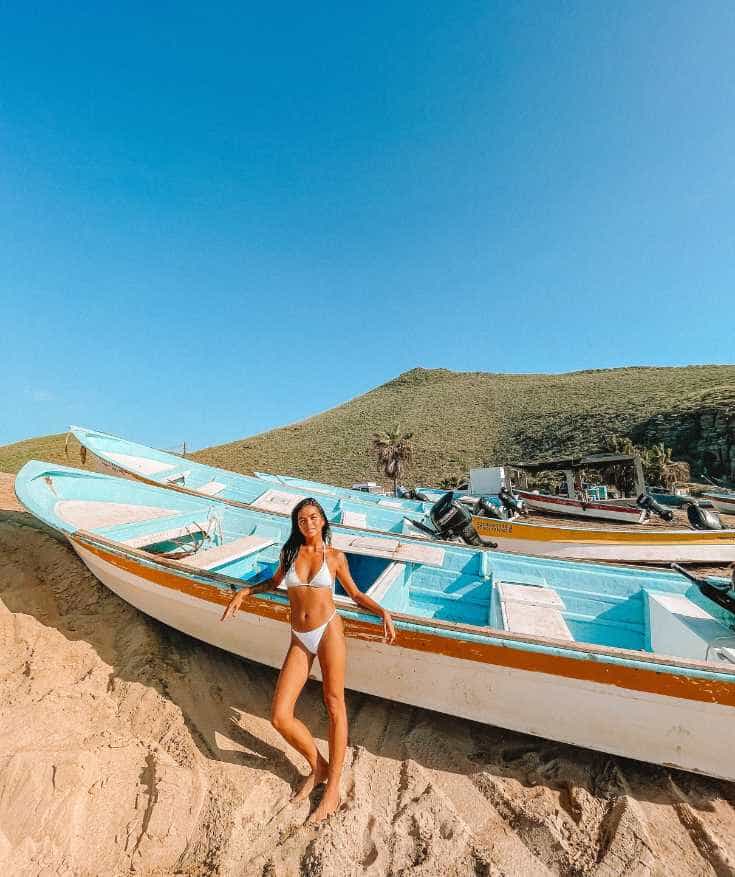 Todos Santos' historic district features well-preserved colonial-era buildings, giving visitors a glimpse into Mexico's past. Apart from that, it is an ideal destination for eco-tourism, with opportunities for birdwatching, hiking, and exploring the Sierra de la Laguna Biosphere Reserve.
Todos Santos is a short drive from popular destinations like Cabo San Lucas and La Paz, making it an excellent base for exploring the Baja California Sur region.
What is Todos Santos famous for?
Todos Santos is well-known for its thriving art community, with numerous galleries and studios showcasing works from local and international artists. The town hosts the annual Todos Santos Art Festival, which attracts art enthusiasts from all over.
Many people associate Todos Santos with the legendary Hotel California, which is often rumored to be the inspiration behind the Eagles' hit song of the same name. Although the band has denied this connection, the hotel remains a popular tourist attraction.
Todos Santos is extremely famous for surfing! Stunning beaches surround the town, such as Playa Los Cerritos and Playa La Pastora, perfect for swimming, sunbathing, and surfing.
Are beaches swimmable in Todos Santos?
Beaches in and around Todos Santos can be swimmable, but caution is advised as conditions vary. Some beaches are more suitable for swimming than others, and the presence of strong currents and rip tides can make swimming potentially dangerous in certain areas.
Here are a few beaches in the area with different swimming conditions:
Playa Los Cerritos: This beach is considered one of the most swimmable in the area, with gentle waves and a sandy bottom. It's a popular spot for families, swimmers, surfers, and sunbathers. There are also lifeguards on duty during peak seasons.
Playa La Pastora: La Pastora is known for its strong waves and currents, making it more suitable for experienced surfers rather than swimmers. Swimming is not recommended at this beach due to the challenging conditions.
Playa Las Palmas (San Pedro): This secluded beach, also known as Playa San Pedro, offers calmer waters and is more suitable for swimming than some of the other beaches in the area. However, it's essential to remain cautious and be aware of the ocean conditions.
Playa Punta Lobos: This beach is primarily a fishing beach and is not recommended for swimming due to strong currents and rocky shoreline.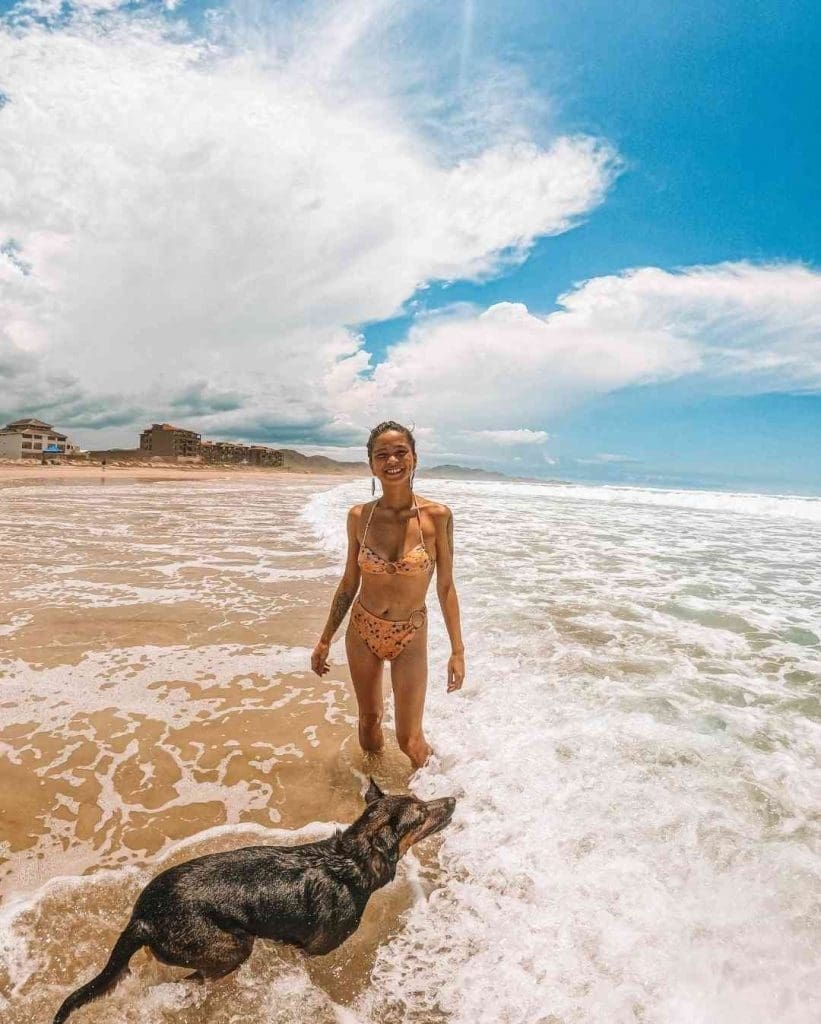 When visiting any beach in Todos Santos, it's crucial to exercise caution and prioritize personal safety. There are no lifeguards in Todos Santos and the beaches are totally deserted. Always be aware of the water conditions and follow local advice.
How much does it cost to live in Todos Santos?
The cost of living in Todos Santos Mexico is generally lower than in many North American cities, but it is essential to evaluate your personal needs and preferences to determine a more accurate estimate of your monthly expenses.
Here's a rough estimate of some common expenses in Todos Santos:
Housing: Rental prices in Todos Santos can range from $500 to $1,500 or more per month, depending on the size, location, and amenities of the property. Purchasing a home in the area can vary widely, from around $150,000 for a modest house to over $1 million for luxury properties.
Utilities: Basic monthly utility costs (electricity, water, and gas) for a small to medium-sized apartment are typically around $50 to $100. Internet service can range from $25 to $50 per month.
Groceries: Shopping at local markets and grocery stores can help keep food costs low. A monthly grocery budget for a single person might range from $200 to $400, depending on personal preferences and consumption habits.
Eating Out: Dining out in Todos Santos can be quite affordable, with casual meals at local restaurants costing between $5 and $10 per person. More upscale dining options can range from $20 to $40 or more per person.
Transportation: Public transportation is limited in Todos Santos, so many residents rely on private vehicles or taxis. Gasoline prices tend to be similar to those in the United States. Taxis can be quite affordable for short distances, but costs can add up for frequent use.
Health Care: Private health insurance policies are available and can range from $50 to $200 per month, depending on coverage and individual needs. Out-of-pocket medical expenses in Mexico are generally lower than those in the United States, but it is essential to factor in these costs.
Miscellaneous Expenses: Leisure activities, clothing, and other miscellaneous expenses will vary based on personal preferences and spending habits.
Is Todos Santos a magical town?
Yes, the Mexican government designated Todos Santos Mexico as a "Pueblo Mágico" (Magical Town). The Pueblo Mágico program was established in 2001 to recognize and promote towns with unique cultural, historical, and natural attractions.
These towns offer visitors a "magical" experience through their charm, traditions, and beauty.
Todos Santos was designated as a Pueblo Mágico in 2006 due to its rich cultural heritage, well-preserved colonial architecture, thriving art scene, beautiful natural surroundings, and overall enchanting atmosphere.
As a Pueblo Mágico, Todos Santos is an attractive destination for tourists seeking an authentic and memorable experience of Mexican culture and history.
Is Todos Santos a hippie town?
While Todos Santos is not explicitly a "hippie town," it does possess a laid-back, bohemian atmosphere that attracts a diverse and creative community, including artists, writers, and expatriates.
The town is known for its thriving art scene, with numerous galleries, studios, and workshops showcasing works from local and international artists. Additionally, its eco-friendly initiatives, boutique shops, and focus on sustainable living might appeal to those with a "hippie" mindset.
The charming and relaxed vibe of Todos Santos has made it a popular destination for travelers seeking a peaceful and authentic experience away from the hustle and bustle of larger cities and resort towns.
While it may not be a traditional "hippie" town, the spirit of creativity and tranquility that characterizes Todos Santos certainly aligns with some elements of the hippie ethos.
🇲🇽 Todos Santos Travel Planning
✈️ Flights to Todos Santos
Use Kiwi.com to find the cheapest flights to Los Cabos. This is my favorite booking engine because they compare prices across all airlines for your route. The airport that serves Todos Santos is San Jose del Cabo Airport.
🛏️ Hotels and resorts in Todos Santos Mexico
There is only one budget accommodation in Todos Santos called Todos Santos Hostel. If you want boutique hotels or resorts, Booking.com is the best choice.
🚑 Mexico Travel Insurance
Do not travel to Cabo without travel insurance! This is the top item you have to buy when traveling, and it is a must. Be prepared for the possibility that something can happen to you while traveling abroad. My favorite travel insurance is SafetyWing (for digital nomad and entrepreneur trips) and Ekta Travel for comprehensive medical insurance starting at $0.99 USD!
Trisha is one of those people who left their comfortable life to travel the world and learn about life. Her style is to stay in one place she likes for 3 months (or more) to know what it feels like to eat, cook, speak, and sleep in another culture that isn't hers. She'd like to believe she's not traditionally traveling but she just chooses to be somewhere else all the time. In no particular order, her favorite cities in the world are Barcelona, Buenos Aires, Hong Kong, Mexico City, and Tel Aviv.