Sayulita nightlife is the most vibrant in Riviera Nayarit. People from San Pancho, Bucerias, and even Puerto Vallarta come here just to party. Rest assured that whatever night you choose to come here, you will have a good time!
📮 Hey Trisha! I am visiting Sayulita and I can see that you spent a lot of time there. Mexico has been a dream for me – there are many direct flights from Vancouver! I'd like to make friends during my stay. Can you please recommend the best of Sayulita nightlife? I know there's a lot but I want to go to the places you went to! Thanks in advance!

Madeleine Arnoux, Canada
Hi Madeleine,
Thanks for reaching out! Sayulita nightlife is very active and there is always happening from Monday to Friday. This pueblo is really small so the places I will mention below can be easily reached by walking.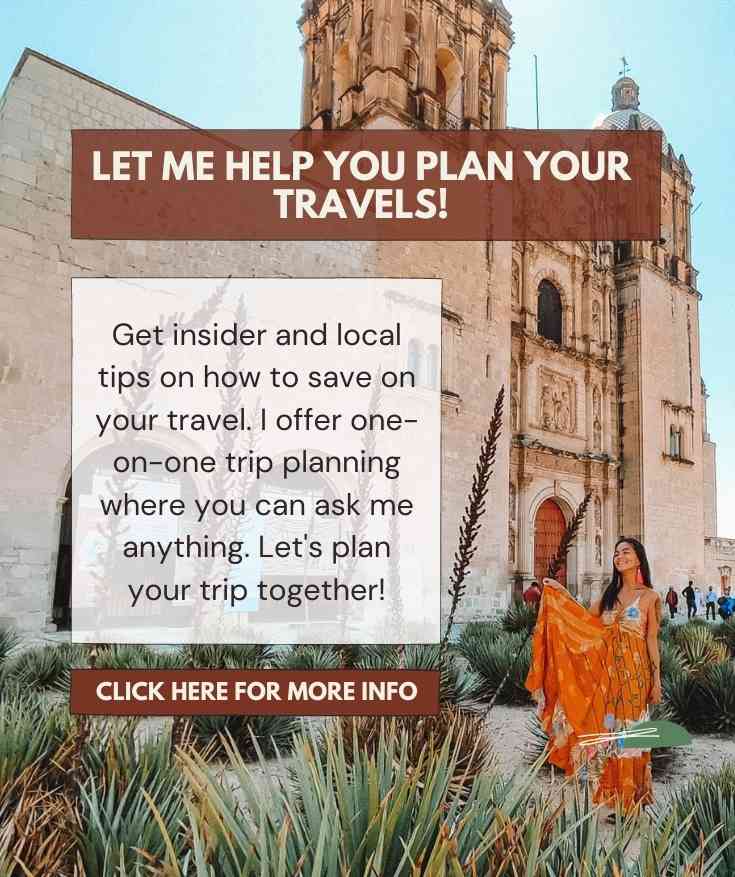 Sayulita nightlife never fails, so there is no difference if you arrive on the weekend or not – something is always up! If you ever come here, please don't hesitate to contact me and I'll buy the first round!
Xx,
Trisha
🙋 Questions about Sayulita nightlife? Ask me on Tiktok!
🔗 Sayulita nightlife: quick links
🍻 Sayulita nightlife: best Sayulita bars to check out
Yambak (anytime, really)
If you're a beer fan, then Yambak's is your place (like everyone else). Their beers are more expensive than other bars because they have their own brewery inside the bar but I would honestly pay 60-80 MXN ($3 – $4 USD approx) for a pint of good beer.
Beer names include Stoner's Point and La Ticla, both are creatively depicting the Sayulita nightlife and vibe. My personal favorite is the double IPA but drink with caution – the alcohol content is too high, you'll pass out after 5 glasses!
Yambak is also in front of the plaza so it's a good place to meet people. Their seating arrangement (standing, rather) makes people gather and mingle the entire night.
This is where you will meet Sayulita locals, too! Below are some important information that you need to know about Yambak:
General party feel: Standing, always busy. This is where everyone goes since it is conveniently located by the plaza. You will meet everyone here!
Music: techno, funk, rock. They invite a lot of DJs every weekend
Best day to go: Every day but they have a 2 for 1 promo on local beers every Tuesday so everyone in town will be here early.
Drinks: Yambak specializes on beers but they also have all types of drinks.
Prices: craft beer starts at $4 USD (must try). National beers at $1.76 USD (credit card accepted)
Don Pato (midnight onwards)
I remember being at Don Pato every day during my first month in Sayulita. This is where everyone ends up at night because something is happening nightly! If you are out of options and looking for something to do after midnight, Don Pato is your place!
Mondays (Salsa night): every Monday, there's a live band playing salsa at Don Pato. I really love this band as it's not very common to find a salsa bar with a live salsa band in Mexico.
It's more of a special events night thing but in Sayulita, it's every Monday! This night is not only for those who dance salsa professionally but it's for everyone!
If you don't know how to dance salsa, well, feel free to dance with any Mexican you will come across and you'll learn!
Tuesdays (Open mic night): can you sing? Even if you can't, sign up for open mic nights at Don Pato every Tuesday! Everyone will cheer for you anyway.
It's not a karaoke machine as you imagine but a live band will try their best to play the song you want to sing. As long as you have the notes (which you can easily Google), they will play it for you!
Wednesdays and Fridays (Rock night): Love Rock? Greatest hits are played by a very good Mexican rock band at Don Pato's every Tuesday. You can even request for a song!
Thursdays (Funk night): Funk music is becoming bigger and bigger in Mexico so if you are a fan, Thursday is your day!
Saturdays (cumbia): another round of dancing for the week where Don Pato either invites a live cumbia band or plays cumbia all night. This is very different from salsa so come over and learn Shakira's favorite dance!
Sundays (reggae): Chill tunes on Sundays but you can also get drunk. 😉
General party feel: The place is super big and has a dance floor. Everyone comes here as it's open til the wee hours of the morning
Music: depends on the day. Don Pato has thematic nights
Best day to go: Every day is a good day! Everyone comes here anyway. You will meet a lot of people here. It's also just right next to Yambak so you'll know when something's happening
Drinks: All types of drinks
Prices: Cocktails start at $5 USD. National beers at $2 USD (credit card accepted)
☕ Support this blog's honest and transparent journalism. Help us add value to what we are sharing. Keep P.S. I'm On My Way free for all by donating to our coffee fund.
Cava (chill nights but late-nights)
A small mezcaleria in Sayulita, Cava has over 50+ types of Mezcal to choose from, hailing from different parts of Mexico like Puebla and Oaxaca.
My personal favorite here is the Marta e Ines, a mezcal base drink made by Miguel, the best bartender in town who also happens to be a friend.
When in Cava, look for my friend Miguel – the best bartender in town!
The watermelon mezcal is interesting, too. Cava is a place to go when you want a 'chill' party. The place is really small so only a few people can come but when it gets packed, it's a mini party for 35 people.
Some days, we don't want to be as social. Yambak and Pato's are for those big nights but if you want a small party night, Cava is the place.
General party feel: Chill, sit-down. When it's packed, everyone dances inside.
Music: depends on the bartender. When I'm here, they let me put my own music!
Best day to go: Every day, when you feel like drinking but don't want to socialize as much
Drinks: Mezcal cocktails and 100+ types of Mezcal. They also have beers but they are not Corona, Pacifico, or Victoria. Their beer providers are from the other group, Tecate.
Prices: Cocktails start at $5 USD. National beers at $1.50 USD (credit cards accepted)
Sayulita plaza (anytime, really)
The Sayulita plaza is the best place to people-watch. Many locals make this their meeting point and when you are broke but still want to party, you can buy a 6-pack beer from the store ($5 USD), sit here, and still have fun!
The first time I explored Sayulita nightlife, this is where I met a lot of people and eventually became friends with them!
Not only that you can observe the local life in the Sayulita plaza but it's also located in front of the busiest party bars like Yambak and Don Pato's. Since both these bars are always full, the people end up sitting by the plaza.
The streets between the plaza and the bars are always full of people so even if you don't go inside the bars, you won't be left out!
The plaza is great for people who want to party but wants to shy away from the big crowds. Friends who practice social distancing still party but they just stay in the plaza.
If you're the type, you don't have to isolate – just go to the plaza!
Coco's beach club (after midnight or day drinking spot)
Coco's Beach Club is open during the day for food, drinks, and lounging by the beach but it is more popular for its weekend parties. On Fridays, they put Cumbia and they even invite DJs and live bands to play cumbia tunes.
On this day, they have a door charge of 30 Mexican pesos ($1.5 USD) but I am really not sure if this price is for all.
Coco's Beach Club is always packed for Cumbia and Salsa nights. They bring live bands!
I can only say that this is a local price as I've heard different stories from gringo friends who said they were charged more. Better practice your Spanish!
On Saturdays, it's "drink all you can" for the ladies! I've been in one of those ladies' nights and man, the drinks are really free-flowing for the girls!
General party feel: Dance floor, busy, too many people. But it's by the beach so it's an open structure
Music: I only come here when they have big parties on Fridays. Usually it's cumbia and salsa
Best day to go: Friday. You can also go on ladies night when drinks are free but I think they changed the day for that
Drinks: All types of drinks
Prices: Coco's cover a door charge that comes with two beers. Drinks prices are a little bit higher than the other bars in this list (cash only)
🚑 Be open to the possibility that anything can happen to you while traveling: sprain, canceled flights, car accidents, lost luggage, emergency medical care, etc. Check out my travel insurance, starting at $0.99 USD per day.
Atico (pre-game)
It won't be difficult to spot Atico because their seats are placed on the street. Aside from that, Atico's facade is a uniquely-designed bar of rustic wood.
There's also a bar chair that's a swing (I tried it myself, it wasn't comfortable especially when you're drunk).
Atico's sophistication will make you feel it's not budget-friendly but try sitting down and watching their live bands – there is a chill vibe Atico emanates that will make you want to stay all night.
General party feel: Sit-down, by the street, live bands
Music: Live bands! Atico is known for this so if you want to hear live music, this is the place!
Best day to go: Wednesdays. Atico brings great bands every day but Wednesdays are the best!
Drinks: All types of drinks but try their margaritas and cocktails!
Prices: A beer starts at $1.70 USD. Cocktails start at $5.50 USD (credit cards accepted)
Aaleyah's (for an authentic Mexican experience)
Get a huge-ass michelada at Aaleyah's for only 65 MXN ($3.29 USD). Whenever someone asks me where to get michelada in town, I always recommend Aaleyah's not only because of the generous drink size but also the way they do it.
Aaleyah is an institution in Sayulita and you will find more locals hanging out here than tourists.
Aside from cheap drinks, they also serve good Mexican food like enchiladas, avocado and chips, tacos, and many more! Think of all the Mexican food that you want to try – they are all served at Aaleyah's!
The ambiance in this restaurant is also super Mexican so expect a traditional experience.
General party feel: Very Mexican and very local! Foreigners who lived here for years also hang out here a lot
Music: Mexican
Best day to go: Every day but they are closed every Tuesday
Drinks: All types of drinks but their best drink is the michelada!
Prices: Compared to the others in this list, drinks are cheaper at Aaleyah's (cash only)
Le Zouave (pre-game)
Zouave is a little nook in between Yambak and Cava. You won't miss it because of its loud red and Moroccan-like structure. It looks like an upper-class bar but most people who hang out here are expats.
Zouave has a nice set-up inside but they also have high tables and chairs and outside for people watching.
I love coming to Zouave for chill nights (like Cava). You know, those days when you just want to see friends and not really party hard.
However, since it's right next to Yambak and Cava, it's always hard to resist after 2 margaritas!
General party feel: Chill, street socialization
Music: Whatever the bartender likes. You won't hear a lot of music since you're going to sit by the street. This is a very busy avenue
Best day to go: Every day is a great day for Zouave!
Drinks: All types of drinks but their best drink is the margarita
Prices: Margaritas start at $5 USD. A glass of wine is at $6 USD (cash only)
El Barrilito (anytime, really)
Let's call Barrilito the chill version of Yambak. It has a very similar set-up as they are on the same street but Barrilito is way smaller.
People come here any time of the day because their seats are arranged in a way that enables you to people watch. This is located in a very busy street in Sayulita (literally in front of the plaza) so you won't miss it.
I'd normally go to Barrilito when Yambak is full or if there's a DJ playing. This bar is really small and can get really crowded whenever they bring DJs.
The best seat of the house is the seats facing the plaza but if you come late, it is very likely that those seats are already taken. You can always order a drink here and sit at the plaza when it's full.
But I do hope you'll have the Barrilito experience!
General party feel: Chill, sit-down with friends, sometimes loud when there's a DJ
Music: Depends on the day but you won't hear it since you're literally next to the street
Best day to go: Every day!!! Barrilito is a must!
Drinks: All types of drinks but their best drink is the margarita
Prices: Beers are cheaper in Barrilito than Yambak (cash only)
Lucid (live band, after hours)
If you want to be away from the crazy plaza nightlife (Yambak, Barrilito, Zouave, Pato, etc), Lucid is located close to the beach and away from the bustling town.
Lucid is also a small place and is good for pre-drinks but to tell you the truth, I only go to Lucid when there's a live band or a big party. I spent Christmas Eve in 2020 here and it was so much fun!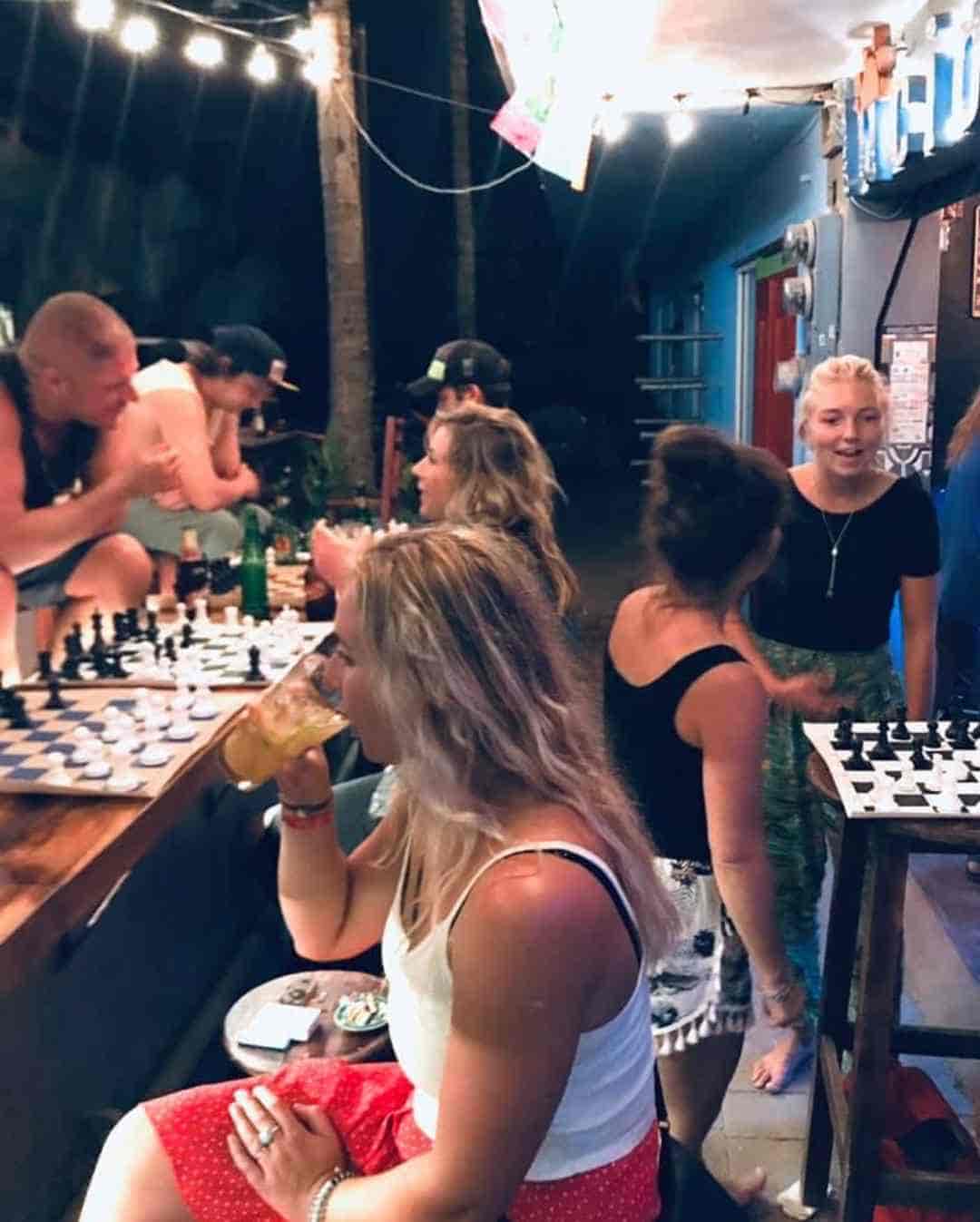 My favorite drink to order in Lucid is their strawberry margarita. They have all sorts of drinks but they specialize in cocktails.
Lucid also brings DJs every now and then but live bands are more frequent here. And oh, they also have game nights for those who just want to socialize in a small group setting.
General party feel: Chill, sit-down with friends, sometimes loud when there's a DJ and events
Music: Beach tunes, reggae, funk – they play all types of music!
Best day to go: Every day is a great day. You can also day drink at Lucid!
Drinks: All types of drinks but their best drink is the margarita
Prices: Margaritas start at $5 USD. They also have beers at $1.50 USD (cash only)
Escondido Bar
Escondido means "hidden" in Spanish. Surely, Bar Escondido fits that branding. Located in the steep streets of Gringo Hill, Bar Escondido is one of those bars that are always there but you won't feel that they're there.
Sometimes, you'll feel that socialization is too much and yet you have the urge to drink – Bar Escondido's is definitely the right place for that mood.
Right next to Barrilito, Bar Escondido prides itself as a cocktail bar. The seats are very classy and even though it looks small from the outside, surprisingly, it can fit a lot of people!
They also hold events now and then but this is highly recommended to the non-party people of Sayulita.
General party feel: Chill, sit-down with friends
Music: funk, soft music
Best day to go: When you feel like it's a 'chill night'
Drinks: They have all types of drinks but come here for coktails – they're really good! (credit cards accepted)
Prices: Cocktails at $7 USD
Selina (DJs, after hours)
Selina is a popular hostel chain in Mexico and Latin America. They only opened in 2020 but already made an impression in town because of their constant events.
I think they hold events almost every day! During the lockdown, Selina was the only place open after the curfew (they had a curfew license) so this was the place to be after midnight.
You may not choose Selina as your accommodation in Sayulita because of its loud parties but a lot of young foreigners visiting Sayulita find staying here convenient.
Pool parties, rave parties, and any type of parties – Selina Sayulita has established its brand as the go-to place for when you don't know what to do in the wee hours of the morning. They bring a lot of DJs, too!
Change how you travel and see the world by going deep into the culture. Come and travel with me!
🎉 Sayulita nightlife tips
Tuesdays are two for one in Yambak
Tuesday is a mandatory Yambak day! You'll get a 2 drinks for the price of one (given that you order the same). National beers and all types of liquors are included in the 2 for 1 except their artisanal beers.
Everybody ends up in Yambak at some point but during Tuesdays, people come extra early. Which absolutely means the whole town will follow and there will be after-parties.
Watch out for secret jungle parties
Sayulita is big on jungle parties. Often unannounced, there is no way for you to hear about these parties if you don't know a local or if you're not staying in a hostel.
As Sayulita is a small town (and given that you are an extremely friendly person), you will probably hear about these Sayulita nightlife jungle parties through DJs and bar managers.
⁉️ Sayulita nightlife FAQ
🇲🇽 Mexico Travel Resources
Trisha is one of those people who left their comfortable life to travel the world and learn about life. Her style is to stay in one place she likes for 3 months (or more) to know what it feels like to eat, cook, speak, and sleep in another culture that isn't hers. She'd like to believe she's not traditionally traveling but she just chooses to be somewhere else all the time. In no particular order, her favorite cities in the world are Barcelona, Buenos Aires, Hong Kong, Mexico City, and Tel Aviv.