☕ Support this blog's honest and transparent journalism. Help us add value to what we are sharing. Keep P.S. I'm On My Way free for all by donating to our coffee fund.
Many dreams to be a Puerto Escondido digital nomad but what's it really like? I had a deep dive and found out about their DN culture. If you are traveling to Puerto Escondido alone, send me a message on Instagram and I'll connect you to some local friends!
📬 Reader Mail: Hola Trisha, I love all your Mexico blogs! Thank you for sharing and giving valuable information. I followed your Oaxaca road trip on Instagram.
I never heard of Puerto Escondido before but I was wondering if you can give some insights on how life is as a digital nomad there? I am looking for a one-month base for June 2020 and seriously considering Puerto.
I just need to know what I need to prepare before my move there. If you can also connect me with your friends there, that would be great as I am traveling alone. Thank you for all your help!
– Marissa Robison, USA
Hey Marissa, thank you for reading the blog!
I am glad you are deciding to take a leap. Puerto Escondido is definitely a great destination for digital nomads but it's also not for everyone.
I was in Puerto Escondido last August 2020 to check out some new digital nomad base in the state of Oaxaca and I really loved PE because it's super easy to make friends (especially if you speak Spanish).
In this guide, I will tell you my personal experience of being a digital nomad in PE. If you have any questions that weren't answered in this post or you'd simply like to connect when you're already here, please get in touch with me via Instagram!
Good luck and I hope you make it!
Xx,
Trisha

🇲🇽 Understanding Puerto Escondido digital nomad life
I visit Puerto Escondido twice a year (for periods of one month) but before coming here, I have to make sure I've done most of the work I needed to do for the month. Wifi here is really problematic!
I am not saying it's NOT doable because I know a lot of Puerto Escondido digital nomads who make it work. That needs to be underlined because it is important to know that choosing Puerto Escondido as your digital nomad base in Mexico depends on the type of work that you do. Think about your daily tasks and set the Internet speed that you think will be enough for you to do your work efficiently.
With mine, it's enough. The majority of my work focuses on uploading videos and we know very well that you need fast Internet in order to upload videos without wasting time.
I tried it many times but it didn't work with the level of productivity that I wanted to achieve. For example, I tried to sit down in many cafes in Puerto Escondido hoping that my 10-minute Youtube video will be done uploading in 2 hours.
4 hours later, I am still sitting in the cafe and couldn't stand up because the video upload was only at 80%. I can't just leave because if I do without waiting for it to finish, I will have to do it over again and start the upload from zero.
In order for you to understand if Puerto Escondido works for you, first, you need to come. I promise you it is beautiful. When you are already here, you can try the Internet speed and see if it works for you.
I don't know what you do so it doesn't mean that Puerto Escondido not working for me as a digital nomad base applies to you too. It's easy to move on to another place if it doesn't work for you anyway.
Who knows? You might find other solutions that I wasn't able to find but I will keep updating this post as I constantly visit Puerto Escondido.`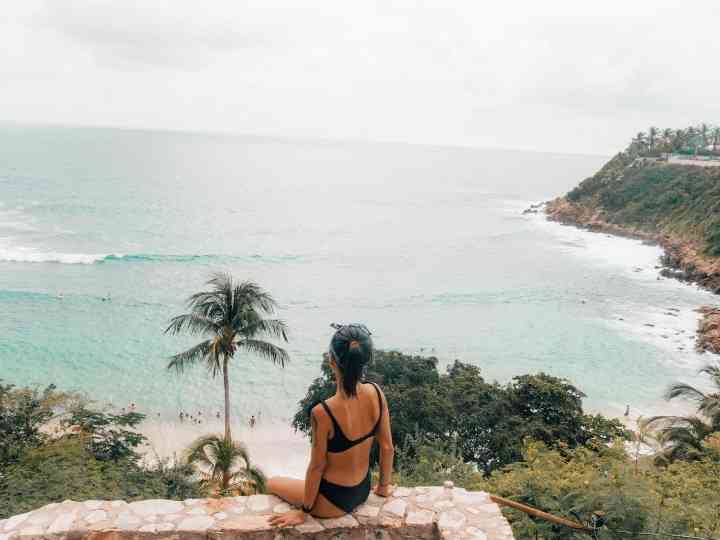 You might also like:
Best wifi in Puerto Escondido
I've had luck with some co-working spaces (only tried 2 to be honest) but this comes with an (extra) daily cost as opposed to having high-speed Internet in your rental home.
They worked well but I've had challenges with taking Zoom calls as it can be loud sometimes. I usually warn my clients in advance that I am in Mexico and I can't really control the noise and they understand. It's not like Puerto Escondido is the only loud place in Mexico – the whole country is always loud and lively!
Another problem I encountered with co-working spaces in Puerto Escondido is they are very limited. As I said, I only tried two. With this, you will have to be first in the line as soon as they open if you want to have the space to work.
Sometimes, co-working spaces will overbook their available slots and won't tell you until you find out yourself. Since these spaces are limited, expect to compete with other digital nomads.
And honestly, one of the two co-working spaces that I am talking about is shitty. Technically, there's only one that is 100% reliable. I will discuss my experiences in the 'co-working spaces' section of this article.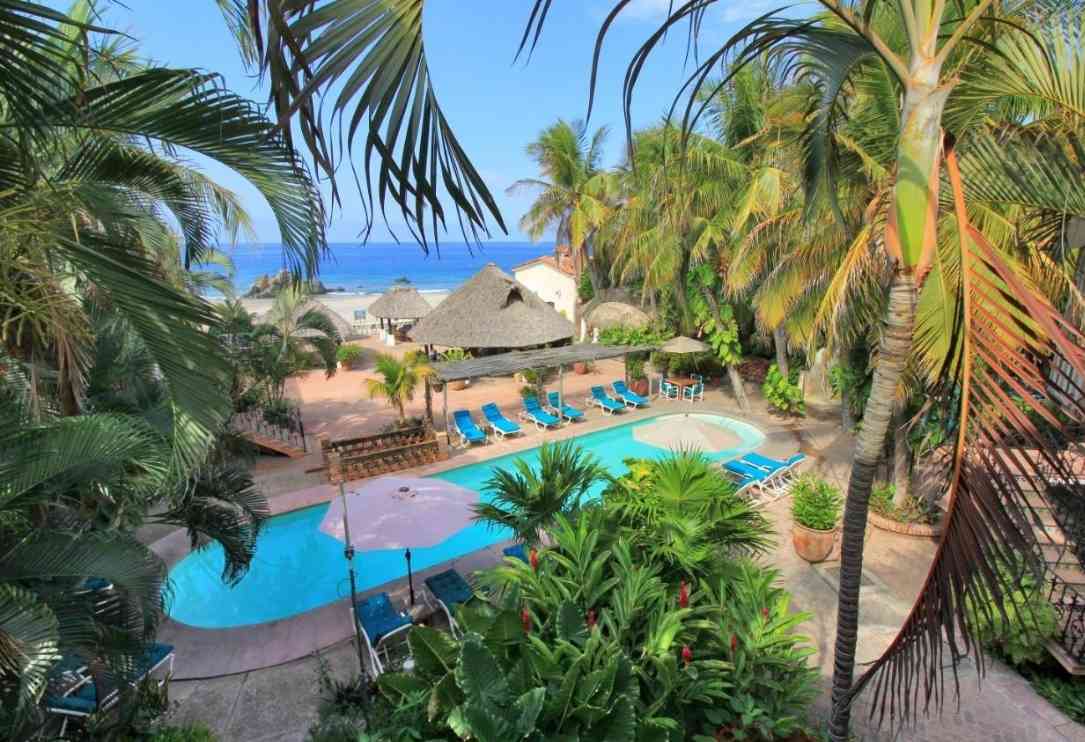 Quick facts
Nomad Guide
🌍 Region: North America
🚩 Country: Mexico
📡 Internet speed: 21 MBPS (good)
🔌 Outlet: Types A and B
🚑 Travel medical insurance: Safetywing Digital Nomad coverage
📱 Best wireless carrier: Telcel
🏧 Suggested ATM take out: ATM was a little difficult in the area. I had to go to the airport to take out cash
💳 Cashless society: no, cash only
💻 Best coworking space: Losodeli
🚰 Safe tap water: No, not drinkable
👨‍👩‍👧‍👦 Population: 45,000 people
🏞 Foreign land ownership allowed: Yes
✈️ Where to find cheap flights: Kiwi.com
Puerto Escondido nomad costs
💵 Cost of living for local: $565 USD per month
🏠 1br studio rent in center: $416 per month
🏢 Coworking: $110 USD per month
🏨 Hotel: $664 per month
🍛 Meals (restaurants): $5.90 USD
🍺 Beer (bars): $1.68
☕️ Coffee: $1.67
Puerto Escondido Facebook groups to join
➡️ Puerto Escondido People: over 7,000 members and mostly in English
➡️ Locals and Foreigners in Puerto Escondido, Oaxaca: 6,000+ members and one of the busiest groups for expats
➡️ Roomies Puerto Escondido: if you're looking to share an apartment in Puerto Escondido but this group is in Spanish
Casas en Renta Puerto Escondido: a group for looking for apartments and it's also in Spanish
➡️ Expats in Puerto Escondido: another group for expats but fewer members
➡️ Expats and Locals in Puerto Escondido: a group that is focused on sharing news and current events. It's both in Spanish and English
🐱‍💻 Puerto Escondido digital nomad experience
While most digital nomads are attracted to Puerto Escondido (PE), my assessment for the Internet connection is just "fair" (slightly decent). Although that was when I was staying in hostels in Puerto Escondido.
Puerto Escondido's infrastructure development is underway – currently, Mexico is building the Oaxaca-Puerto Escondido highway that is set to be finished in 2022.
Since Puerto Escondido is still one of the most Mexican beach towns that have preserved its Mexicanism, many foreigners are attracted to invest in the area. I can see PE booming in the next 5 years but for now, you can still experience the real Mexico in this town.
As for the Internet speed, it really depends on what you do. For example, I do a lot of blogging [Wordpress] so in the hostel I first stayed in that had 15 MBPS wifi speed, everything worked out well.
However, if you are a Youtuber and uploading lots of videos like me, it doesn't really work that well or if it does, you have to wait hours for a video to upload. For example, if I upload a 5-minute video on Youtube, it will take about 2 hours.
Thankfully, Zicatela in Puerto Escondido (where I stayed) is a walking town. You can easily go to coworking spaces or cafes for the Internet but not all restaurants have fiber optic.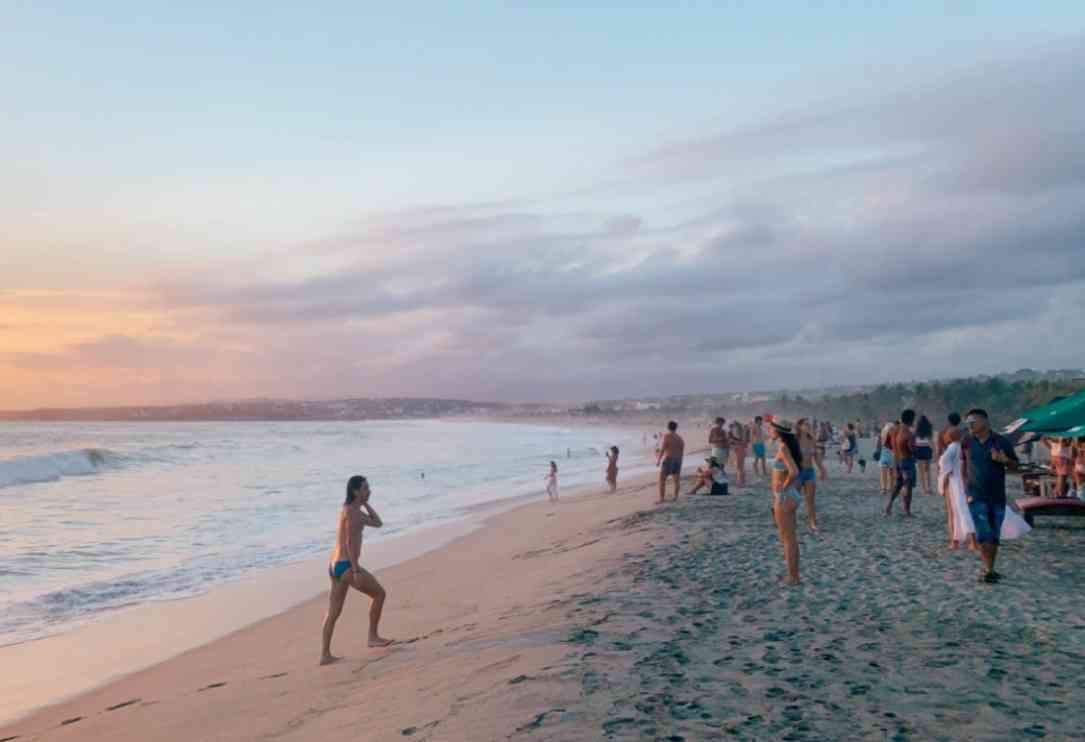 💃🏽 Digital nomad scene in Puerto Escondido
Puerto Escondido's digital nomad population is mostly young adults. Since it's one of the best surf destinations in Mexico, you will see lots of DN surfers staying here long-term. Actually, those who have stayed in Sayulita go here during the low surf season (and vice-versa). Sayulita and Puerto Escondido seem to be sister destinations when it comes to mixing surf and working remotely.
The most common question I get from digital nomads: "Are there many Americans in Puerto Escondido?" I didn't see a lot when I was there but please bear in mind that I also hang out with locals. Most of my friends in Puerto Escondido are Latinos. You will see a big population of Argentines working in bars and restaurants. I've never seen that many Argentines in one area (outside of Argentina).
When I went to PE, there is also a big crowd of Mexican nationals but they are not digital nomads but vacationers. Puerto Escondido is very family-friendly so Mexicans like to spend their vacations there.
As I said, PE still has that Mexican culture, unlike other Mexican beach towns. The good thing about Puerto Escondido is that it has a very inclusive vibe – you will feel like a local right away on your first day! People are very friendly and chatty, whether you are a foreigner or not.
I've connected a lot of readers of this blog to my friends there so if you are traveling alone to Puerto Escondido and want to make friends, get in touch with me via Instagram and I'll introduce you to the best people!!!
📶 Internet speed in Puerto Escondido
Puerto Escondido has a 25 MBPS speed which is very good in Mexican standards. I think it's one of the beach towns that I visited in Mexico that has a fair Internet connection and if you need fiber optic, it's always available in coworking spaces.
However, for someone like me who does a lot of Youtube uploads, I always make sure that I have a portable wifi device for backup. I also used this pocket wifi during my Oaxaca road trip.
Mexico's prime mobile carrier, Telcel costs $200 MXN ($10 USD) per month for unlimited Internet and social media use. There are lots of Telmex packages you can choose from and you can also do a top-up online if you don't want to go to a Telcel kiosk – they're not everywhere in Puerto Escondido.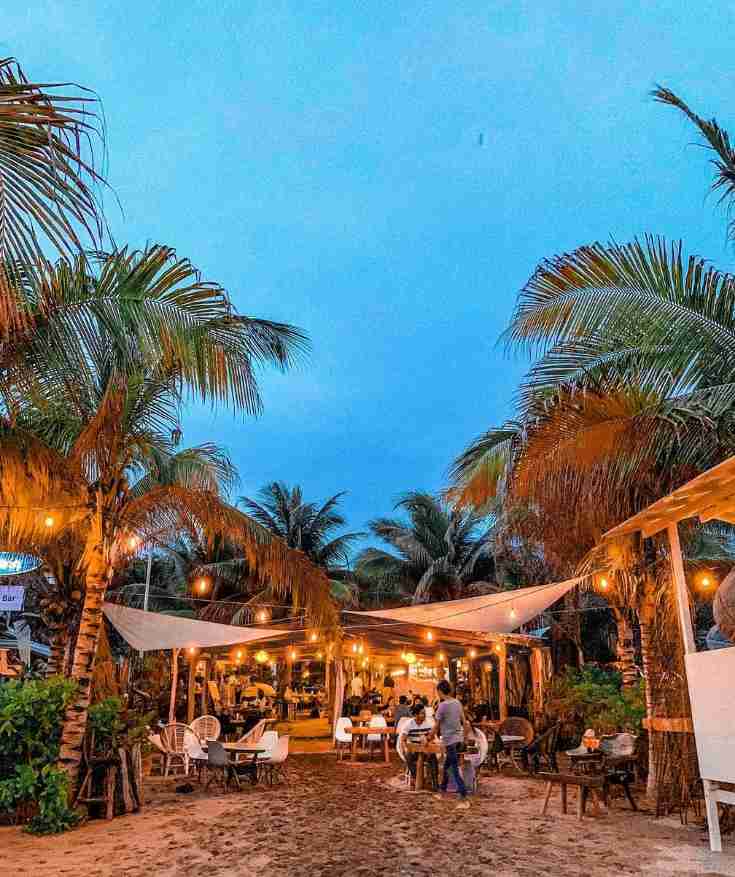 💰 Puerto Escondido cost of living
$1 USD = $20 MXN but if you are to exchange dollars in Puerto Escondido, they will give it to $17 MXN. You will see the $ all over Mexico but don't be fooled – that is not USD. Mexico also uses the dollar sign but the currency is called the Mexican peso (MXN).
I find the cost of living in Puerto Escondido quite fair. You can have accommodation for a month for just $500 USD and that's already a great one. Eating out is also quite cheap, however, I didn't see lots of street food in the Zicatela area, not even the beaches I visited.
For transport, I rented a motorbike that cost $250 MXN ($12 USD) per day but since I rented it long-term, I was able to get a local discount. I only paid $10 USD.
The thing with Puerto Escondido or Mexico, in general, is that cost of living is cheaper if you can speak Spanish. You can haggle prices and if you know what you are saying, locals will never take advantage or increase the prices for you. The key is to be confident when haggling.
Again, if learning Spanish is not your thing, I can definitely hook you up with some of my local friends in Puerto Escondido so you'll have a support system when you arrive. They can also give you tips on how to rent cheap apartments!
☕ Puerto Escondido cafes
I tried most of the cafes in the Zicatela area but not all of them have high-speed Internet. Although the food in these cafes is really good! There is a big vegan/healthy eating scene in Puerto Escondido. Below are the best cafes with strong wifi that I found:
Cafe La Fe
It's a 30-minute walk from where I was staying in Zicatela and a 10-minute drive with my motorbike but I still came here because this cafe has the best Internet speed. They don't have a lot of food options but their drinks menu is super extensive! Cafe La Fe has nice seating arrangements and plugs are available everywhere.

Cafe Losodeli
This was also not so close to where I stayed but it's really beautiful as it's a mix of concept hotel, coworking, and cafe. The Internet speed is super fast and I love that they have lots of food options. They also have a pool but I believe they are only for guests staying in their hotel. There is an outdoor working area at Cafe Losodeli, you're going to love it! (see photo above).
If you search for Puerto Escondido Cafes, you will get a big list but please note that not all of these have fast Internet. Some don't even have WiFi yet! For example, I went to Cafe Binisa which is the number one recommendation for PE cafes. I saw down, ordered, and when I asked for the wifi password, they said "we do not have Internet."
So, there I was, wasting money on food when I can't even work because the cafe did not have wifi. It's best to call the cafe before deciding to go. They can speak English and can give you information about their WiFi connection.
💻 Puerto Escondido Coworking spaces
The coworking scene in Puerto Escondido is slowly growing, however, I did not do the monthly subscription pass since I stayed in a digital nomad accommodation with fiber optic wifi. I will discuss that in the last part of this blog post. Here are the best Puerto Escondido coworking spaces:
Selina Puerto Escondido
This is also a hostel and they have free wifi in the cafe. However, their Internet router in the CoWorking space is not the same as the cafe – it is stronger. I am not a fan of the Selina brand (they are all over Mexico) but I needed to see their space there as it looked attractive from the outside.
The Selina Coworking in Puerto Escondido is so small and what pissed me off was that I purchased a pass online, came to the cowork, and found out that it was full. It's best if you visit and pay in person to make sure there will be a space for you. A day pass at Selina PE costs $10 USD per day.
Cafe Losodeli Coworking
Yes, Losodeli is on this list too! This is my current favorite and I always go here whenever I visit Puerto Escondido. Apart from the cafe's tables and chairs, they also have standing desks for digital nomads. The day pass costs $10 USD per day.
🛏️ Puerto Escondido accommodations
In search of the best wifi speed in Puerto Escondido, I tried staying in three different accommodation types just to see what works best. Unfortunately, there aren't a lot of apartments in Puerto Escondido that have fiber optic wifi but I will update this post once I find one!
Recommended hostel: Puerto Dreams
Puerto Dreams Hostel has fiber-optic wifi but it doesn't work all the time. Not that it's the hostel's problem but it's the PE infrastructure that makes the Internet connection glitch. They also have a cafeteria and a co-work area. A night at a dorm at Puerto dreams costs US$16.
👉🏽 Check prices and availability at Puerto Dreams Hostel

Best accommodation for digital nomads: Losodeli
I probably mentioned Losodeli a lot of times in this post because it has everything! From the wifi cafe to the coworking space, and the digital nomad accommodation, I highly recommend this hotel during your first week in Puerto Escondido.
You can always move to long-term accommodation once you get a hold of the place. They have different types of accommodations that only range from $39 – $75 USD per night, depending on the room size.
👉🏽 Compare Cafe Losodeli prices: BOOKING.COM / EXPEDIA / AGODA
✨ Puerto Escondido Digital Nomad tips
Pros of being a Puerto Escondido Digital Nomad
You'll be living in paradise!
Honestly, if the Internet wasn't a problem in Puerto Escondido, I would've moved here a long time ago. From living in Mexico since 2018, I've traveled a lot around here and Puerto Escondido is one of those (3) places that I truly considered living in. There are so many beaches and the quality of life is super high for what you pay. I loved my daily routines whenever I traveled to Puerto Escondido even though I never integrated a lot of my work routines here (yet).
You can live an active and healthy lifestyle in Puerto Escondido
If you are into health and wellness (yoga, pilates, etc), Puerto Escondido is very big on this so it's guaranteed that you will be surrounded by a healthy environment.
This is one of the factors I consider whenever I am basing myself somewhere. I feel like we digital nomads don't really pay a lot of attention to our health but putting ourselves in that kind of environment somehow pushes us for a lifestyle change.
There are yoga practitioners everywhere. Although I do not have personal experience doing yoga in studios, I've participated in some beach yoga sessions and for me, these are the best ones!
Puerto Escondido is also one of the best places to surf in Mexico. Avid surfers from all over the world visit Puerto Escondido just to have a surf trip!
There are many other things to do in Puerto Escondido and you'll never run out of options. It is also super close to Huatulco, Mazunte, and Zipolite where you can go for day trips or short drives.
Puerto Escondido is still cheap
With the rise of digital nomads in 2020, many places in Mexico are becoming more and more expensive every year. I've observed this increase in the cost of living in Puerto Vallarta and Sayulita for almost 3 years of living in these areas. It was mind-blowing to witness the price hike! RIGHT NOW, Puerto Escondido is still cheap and the costs will be discussed in this article as you read more.
It's so easy to make friends if you're here solo!
Many people who plan to travel Puerto Escondido solo are worried about making friends. I tell them that's the least of their concern because this is a small area and you will bump into the same people! Notice that the more you know people, the more a place becomes smaller. You suddenly see these people everywhere when you least expect it.
This only applies if you are a social person and by social, I don't mean going out every night to drink and party. Chatting and small talks builds connection. Even just saying 'buenos dias!' or 'hola!' to people on the streets will give you the opportunity to make friends without even forcing it.
Everyone here is very friendly so you'll always have this sense of belongingness. Everyone is welcome to Puerto Escondido and that makes it a great place for solo travelers! If you want to meet people, get in touch with me and I will introduce you to some of the cool kids.
Cons of being a Puerto Escondido Digital Nomad
Well… the Internet
I know I am becoming repetitive and you are probably discouraged about making Puerto Escondido your digital nomad base but think about your needs as a digital nomad in terms of productivity. From there, you can weigh if this con is overruled by the pros.
If I didn't need the Internet to work, this is probably my first choice in Mexico. I really fell in love with Puerto Escondido!
Slow-paced lifestyle
Okay, this is my personal opinion (and experience). You might be wondering why I am putting this as a con but too slow is not for me. I work in a fast-paced environment (online) and I am always itching to get things done.
I also just function well when I am under pressure because this allows me to have 4 productive hours instead of 12 long working hours.
I know a lot of people who were enticed by Puerto Escondido because of the pictures they saw on the Internet and ended up not liking it when they were already there.
Puerto Escondido has a surfer and laid-back vibe which makes everyone move slow. Meaning, business transactions are slow too. If you try to work face-to-face with people, everyone, foreigner or not, has adapted the mañana habit but can you blame them?
If you have the opportunity to live super slow, why not? Check if that's an environment you want to be in, especially if you plan to work here in person.
You can get carried away by the nightlife
Most of the people who come to Puerto Escondido are young people but don't worry, the nightlife here is not as crazy as Tulum or Cancun. It still has the pueblo vibes.
Of course, as I mentioned above, coming across the same people almost daily sorts of forces you to socialize but con gusto. What do I mean about that?
Let's say you just went out of your apartment to buy bread from the supermarket. Then you see someone you know buying beers and are about to go to the beach to watch the sunset.
It's super hard to say no because of the vibe of the people. You'll also feel mega-local when everyone's waving at you on the way to the tienda. Isn't that a great feeling?
The next thing you know, you are already at some rave party in the jungle (and you brought the bread with you). While this is depending on the person, it took me a lot of discipline to say NO to drinking and it starts with saying NO to "one beer." I mean, how hard could that be if you're living in paradise?
Mexico Digital Nomad Visa
Digital nomads are attracted to Mexico because of the generous 6-months visa. Upon entry into Mexico, you are automatically given 180 days to stay in the country as a tourist. However, you can't work on this visa. If you get caught by the police, don't say you are working online.
Just say you're on vacation because working online is not legal in Mexico. Otherwise, just keep off the police's crosshair so you won't have to discuss this. If you fall in love with Mexico and decide to stay for an indefinite time, you can definitely apply for a Mexico digital nomad visa which gives you a one-year permit to live in the country.
The process is super easy but if it's your first time, I recommend hiring a lawyer as that's what I did. I can definitely connect you to my lawyer if you are serious about this. Just get in touch with me!
Start with a 2-week work exchange/volunteering program
If you're staying in Puerto Escondido for a longer time, I recommend volunteering jobs to get free accommodations and breakfast in exchange. Volunteer work is only 5 hours per day (as per Mexican rule) and the jobs are pretty easy. You have the rest of the day to focus on your digital nomad work.
I use Worldpackers to find the best volunteering jobs. If you ever sign up, you can use my code PSIMONMYWAY10 to get $10 USD off your membership. If you click the link above, the discount is automatically applied.
Find a house-sitting gig
If you love pets, I also recommend house-sitting! As a digital nomad in Puerto Escondido, you can get house-sitting gigs easily. If you're new to house-sitting, you basically have to care for animals while the homeowners are away on vacation.
Trip lengths are a minimum of 10 days so imagine how much money you will save if you house sat. The good thing about this is that you will have the house to yourself so you can still do you work as a digital nomad without pressure!
Get a Telcel sim card
While there are many other mobile carriers in Mexico, Telcel is preferred since it has better coverage in Puerto Escondido. It really depends on the area you are in. I pay $10 USD per month for unlimited calls and Internet with Telcel but I only use this exclusively for my mobile device. I don't use hotspot or tethering.
To be safe, you can avail of a higher mobile prepaid data for $25 USD per month that will allow you to connect your other devices in case of an emergency. Telcel may be the strongest mobile Internet provider but there are random signal blackouts in Puerto Escondido. Sometimes, there are too many people in town that the Internet is not able to handle.
Most places have Telmex as their Internet provider (the sister company of Telcel) so if Telmex is out, it almost automatically means that Telcel will be out too.
Get a portable wifi device
I don't just use this when I travel to Puerto Escondido. I have a portable wifi device that works in over 100 countries in the world but please note that it still gets the local service of the country you are in. It's kind of pricy as compared to the Telcel chip but this one is really my last resort for an emergency of all the emergencies. It's always saved me and I used it in Puerto Escondido as well.
Get digital nomad insurance
If you are still in the habit of not getting travel insurance when you travel and/or you think this is an unnecessary expense, think again! In this day and age that we are living, travel insurance should be on top of your packing list.
I pay US$40 per month for digital nomad insurance with COVID coverage. I mean, if you can't afford $40 USD per month, then it almost means that you can't afford to travel.
Use VPN
As a digital nomad, I can imagine that you've connected to over 1,000 routers all over the world. You don't believe me? Check your wifi registry history. Now you are more vulnerable on the Internet so protect your privacy! Your whole life is on your computer and other devices so never do anything on the computer without a VPN.
I use NordVPN and it has always been efficient for me. It even works on Netflix so I can access Netflix USA (which, honestly, have a lot more shows than my home country).
Get an International bank account
I've been a digital nomad for over 10 years and it took me a while to find the best bank for travelers and digital nomads. Last year, I discovered Wise and said goodbye to high Paypal fees and low conversion rates!
Wise offers higher currency conversion rates and has very little difference with real-time Google conversions. I can also keep a wallet with different currencies and can transfer to LITERALLY any bank account in the world!
✈️ Ready for your trip to Puerto Escondido? This blog thrives on reader questions so feel free to leave a comment below if you have any questions!
Trisha is one of those people who left their comfortable life to travel the world and learn about life. Her style is to stay in one place she likes for 3 months (or more) to know what it feels like to eat, cook, speak, and sleep in another culture that isn't hers. She'd like to believe she's not traditionally traveling but she just chooses to be somewhere else all the time. In no particular order, her favorite cities in the world are Barcelona, Buenos Aires, Hong Kong, Mexico City, and Tel Aviv.