Year 4 of my Oaxaca day of the dead tour! If you are a solo traveler looking for a cool group to experience the day of the dead in Oaxaca, join my group this year! But first, here's a FREE travel guide even if you're not joining my tour.
📮 Hello Trisha!! I found your Oaxaca solo travel post and I am glad I did! I love that you are so honest with all your tips. I really loved that post so muchas gracias!

While reading that post of yours, I saw that you also have a yearly day of the dead tour, et voila! This is why I am reaching out to you today because I want to join your tour!

Do you still have any slots? I tried to call your office but they said it's full! If you don't have more slots, I'd be happy to just meet you there.

But please, give me more ideas on what day of the dead in Oaxaca is like. Thank you for all your tips!!!

Ronald Davis, United States
Hi Ronald,
Thank you for your interest in joining my day of the dead tour! Since you wrote to me personally, I will make sure there will be a slot for you.
This year, I am only personally leading one tour group but I have three other groups spearheaded by my local staff.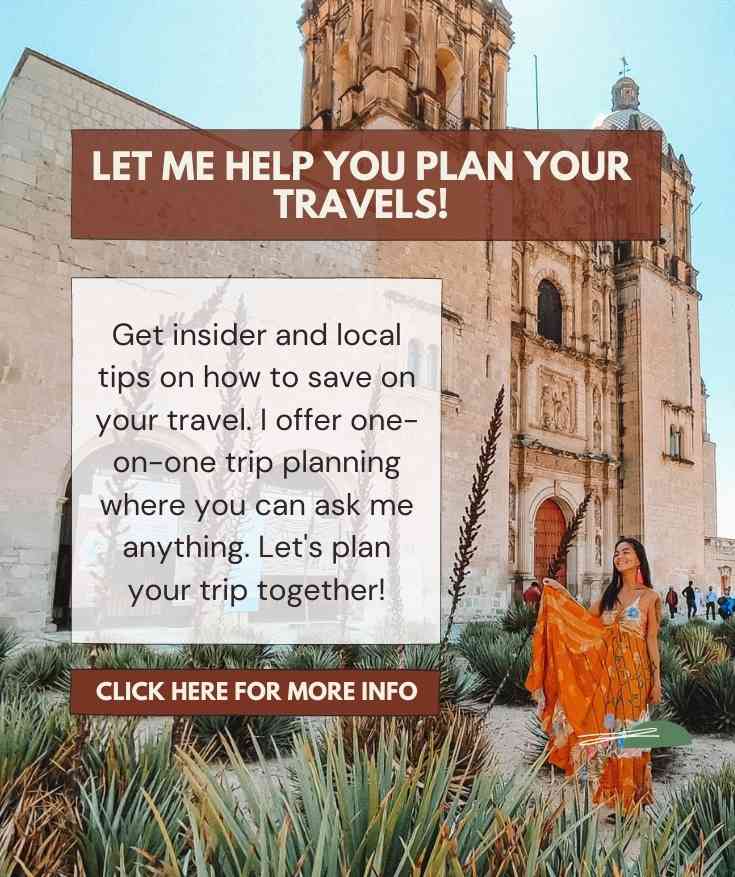 Anyway, we'll talk privately about logistics but even if you are not joining my tour, below is a helpful Oaxaca day of the dead guide.
I am definitely open to meeting in Oaxaca. I am arriving on October 27th and I hope to meet you! Good luck and let me know if you have any questions!
🙋 Questions about Oaxaca day of the dead? Ask me on Tiktok!
🔗 Oaxaca day of the dead: quick links
✈️ Oaxaca day of the dead trip planning
Book your accommodation 6 months in advance
If you haven't booked your accommodations yet, now is the time to do so. Since I go to Oaxaca day of the dead every year, I book all accommodations for me and my group 1 year in advance!
Check on hotel booking platforms after January. You will see that there aren't any availability anymore for the hotels because tour companies block them even without paying for them.
Sure, you can still find accommodations after May or June but expect them to be expensive and unsuitable for your taste.
Your flights can come later, but make sure you secure accommodation in Oaxaca City first as this is the most important (and the most difficult to secure).
The best areas to stay in Oaxaca City are Oaxaca Centro and Oaxaca Historic Center. Make sure to check the address on Booking.com Oaxaca before you pay.
Best dates for Oaxaca day of the dead travel
The real date of Oaxaca day of the dead is October 31 to November 2. However, Mexicans always like to celebrate early.
The decorations for day of the dead in Oaxaca are already up by October 25th. If you arrive the city on this day, you will see how Oaxaca transforms into a burst of color.
Actually, on regular days, Oaxaca is already bright and colorful, but on the day of the dead, they go the extra mile.
This is something really nice to see as you will get to witness all the locals filling their homes and businesses with cempasúchil (marigold), the official flower for the day of the dead.
As for me, I go for the day of the dead in Oaxaca every year on fixed dates: October 27 – November 3. I have many friends there and always have a tour, so I ensure I have time for everyone.
Book your flights at least 3 months in advance
Oaxaca City has an international airport. However, there are not many direct flights from the USA, Canada or Europe – you have to fly into Mexico City if you're coming from another country.
During day of the dead in Mexico, there will be 3-4 flights daily from Mexico City to Oaxaca City. Alternatively, you can also just book a flight to Mexico City and take a bus to Oaxaca.
The bus from Mexico City to Oaxaca costs $50 USD and lasts for 6 hours. This is a cheaper but longer option. You can do the night bus so you'll save on accommodation.
💀 Oaxaca day of the dead travel tips
Join my day of the dead Facebook group for tips
Yes, I know, Facebook is old. And you're probably not using it anymore. But my group is super updated and generous with tips.
Since the day of the dead events in Oaxaca are not fixed every year, you will find real-time events and even meet people you can hang out with for the week!
If you don't use Facebook, you can also join my Whatsapp group but it is limited to 25 people. Send me a message on Instagram and I'll add you if you are 100% sure that you are going.
November 2nd is the worst day to fly out
Through the years of celebrating day of the dead in Oaxaca, I always booked November 2nd as a departure date, and it's always a bad idea!
November 2nd is the last day of the celebrations, and it's such a painfully crowded day. Bus terminals will be full, traffic within the city will be crazier, and there's generally be more people leaving Oaxaca on the second.
Extend your trip and explore Oaxaca City on your own. Leave Oaxaca City after the 2nd – it will be cheaper and less stressful!
Visit the marigold fields if you are arriving early
Every year, on October 25th, Cultivos El Viejo allows tourists to visit their marigold fields to take pictures. This is also the same day that the marigolds are sent to the city.
This marigold field is about an hour away from Oaxaca City center and we always do these tours on this day!
If you are in Oaxaca before this, sign up for the tours as we only have limited slots – you'd love to see these Marigold fields!
Take the bus from Mexico City
Flights for day of the dead in Oaxaca are usually expensive, especially when booked later. If you decide to go last minute, you can book a flight to Mexico City and then take the bus to Oaxaca City.
The bus from Mexico City to Oaxaca City is comfortable and only costs $50 USD. There is only one overnight bus that leaves every night at 10:00 PM.
This VIP bus has beds, TVs, USB charging stations, and many more. If you don't take the night bus, you will get a regular bus (reclining seats, not bus beds).
It is wiser to take the night bus as you will save on accommodation. There is also lesser traffic at night. If you travel during the day, expect this bus trip to be 9 hours instead of 6.
Combine activities and things to do
Don't just get drunk and party every night! Include a Oaxaca day of the dead tour like Hierve El Agua petrified waterfalls – one of the most visited natural wonders in the world.
Oaxaca is also known for mezcal so squeeze in a mezcal tour. Here, you will get to visit an agave farm outside of Oaxaca City, owned by a local family.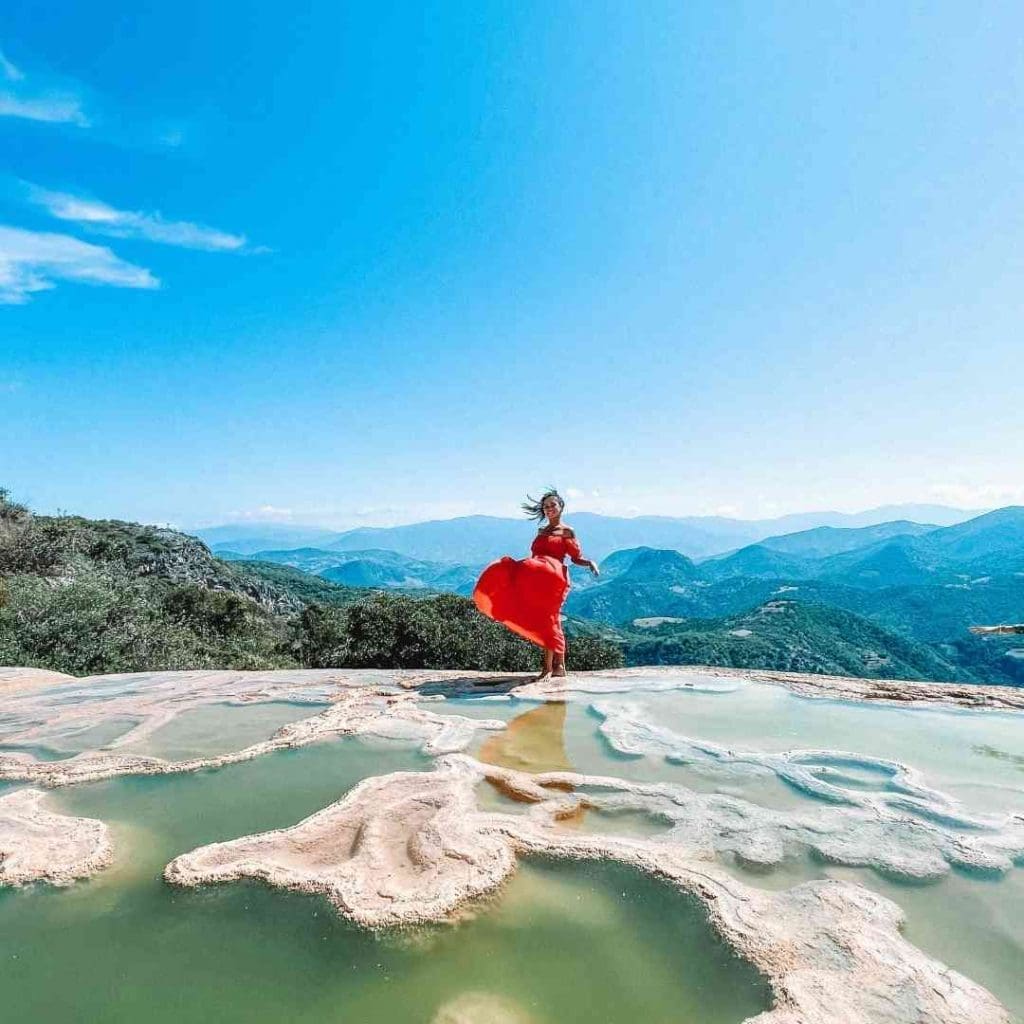 Other things to do in Oaxaca City include food tours, visiting the Ethnobotanical garden, or going to Monte Alban archaeological site.
Lastly, a textile tour in Oaxaca is a must! Oaxaca is known for its textiles and most of the Mexican souvenirs you see around the country are from Oaxaca. Which absolutely means you can buy them here for a cheaper price.
Put more budget on food than accommodations
Oaxacan cuisine is not just the best in Mexico but it is famous all over the world. Since most of my travels are very food-forward, I definitely love to put more budget on food than accommodations.
You can survive in Oaxaca by just eating street food ($2 USD per meal) since their street food culture is world-class. Most of them are featured on Netflix's Taco Chronicles!
If you want to experience fine dining, I also do at least 2 tasting menus for the week (from $100 USD). Oaxaca City has a lot of restaurants with great tastings.
Don't focus on the city center
During your day of the dead tour in Oaxaca, explore other neighborhoods as well. Most travelers focus heavily on the city center (although don't get me wrong, Centro Historico is beautiful!).
However, if you are spending a few days in Oaxaca, you might want to check out Jalatlaco and Xochimilco neighborhoods as well.
These 2 neighborhoods always have parties at night and they are really great to see during the day. Here, you will see the most colorful streets of Oaxaca!
Travel with a friend: or if you are alone, I can introduce you to some people!
Day of the dead in Oaxaca is better shared with friends. Although it isn't impossible to visit on your own and make friends while staying in a hostel, it is still best to travel here with friends and family!
If you are traveling alone, you will easily find friends, but only if you are outgoing and open to making friends.
If you are a little introvert and want to feel safe while enjoying the day of the dead in Oaxaca, join my super cool tour group!
🎊 Day of the dead in Oaxaca 2023 events
Day of the dead altars
This holiday is a time when families come together to honor their deceased loved ones with elaborate altars filled with offerings and decorations.
The tradition dates back to the ancient Aztecs and has evolved over time to become an important part of Mexican culture.
The altars are typically adorned with marigold flowers, candles, photographs of the deceased, and offerings such as food or drinks that they enjoyed in life.
Each element has symbolic meaning and is carefully chosen to create a meaningful tribute. From November 27th, you will already see all establishments and private homes in Oaxaca City filled with altars.
There isn't any single establishment or home in Oaxaca that will not have this, and each altar is designed uniquely to the liking of their dead.
Catrina make-up
You've probably seen a lot of day of the dead make-up on social media. I myself prepare for this every year as I want my make-up to be unique!
The Catrina make-up, inspired by a satirical 19th-century drawing by artist José Guadalupe Posada, has become an iconic part of this annual celebration.
The Catrina was originally meant to mock those who aspired to be like European aristocrats during a time when that was considered fashionable. Today, however, it's embraced as a symbol of Mexican culture and tradition.
The make-up typically features intricate face painting with bright colors and intricate designs that honor deceased loved ones.
Make sure to bring a photo of your preferred make-up or browse through my Instagram gallery where I compiled my day of the dead make-up over the years!
Comparsa
A comparsa is a vibrant and colorful event that has a stunning display of music, dance, and tradition that is super fun and mandatory to join in Oaxaca!!
The comparsa takes place on November 1st and 2nd each year to coincide with Mexico's annual Day of the Dead festivities.
It is an extension of this tradition – a lively parade featuring elaborate costumes and masks as well as live music and dancing.
As you make your way through the streets during the comparsa, you'll be surrounded by intricate floats displaying larger-than-life skeletons dressed in bright colors or donning traditional clothing.
Comparsas in Oaxaca is different every year but the one I consistently go to is the comparsa in Jalatlaco neighborhood.
Visiting the cemeteries
The atmosphere in Mexican cemeteries during Day of the Dead is unlike anything you've ever experienced. The graves are decorated with colorful flowers, candles, and offerings such as food and drinks.
Mariachi bands play music while families gather around the gravesites to reminisce about their loved ones. Don't be surprised if you're offered some tequila or mezcal – it's all part of the celebration!
When my friends joined my Oaxaca day of the dead tour in 2019, they felt weird to see loud music and alcohol in the cemetery.
I told them that this is normal in Mexico and that they don't have to feel uncomfortable – the Mexicans love to celebrate their dead with music and tequila, and that's definitely not an issue here.
However, if you are going to small towns, they are more traditional there and have more rules during day of the dead. In some small towns, you can't even put the Catrina make-up when visiting a cemetery unless you are Mexican!
24/7 nightlife in Oaxaca City
You'll feel FOMO at one point because there are so many events during the week of day of the dead in Oaxaca. I have gone through this every year – pick your battles!
I realized that I always wanted to go to every single event but it is physically exhausting! The good thing about this is that you can play every night by ear – you will always find something to do even if you decide to leave your hotel at midnight.
🫱🏽‍🫲🏻 Why join my Oaxaca day of the dead tour 2023
I do this every year!
I always say, "this is my last day of the dead tour" every year but I always end up going or opening a tour because Oaxaca is simply hard to say no to.
This year, I thought that I'd celebrate the day of the dead in Michoacan but Oaxaca City keeps calling. Each year that I come here, I always discover something new.
I also speak Spanish fluently so you're in good hands – I'll be with you all throughout the entire tour! If you're having doubts about joining my Oaxaca day of the dead tour, read more about me and my work or simply Google, "Trisha Velarmino."
Meet new people
For most of us, asking our friends to go on a trip with us is always hard. This is my experience for over 14 years of traveling solo.
My friends always tell me they want to travel with me but in the end, they chicken out and I end up being alone. This is not an issue for me – I've moved on from that many years ago as to each his own.
With this, I've designed my day of the dead tour to have diverse participants but with similarities in character.
This is also one of the reasons why I go on a call before you pay for my tour: I really don't want to mix different types of people: you should travel with people who are LIKE YOU and/or you have common ideals.
In the past, I was traumatized to mix different people in my tours since there were so much drama, misunderstanding, and discomfort. I never want this for my group so an interview is necessary!
Most of my tour participants became friends and they also joined my other tours in other countries. I also loved seeing them travel together, even without me!
Meet locals in Oaxaca
Through the years that I am coming here, I have created a loving community of locals in Oaxaca. My friends of all colors, shapes, and sizes who live in Oaxaca are important to me. And I want you to meet them!
These people have great tips about Oaxaca travel. You can also chat with them about the cultures and traditions in Oaxaca.
There are also many expats in this group who have been living in Oaxaca for years now so if you are someone who is looking to relocate to Mexico, you must talk to these people!
Supporting local communities
During my day of the dead tour, we will not only party and get drunk: I want you to see Oaxaca City. Most of the tours that I do in Oaxaca is spearheaded by locals.
Meaning, my team and I traveled far and wide to look for these sustainable tours. I do not have commercial tours because this kills the local community in Oaxaca.
I have been living in Mexico since 2018 and this is one of the best ways to give back to the place that I now call home. I am super excited to introduce you to this local community!
🕯️ How my Oaxaca day of the dead tour works
Fill out a form: Go to my Oaxaca day of the dead tour page and fill out the inquiry form
Let's get on a call: we will schedule a call to get to know each other and see if we are a match. Remember, this chat is important for you and me because you don't want to travel with a person or group that you don't get along with.
Pay the $500 USD reservation: after the chat, my office will send you an invoice for the $500 USD payment. Full refund until June 30, 2023 if you change your mind; partial refund beyond those dates (18% charge).
⁉️ Oaxaca day of the dead FAQ
Trisha is one of those people who left their comfortable life to travel the world and learn about life. Her style is to stay in one place she likes for 3 months (or more) to know what it feels like to eat, cook, speak, and sleep in another culture that isn't hers. She'd like to believe she's not traditionally traveling but she just chooses to be somewhere else all the time. In no particular order, her favorite cities in the world are Barcelona, Buenos Aires, Hong Kong, Mexico City, and Tel Aviv.