Here's a 7-day Northern Morocco itinerary road trip covering the cities of Tangier, Chefchaouen, and Fez. You can also add the Sahara desert at the end because it's on the way!
📬 Reader Mail: Hey Trisha! Your blog was referred to me by a friend who met you in South America. She told me you've been to Morocco a lot and I am stoked!
I am traveling there with three girlfriends this summer. Can you please suggest the most ideal itinerary if we only have 7 days? I saw you also drove the whole country in 2017!
Our plan is to visit Tangier, Chefchaouen, and Fez. Can we also add the Sahara desert? Your help is very much appreciated. Keep inspiring girls like me to travel!
-Katrin Fassbinder, UK
Hi Katrin,
Thank you for following the blog! Your friend has informed me you might get in touch so here I am, coming up with your great Northern Morocco itinerary.
I have visited Morocco a bunch of times and stayed for longer periods. This 7-day itinerary involves renting a car and driving on your own in Morocco.
It highlights three different and popular Moroccan cities: Tangier, Chefchaouen, and Fez. The days are very detailed and it includes a lot of information for your successful all-girls road trip in Morocco.
If you want more information or other options, you can check my Morocco Travel Guide. It covers the whole country! Thanks for your support and I hope you and your girlfriends will have a great time in Morocco!
xx,
Trisha
How many days do you need in Morocco?
I spent one month in Morocco on my second trip and three months on my first. It's really up to you how many days you will spend in Morocco but this 7-day Northern Morocco itinerary is only covering Tangier, Fez, and Chefchaouen.
A week is enough to cover all these areas but if you have 10 days, I suggest you add the Sahara desert to this itinerary.
Is Morocco safe for solo female travelers?
Despite all the failure of not being able to practice my rights as a woman activist and the annoyance of how backward they are, I felt very safe traveling in Morocco.
Please don't interpret my stories above like I was harmed. These stories happened as they are but I didn't feel sexually harassed if that's the word you are looking for.
Harassment can come in many forms but more often than not, when women are traveling, they are incorporating it with sexual assault.
View this post on Instagram
Moroccans are very friendly and are well-rounded with tourists. Safety shouldn't even be in question. As harassment can be defined in many ways, safety can be, too.
The problem is how it is synonymous with all things related to women. Traffic, clean drinking water, street cats flocking like a gang on the streets, theft, etc: safety is everyone's issue and can go down to many dissertations and arguments.
As this is a question from a woman traveler, I will direct the tips and advice to her: Morocco is very safe but if you are going alone, you have to ask yourself if you are ready to face all the hustlers who will drag your ass to their shops or talk to you even if you are not in the mood.
Seeing a woman alone is an opportunity to conduct small talks (mostly business talks actually. They are really good at selling) and to find a way to make you pay (whether be it asking for directions or accompanying you in the huge Medina).
Moroccans are just finding a way to earn a living. They don't mean to harm you even if their methods clearly say so. The way they do it may not be agreeable to you but know they mean no harm.
That being said doesn't mean you have to keep your guard down. I know some girls who felt harassed (sexually) because they are being followed in the Medina but I don't want to question that.
As a woman, remember that we are all different and can interpret different actions with our gut so one can never question when you feel harassed or not. It is a question of feelings.
It's the same way as questioning our friend's feelings when they are in love with a man we hideously hate (just because we feel they are not right for them) but none of us can really tell how people feel.
When is the best time to visit Morocco?
The country is at its most beautiful in spring (mid-March to May) when the landscape is green and lush, making for spectacular mountain hiking. Morocco is also lovely in Autumn (September to October) when temperatures are very pleasant.
Northern Morocco Itinerary Quick Info
✈️ Getting to Morocco
If you are coming from Europe, flights to Morocco are pretty cheap. This article is about Northern Morocco so the port of entry should be Tangier.
Tangier Ibn Battuta Airport is an international airport serving Tangier, the capital city of the Tanger-Tetouan-Al Hoceima region in Morocco. There is also a boat service from Spain that docks in Tangier.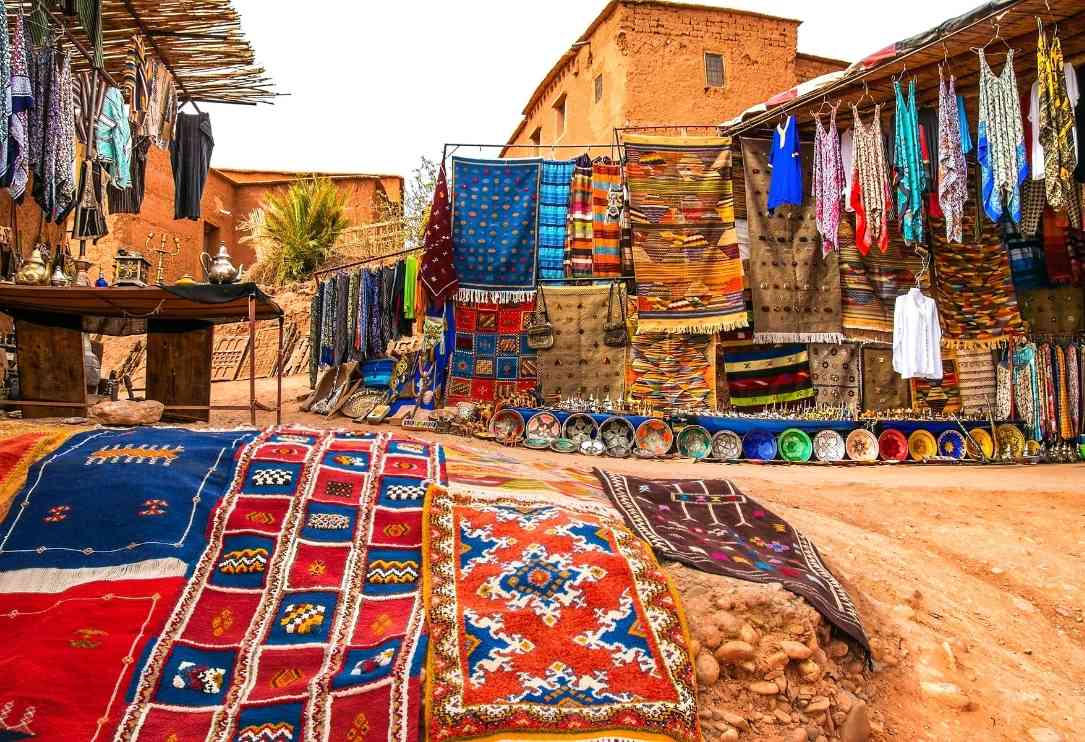 Flights from the USA to Morocco
Unfortunately, direct flights from the USA to Morocco is not yet a thing. You always have to stop in Europe to do this so I always just tell people to add Morocco to their Eurotrip as an extra destination.
The only direct flight I found from the USA is from Miami to Casablanca via Royal Air Maroc and Delta Airlines. The flight duration is 8 hours. When you are already in Europe, there are many direct flights to Morocco from the UK and Madrid.
🛂 Visas and entry requirements in Morocco
As a Philippine passport holder, I can enter Morocco for 90 days visa-free. Passport should be valid for 6 months prior to travel. Check if you need a visa to enter Morocco by contacting the Moroccan consulate in your home country.
🛏️ Accommodations in Morocco
Hotels in Morocco are lavishly designed but are very cheap. The most famous type of accommodation is the riads, which you can see in the Medinas of Morocco. Room costs start at $35 USD with breakfast for 2.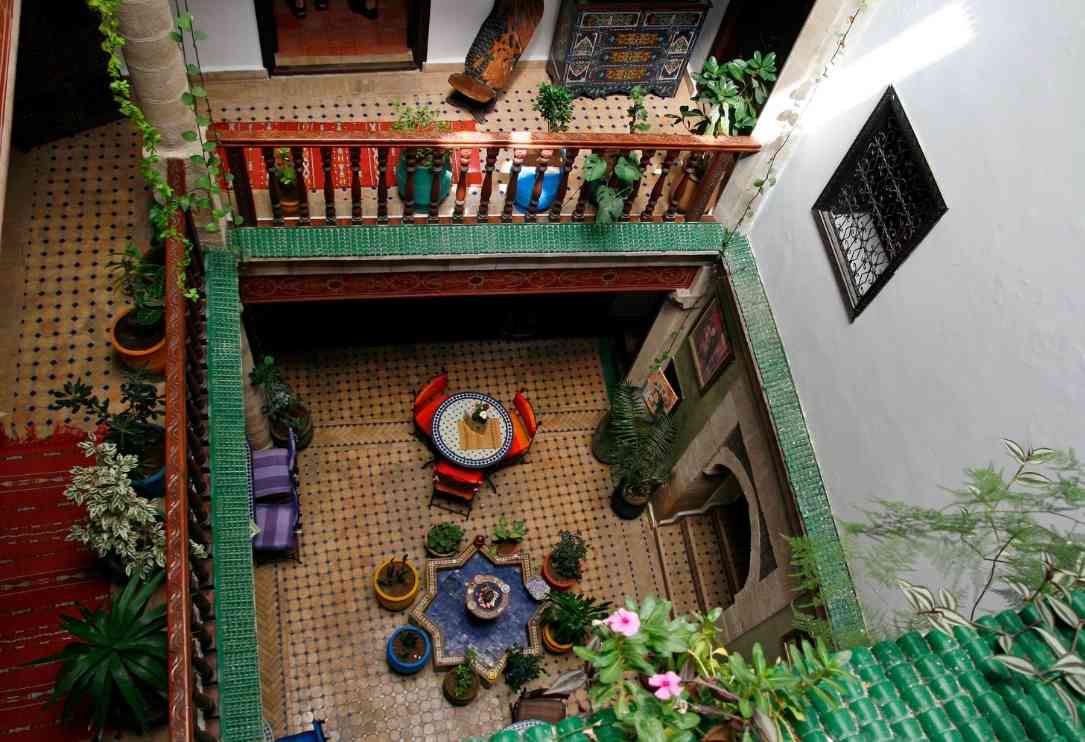 Agoda offers cheaper prices than most platforms but it is not that flexible. This website is ideal to use for booking if your travel dates are fixed.
If you want to pay on the property and avoid cancellation costs, Booking.com has more flexible booking policies.
💲 Currency and daily travel budget in Morocco
The currency in Morocco is called the Moroccan dirham (MAD). $1 USD is = 9.56 MAD. With this price, you can buy a liter of coca-cola, 1 kg potatoes, 1 kg tomatoes, and a dozen eggs.
As for the daily budget, it depends on the type of traveler you are. Please see the rough estimate below: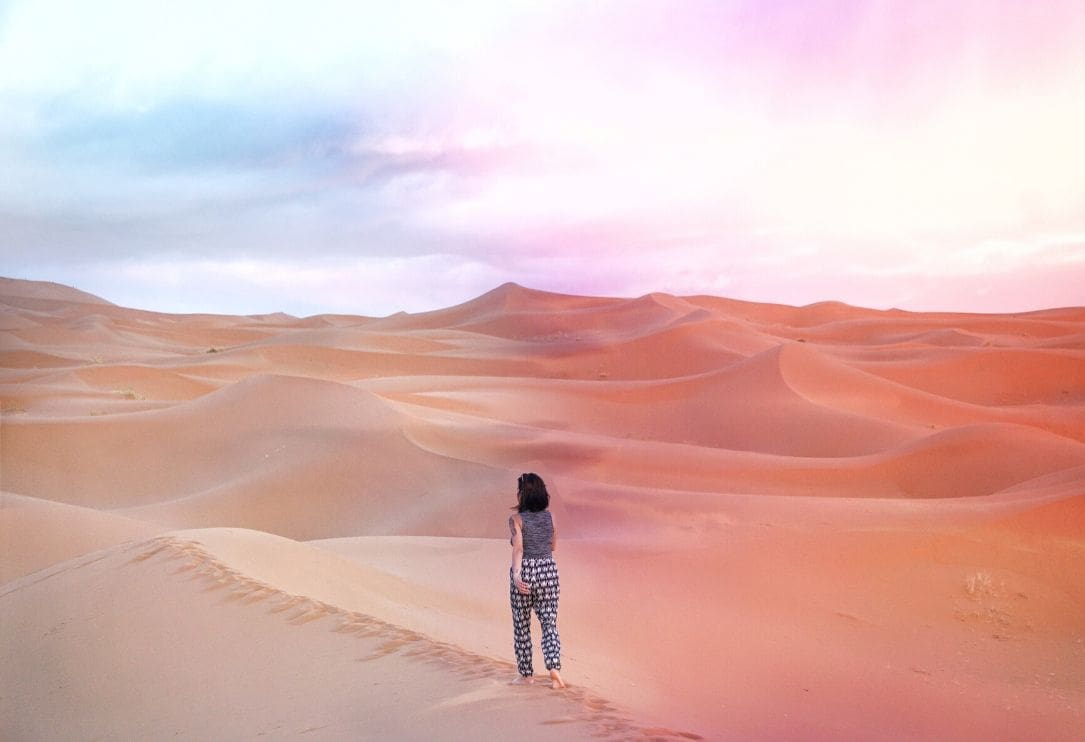 Backpacker ($32 USD/day [est]): $7 USD on a bed in a dorm + $15 USD for 3 meals + $10 – $15 USD on transport and activities
Mid-range ($90 USD/day [est]): $40 USD for a double room, breakfast included + $30 USD for 3 meals + $20-$30 USD for transpo and activities
High-end ($190/day [est]): $100 USD for a double room, breakfast included + $60 USD for 3 meals + $30 USD for transpo and activities.
🌐 Wifi, sim cards, etc
Internet is slow in Morocco but purchasing a sim card at the airport will do the trick. They usually cost less than $20 USD, depending on the gigabytes of data Internet you will avail.
Wifi in hotels is just okay and is not that fast. If you are driving in Morocco, you will definitely need the Internet for Waze. Waze is a traffic app that gives you the best driving routes (without traffic) anywhere in the world.
I use a portable wifi device whenever I am traveling as it is one of the top demands of the work that I do. You can purchase or rent one by using the code PSIMONMYWAY (10% discount).
Northern Morocco Itinerary Highlights
Tangier, the gateway between Europe and Africa. It is my favorite city in Morocco!
Medinas. All Moroccan cities have their respective medinas and are very unique in their own ways!
Souks are probably everywhere in Morocco. This country is a shopping haven — from spices to accent pieces for your home, Morocco has it. Plus, it's cheap!
Caves of Hercules, an archaeological cave complex located in Cape Spartel, Morocco. … The man-made part was used by Berber people to cut stone wheels from the walls, to make millstones, thus expanding the cave considerably.
Moroccan mosques. According to the Ministry of Awqaf and Islamic Affairs in 2016, there are around 41,755 mosques in Morocco, of which 16,489 are Jama Masjids, and 10,061 are specifically designated as culturally significant.
Hammam bath. A Turkish Bath is a place of public bathing associated with the culture of the Ottoman Empire and more widely the Islamic world. I did this a lot of times – it's really enjoyable and relaxing!
Chefchaouen, a city in the Rif Mountains of northwest Morocco. It's known for the striking, blue-washed buildings of its old town.
Chouara Tannery, one of the three tanneries in the city of Fez, Morocco. Built in the 11th century, it is the largest tannery in the city.
Renting a car in Morocco
I opted to rent a car in Morocco not because it's cheaper but the country's terrain is easy to drive. Prior to landing, I already booked a car online where I had to pay a 25% reservation fee.
You can find various companies on the Internet that offer rental services but below are rough estimates so you'll have an idea how much it will cost you on a daily basis:
Mini ($960 USD per month): Aircondition, 4-door, 4 passengers max
Standard ($760 USD per month): Aircondition, 4-door, 5 passengers max
Premium ($1500 USD per month): Aircondition, 4-door, 6 passengers max
Daily car rental costs on average range from $30 USD – $45 USD. I drove to Morocco for a month so I am showing you the monthly costs. Of course, the more days you rent, the cheaper.
This is ideal for people traveling in groups as the bus/trains can cost the same (individually).
Car rental in Morocco includes Collision Damage Waiver with Excess (CDW) and Insurance for one (1) driver. Free cancellation, no credit card fees, toll, gas, and extra fees not included.
If you are traveling as a group and more than one person can drive, I strongly advice for you to get the additional driver insurance that costs $6 USD per day.
Other modes of transport when traveling in Morocco
Compared to my visit six years ago (visited in 2013 and stayed for 90 days), Morocco's transport system has been better and more impressive.
I don't know if I am saying this because it's the second time I've been so things are more familiar but if you are not up for renting a car, you can go around Morocco by:
🚌 Bus: No, no, no… This is not the old school buses you are picturing in your head. Morocco's busses are very efficient and comfortable.
There are three major bus companies in Morocco but most tourists use CTM. On their website, you can see the availability of each trip together with trip duration and ticket prices.
🚆 Train: Trains are also a favorite but let me tell you that bus and train ride durations (even the scenic views) are the same. In fact, going by train can delay you a few minutes then taking a bus.
Not all Moroccan cities have access to trains so I suggest you only do this if you are not in a hurry or didn't make it to the bus schedule. ONCF is the most popular train website in Morocco where you can see all the timetables and prices of each trip.
🚕 Shared taxi: Shared taxi or grand taxi is famous in Morocco if you want to cut a little cost. For as low as 15 MAD, you can go from place to place sharing with other people.
Please take note that the taxi only leaves when it's full. This mode of transport tends to be very crowded and uncomfortable so if you want a little comfort, feel free to pay extra.
Northern Morocco itinerary: 7 days in Tangier, Chefchaouen, and Fez (+ Sahara)
Day 1: Tangier
Tangier is very close to the Strait of Gibraltar and Spain. It has been the gateway between Europe and Africa since the Phoenician times. I've visited this city three times already and I can say this is my favorite city in Morocco.
Here, they speak Spanish so better remember your Spanish skills as it will be useful for your visit. I feel they are even more Spanish than the Spanish!
My first visit to Tangier, Morocco / June 2013
Favorite experience in Tangier: A meal at Le Saveur du Poisson where I paid 25 EUR for a surprise meal. Their menu changes daily and you will not be asked for what you want. Just sit there, relax, and food will keep coming! This restaurant specializes in seafood.
Where to stay in Tangier: I stayed at Kenzi Solazur, a 4-star hotel good for business people and is also for families. A double room costs $80 USD for 2 pax, breakfast included. Their amenities are quite impressive too. They have a pool, a gym, over 4 different restaurants, a spa – you name it!
If you are on a backpacker budget, below are some accommodations I can recommend in Tangier:
UMH Tarik Hotel: a double room for 2 pax starts at $45 USD per night, breakfast included
Dar Omar Khayam: a double room for 2 pax starts at $50 USD per night, breakfast included
The Medina Hostel: a bed in an 8-bed dormitory room starts at $9 USD per night, breakfast included
11:00 am – 12:00 pm: Walk in the Medina of Tangier
Tangier's medina is a top attraction in the city. In here, you will get to see narrow alleys that are both residential and commercial by the walls of a 15th-century Portuguese fortress.
Shopping in the souks is pretty common here – in fact, this is my favorite medina in the whole of Morocco!
👉🏽 Click here to see prices and availability for Tangier City tours
12:00 pm – 2:00 pm: Lunch at Restaurant Populaire Saveur de Poisson
I knew about Le Saveur du Poisson through Anthony Bourdain's Parts Unknown Tangier episode. This was my favorite experience in Tangier because I did not know what I was getting.
I was thinking of what to order while waiting as people slowly fill the restaurant (mostly foreigners). What's it gonna be for today, Trisha? Tajine? Fish? What?
The waiter then started serving the starters table by table. The first one that they served as fresh olives, roasted olives, and some very good bread. I have a good feeling now.
I haven't eaten warm bread in a week! The most interesting was the juice of pulpy fure of figs, raisins, and strawberries (bottomless). Every table gets the same thing.
The style is just to sit back and wait to be served. You won't have the stress of thinking about what to eat for today because they will bring it to the table. Wait to be surprised!
📍 Click here to get directions to Saveur de Poisson
2:00 – 3:30 pm: Get lost in the Kasbah
In Morocco, the Arabic word form kasbah refers to multiple buildings in a keep, a citadel, or several structures behind a defensive wall.
A kasbah was a place for the local leader to live and a defense when a city was under attack. A kasbah has high walls, usually without windows. Take lots of pictures while shopping in between!
3:30 pm – 4:30 pm: Afternoon tea at Cafe Baba (where the Rolling Stones used to hang out)
This Moroccan Cafe is where the Rolling Stones got stoned. Up until today, people go here to smoke hashish and have coffee/tea.
This also appeared on Anthony Bourdain's Parts Unknown Tangier episode and it's pretty famous to frequent visitors of Tangier.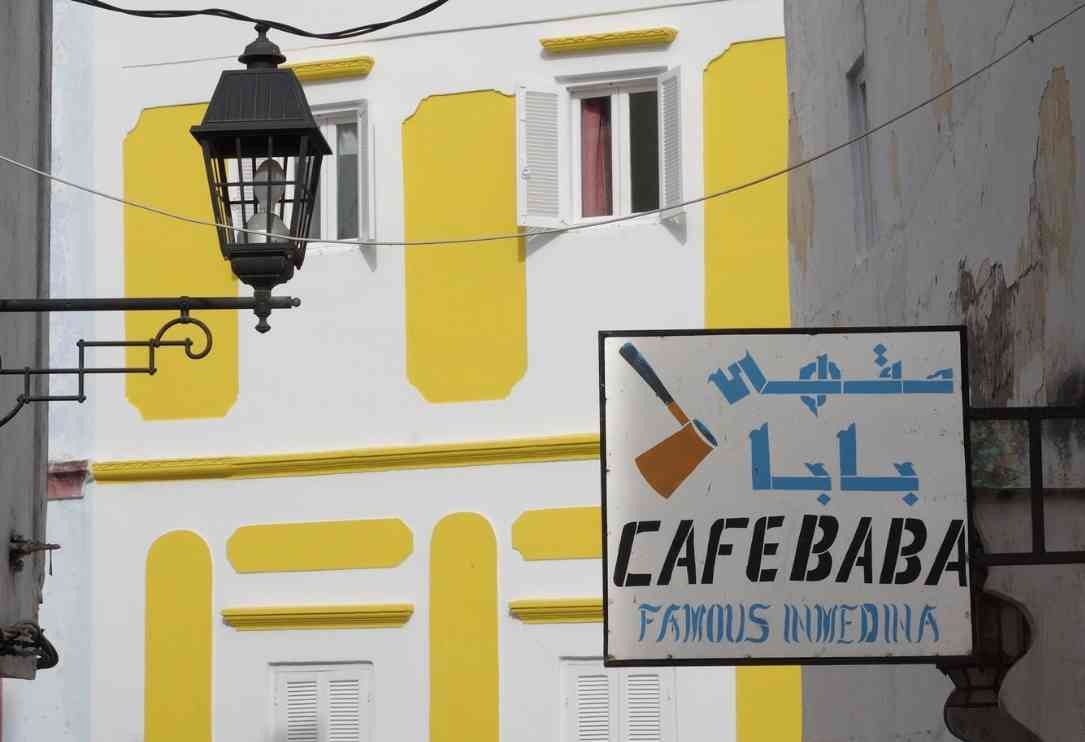 This is not a place for Digital Nomads to work (nah, it's not one of those cafes). The idea of being in Cafe Baba is to socialize, observe and play board games while huffing and puffing in between.
If you are not a smoker and are not comfortable with the smell of hashish, you don't need to smoke it. Just observe how hashish, tea, and coffee are a big part of the Moroccan culture. It's pretty interesting! You can also order Moroccan sweets!
📍 Click here to get directions to Cafe Baba
5:00 pm – 6:30 pm: Sunset with a view (of Spain) at Cafe Hafa
Cafe Hafa is a 15-20 minute walk (with uphills) from the Medina so it's better to come here for sunset. The cafe is in a stair-like format so nobody will block your view of the nearby Spanish islands.
Channel your inner Moroccan by ordering a huge cup of tea and filling it with sugar blocks, Moroccan style!
📍 Click here to get directions to Cafe Hafa
7:00 pm – 9:00 pm: Dinner at Tangerino
I only discovered Tangerino when I asked the concierge at Kenzi Solazur where to watch football. When I was there, it was currently the season of La Liga Spain and everyone's going crazy about watching the games.
Tangerino was perfect because they serve bar-ish food and lots of drinks. However, upon arrival, I was told I needed to reserve before coming. All their tables were taken!
Since I was solo, I asked to be placed in the bar and I'll leave when the next person arrives. I ended up staying all night!
📍 Click here to get directions to Tangerino
Day 2: Tangier and Chefchaouen
9:00 am – 12:00 pm: Day trip to the Caves of Hercules
The Caves of Hercules is an archaeological cave complex located in Cape Spartel, Morocco. The man-made part was used by Berber people to cut stone wheels from the walls, to make millstones, thus expanding the cave considerably.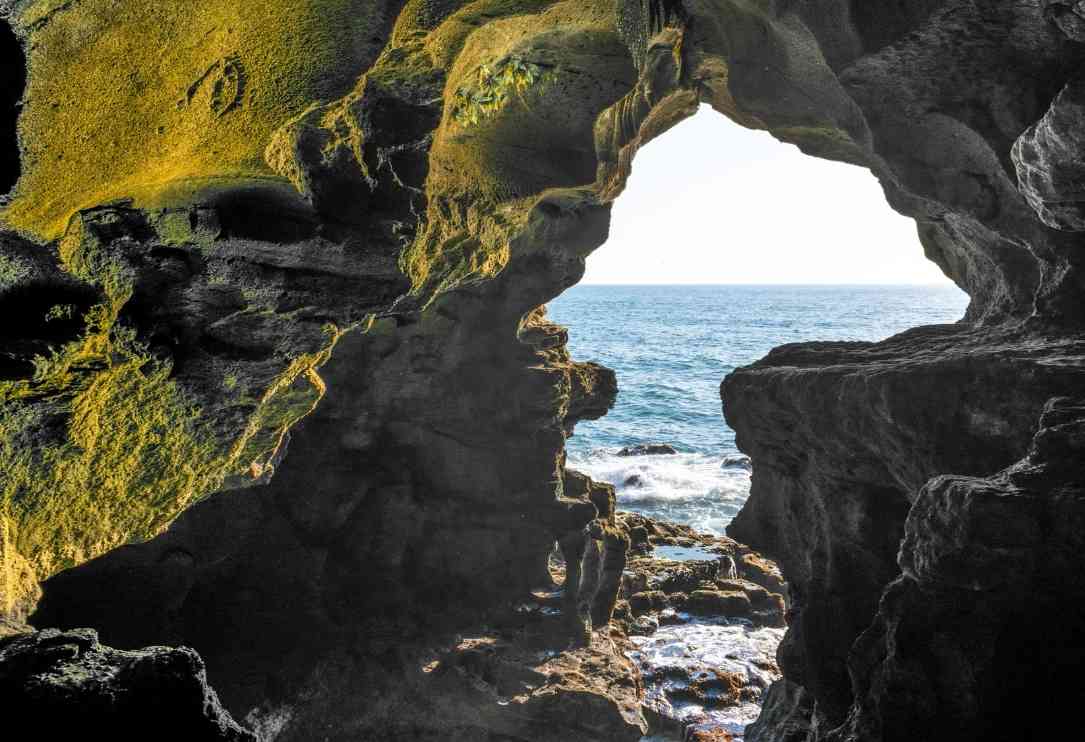 From Tangier's center, Caves of Hercules is a 20-minute drive. You can do it yourself or sign up for day tours from $50 USD approx per person. This tour can be done within 2-3 hours.
You can either bring snacks to the tour or have lunch on the way back to Tangier. You will see a lot of restaurants in the streets! I can't recommend anything in particular but wherever the people are, go follow!
👉🏽 Click here to see prices and availability for Caves of Hercules (combo)
2:00 pm – 3:00 pm: See The Grande Mosque of Tangier
The Grand Mosque is a large mosque in the Grand Socco area of central Tangier. Built on the site of a former Portuguese cathedral, it stood on a Roman temple dedicated to Hercules.
The mosque dates back to the Moulay Ismail period and was expanded in 1815 by Moulay Sliman. Its exotic architecture and contrasts between the chalky white walls, green doors, and coffered wood. It is free of admission but it's not open to the public during praying hours.
📍 Click here to get directions to Grande Mosque Tangier
3:00 pm – 4:30 pm: Afternoon tea at Cafe Tingis in the Petit Socco
Petit Socco, meaning "Little Square" is a square in the Medina area of central Tangier, Morocco. It was once home to many notable writers and affluent people in the city and is connected by the Rue Es-Siaghine.
The square lies in the area of Tangier on which the forum of the Roman Tingis once stood. Petit Socco was once one of the greatest souks in all of Morocco and people would flock from miles around to buy food and clothes.
Sit down at Cafe Tingis, order coffee (or tea), and go people watching. This really is the best spot in the Petit Socco!
5:00 pm: Drive to Chefchaouen
Tangier to Chefchaouen is a 2-hour drive. I drove at night because I figured there will be less traffic. It took me less than an hour to reach Chaouen just in time for dinner.
I didn't have any particular restaurant in mind so I just went for whichever is full. Leaving Tangier in the evening is ideal if you want to have full days in Chefchaouen. There is so much more to do in the blue city than Tangier, honestly.
Day 3: Chefchaouen
🛏️ Where to stay in Chefchaouen: I stayed at Dar Sababa, a B&B located in the medina of Chefchaouen. A double room for 2 pax starts at $40 USD, breakfast included.
I booked this hotel because the word "sababa" called my attention. Sababa is one of several Hebrew slang words meaning "great" or "cool" and can express enthusiasm, satisfaction, or assent. Chefchaouen definitely has a bit of Jewish influence!
Favorite experience in Chefchaouen: I went on a harvest-your-own weed tour offered by a random guy on the street! This may sound sketchy and it won't be available for everyone.
I think this guy asked if I wanted to go on a hashish tour for $20 USD and I said yes. I don't know if he normally would ask everyone upfront but before he asked me, he offered me a spliff.
When I took it, I think that's the sign he was waiting for: I am definitely up for a hashish tour! I hope you come across this guy as I've learned a lot about the hashish culture of the country through him. I never got his contact because you know, sketchy.
Chefchaouen is also a favorite when I visited Morocco. Those Instagram pics you see that are tagged "Morocco?" They're definitely Chefchaouen!
There are several theories as to why the walls were painted blue. One popular theory is that the blue keeps mosquitos away, another is that Jews introduced the blue when they took refuge from Hitler in the 1930s.
The blue is said to symbolize the sky and heaven and serve as a reminder to lead a spiritual life.
9:00 – 12:00: Walk in the Medina of Chefchaouen
Chefchaouen's Medina is the most beautiful in Morocco because it's all blue! At first, I thought allotting 3 hours to see the medina was too much but I ended up stopping in every corner — 3 hours wasn't even that much!
Take your instagrammable pics as you go along the blue city. Every side of it is worth taking a photo of! It's beautiful as it is without editing.
12:00 pm – 2:00 pm Lunch with a panoramic view at Alladin Restaurant
Aladdin Restaurant is one of those lunch places that will give you the first glimpse of the blue city. They have outdoor seating where you can have a great view of Chefchaouen.
The place is always full so it's better to go before peak hours. I accidentally walked in here before 12 and got the best spot! After which, people started coming in for lunch.
As for the food, I did not like it a lot – I was probably sick of Moroccan food every day. They have lunch menus where you can get a starter, main dish, dessert, and coffee for $10 USD.
2:00 pm 4:00 pm: Shopping!!!
Most Moroccan products are made in Fez and Marrakesh so shopping in n Chefchaouen can be a little pricey than usual. However, in Morocco, haggling is very common.
When haggling (as my time living in Israel taught me), I lower the price to 50% at the beginning. This, depends on the product, of course.
I usually know how to measure the monetary value of the product (i.e. if it's hand-made, made by local artists, sustainable, etc) and I'd be willing to pay a higher price.
Most tourists in Morocco don't haggle but if you do, rest assured they will give you the price that you want as long as you stay firm.
If it's still too expensive for you, walk away and see how they will come running after you to offer you the price you can pay.
5:00 pm – 6:30 pm: Hike for a spectacular sunset view!
At the beginning of this Northern Morocco itinerary (Chefchaouen section), I mentioned my favorite experience in Chaouen: I went on a harvest-your-own weed tour offered by a random guy on the street!
Chefchaouen is surrounded by mountains so there are many options for short-trail hikes. In my case, I drove with a car (as I was with the weed tour guy) and was able to see a vast public farm of marijuana plus a spectacular view of the blue city!
7:00 pm – 8:30 pm: Moroccan dinner at Cafe Sofia
The most interesting part of Cafe Sofia? This restaurant is run by women. In their menu, you will find traditional Moroccan food and their best-seller is the tajine.
Now you can easily find tajine all over Morocco as it is their staple but the one in Cafe Sofia is considered the best in the city!
Day 4: Chefchaouen
9:00 am – 12:00 pm: Day trip to Akchour
Akchour is definitely not to miss. Trekking is super easy and is worth it once you reach the cascade. If you have your own car, driving to Akchour takes 40 minutes.
Taxi drivers in Chefchaouen will ask for 400 dirhams ($41 USD) which is quite expensive especially if you're traveling solo. The cheapest way is to take a grand taxi for 25 dirhams ($2.5 USD) per person.
1:00 pm – 2:30 pm: Take a break from Moroccan food and have lunch at Pizzeria Mandala
During my travels to Morocco, I always stayed longer so I must admit that some days, I didn't have the energy for tajine and couscous.
Moroccan food has very little variation so this time, in Chefchaouen, I opted to go to a pizza place. Aside from pizza they also have pasta and salad menus!
All afternoon: Visit the Grand Mosque, take a last stroll in the New and Old Medina. Do your last-minute shopping, too!
Chefchaouen's Grand Mosque is situated in the center of the Medina so you can't miss it. It is one of the most visited places of worship in Morocco because of its location.
There are many restaurants and shops in the square where the mosque is located to this is the best time to do your last-minute shopping before saying goodbye to Chefchaouen and driving to Fez!
Day 5 and 6: Fez
Where to stay in Fez: I stayed at Riad La Maison Bleue, a luxury accommodation and spa in Fez. A standard double room for 2 starts at $388 USD per night, breakfast included.
Fez is a big city and there's a lot to do on the first day. In this section, I won't suggest what to visit by the hours but feel free to do all of these when you arrive!
Trisha's favorite experience in Fez: The Medina! This is the biggest medina in all of Morocco and I had fun getting lost in it. I've reached dead ends that Google maps couldn't locate.
I've met people within the walls that were very helpful. In those random adventures, I was even invited to a Moroccan family's home to eat couscous!
The drive from Chefchaouen to Fes will take 3.5 hours. Fes is often referred to as Morocco's cultural capital. The city is known for Fes El Bali walled medina with an old-world ambiance of Marinid architecture.
The medina is home to religious schools such as the 14th-century Bou Inania and Al Attarine, both decorated with elaborate cedar carvings and ornate tile work.
Stroll the Medina and take your time!
As I said, the medina of Fez is the largest medina not just in Morocco but in the world. In here, you will find souks, markets and even witness the daily life of Moroccans.
When you do this activity, don't put a time limit on it. Just walk and walk till you get lost!
Try the Hammam bath
Turkish Bath is a place of public bathing associated with the culture of the Ottoman Empire and more widely the Islamic world.
A variation on it as a method of cleansing and relaxation became popular during the Victorian era and then spread through the British Empire and Western Europe. In Morocco, I went to a more private hammam where a lady will scrub your whole body.
👉🏽 Click here to see prices and availability for a hammam bath
See the Merenid Tombs, overlooking the Medina of Fez
Merenid Tombs refer to the ruins of monumental tombs on a hill above and north of Fes al-Bali, the old city of Fez, Morocco. Today, they are also a popular lookout point over the historic city.
It was so easy to get here by car and the best thing to do here is watch the sunset.
Visit the Tanneries (Fez's iconic tourist favourite)
This is probably the highlight of my Fez trip as I wanted to know more about the Moroccan leather industry. Tanning is the process of treating the skins and hides of animals to produce leather.
A tannery is a place where the skins are processed, and Fez houses the biggest tannery in the whole country. Watch out for the pungent smell that will accompany you throughout the trip.
They will give you flowers to smell while on the tour but it's still pretty strong!
👉🏽 Click here to see prices and availability for a tanneries tour
Where to eat in Fez
I found Fez to have more variations when it comes to food choices. Below are my favorites in Fez:
The Ruined Garden. During the last century, many of the merchants and administrators moved out of Fez to the new capital of Rabat or the sprawling port city of Casablanca. This left many houses to the cats and hawks. Over time, they crumbled in on themselves. As a result, the Ruined Garden was built as a restaurant full of plants!
Cafe Clock. My favorite place to work! They have strong wifi and a very nice array of food. They also have a cooking school that runs every day from 10:00 am.
Nur Restaurant. If you have extra money to spend, Nur Restaurant is the world's vest Moroccan Cuisine by chef Najat Kaanache. You can book by calling +212 6 94 27 78 49. Dinner service is from 6:30 pm – 10:00 pm.
Maison Moi Anan. Sick of Moroccan food? Try this authentic Thai restaurant!
Day 7: End of trip
The 7th day of the trip is for going home. I went to the Sahara desert after Fez but if you don't have the time, you can return your car to an airport in Marrakesh (5h drive approx) or go back to Tangier (4h drive).
For more convenience, it's best that you book your flight home from Fez Airport. This is an international airport that serves flights to Europe and the UK.
Morocco safety travel tips
When walking in the Medinas, sellers and merchants will always force you to come "take a look" in their stores. They will not force you to buy but they can physically drag you to see their stores. If you are not interested, say no.
When saying no doesn't work, avoid eye contact. Don't even say hi. I got tired of the small talks with the sellers on the street so, in the next days, I treated them as non-existent. I totally ignored them even if they were saying hi and trying to be nice. I acted like I wasn't hearing anything nor I understand English. It worked!
If you want to meet locals in Morocco, only go to Couchsurfing to find people. Moroccans who are signed up on CS are real travelers. Most of my best friends in Morocco are guys and I met them through Couchsurfing even without staying in their homes!
I wrote about funny ways to avoid hustlers in Morocco. You can read it here.
Drinking inn Morocco is not common but some establishments serve alcohol. In most Moroccan cities I've been to, there are a few specialty shops that will sell you alcohol. However, you have to bring your passport for identification. They only sell to foreigners. As for the "non-Muslim" part, I have no idea how they determine that.
I don't mean to scare you or anything. This is just a precaution. In December 2018, Louisa Vesterager Jespersen (24, from Denmark) and Maren Ueland (28, from Norway) were found beheaded in the High Atlas mountains in Morocco. This is a horrible horrible story of female travel so be alert. Do not go to places where there are fewer people (like the High Atlas). Stay in crowded places and join tour groups.
7 days Northern Morocco itinerary on Pinterest: save it for your trip!
Trisha is one of those people who left their comfortable life to travel the world and learn about life. Her style is to stay in one place she likes for 3 months (or more) to know what it feels like to eat, cook, speak, and sleep in another culture that isn't hers. She'd like to believe she's not traditionally traveling but she just chooses to be somewhere else all the time. In no particular order, her favorite cities in the world are Barcelona, Buenos Aires, Hong Kong, Mexico City, and Tel Aviv.