Is Morocco expensive? Is $30 USD per day enough or too much? Here's a report on my Morocco travel budget from 90 days of traveling the country!
Reader Mail: Hi Trisha! I've seen that you spent a lot of time in Morocco and I am going there really soon. I know it is cheap but I want to see how much money to prepare. Can you please share your Morocco travel budget? Many thanks and more power!
-Ella Kjær, Denmark
Thank you for your e-mail, Ella!
My Morocco travel budget was very minimal. I made sure I don't go over $30 USD per day which is already a lot in this country. I got tired of Moroccan food easily so I opted to cook in the remaining weeks that I was in Morocco.
In this Morocco travel budget report, I will walk you through what I spent in Morocco – food, transportation, accommodations, shopping, tours, etc.
Below you will find the "content" list – just click on them to jump to the content you are looking for. I hope you enjoy Morocco. It's one of my favorite countries and I always loved going back!
Xx,
Trisha
How much does it cost to travel to Morocco?
Morocco is a very cheap country so many of its European visitors frequent this country. Europeans can fly direct to Morocco for less than $100 USD.
Because of this, Euros are accepted in Morocco but I still exchanged my money for dirhams when I visited.
View this post on Instagram
The currency in Morocco is called the Moroccan dirham (MAD). $1 MAD = $0.10 USD. With this price, you will be able to buy 1 liter of whole fat milk, 1 kg of tomatoes, 1 kg of potatoes, and a loaf of bread for 2 people.
It is very important to know what you can buy for a dollar in Morocco so you can compare it to your home country. This way, you have a better idea of how much your Morocco travel budget should be.
When is the best time to visit Morocco?
Of course, like many countries we travel to, prices depend on the season. To have an idea of when to go to Morocco, see below:
View this post on Instagram
☀️ High Season (Nov – Mar). Accommodation prices are more expensive. Marrakesh and the south are flocked by tourists during the holidays (Christmas and New Year).
🌤️ Shoulder season (Apr & Oct). Accommodation prices increase during Easter. There could be sandstorms in the Sahara and constant rain in the north.
⛅ Low Season (May-Sep). Low accommodation prices and shopping is really cheap. This is shoulder season for locals who travel around the country for vacation.
Ramadan starts between the end of April / late May. Eid Al Adha will fall around August. These dates may vary but it is accurate until 2020.
Morocco travel budget: everything you need to know
Morocco travel budget quick facts
Currency: Moroccan dirham (MAD)
US dollar exchange: 1 MAD = $0.10 USD
Seasons: High season (Nov – Mar); Shoulder season (Apr & Oct); Low season (May-Sep)
Hostel bed per night: $7 USD
Per meal cost: $5 USD
Transportation: $7-10 USD
Estimated daily costs: $30 USD
Accommodation costs in Morocco
Accommodations in Morocco are really cheap. In Marrakesh, you can get a decent dorm in a hostel from $5-$7 USD. However, the most popular accommodation type in Morocco is the riads.
Riads in Morocco are really beautiful (pictured above) and are part of the tourist attraction list in Morocco. Many people opt to stay in riads for the complete Moroccan experience.
They may look expensive but you'd be surprised to find a $35 USD riad in major cities. Luxury accommodations may be all-inclusive (massages, meals, etc) range from $80 – $100 USD.
Below are my favorite hotels in Morocco with corresponding estimated prices:
Food costs in Morocco
There is a lot of French influence when it comes to Moroccan food. Couscous and tajine are the most common food sold on the streets.
You can always find $1 USD eats everywhere, especially in the souks. I traveled to Morocco for 90 days and I honestly got tired of Moroccan food.
However, there are also a lot of Western cuisines, mostly French and Italian. I found it hard to find American food options (burgers, pizza) as Moroccan cuisine is very European.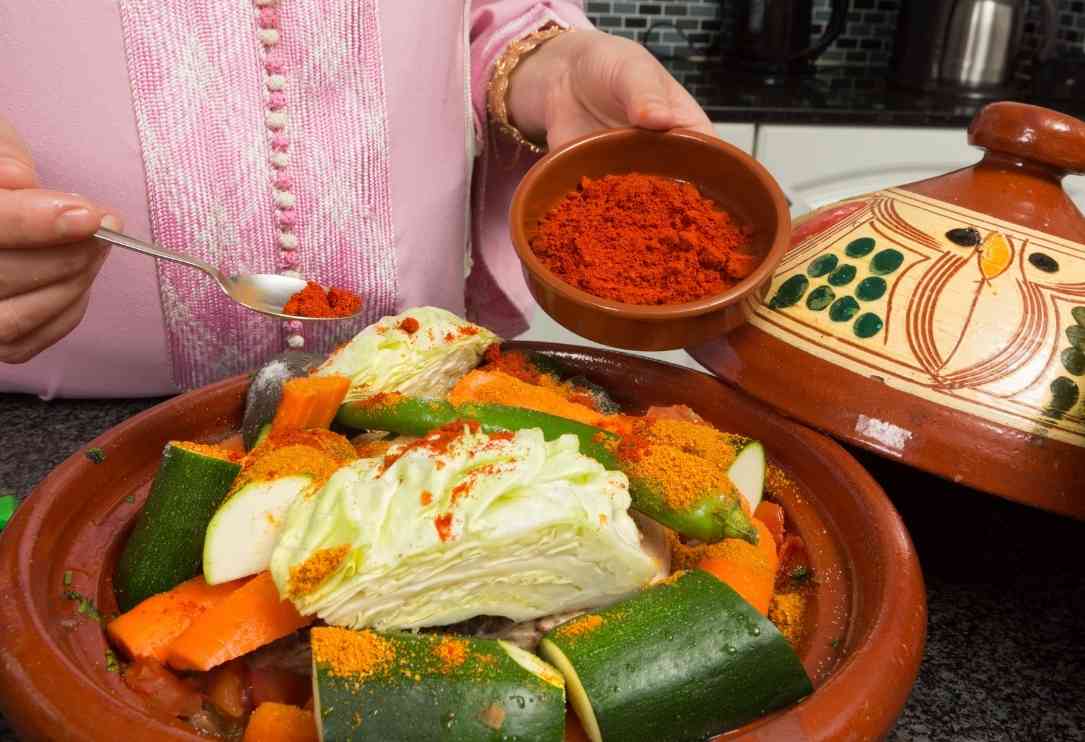 Even if you find a burger joint, I don't believe it will be as good. Morocco is also a fan of fast food where McDonald's and KFC are very popular among the locals.
A basic lunchtime menu in the business district starts at $8 USD. Combo meals in fast-food restaurants like McDonald's start at $6 USD. Mid-range restaurant dining starts at $25 USD for 2 pax.
This may include appetizers, main course, wine, and dessert. Alcohol is not sold everywhere in Morocco. You have to go to special places and present a legal ID when buying alcohol.
Transportation costs in Morocco
Morocco's transportation is really efficient and modern. The first time I went to Morocco, it was so easy to hop in a bus or a train – the trips are very frequent.
On my second visit, I rented a car for one month which cost me $25 USD per day for the car rental. This is not including gasoline (1 liter of gas in Morocco costs $1.05 USD) and tolls but both are quite cheap.
I recommend renting a car if you are a couple or group of 3 because it is cheaper and you'll be able to take your time. Driving in Morocco is pretty easy, too! It's not as crazy as India if that's what you're comparing it to.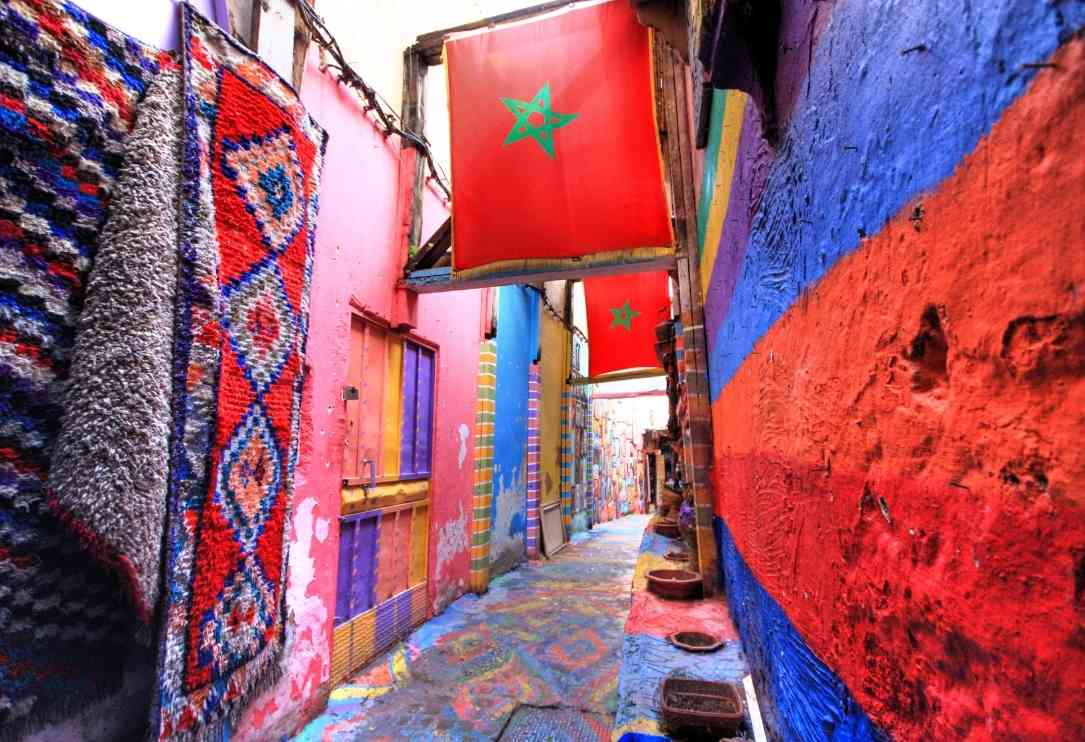 Taxi rates in Morocco are at $4.36 USD for every 5 miles. It is encouraged to agree to a price with the driver before hopping in.
In my experience, I find train and bus prices in Morocco pretty much the same, as well as the travel time. There are more things to see while on the bus but the train rides are quite spectacular, too.
Below are estimated rates for intercity bus travel in Morocco.
Casablanca to Tangier: $10 – $16 USD (5h 30m ride)
Tangier to Chefchaouen: $5 – $7 USD (2h 45m ride)
Chefchaouen to Fez: $7 – $10 USD (4h 30m ride)
To check the prices and schedules of busses in Morocco, CTM is the best website where you can reserve your tickets as well.
If you are interested in experiencing Moroccan trains, they are very frequent and travels throughout the country. Check ONCF for train prices and schedules.
Shopping in Morocco
Shopping in Morocco is a big business and is one of the reasons for Morocco's tourism to explode throughout the years. Morocco is famous for textiles, carpets, and interior pieces.
I bought a tea set for $15 USD with a dozen of thick Moroccan glasses and a silver teapot. The seller originally wanted $25 USD for it but I bargained so he gave it to me for the price I wanted. I almost paid his asking price, though!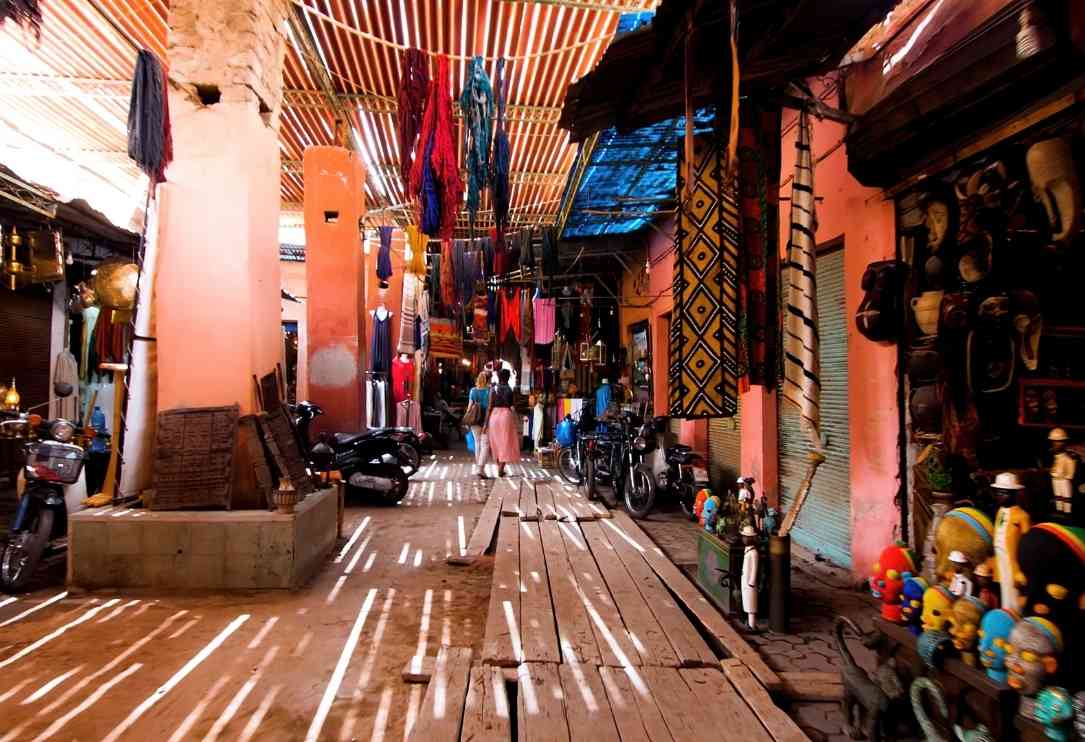 I also bought a large carpet that cost me $45 USD. You might wonder how I was able to transport this carpet home but they pack it really nice and small.
I also bought soaps as gifts for my friends which cost me $1 USD per bar. Moroccan plates are sold in sets and range from $10 – $15 USD.
Bargaining in Morocco is very common so always do it 50% of the seller's original price – they will give it to you no matter what. As long as you are firm with your asking price.
Morocco tours prices at a glance
Tour prices in Morocco vary and are often priced at European prices but there are many places where I didn't sign up for a tour – I just did it myself. To have an idea of the tour prices in Morocco, please see below:
Northern Morocco tour starts at $790 USD for 9 days. Accommodation, meals, and transport are included in this price. In my computation of $30 USD per day (food, transport, and accommodations only), a northern Morocco tour will cost you $270 USD ($30 USD x 9 days) but this price is for a DIY trip.
I paid $100 USD for an overnight Sahara desert tour in Merzouga. I just walked in and didn't book it prior to the trip.
The highlight of the Morocco tour starts at $1,317 USD for 15 days. This is an all-inclusive price estimate without the flights.
The prices above are just samples for you to have an idea of the prices of Morocco tours. It doesn't mean that you need to avail them. You can always choose cheaper tour agencies or do it yourself.
Morocco travel budget summary
In summary, below is a table of my estimated daily expenses in Morocco. Please note that I sometimes changed my type of travel: budget, mid-range, and luxury. Note that this is an estimate and that the numbers are based on my travels in Morocco.
| | Accommodation | Food | Transportation | Total |
| --- | --- | --- | --- | --- |
| Backpacker/budget | $7 USD | $15 USD | $10 USD | $32 USD |
| Mid-range | $40 USD | $30 USD | $20 USD | $90 USD |
| Luxury | $100 USD | $60 USD | $30 USD | $190 USD |
Given the facts and the numbers, it's totally up to you how much your daily budget in Morocco will be.
Trisha is one of those people who left their comfortable life to travel the world and learn about life. Her style is to stay in one place she likes for 3 months (or more) to know what it feels like to eat, cook, speak, and sleep in another culture that isn't hers. She'd like to believe she's not traditionally traveling but she just chooses to be somewhere else all the time. In no particular order, her favorite cities in the world are Barcelona, Buenos Aires, Hong Kong, Mexico City, and Tel Aviv.