Baja California Sur takes pride as the best seafood in Mexico so expect to eat fresh catch from the sea while in the peninsula. For when you get tired of eating fish tacos every day, save these best La Paz restaurants and try them all during your visit!
Visitors are always drawn to visit La Paz in Baja California Sur because of its sheer beauty plus the access to both the ocean and the city.
Tourists often get tired of Mexican beach towns where infrastructure can be a problem, especially to remote workers. Luckily, being a digital nomad in La Paz is very convenient!
This city definitely boasts of great outdoor activities. There are so many things to do in La Paz! If you plan to live here, the quality of life is also superb. I've been living in Mexico for the last three years and I find La Paz one of the best places to live in Mexico.
When it comes to food, La Paz also does not compare. There are many dishes that are unique to Baja California (i.e. the famous Baja-style taco).
Tacos, seafood, pizza, and even International cuisine – La Paz has it all so you do not need to worry about getting good food.
The only thing you need to worry about is knowing if the place is good so in this post, I will share with you all the best La Paz restaurants that are worth going to.
Note: I was not compensated to write about these best La Paz restaurants. I went without blog sponsorship and all opinions are my own.
Is food in La Paz expensive?
A fish taco in La Paz (both in a restaurant and a street taqueria) is only 25 pesos ($1.26 USD). For a place that is very well known for seafood, I find some seafood restaurants in La Paz expensive (from $15 USD and up).
Your ideal food budget in La Paz should be between $5 – $7 USD per meal per person. I put a price point in this list of La Paz restaurants for you to have an idea about the prices of food in La Paz.
💲: $7 USD and below
💲💲: between $7- $12 USD
💲💲💲: $15 USD and up
Each of these La Paz restaurants is also categorized by cuisine.
What are the best La Paz restaurants that deliver?
As someone who lives in La Paz, I have tried food delivery often, especially in the summer when it's too hot to go outside.
Most La Paz restaurants that deliver have their own delivery system but a huge number of them rely on Rappi and UberEats. I use both apps but the delivery isn't free. They charge about 15 – 50 pesos (less than $2.50 USD) to deliver.
My best delivery experiences were always from pizza places – fast, efficient, and well packed. If you want to see a full list of La Paz restaurants that deliver, simply go to the Rappi and the UberEats app.
You will see a rating for each restaurant and from there, you can choose what's the best according to your standard.
Click here to open the La Paz restaurants map on Google.
10 La Paz restaurants I love: where to eat in La Paz, Baja California Sur
#1: Toro El Guero
💲💲💲 | Mexican, Seafood | Mariano Abasolo | +52 612 122 7892 | El Toro Guero Menu
I went to El Toro Guero by chance. I live 2 blocks away from it and without reading anything about it on the Internet, I was drawn to it because it was full of people on a weekday.
From the outside, it appears to be a family restaurant with kids running around. There were also some tables occupied by Americans and Canadians, so why not try?
For the duration of my stay here, the easiest food to eat in La Paz is fish tacos. When I had the urge to have fried fish, I knew Toro El Guero was the place.
See also: 27 essential Sayulita restaurants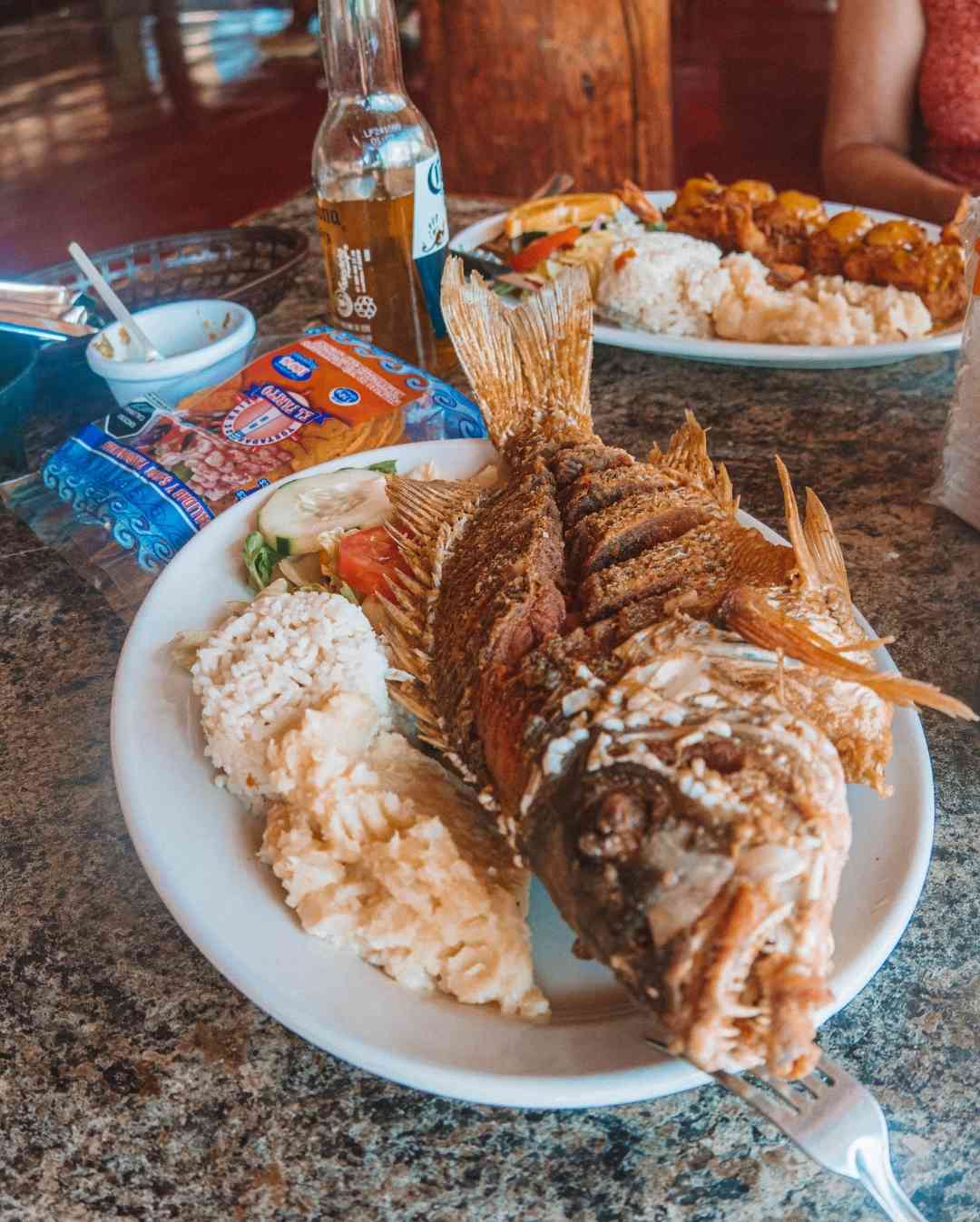 It did not have air conditioning but the place was open and has a palapa roof. I can say that Toro El Guero is a more popular lunch place. Every time I pass here, it's always packed from 2:00 pm – 4:00 pm.
What to order: Fried fish with rice, salad, and mashed potatoes ($15 USD). I must admit I was surprised about the prices at Toro El Guero. By Mexican standard, they are too high.
But when the fried fish came to my table, the fish was so big and I ended up taking it home and having it for dinner as well! Also, try the camaron de coco – 4 large pieces of coconut shrimp with rice and salad for $18 USD.
#2: Malaya
💲💲💲 | Burgers, Steaks | Michoacán 3695 | +52 612 138 3313 | Malaya Menu
Malaya is also in front of my house. It took me about 2 weeks after I visited Malaya restaurant but I already saw a lot of people come here too.
Another inviting fact is that I can smell their grill every day when I pass by – it was so hard to resist! Malaya is an outdoor-garden gourmet bbq style with large portions and aesthetically sophisticated food presentations.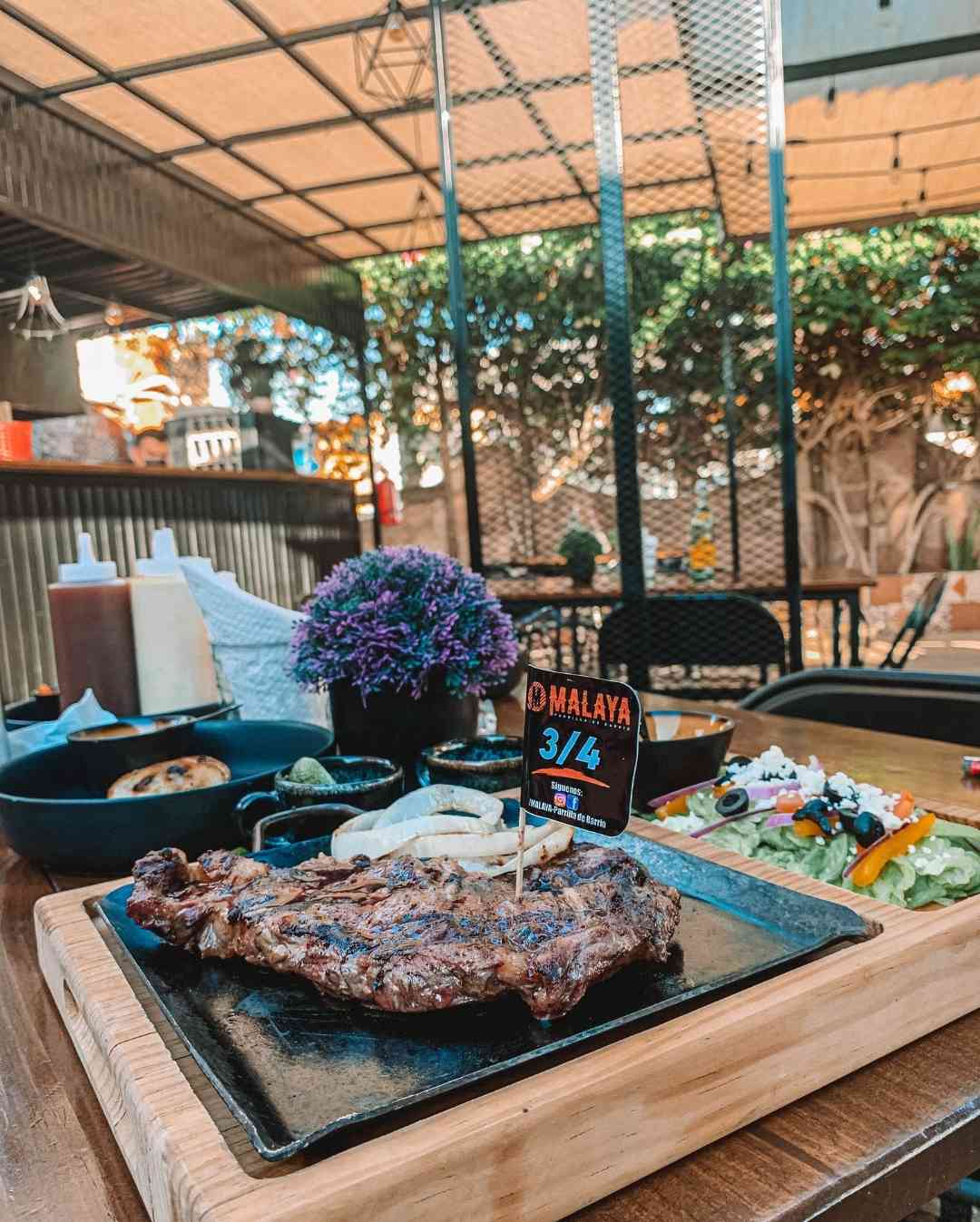 This is usually a dinner place since it's too hot to eat outdoors during the day but there are parts of this restaurant that are shaded. No AC area though. I also think that people come here for dinners to drink afterward. Malaya has a separate bar inside the restaurant that serves wine, cocktails, and beers.
What to order: Their menu is small and simple – choose between steaks and burgers, all cooked from the grill. The portions are large so you might want to share but I ordered a rib eye ($17 USD) and finished it myself.
The quality of meat is great and as we all know, anything that is cooked from the grill always presents a better outcome.
#3: Central 1535
💲💲 | Gourmet, International | Paseo Alvaro Obregon 1535 | +52 612 157 8255 | Central 1535 Menu
Situated by La Paz's Malecon, Central 1535 looks fancy because of the interior. It is very imposing and as a tourist, you won't really walk in the first time.
It took me a week to go to Central and my main reason for visiting was to find a place to sit down with my computer and work.
To my surprise, Central is one of the best La Paz restaurants that I visited. Food is great and the staff (all of them) are on top of their game to render great service.
Read: Planning to spend summer in Mexico? This will help

This place has air conditioning and they also keep the windows open for the ocean breeze to come in. Aside from the restaurant, there is also a separate bar inside that serves cocktails and really good coffee!
What to order: I ordered the only odd one on their menu – the homemade artisanal pasta. As soon as I asked the server if it's good, she immediately gave her approval and warned me that I should order it right away if I want it.
Apparently, it takes 20-30 minutes to prepare this pasta from scratch! The pasta was creamy and without meat. It's only with mushrooms but it was so filling I had to have it for takeaway!
#4: Tribu
💲💲 | American, Mexican | Paseo Alvaro Obregon 115 | +52 612 125 7666 | Tribu Menu
You'll normally go to Tribu for day drinking. It is known to be a party place at night more than a restaurant.
I came here for sunset drinks because their second floor has a great view of the Malecon. The ground floor has lots of television for sporting events.
I was here during the Copa Americana and Euro Cup so everyone comes here to drink, eat, and watch football.
I never intended to eat here as I assumed it was a drinking place. But when I saw the huge plates from the other tables, I couldn't help but order!
What to order: Burgers were appropriate for the occasion since I was already having a lot of beers. The portion was great and I shared it with a friend. It only costs $7 USD with fries on the side.
From there, I learned that Tribu is not only a bar but also a breakfast place. They serve American and Mexican food and they actually have a dedicated menu just for breakfast!
#5: Sofia Pizza
💲💲 | Pizza | Marcelo Rubio esquina 5 de Febrero | +52 612 103 1478 | Sofia Pizza Menu
There are many pizza restaurants in La Paz but I tried Sofia first because it was highly recommended in the La Paz expats group.
Sofia pizza is famous for its brick-oven pizza. They also have large portions of salads that are really good. I honestly prefer their salads over their pizzas. I've tried other better pizzas in La Paz.
Recommended: Visiting Espiritu Santo Island in La Paz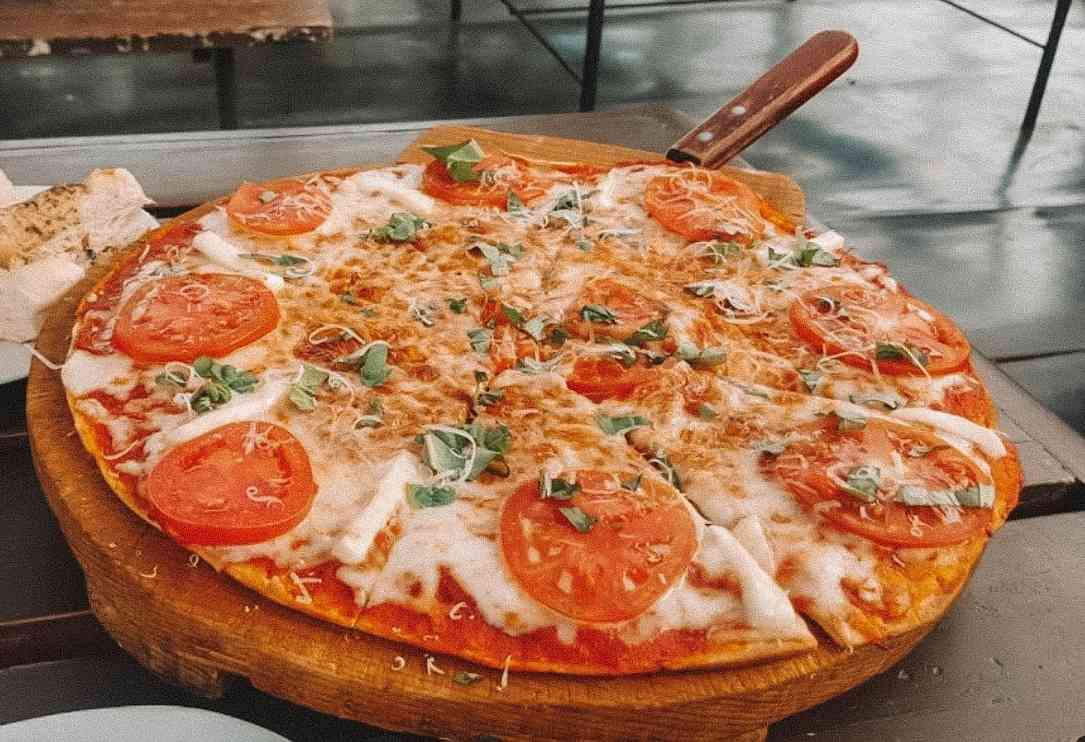 Sofia Pizza is very popular on UberEats and Rappi delivery but I encourage you to go to the restaurant because it's a great spot!
They have outdoor seating that has a full street-view so you'll have the chance for people watching. I do not recommend for you to visit during the day because it does not have AC – it will be extremely hot to eat here!
What to order: People would usually go here for pizza but I love their pasta and salads more. Order the Sofia salad to share!
#6: La Miserable
💲 | Mexican, Snacks | Belisario Domínguez 274 | +52 612 129 7037 | La Miserable Menu
This is not a place where you can go if you want big meals. Don't come here if you are super hungry. I've had that experience last year when I came here from a tour and realized their food portions are really small.
La Miserable is more of a mezcaleria and is ideal for those who want to drink more and have food. Dinner time is the best time to come here but they get easily full so it's up to you when to visit.
The food menu is small. There are less than 5 items but I needed to put La Miserable in this best La Paz restaurants list because the food is really great. Well done. I have nothing bad to say about it.
The staff is also very attentive and they work fast despite La Miserable being busy all the time.
What to order: Burrito for only $5 USD (pictured above). I actually thought it would be a large burrito like how the Mexicans do it but these are mini burritos – thinly rolled with marinated beef as the protein.
#7: Claro Fish Taco Jr
💲 | Tacos | Nicolás Bravo 33 | +52 612 129 7720
This is not the best fish taco in La Paz. I only came here because it's probably the only taco restaurant that is near the malecon.
Claro Fish Jr is a typical Mexican seafood restaurant with palapa roofs and no air conditioning. The kitchen is open so you'll see the live action.
Service is fast and food will come to your table within 10 minutes of waiting time. They also removed some tables and chairs to comply with the 30% capacity of La Paz's COVID rules so there's ample space.
What to order: Try the fish taco and the camaron de coco (coconut shrimp). Although their fish taco is average, the camaron de coco is superb!
☕ Support this blog's honest and transparent journalism. Help us add value to our content! Keep P.S. I'm On My Way content free for all by donating to our coffee fund.
#6: Fuego y Leña
💲💲 | Italian| Ignacio Allende 169 | +52 612 111 2489 | Fuego y Leña Menu
Fuego y Leña (fire and brick wood in English) is another place that is recommended in the La Paz expat group. They are well-known for making their own dough and their artisanal dishes.
They are also popular for their brick-oven pizza which I personally love and recommend. But what drew me more to Fuego y Leña is their salads, pasta, and all the small bites.
This is definitely good for wine and pairing night. Unfortunately, this summer they are only open from 6:00 pm so better head here for dinner.
What to order: Try all of them but I particularly love their starters like bruschetta and caprese. They also have a 'tapas' plate. Calzone is also a must!
#7: El Che Restaurante Argentino
💲💲💲 | Italian| Ignacio Allende 169 | +52 612 111 2489 | Fuego y Leña Menu
I first discovered El Che on Rappi. The Rappi app gives you a list of food delivery promotions in La Paz (i.e. 2 for 1, combo discounts, etc).
El Che had a combo sale (1 burger + fries + drink) for only 180 pesos ($9 USD). Burgers in El Che usually start at $12 USD so this was a good deal.
Despite being expensive by Mexican standard, El Che has big food portions for sharing between two people. Just look at the size of the burger in the photo above! I actually ate that for 3 meals!
We all know the Argentines will not put a bad name when it comes to meat so double thumbs up for El Che's food quality!
What to order: Try all their burgers and sandwiches. I honestly love their meat patties but their choriburger (chorizo) that comes with their very own chimichurri sauce is the best!
#8: Buzos
💲💲💲 | Italian, Gourmet | Zona Comercial | +52 55 5967 7419 | Buzos Menu
Like Central 1535, Buzos can be really intimidating and looks very expensive from the outside. Their lunch and dinner menu (big plates) start at $15 USD.
The area is big and they have both indoor and outdoor seating. If you sit outside, you will have a view of the Malecon and the busy main avenue of La Paz.
I only came to Buzos because my neighbor works here. She said the food is really great and that I should pay a visit. The plates are not really for sharing and you'll definitely get the quality of the price you will pay.
What to order: Their breakfast menu is amazing and is also the cheapest on the menu. The photo above is the famous Mexican breakfast, Huevos Divorciados that costs $7 USD. Coffee is also good here!
#9: Taco fish La Paz
💲 | Mexican, Tacos | Gral Manuel Márquez de León | +52 612 125 7075 | Taco Fish La Paz Menu
Featured in the popular Netflix show, Taco Chronicles, Taco fish La Paz is often flocked by visitors from all over the world. When I came here, I was surprised by their big (and strange) menu.
They only don't have fish tacos but they also have manta ray tacos, octopus tacos, and all the sea creatures you can imagine. Of course, I only came here for the fish tacos as I don't really believe in eating manta rays.
#10: Nim
💲💲 | International | Revolución de 1910 1110 | +52 612 125 7075 | Nim Restaurante Menu
Now, if you're in La Paz for a special occasion, you might want to take a break on the street fish taco and get a little bit fancy. Nim Restaurante is a great venue for that!
First, get cocktails at their bar for pre-dinner. They have a great indoor area that you'll enjoy while waiting to be seated. Normally, I'd call to reserve a table during the high season (October – May).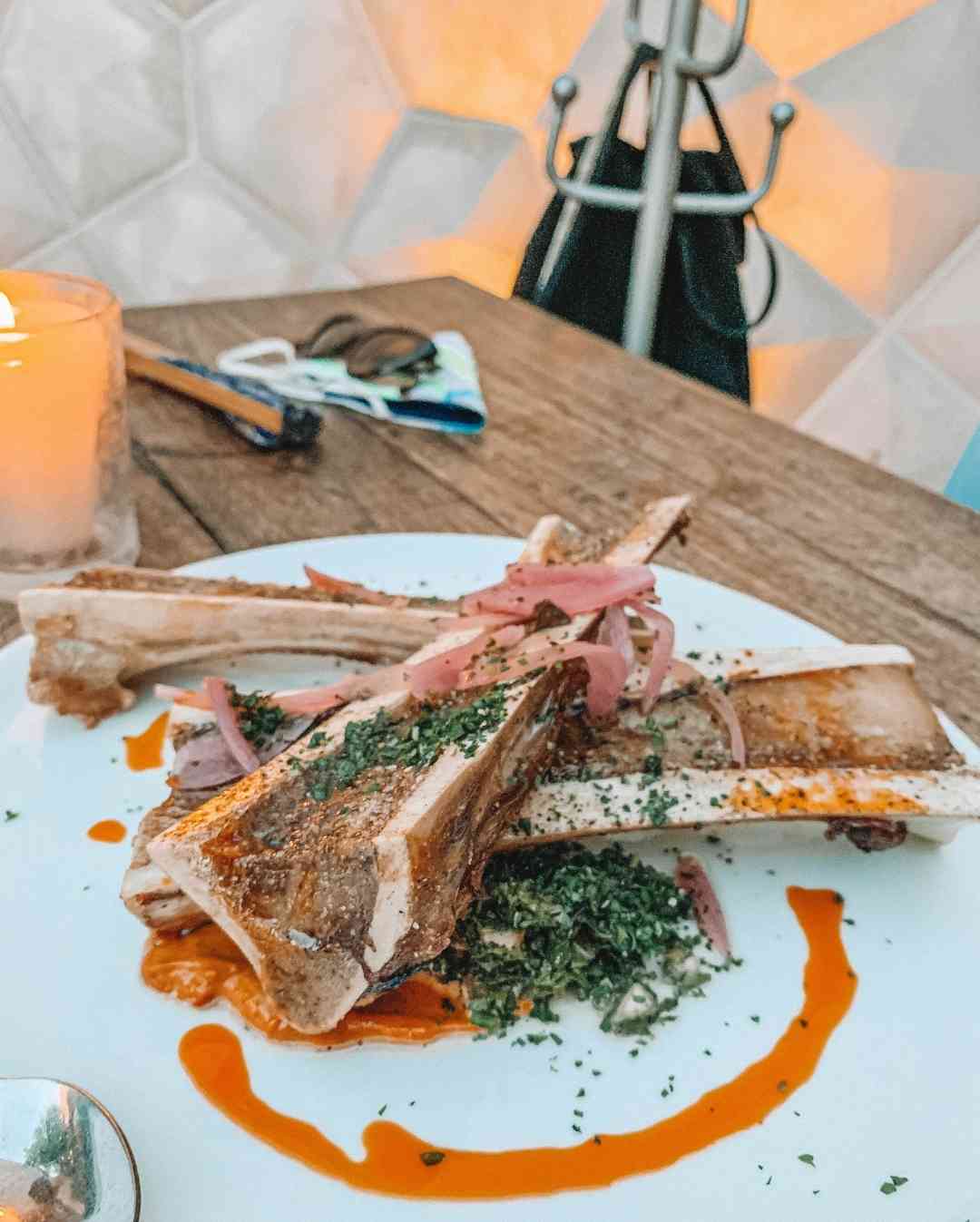 Always ask to be seated at their garden area, especially during the winter. Red wine lovers, I recommend the Corona del Valle mezcla del tintos (cabernet, tempranillo, and merlot). It's one of the best reds I had and it makes me so excited to visit Valle de Guadalupe!
Well, I know I said fancy but the most expensive meal at Nim is actually around $25 USD. By Mexican standards, that's pretty high as compared to the $1.24 USD fish tacos in La Paz.
What to order: Nim has a seasonal menu. I just went there last week and tried their bone marrow (pictured above), the lamb tajine, and the baked brie. Everything is good at Nim so feel free to order what you feel like!
Best La Paz restaurants on Pinterest: save it for your trip!
Trisha is one of those people who left their comfortable life to travel the world and learn about life. Her style is to stay in one place she likes for 3 months (or more) to know what it feels like to eat, cook, speak, and sleep in another culture that isn't hers. She'd like to believe she's not traditionally traveling but she just chooses to be somewhere else all the time. In no particular order, her favorite cities in the world are Barcelona, Buenos Aires, Hong Kong, Mexico City, and Tel Aviv.