Hi Trisha! I am traveling to Sayulita for 2 weeks on my own in November. Would love to hear from you on things to do and people to meet. I'm traveling solo so I'm quite nervous! Would appreciate your tips. Thanks!

Aamir, United States
Hola Aamir!
Thank you for reaching out and I am glad that you decided to go to Sayulita for your solo travel trip. I got really excited when I read your message because Sayulita is the perfect place for solo travelers!
You'll never be alone! This post is not about guides on where to eat or where to go but this is more of a meeting locals in Sayulita post. Meaning, I will definitely give you contact numbers of the cool kids in town!
Good luck and please reach out via Instagram when you arrive. I would love to meet you!
Xx,
Trisha
Activities in Sayulita for meeting locals
Sayulita and I: the love-hate relationship
I don't want to start this article on a bad note but I recently published a blog post about why I left Sayulita. In June 2020, I started Mexico Insider, a platform where you'll get to see the very local life of town, I put all my energies and efforts to it.
For me, Sayulita is not only about the beach or the luxury resorts (like what we always see on Google search) but the heart of the town is the people.
In this project, I went around town filming the stories of a lady selling the best fish tacos on the street for $1.50 USD, people who lost their jobs in 2020 and re-invented themselves by selling food from home, creative individuals who are contributing on the growth of the community, and so much more.
I had the urge to show Sayulita in this kind of imagery because the people here are really really really, genuinely amazing.
When I first came to Sayulita, I never really expected to build these long-lasting relationships and that honestly made me stay. One of the pros of living in small towns like this is that you'll never run out of people to be with.
Everyone is always greeting you on the streets! I actually had that trouble moving to the city because I got used to saying hola to every single person.
Unfortunately, that doesn't work in the city where I am now. As you can imagine, people who live in the city always walk fast and are looking at their feet while walking.
They will never engage in eye contact. I'm sure you're familiar with New York and London lifestyles. I just moved to Nuevo Vallarta 3 weeks ago and I never had that vibe of familiarity where I am now.
But anyway, I like experiencing new things so this change was really something I needed. I still go to Sayulita every week, and there were a lot of people who bet that I would not like Nuevo Vallarta and eventually move back to Sayulita.
But I am on solid ground and I love the change I am currently experiencing.
Meeting locals in Sayulita for long-term rentals
I have an Airbnb in Sayulita for digital nomads and most of the bookings come from this blog, honestly! If you want to book it, let me know because I always give blog readers a discount.
I also have my very close friends who run their rental homes in Sayulita, and in this section, I will introduce them to you. They will only not give you a roof to stay in but they are also very attentive to their guest's needs.
For long-term rentals: meet the Flores, Peralta, Plascencia family (they're a big family LOL)
A little story on how I got to be part of this amazing original Sayulita family: after my hostel living gig in Sayulita for 5 weeks, I decided to be an adult and move to a real house.
It was when I met Martin Flores. He was subletting his beautiful flat for 6 weeks as he was on his way for a trip to Madrid. The moment I saw his house, I took it right away because of his beautiful energy.
I believe he still rents his apartment up to now but his place is always booked so get in touch with him! Martin is also a physical trainer.
He can take you running in the jungles of Sayulita and just teach you how to be fit while you're on vacation.
I fell in love with Martin's place so much when he got back from his trip, I literally asked him if I could extend my stay. Unfortunately, it was also his personal home, so I had to move out.
However, he recommended his sister's rental apartment which I ended up living in for 14 months! Now, this is pretty exciting because Martin's sister, Yamara, and her husband Beto is the most Mexican family you'll ever meet.
They were living above me and in the beginning, I thought this was going to be a problem because of privacy. As it turned out, it was the best first home in Sayulita I could ever ask for because they treated me as part of their family.
Whenever they have parties in our shared backyard, I was always invited. I met their cousins, nieces, aunties, uncles, best friends – I swear, everyone was a part of my daily life! A little bit of a warning: they drink a lot so prepare yourself!
Unfortunately, the house I lived in is no longer available – it really is an awesome 2-bedroom house. But don't worry!
Yamara has lots of friends who have long-term rentals in Sayulita. She can definitely hook you up! Her husband Beto and her father-in-law Manuel do horse tours and fishing expeditions. I'll talk about these two later in this post.
Finally, I also had a chance to rent Martin and Yamara's mom's house for my friends who are coming to Sayulita short-term. Doña Martha has treated me as her daughter during my stay here and her husband Martin (Sr) also did the same.
They are very kind and they always have the intention to take care of you. Martin Sr is a surfer so you might want to tag along with him if you'd like to know about OG surf in Sayulita.
At his age, he still goes out of the water every day to surf. You'll always see him in the sea!
Martha and Martin Sr have several houses for rent so feel free to get in touch and see the availability! The one I rented from them has a courtyard and private parking in a very Mexican neighborhood and I really recommend you to stay in that space.
It has AC, too! Doña Martha is more of a Facebook kind of person so if you shoot her a message, she'll definitely answer all your questions!
Meeting locals in Sayulita through food stands
Now, this is going to be a little different because my where to eat in Sayulita list does not involve a lot of restaurants. I do have that post you can refer to if you feel like eating Western.
I love all the Sayulita restaurants but I do not think that they still need the exposure. They are already established.
The problem I've seen here while trying to study on how to promote Sayulita as a tourist destination was the lack of exposure to the street food vendors whom, through the years, I have become very fond of. If you truly want to support local, then you should visit all these places with all their amazing stories!
Churros and burgers with Tamara, Radaii, and Jenny
I have so much love for these guys! This trio was educated as real chefs but they woke up one day and decided to leave the rat race.
Originally from Veracruz and Puebla, they bought a food cart and traveled every year in different cities mounting their pop-ups in every Mexican city they pass through.
They ended up in Sayulita where they stayed longer because they loved the lifestyle. "It's a place where we could be whoever and whatever we want to be," they told me.
I am not exaggerating but their churros are the best in town! If you are also a fan of meat burgers, I highly recommend their Hawaiian burger which has a touch of different cultures from their travels.
It's not your typical Hawaiian! These guys are truly generous and are very down to earth. I would love if you can give your support. Their food is not expensive!
You will find La Fogonera's food cart at Calle Playa Azul 338. Also follow them on Instagram, @fogonera.sayulita.
Late-night eats with Diana
Now that I am writing this, I remember flashbacks of Haburguesa Papo's after-party eats. I always come to Diana's food stall because it is the only place open after curfew.
Since 2020, we had a midnight limit to all the bars and restaurants but Diana stays open to serve the drunk youngsters of Sayulita.
Diana and I first met when we did a best burger series with her at Sayulita Insider but after that, we've been in touch and have remained good friends.
You can find Diana at the southside of Avenida Revolucion (near Chillum and Aaleyah's). You won't miss her spot especially if you watch her short video above!
Diana doesn't have a social media channel yet but I am currently helping her build her social profile! Will update this post when I'm done with it.
All-day breakfast? We have that, too!
Now, in this case, I would like to recommend a very sustainable restaurant to you. Chocobanana is an all-day breakfast restaurant by the plaza.
You might wonder why I am asking you to support a restaurant while most of this list is street food vendors but the woman who owns this is a very interesting person.
Tracie Willis and I are soulmates and have been working on a lot of environmental projects in Sayulita. I will talk about that later but it is very important for you to know that if you eat at Chocobanana, you will be supporting our environmental endeavors.
This is a very sustainable restaurant that doesn't use plastics, imports biodegradable materials from the US, does not use takeaway cups (you have to bring your own), and basically just encourages other restaurants to do the same. It's not very hard to find this place – they are literally next to the plaza!
Tacos al pastor with Brandon
The guys at Tacos Ivan are my first friends in Sayulita. Brandon, the son of the owner (Ivan) has been in Sayulita for a long-time serving the best al pastor tacos in town.
You will normally find them by the plaza and they also have another stall in the center, in front of Telmex. Aside from al pastor, they also have adobada, gringa, tripa, and all the traditional Mexican tacos that you need to try.
Like Diana's burgers, they are also the go-to stall for late-night eats but for me, I can have their tacos anytime of the day!
Tacos Ivan is a family-run restaurant so when you go visit them, you will see Brandon's sisters, cousins, nephews, uncle – it's a whole family affair!
I am also very close to them so I got to know their family better. They love what they do and I feel that's what's most important in small family-run businesses like this.
You're going to love their staff, too! My second mom, Tia Angelica will take care of you when you come. Just tell her you are my friend and she will be all in!
Javier and Francisco, the guys at Alquimista
Another small restaurant at the corner of Libertad and Revolucion, Javier and Francisco are very fond of me because I always go there for their chilaquiles and their milanesa!
These guys are only open at a certain time of the day but Alquimista surely is a digital nomad hang out. They have decent wifi and their tables and chairs are by the streets so it really is a great place to have a meal. I really love their aguas frescas, too!
Meeting locals in Sayulita: the nightlife gang
I already have a post about Sayulita nightlife but this time, I will give you a list of all the cool people to connect with when you want to party in town.
I need to tell you though, it's not that hard to go partying in Sayulita. If you go out on your own and go to the plaza, you will definitely meet a lot of interesting people!
In one instance, when I was new here, I literally just sat down at Public House (it's a sports bar), and the next thing I knew, I was eating and drinking with 4 other people.
Sayulita is a very open society. All you have to do is start with small talks and you're good to go. You will be surprised how many people you will meet here just by small talks!
The bartenders
David works at Cava and Don Pato's. He's a very approachable guy and will also do anything for you! He's been my friend for a long time now and he's someone who will definitely jump a cliff with me.
He recently started a tequila-tasting company, so if you are up for joining his groups, this will be a great way to meet more people in town!
Miguel Angel will definitely give you a great time if you visit him at Cava. Just sit on the bar and say hello and he will definitely chat with you all night while at shift!
He's also very good at doing cocktails and I recommend you try his Marta e Ines, a mezcal cocktail that I really really love.
Kevin, Vanessa and Sebastian from Yambak are really beautiful people! You will definitely not miss Yambak because it's where everyone goes at night.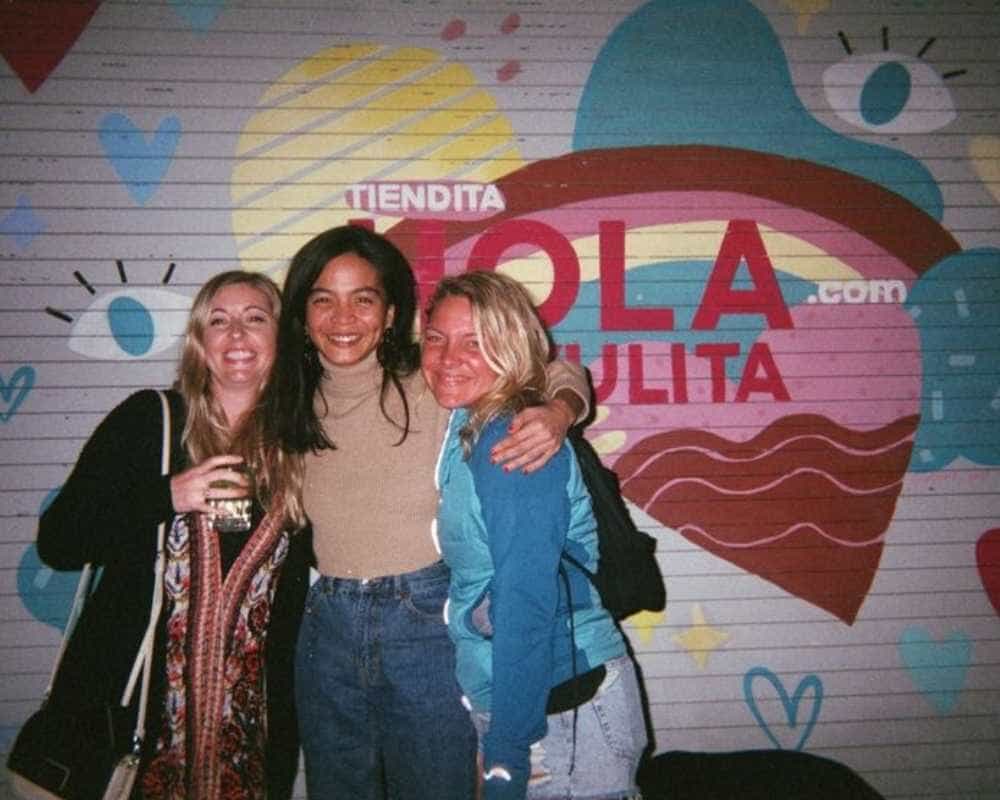 If you find these three, please tip them well because they really work hard! Apart from serving you craft beers, they will definitely give you some tips in Sayulita.
Who knows, you may even end up being friends with them!
Nube from Atico, an all-female run bar is a delight! I've worked with her many times, in many instances. She's one of the organizers of the free food drive in the pueblo where they served free food for everyone for 6 months in 2020.
She really is very special to me and I hope you can pop by her workplace and have a chat with her!
Below are more people to meet in Sayulita (their Instagram handles). Just send them a message and they will surely get back to you and meet with you, especially if you are traveling alone to Sayulita!
@max.mignot
@madyinmexico
@juliacherbit
@gen_arza
@rodrigodragonneti
@leave.it.to.lu
@jfloe
Overall, meeting locals in Sayulita is not really hard. Sayulita has a very outdoorsy lifestyle so I really recommend you to go out there and drink a beer by yourself.
You will be surprised how you will end up the night with 100 other people.
Change how you travel and see the world by going deep into the culture. Come and travel with me!
Trisha is one of those people who left their comfortable life to travel the world and learn about life. Her style is to stay in one place she likes for 3 months (or more) to know what it feels like to eat, cook, speak, and sleep in another culture that isn't hers. She'd like to believe she's not traditionally traveling but she just chooses to be somewhere else all the time. In no particular order, her favorite cities in the world are Barcelona, Buenos Aires, Hong Kong, Mexico City, and Tel Aviv.