Are you considering to be a Mazunte digital nomad? Is this small pueblo magico the right fit for you? Read on and see the Internet situation, cost of living, and many more!
Reader Mail: Hello Trisha! Your digital nomad blogs about Mexico are helping me a lot. My name is Barbara and I am from New York City. I never traveled outside the United States but now I am considering moving to Mexico because life is still not normal here in NYC. I work at home so I thought, why should I stay here and pay expensive rent when that budget can stretch further in Mexico? You really inspire me to do this so thank you! I saw that you were in Mazunte recently. Are you able to provide insights about being a Mazunte digital nomad? Since I am from the big city, I would like to experience small-town living. I just want to see if it's for me but I am worried about the Internet. Again, thank you so much for the work that you do!
– Barbara Ferry, USA
Hola Barbara,
Thank you for being here and I am glad you are considering Mexico as your digital nomad destination! Wow, I can't imagine the shift from NYC to Mazunte and I am so excited to hear about your experience if you ever push through.
I visited Mazunte twice and I had different experiences in both situations. Personally, I would not recommend you to make Mazunte your base during the summer which is also the rainy season (June – October). Internet is really bad at this time. You can definitely enjoy Mazunte during the high season then find another base half the year. The options in Mexico are endless!
In this post, I will share with you all my experiences about being a Mazunte digital nomad. If you have any questions that weren't answered in this post, feel free to write to me on Instagram. Good luck and I hope you make it to Mazunte!
Xx,
Trisha
Why Mazunte should be your next digital nomad base
Are you wondering if Mazunte is for you? Well, like many Mexican beach towns, Mazunte is not for everyone. There are many pros and cons to choosing Mazunte as your digital nomad base. First, you need to identify the kind of digital nomad that you are. Most digital nomads who base themselves here love small towns and over-familiarity. Mazunte is a very small town but everyone falls in love with its laid-back vibe.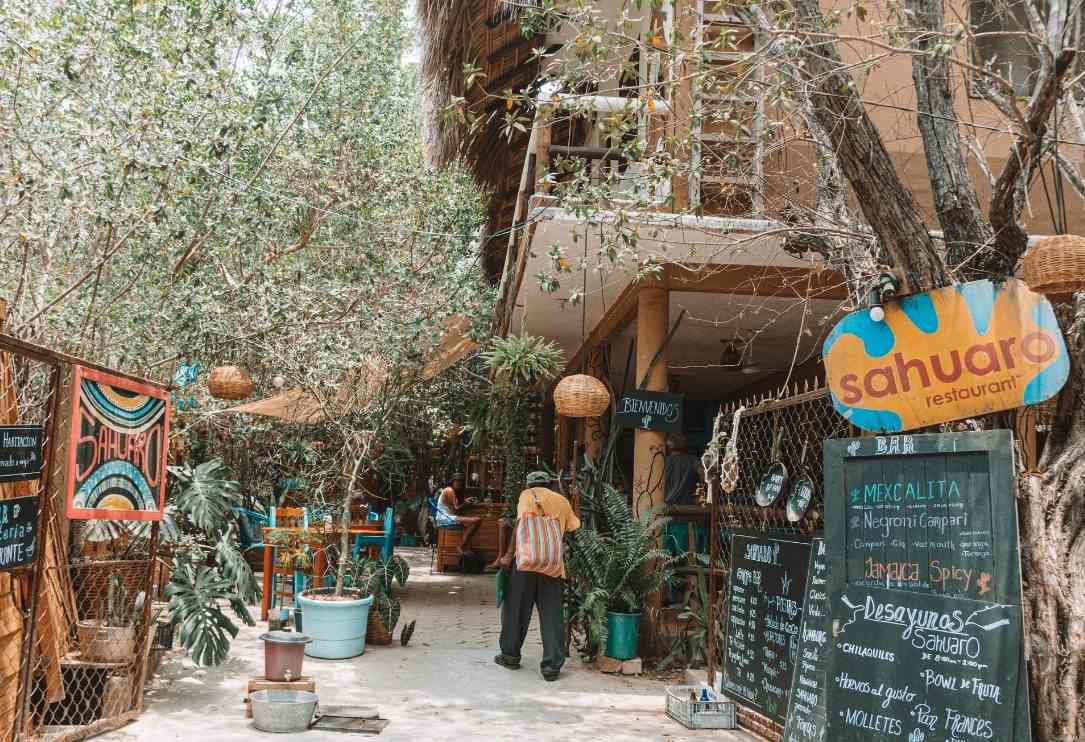 "Laid back" is a very broad term. Personally, I feel like Mazunte is quiet, definitely way quieter than Puerto Escondido and Sayulita. Parties are more private (like hostels or private homes). When I came here, I realized it is so small that there aren't really places to gather, unlike Sayulita nightlife where everyone can just go to the plaza and will definitely encounter parties without even looking for it.
If partying is important for you, then Mazunte isn't a place. But if you like nature, outdoors, super good vibe but still get the chance to make friends, then you can definitely enjoy Mazunte as a digital nomad base.
Personal experience in Mazunte as a digital nomad
I was here two times and in those two different times, the Internet performance was different. As you all know, I did this trip all over again because during my first Oaxaca road trip in September 2020, it was the rainy season so I ended up doing nothing for the duration of the whole trip. All I did was drive and chase the sunshine all over the state of Oaxaca. Never happened. At the time, the Internet was shit and it was impossible to do anything.
I was very surprised by how decent the Internet was on my second trip (April 2021). I never thought fast Internet exists! However, this is not consistent so read the next parts carefully. This was during the high season but it's the best time to go to Mazunte. I also did not notice any significant price change in terms of food and accommodations. In some places in Mexico, prices change depending on the season but in Mazunte, that wasn't the case.
The digital nomad scene in Mazunte
There were very few digital nomads when I came to Mazunte. In fact, I think I only met two. Most people who live here have actual jobs (i.e. working in bars/cafes or expats who are owners of hotels). I have not actually met any digital nomad who works on the Internet who particularly chose Mazunte as a digital nomad base. Again, you need to identify what kind of DN/traveler you are before you decide to stay here.
But making friends or being a part of the community is not that difficult. It is so small that you'd probably know everyone in a matter of a week. Everyone is super friendly and has stories to tell. There weren't a lot of North Americans as I've seen mostly Latinos and Europeans. I think the North Americans just swing by here but not really stay for an indefinite time. I feel like describing the Mazunte crowd is important especially that most of the people who read this blog are Americans often avoiding "white" areas. Thankfully, that's not all of Mexico (yet). You can still see a very strong Mexican culture present in Mazunte.
There are two big Facebook groups in Mazunte that you can join namely MAZUNTE and Mazunte Magico.

Internet in Mazunte
It's great but again, it's seasonal. The Pacific Coast experience heavy rains from the months of July – September but from October, expect sunshine and warm weather. During my visit in the rainy season in September, the town's Internet shut down so it was impossible to work from here. That was my first time to visit Mazunte so my general impression of this small town is that it has shitty Internet. During my second trip, I was very surprised about the Internet speed in Mazunte. It was very decent and enough for me to do whatever it is that I needed to do. If you are a Youtuber or need to upload/download videos, it can still get pretty challenging but overall, the calls were very clear and were not buffering. I even had a one-hour conference call one time without any problems!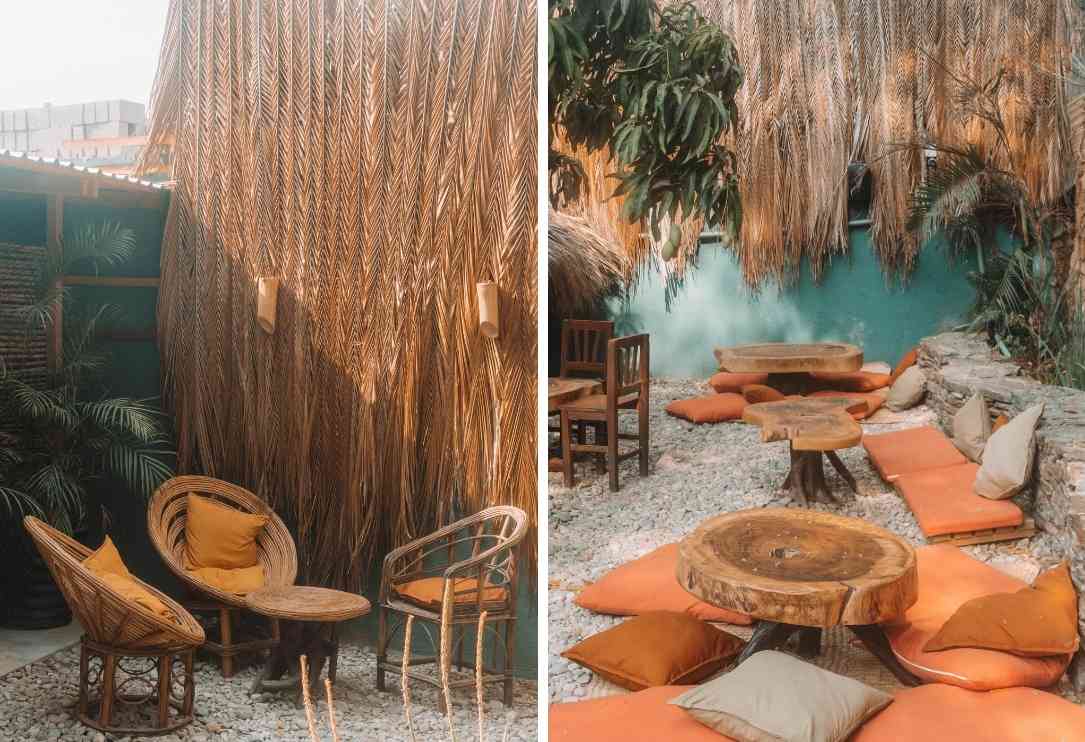 It's not just the season but it's also Mazunte's infrastructure. It is still one of the most untouched areas in Mexico so things are not pretty modernized yet – no high-end Wifi satellite or fiber-optic connection. I can assure you that you can do basic stuff like WordPress, Zoom, and Gmail. Many digital nomads fall in love with Mazunte but since the Internet is sometimes very challenging, some people go here during the high season (October – May) then move to another area in Mexico for half the year. My advice is to spend a few weeks in Mazunte first and see how you feel about it before committing long-term. I am 100% sure that you will like it though. I really love Mazunte but I will not personally live here full-time.
Cost of living in Mazunte
While most pueblos magicos in Mexico should be expensive, Mazunte is actually fairly priced.. think Puerto Escondido. I asked one of the locals here and she said you can get a studio for as low as $150 USD per month. If you check prices on Airbnb, nightly rates range from $150 USD but you can always haggle the price if you speak Spanish.
I stayed in a guest house here with 3 other friends and it only cost us $45 USD per night (about $11 USD each). It was by the cliff of Punta Cometa so there were amazing views. However, I know that digital nomads will prefer their own apartment in Mazunte.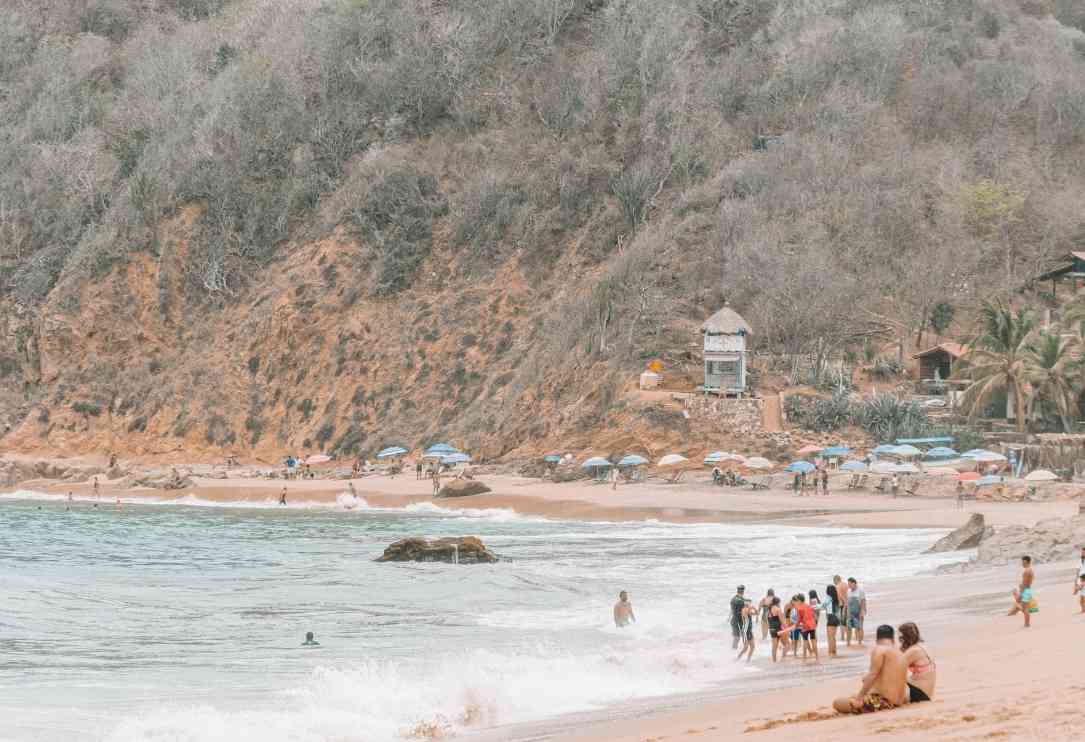 Mazunte has more holiday homes than local apartments. When I first went there, I actually wondered where local people lived because you don't see any local homes that are visible within the town. You have to go inside the small streets to be able to find them. It's not like Sayulita where you see the local homes within the city center.
Shopping in Mazunte is also very cheap (compared to Zipolite and San Agustinillo). You would most likely eat out because the better Internet is in the cafes. If you plan to eat out daily, expect to pay $10 USD for a meal and about $2 USD for coffee/tea.
Mazunte cafes with wifi
When you walk the strip of Mazunte, you will see a lot of cafes but not all of them have reliable wifi. When I was staying there, I practically relied on hotel wifi but here are some of the cafes I tried that have a decent Internet connection. Also, note that most of the spaces are not set up as a working space. They are very small and are always full especially during breakfast time. Make sure to come early!

Chido Wan
Probably the best cafe with decent wifi in Mazunte. I compared all the speeds in all the cafes and this was the one that performed best so digital nomads flock to this cafe – you need to start your day early in order to secure a working spot at Chido Wan. What I love the most about Chido Wan is you can spend all day here as they have big and heavy savory meals like fish dishes and tlayudas.
📍 Get directions to Chido Wan »

Cometa Cafe Mazunte
I loved going here because it was so close to the place I was staying in. They have a wide selection of drinks (coffee, macchiato, cappuccino, latte, smoothies, frappe, etc) but I found their food selection very limited. Not all tables have outlets so if you want to work here all day, you need to get a good spot.
📍 Get directions to Cometa Cafe Mazunte »
El Gecko Cafe Bar
This is a really small space but I find their tables very comfortable to work in. Surprisingly, for a small place like this, they have more food options. Coffee is really food and you need to try their homemade pastries, too!
📍 Get directions to El Gecko Cafe Bar »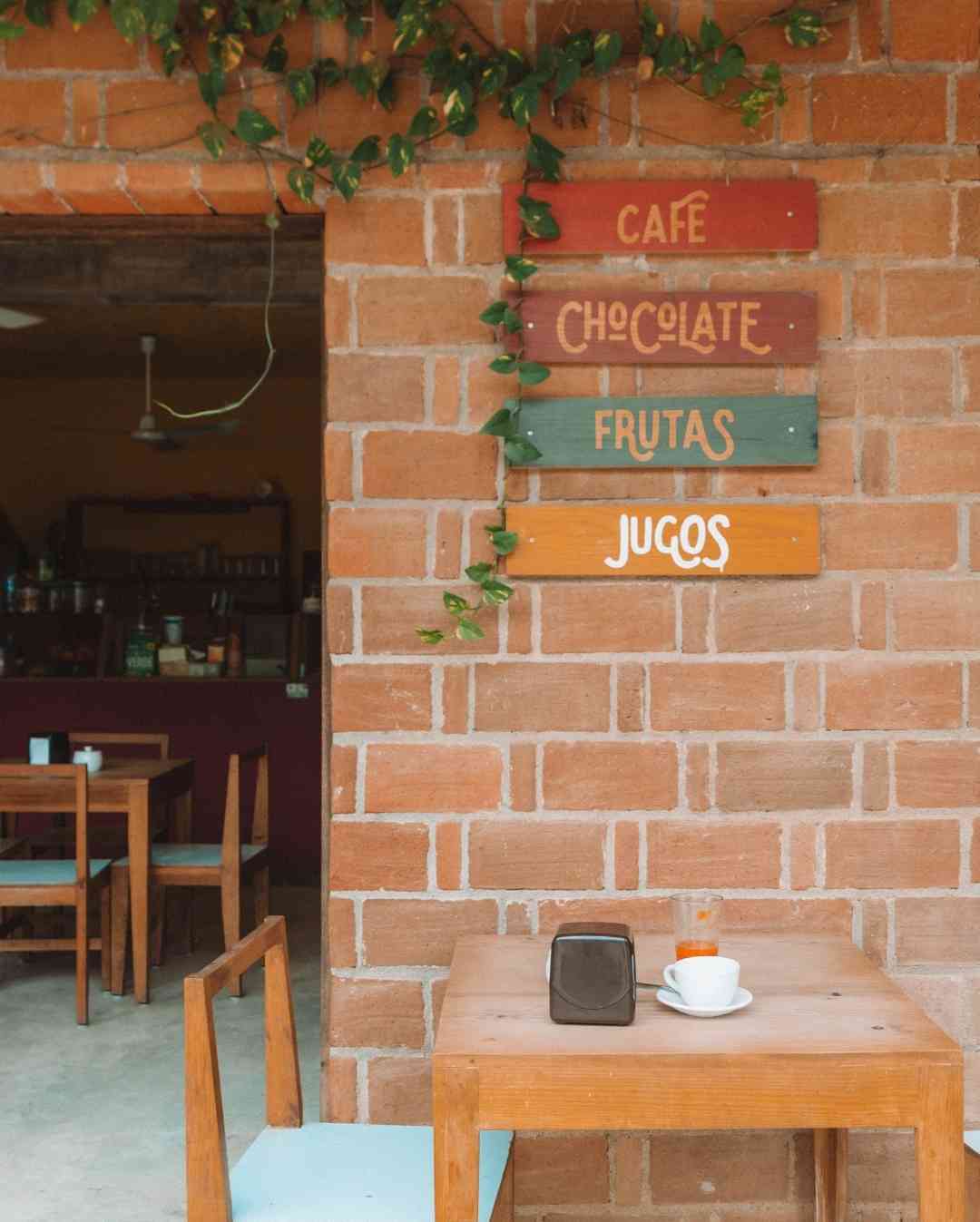 On my first trip to Mazunte, I went to Cafe del Mar Jazz Lounge but when I visited last month, they were temporarily closed. The same goes for Icaro Cafe, a super cute outdoor cafe in Manguito Hostel. If you are in the area, try to see if they are open. Businesses in small towns like this don't really update their hours on the Internet.
Mazunte Digital Nomad Guide on Pinterest: save it for later!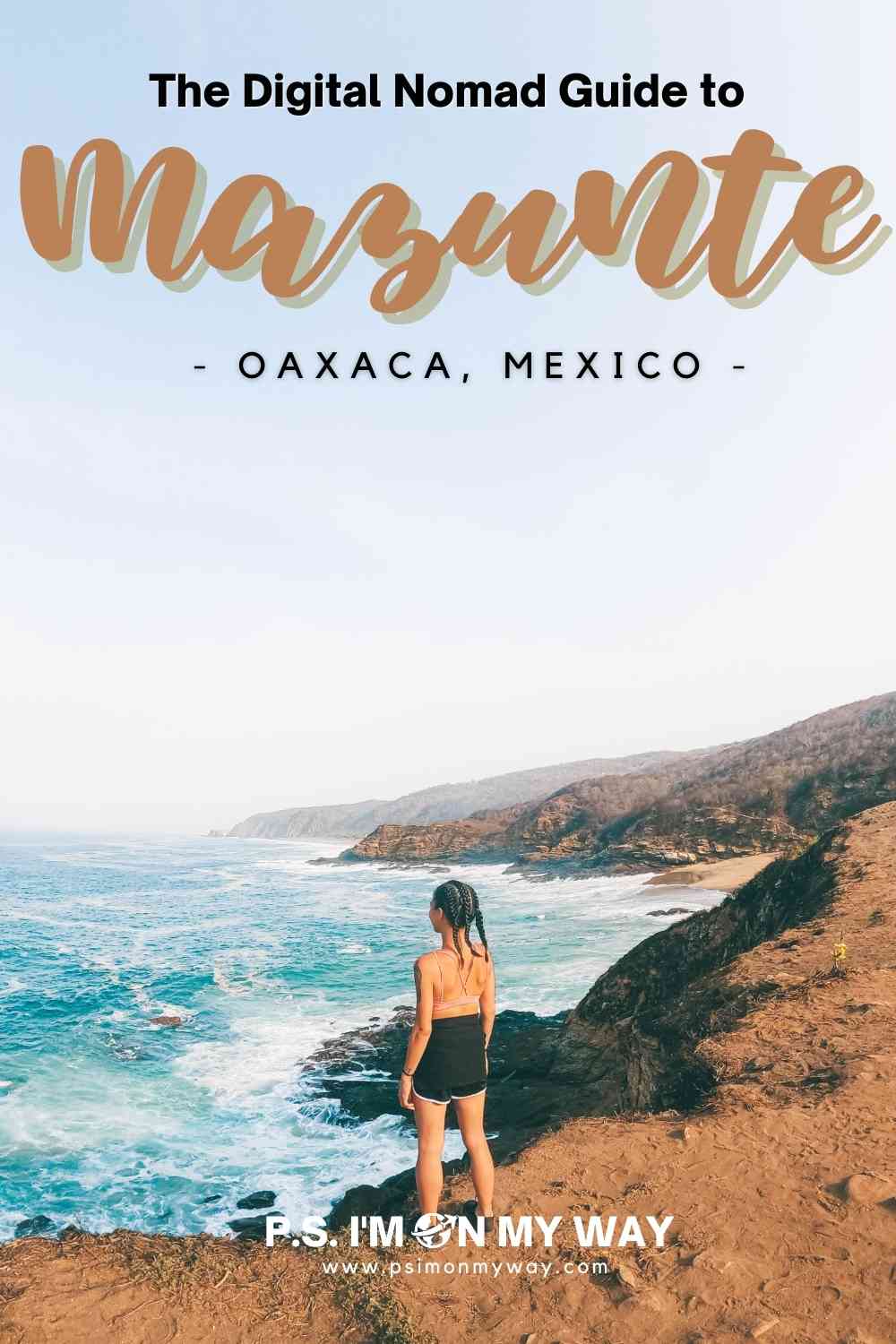 ☕ Do you like what you're reading? Does it help? I take a lot of time creating valuable and meaningful content. If you like to support my content creation and my blog, consider donating to my coffee fund. Thank you in advance!
Trisha is one of those people who left their comfortable life to travel the world and learn about life. Her style is to stay in one place she likes for 3 months (or more) to know what it feels like to eat, cook, speak, and sleep in another culture that isn't hers. She'd like to believe she's not traditionally traveling but she just chooses to be somewhere else all the time. In no particular order, her favorite cities in the world are Barcelona, Buenos Aires, Hong Kong, Mexico City, and Tel Aviv.