This living in Oaxaca guide was written by Luna Rodriguez Natal, a travel writer and content creator from Madrid, Spain. In this post, she will share all her insider tips about living in Oaxaca, Mexico!
👋 Hola! My name is Luna. I left home for a 3-month stay in Mexico and I am currently in month 17th of my 3 months getaway! Crazy, isn't it?
I planned a 10-day trip to Oaxaca from my former home in Playa del Carmen (Mexico), but I instantly fell in love with Oaxaca de Juarez and never left after my visit!
This is a very recurrent story to many expats and Mexicans too. One comes for a few days to Oaxaca City, and magically many months later you are still there!
When I first landed in Mexico, I lived in the Caribbean. As a Madrilenian, living by the beach in the Riviera Maya was dreamy for a few months, but the explorer/adventurer in me was calling for a change.
I decided to visit the states of Chiapas and Oaxaca on a 2-month tour that ended up becoming an eleventh months stay in this side of the country – nine of these months, I lived in Oaxaca Centro.
💨 Need help moving to Mexico?
🫶 Living in Oaxaca as a foreigner
Every time I went on a 2 or 3 weeks trip, I came back home to Oaxaca to find flowers waiting for me as a welcome gift! That's how my landlord and his Oaxacan family appreciated me and I can't find this more adorable!"
It took me a bit to find a decent home in Oaxaca that would meet my low budget and location requirements.
I wanted something in Centro, so I waited patiently and after 2 weeks of living in hostels and Airbnb homes, I found the perfect 1- Bedroom studio.
It was very Oaxacan – I can't find a better word to describe it – a bit old, and rusty, but perfect for what I needed it for. It was in a private street so it also had the feel of living in a very small Mexican town.
Every day, I would have vendors selling tamales or handmade bread right at my doorstep. They would come and ring their little bell so you would know they're around and you could decide whether to get out and buy any of their daily products. I found this very cool – I don't get these things in Madrid!
I spoke Spanish to most of the local people I interacted with. English is spoken in Oaxaca too, mostly amongst foreigners. There is a young community living in town, (foreigners and Mexicans) so there is always a way around with anything you could ever need as an expat. There is also a wonderful and very stable community in Oaxaca. Like nothing I have personally seen before.
Since my very first week in Oaxaca Centro, I felt very welcomed by people here. Meeting other expats is also very easy and is amazing to see how digital nomads decide to stay longer in Oaxaca once they know their way around here.
They say there are 3 stages as an expat in Oaxaca. You first come for a few days and end up extending your stay (stage 1). Then you adopt a stray dog (stage 2).
After that, since you are now growing roots in the city, you eventually find a romantic partner (stage 3). I hardly made it to only keeping it low and remaining in stage 1 (I was offered to adopt dogs every now and then), but I know deep down that is something I want a bit later in my life.
Culture in Oaxaca
Oaxaca is the most culturally diverse state I have lived in in Mexico. It kind of makes sense, since it's the state with the largest and most variated indigenous community groups in the country.
After living and visiting other states in southern Mexico, I found Oaxaca very refreshing. Although is quite a touristy state it also preserves many traditions and local businesses in Centro.
In fact, there is a regulation that prohibits international companies to have a presence in Centro; you will be able to find several of these companies in Colonia Reforma though, about 20 minutes by walk from Zocalo.
Inhabitants in Oaxaca are mostly Mexicans, either Oaxacan or Mexicans coming from other states. You will daily see indigenous groups too, these are people that normally come to sell their products (mostly fabrics or food) to then go back to their villages nearby.
The expat community in Oaxaca is big and keeps growing. Most of the expats here are from the United States, Canada, and some areas from Western Europe.
Do not expect to find the same type of American as in the Caribbean though. I found that most of the foreigners in Oaxaca knew what they were to expect in the city.
They've come with a greater knowledge of the Mexican traditions, they are willing to merge with locals and most of the time are also interested in food and the cultural and historical heritage of this area of Mexico, something I also vibe with and the reason I felt so comfortable here too.
Living in Oaxaca as a single woman
Living in Oaxaca as a solo female traveler has been a dream. As a traveler, I seek places with cultural and historical heritage. I like to get deeply involved in traditions and I always love to merge with locals.
Oaxaca has given me all this and I have never felt more comfortable living outside my country. Life is very chill and peaceful and I have always felt quite safe.
Oaxaca is a great place to work as a digital nomad and despite traveling by myself, I have always been surrounded by the most amazing locals, travelers, and expats who have become good friends!
"I accidentally spilled my entire coffee on my laptop – that's it, I can't work anymore. I'll have to go back home" – This was the first thought that came to mind when I tragically lost my laptop for good on my second month living in Oaxaca, but guess what?
Two expats friends instantly brought their screen and computer to my house. I was saved! Community is a real thing in this city.
As an expat, do you try all the food in the places you live? Because here is one thing, if you love eating as much as I do, Oaxaca will give you that.
It is the place to please your palate and is also the world's capital of Mezcal. My life is happy when my belly is happy and in Oaxaca, I found real happiness.
Food in Oaxaca
Oaxaca is famous for its food, and there is no argument about it. It is considered the capital of the food of Mexico. Mexico City indeed offers a wider variety of food (including international cuisine), but in Oaxaca, you will find the most amazing (and real) Mexican food.
Chefs all around the country come to Oaxaca to learn how to cook the best food from the best chefs. Pretty much everything you see in Oaxaca markets is super fresh and goods travel fresh to many supermarkets, houses, and restaurants in town.
I must confess that although I love going to restaurants, I found that my favorite thing is to seek the best street food in Oaxaca!
The price range for eating in a restaurant can differ, but there are quite affordable options in Centro too. Price can go from $10 USD to $40 USD depending on the restaurant.
However, one cannot say they've experienced Oaxaca if they haven't tried its street food. Memelas, tlayudas, tortas, tacos, café de olla, tejate, street burgers, quesadillas, etc all good, all super cheap (street food can cost you up to $ 2 or $ 3 USD and is quite filling).
Dating in Oaxaca
I don't have much experience dating in Oaxaca, but I do have an observation here! The city is very small, so whoever you decide to date, you might see that person soon enough hanging out in the same bars, buying groceries, etc.
So my advice here is to choose carefully who to see/date to keep having date-free spaces where you also feel comfortable! I haven't used any dating app in Oaxaca neither, but based on my friends' experiences, options are limited here too.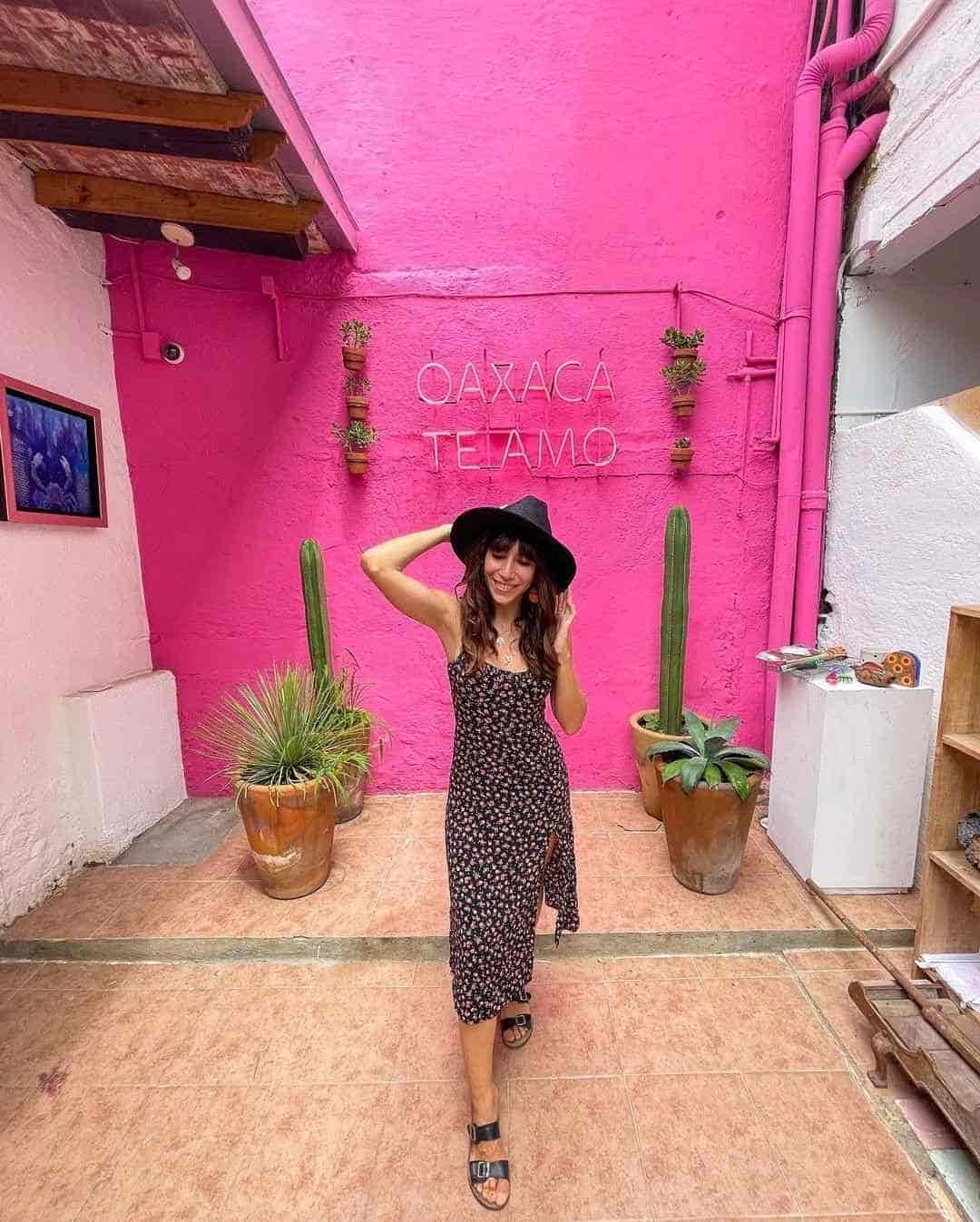 It is common to find photos of your very own friends trying to be lucky on those apps. It's a fun scene but also a very intimate one.
To me it works best to chat with people in bars, the moment I find out they're just passing by and not staying in town for long, they become a target LOL (this is how I protect myself and how I make sure to keep my travel goals on point!).
But hey, you don't have to be like me, there are still many chances to find something more stable since many people decide to stay in Oaxaca. The city is full of love birds kissing on every bench!
💲Cost of living in Oaxaca Mexico
The cost of living in Oaxaca is great in comparison with other digital nomad areas in Mexico. For about $ 300 USD you can have a house and have your groceries figured out.
This price is based on a low budget in a 1 – Bedroom studio in Centro, which was my case. However, I would say (if you are not on a tight budget) that the average for a nice well-located apartment in Centro is about $500 USD a month.
This will depend on where you do groceries too and your budget for extra activities and eating outside.
The cost of living in Oaxaca is great in comparison with other digital nomad areas in Mexico. For about $300 USD you can have a house and have your groceries figured out.
There are several bank options to withdrawal money. Most of the banks are near the main square (Zocalo), so if you live in Centro you might still need to walk between 5 to 10 minutes to the ATM (which is nothing!).
Oaxaca like many other world cities has international banks but taking money out abroad has always extra fees so make sure you have your travel cards handy.
Cost of living in Oaxaca: apartments for rent
As I mentioned before Facebook groups are the best way to find an apartment in Oaxaca. Finding a good rent might be a bit more difficult since the best apartments usually fly, so you have to be very alert and react pretty quickly when a new announcement is published. The most active Facebook groups are those that I have mentioned above in the "how to find places to live" section.
Options in Airbnb are very limited. For me, Facebook groups worked pretty well. It is always easier and faster to find options and houses to visit almost daily in these groups. Some that you can have a look at are Oaxaca Housing and Oaxaca Housing Rent / Buy / Sell / Trade.
👍🏽 Pros and cons of living in Oaxaca
The best part of living in Oaxaca is how comfortable as an expat life is. Rents are very affordable, food is very tasty and cheap.
Community is a wonderful thing and the number of activities outdoors and events happening in the city will also have you entertained. It is difficult to get bored in Oaxaca.
If your Spanish is very limited, it is true that the language can be a bit of a barrier at the beginning, but is also the perfect place to learn Spanish.
Do not worry if this is your case though, English is spoken in the majority of the places you would normally go to bars, coffee shops, events, etc.
Several teachers are living in the city and also language schools too, such as the Oaxaca International Spanish language School or the Español Interactivo Language School.
One con I would say are the connections between the areas on the coast of the state of Oaxaca and some main international cities too.
Even though there are some direct flights to/from Oaxaca, most of the connections are via Mexico City at the moment.
If your idea is having Oaxaca as a base, you will need to take this into account. This said, I traveled a lot around Mexico and always find a way to get to places, so is not the end of the world, but not the easiest access neither.
And of course, if you're coming here as a single person and are ready to date casually, it might not be the best place either, options are limited and Oaxaca is just too small!
✨ Living in Oaxaca Mexico tips
Connecting with fellow expats in Oaxaca
Meeting expats is quite easy in Oaxaca de Juarez. For starters, many of us hang out around the same places, so most of the time you will find other expats even if you don't text your friends to meet up!
There are a couple of go-to Facebook groups that I used on my very first weeks when I moved to Oaxaca, these are Expats Oaxaca and Oaxaca Community (locals and expats), but I must say everything is social in Oaxaca is happening on Whatsapp. The group Oaxaca Social Meet Up is the biggest and the most active.
Living in Oaxaca: do you need a car?
I work from home, but I am also flexible to work from coffee shops. Living in Centro is great in this sense. Oaxaca is a very walkable city. Only when I needed to go a bit further than usual I would take a taxi/didi or a local bus.
Taxis in Centro cost from $ 2,50 USD to $ 3,50 USD if you travel to any of the surrounding boroughs and buses prices are around $ 0,35 USD every time you step into one.
Taking the local bus though is quite a unique experience. I recommend you to do this at least once! Full of locals, sometimes with street musicians singing inside and if you're lucky enough, you will find people carrying chickens too! It's quite a fun experience!
There are many things to do in Oaxaca
Oaxaca is one of the most significant states in terms of things to visit (and eat) in Mexico. Not only there are a lot of things to do in Oaxaca as a tourist, but it also gathers crowds at least twice a year during a couple of famous celebrations, the Guelaguetza festival, and the world-famous day of the dead (dia de muertos).
For those who decide to stay longer, there is a good amount of activities that will surely keep you entertained as well.
Oaxaca is ALIVE! This is one of the reasons I decided to stay. Even during the pandemic, there are always events happening in the city.
There are many outdoor activities you can do that are close to Centro. The city is also surrounded by indigenous communities that often invite you to their homes where they have been working on their art-crafts for generations.
Mezcal distilleries (palenques) are the delight for those who love spirit drinks and every day – every week – several events are happening in the colorful vibrant city center. One does not get sick of living in Oaxaca very easily.
Mexico residency visa is easy
Many tourists can normally stay in the country for a maximum of 180 months. If you plan to be in the country for longer than that, I would recommend applying for a residency visa to avoid unnecessary visa runs during the pandemic.
Healthcare in Oaxaca is great!
There are several hospitals in the city. During my time living in Oaxaca, I had to go to the emergency room once at the nearest hospital to my house "Hospital Reforma" and I must say it was quite a good experience.
Everything was neat, they have the latest technology, doctors and nurses were professional and it all went smoothly with my travel insurance too which is something to appreciate.
I went to the gynecologist too (following the recommendations of one of the expats groups in Oaxaca) and I must say it was one of the best experiences in my entire life.
My doctor explained to me everything in detail and asked me the right questions – no taboo. I have never felt more comfortable in my life on a gynecologist visit.
Regarding dentists, although I have never been myself to any in Mexico, I hear from my expat friends that is quite cheap compared to the US and they are happy with the results too, so this is another one to consider if you live in Oaxaca.
⁉️ Living in Oaxaca FAQ
Is Oaxaca a good place to live in?
ABSOLUTELY! Why did I decide to have Oaxaca as my base? Oh boy! I wouldn't know where to start. Oaxaca is the perfect combination of ancient and new history, it is a mix of tradition and vibrant cultures.
Oaxaca is an explosion of colors and delicious smells all around. It is the place where all foreigners and Mexicans come to taste some of the best food and mezcal in the whole of Mexico.
From local markets to top-notch restaurants and from small towns handicrafts to new art galleries popping every month in the city, Oaxaca has something to us all. Oaxaca is also a synonym for "community", but we will get here in a minute!
Is it expensive to live in Oaxaca?
The cost of living in Oaxaca is quite affordable. I was paying around $ 250 USD a month for rent and spent an average of $ 50 USD a month on food during the months I cooked the most.
The average cost of living in Oaxaca might be a bit higher (also depending on your location), but here is the thing, you can live for very little, especially if you stick to buying groceries in local markets and rent your house to locals instead of using booking platforms.
I paid mostly everything in Mexican pesos although some tour companies accept dollars, but is always better to check beforehand.
Where should I live in Oaxaca?
When thinking about moving to Oaxaca, the location is key. One of the best areas to live in is Centro since everything is very handy here. However living in Jalatlaco, Reforma or even Xochimilco boroughs is becoming more trendy among expats too.
Is Oaxaca safe to live in?
I have never had a bad experience living in Oaxaca, but you are still leave in Mexico, so the little tips and tricks to be safe in the country also apply to Oaxaca de Juarez.
This said, although I have always felt safe living in Oaxaca, depending on the time of the year, I had to take more precautions than usual. Festivities like Día de Muertos congregate more people than usual so the number of muggings also increases.
Things like taking a "Didi" (the equivalent of Uber) on your way home if is dark and you're a bit drunk or avoiding dark/isolated streets, are things that you can do to play it smart and avoid any unwanted situation.
How much money do you need to live in Oaxaca?
Living in Oaxaca, Mexico can be an affordable and enjoyable experience. The cost of living depends on factors like your lifestyle preferences, housing choices, and how often you dine out or partake in leisure activities.
Rent in Oaxaca can vary, but on average, a modest one-bedroom apartment in the city center would cost around $300-$400 per month. If you prefer living further from the city, prices can be even lower. Utilities for a standard apartment usually cost around $50-$100 per month, depending on usage.
Groceries in Oaxaca are reasonably priced, with local markets and supermarkets offering a variety of fresh and affordable produce. A budget-conscious individual could spend around $200-$300 per month on groceries, while those who prefer dining out more often can expect to spend approximately $5-$10 per meal at local restaurants.
Public transportation in Oaxaca is affordable, with a one-way ticket costing around $0.50, and a monthly pass available for around $20. Taxis are also a convenient and reasonably priced option for getting around the city.
In summary, a comfortable life in Oaxaca can be achieved with a monthly budget of $800-$1,200, taking into account rent, utilities, groceries, transportation, and occasional dining out and entertainment expenses. Naturally, this budget can be adjusted according to individual preferences and lifestyle choices.
How many Americans live in Oaxaca?
It is difficult to provide an exact number of Americans living in Oaxaca, as the population of expatriates tends to fluctuate due to factors such as tourism, seasonal stays, and changes in immigration patterns.
However, it is estimated that there are several thousand Americans residing in Oaxaca, both in the city and in the surrounding communities.
Oaxaca has become a popular destination for American expatriates due to its rich culture, temperate climate, and relatively low cost of living. Many Americans are drawn to the area for its artisanal traditions, vibrant art scene, and culinary delights.
Additionally, Oaxaca's welcoming atmosphere and the presence of an established expat community make it an appealing choice for those looking to relocate.
While some Americans in Oaxaca are retirees seeking a more relaxed and affordable lifestyle, others are professionals, entrepreneurs, or remote workers who have chosen to base themselves in the city for its quality of life and cultural attractions.
The diverse backgrounds and interests of the American expat community in Oaxaca contribute to its dynamic and inclusive character.
Is Oaxaca child-friendly?
I am a solo traveler with no children, however, I can see several expat couples raising their children in Oaxaca. I consider the city to be a place where people, in general, find stability.
You can daily see locals and foreigners hanging out with their children in parks, restaurants, etc. I would imagine is a very nice place to raise a child. Oaxaca is a very peaceful place also very digital nomad friendly, with many coffee shops and good wifi, so balancing work with parenthood might be fairly easy in this city.
Although homeschooling is allowed in Mexico, many expats choose to enroll their children in some of the International Schools in Oaxaca. To my knowledge, Liceo Federico Froebel is one of the best options.
Is Oaxaca pet-friendly?
Oaxaca is quite a pet-friendly city! Mexico as a whole is pretty good in this sense. Coming from Spain where there are loads of limitations I was surprised to see how pet-friendly Mexico is.
In the city of Oaxaca, you can bring your dog to many restaurants (always best to call before heading to a new place to assure you can bring your beasts). I haven't seen many dog parks in the city but your doggie can surely hang out in all the parks around town.
Luna is a Spanish travel blogger who has visited 14 countries and lived in more than 5 of these throughout her lifetime. She has started her solo journey during the pandemic and is nowadays enjoying the slow-travel nomad lifestyle while learning the language and the culture of the new places she discovers. She is now based in Mexico, but her dream is to live like a hobbit in New Zealand. You can follow her journey on Instagram and read all about her adventures on her blog