Living in Guadalajara was one of the best periods of my life. Since I already have lots of friends here, I did not experience the adjustment period but in this post, I will give you some tips about the cost of living in Guadalajara and how to live your way around this amazing city!
Hello Trisha! I spent the whole day looking at all your Mexico content. Thank you so much! I am from Germany and I am going on a study abroad program in an engineering school in Guadalajara. I can't find a decent and honest resource about living in Guadalajara. Can you give me a little insight? If you can also connect me to your friends, I am looking for long-term rent. I already have an apartment in mind but I don't want to live with Germans while I am there. I want my trip to be more cultural. Thank you in advance!

Janina Grunewald, Germany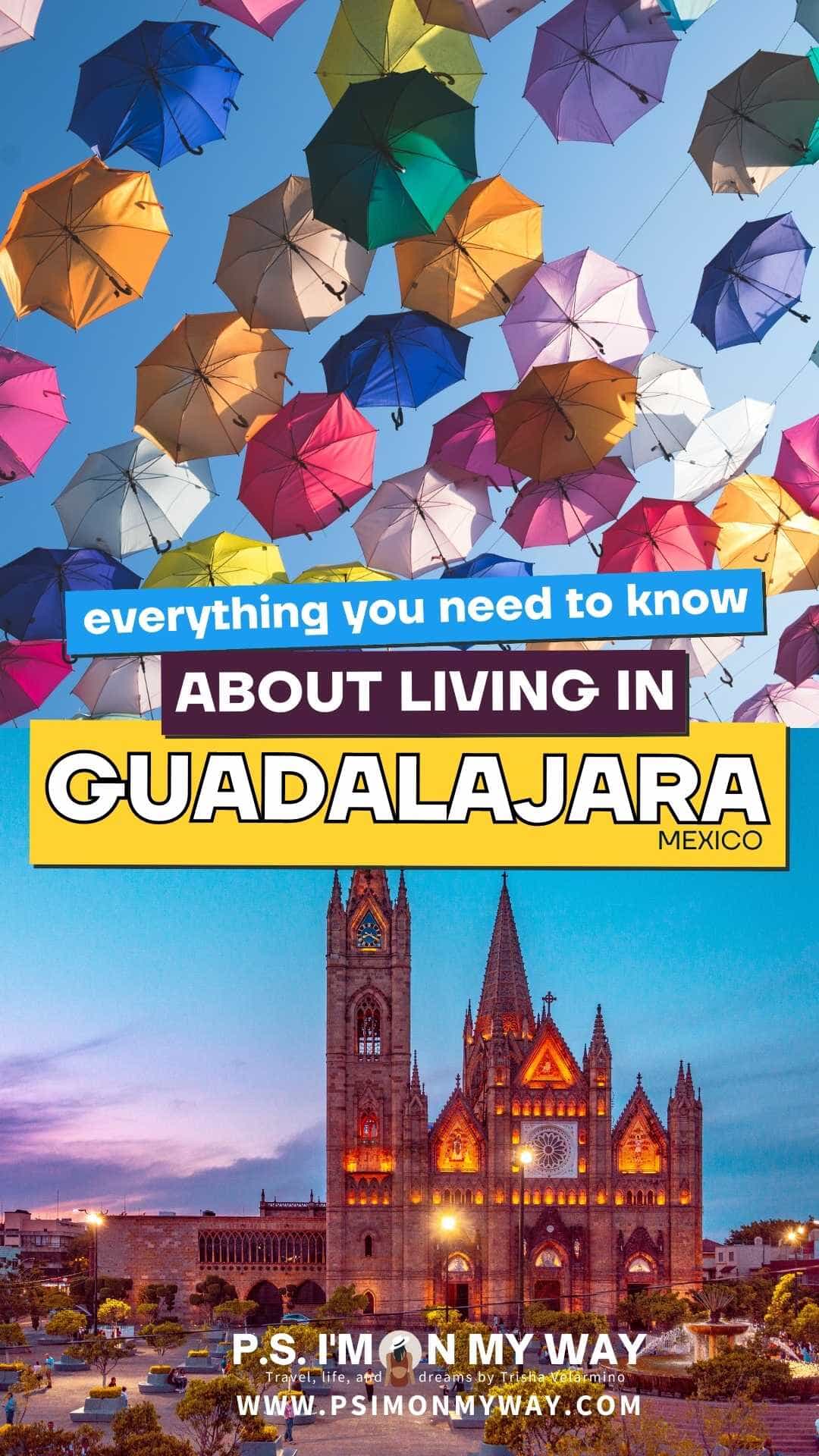 Dear Janina,
It's funny because my friend Nico, who is also from Germany went to that school in Guadalajara 2 years ago. What a coincidence! I guess this school is popular with Germans, yeah?
Anyway, I am glad you asked! Living in Guadalajara was one of the best periods of my life. Since I already have lots of friends here, I did not experience the adjustment period.
In this post, I will give you some tips about the cost of living in Guadalajara and how to live your way around this amazing city!
If you have questions that weren't answered in this post, please feel free to get in touch with me via Instagram. I moved to another city, 4 hours away from Guadalajara but I still come there frequently.
I miss Guadalajara so much and I have super great friends there. If you need an introduction (although not all of them can speak English), I can definitely put you in touch with them.
They can be your first friends in Guadalajara. They are Mexicans and they are super cool! Thanks a lot and good luck with your move!
Xx,
Trisha
💨 Need help moving to Mexico?
🙋 Is Guadalajara a good place to live in?
ABSOLUTELY! If you like the city with so much culture, I honestly think that Guadalajara is one of the few Mexican cities that has still the Mexican feel in it.
Many places in Mexico are already super white but Guadalajara still maintains it authentic Mexican culture. The prices are still not gringofied and the quality of life is superb!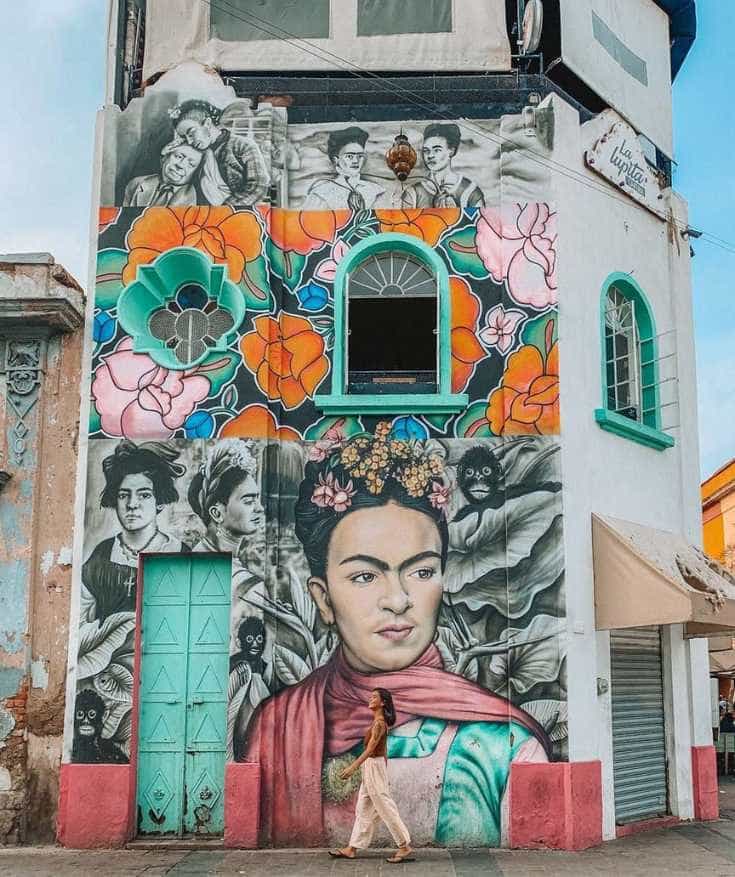 You have everything you will ever need (like you are back home in the US) if you choose to live in Guadalajara. There are a lot of doubts about safety so let's discuss that too, shall we?
🚫 Is it safe to live in Guadalajara?
The Mexicans are very friendly to expats, especially to white people but as a person of color, this is one of my advantages. I am not a Mexican (I am from the Philippines, btw) but a lot of people think I am Mexican since I can speak Spanish.
I do not get that much attention but they are very accommodating to everyone. I always see locals helping tourists with directions, and just answering general questions from foreigners.
Although I felt extremely safe in GDL, some friends of mine told me that I should stop biking at night (after we drink LOL) because theft is pretty common for bikers.
It did not happen to me so I am not an authority to speak about the subject. Personally, I wouldn't do stupid it if I am not confident about it.
So far, I have never felt harmed from biking and walking at night by myself. My advice is to know your limit because anything can happen to anyone anywhere.
💵 How much money do you need to live in Guadalajara?
I was living on my own and spent less than $1,000 USD on everything per month. But that is me. Some expats who choose to live in Guadalajara get big apartments and even cars!
I lived in a studio in Guadalajara and paid $3,500 MXN (around $150 USD). I didn't have the dogs yet when I first moved in so it was easy to find a super cheap apartment.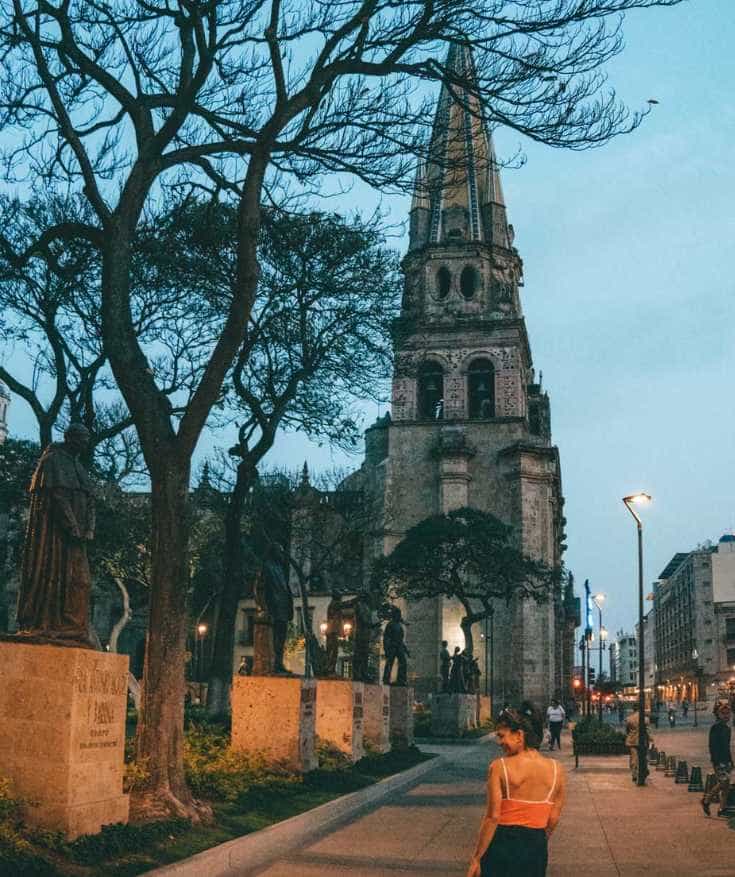 For eating out, I spend about $10 USD per meal but I don't eat out every day. Only on weekends! My grocery shopping budget is around $75 USD for 10 days.
💃🏽 Personal experience living in Guadalajara
I did not feel strange when I first decided to live in Guadalajara since I already have friends there. Maylis, a French girl I met when I was backpacking South America has been living in Guadalajara for years. She's a French teacher in the Alliance Francaise so checking out GDL for the first time did not scare me.
A lot of people are freaked about traveling solo to Guadalajara and I get that – the news always gets to us. Imagine my mom's face when I told her I am going to move to Guadalajara.
She definitely freaked because all of her images of this city are from the hit TV show, Narcos.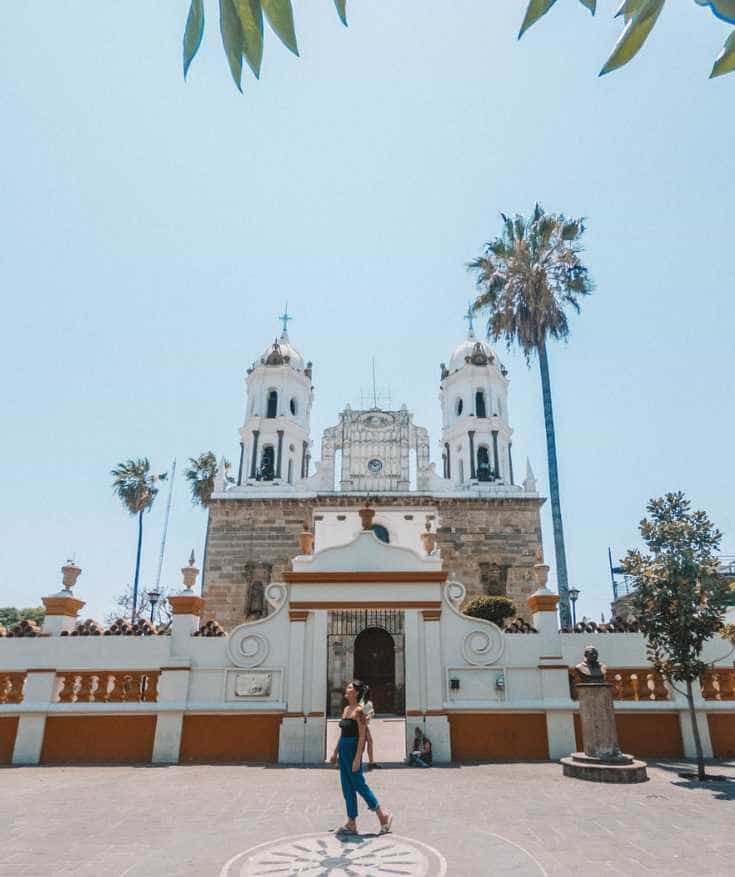 I definitely am not saying that you need to know someone in order to feel safe in Guadalajara but it does give you confidence.
After traveling the world for 15 years, I still was freaked about the idea of going to GDL because I had no idea what it's like. But when I was already there, I found a different world than I was expecting from.
Before coming to Mexico, I actually thought that Guadalajara was the capital. It seems to have more exposure to the public eye (like TV shows) as opposed to Mexico City.
Culture in Guadalajara
Although they are similar in some forms, what I loved about GDL is that is very culturally rich. In fact, it is considered the cultural center of Mexico. Mariachi is from here. Actually, it originated from the state of Jalisco but you will see a lot of Mariachi bands in every corner of GDL.
Coming from a Catholic country, I also saw how there are many old churches are present in the city. Jalisco has a strong Catholic state and GDL houses the biggest and most impressive places of worship in the country.
Although I am not a hardcore Catholic, this amazed me and I got to visit all these churches. I did not think I'd be interested in it! There are also many museums in Guadalajara but I have not visited all of them.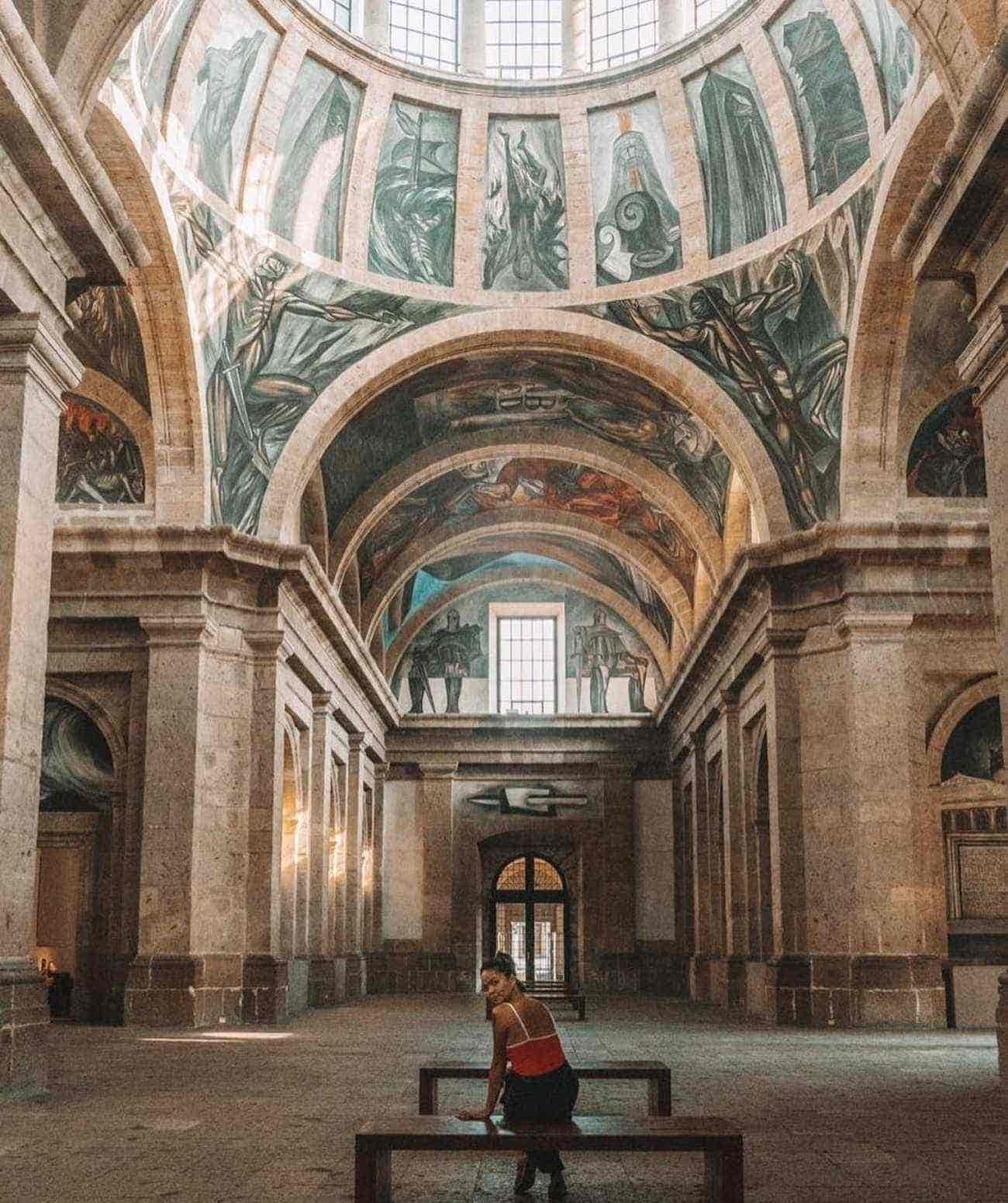 Living in Guadalajara will introduce you to eccentric coffee shops, fashionable restaurants, suburbs that contain markets and small shops with traditional folk-art and Mexican souvenirs.
The street food on the sidewalk offers exciting dining wherever you are in the city, and the authentic taste of Mexico can be found here at any time of day.
Being a young expat in Guadalajara
When looking at places to relocate in Mexico, I always make sure that I will be able to connect to young professionals like me. I feel that it's very essential to the job that I do.
There are lots of digital nomads in Guadalajara and I only met them when I was there, I swear! I bumped into them in the cafes and casually waved at them while I was biking in the neighborhood.
What I also did when I was living in Guadalajara was to try all their cafes.
Every week, I'd choose one cafe that I will work in (I lived in a small apartment so I preferred to go out for work) and with this, I was able to see the real GDL culture, and even made me meet a lot of fellow digital nomads!
I eventually ended up hanging out with them since Maylis went to France for a few months to visit her family.
The nightlife is also very vibrant as the Avenida Chapultepec is lively 24/7. I remember meeting my first friends there (outside of the people I already know) when I randomly joined a salsa class in the middle of the Chapultepec.
That's also where all the bars and restaurants are. They are always full so on Saturdays, we always make sure to go out before 8 pm. Otherwise, there will be no tables!
👌 Compared to other destinations, Guadalajara is still very Mexican. Not everyone can speak English so learn Spanish before going to Mexico!
Transportation in Guadalajara
Well, I had a bike so it was easy for me to get around. The streets of GDL are flat and I find it surprisingly safe. If you don't want to buy your own bike, there are lots of bikes for rent through MiBici.
You will not miss them as they are in every corner of the city. Uber is super cheap I always take them and never had to pay more than $100 MXN ($5 USD)!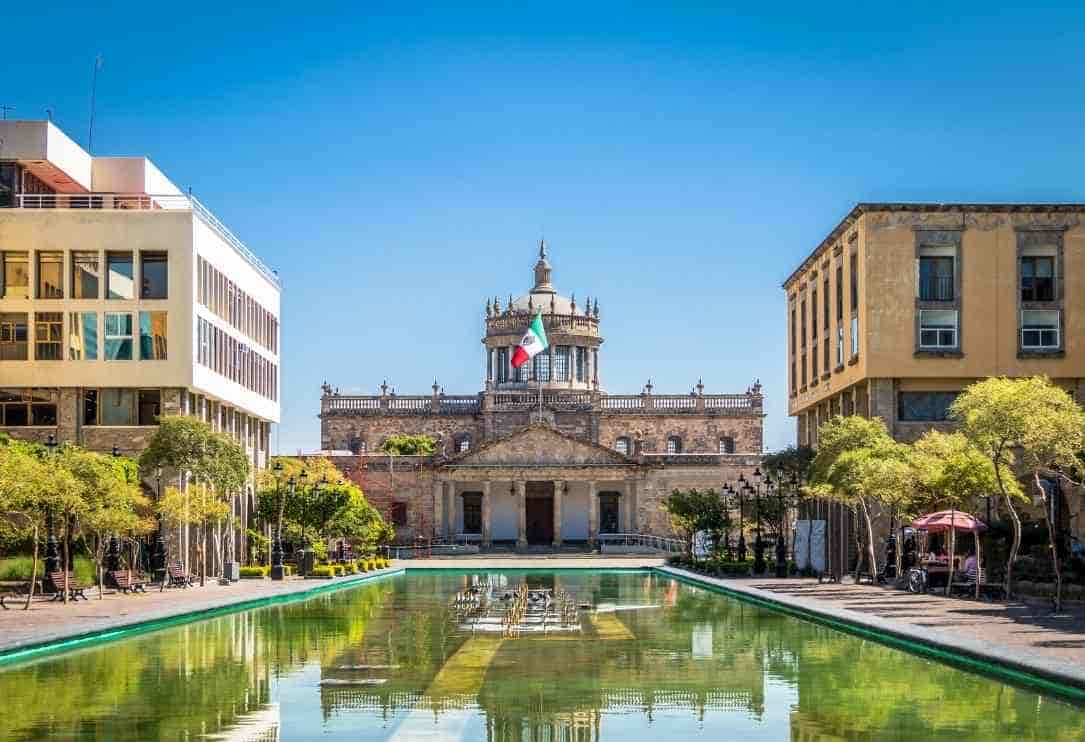 Walking is also very popular. I walked a lot when I was there but GDL is big so it really depends where you are going. Some of my friends lived outside the center but I also remembered we walked 45 minutes to my friend's house because there weren't any available rides.
Guadalajara also has its own airport so if you decide to live here, you can easily access cheap domestic flights and travel around Mexico. It is an international airport and has direct flights to some US and Canadian cities.
Food in Guadalajara
What I love about Guadalajara is the abundance of street food. Where I lived, there was a hospital nearby so every night, the street food stalls pop out of nowhere and that's where I had the best street food! The hospital is a good spot as they receive many clients there.

Not everyone likes to eat hospital food so these stalls are always full of people! The food choices are not limited to Mexican food.
There are also burger and hotdog stands. If you don't fancy Mexican food, Guadalajara has everything from Asian to Middle Eastern. They also have UberEats so if you want to stay in, the choices are unlimited.
🫱🏽‍🫲🏻 Connecting with fellow expats in Guadalajara
I don't usually make friends with foreigners when I am living abroad. Since I speak Spanish and have been in Latin America for a long time now, it's very easy for me to meet locals.
Honestly, I only meet foreigners on dating apps like Tinder and Bumble (they use both apps a lot in GDL) but other than that, I only look for current events on Facebook.
Like many other Mexican cities, the ex-pat community in Guadalajara is big. There are weekly meet-ups (I managed to join a few).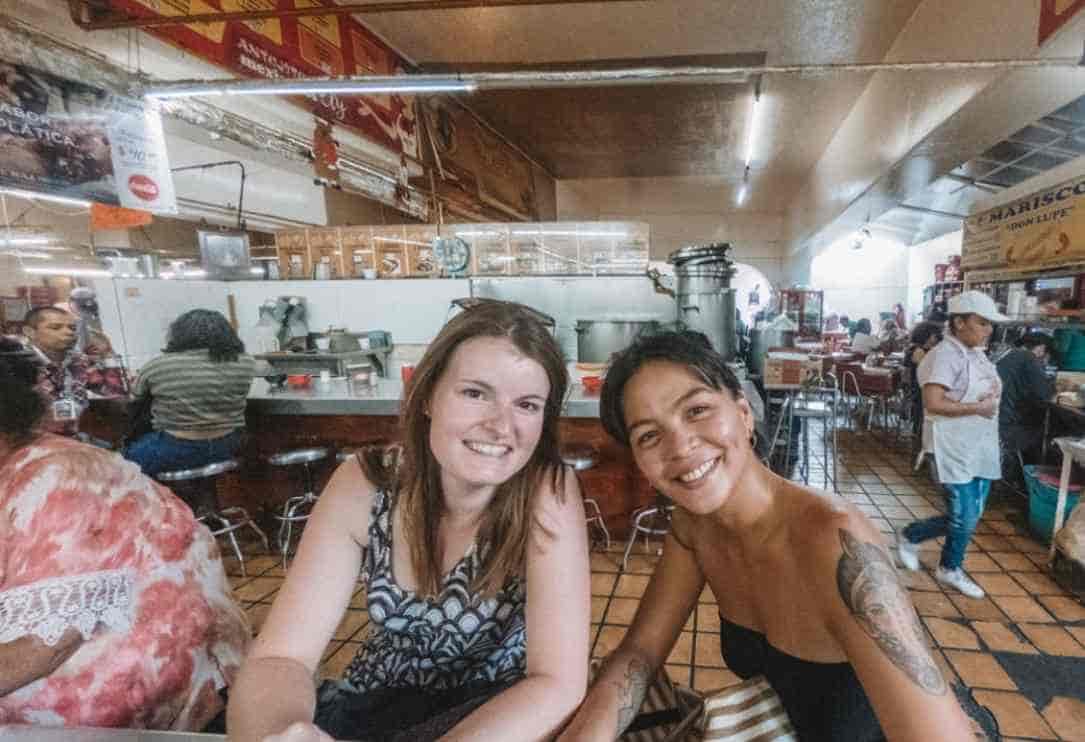 Below are some of the expat groups on Facebook that have been useful when I was living in Guadalajara:
✅ Pros and cons of living in Guadalajara
Alright, let's start with the pros: Guadalajara is a very affordable city to live in. You can easily live with $600 USD a month, depending on your lifestyle.
I usually don't dictate what's comfortable for you but let's put it this way: comfortable for me is $1,000 USD but I have a car, 2 dogs, and I live in Mexico full-time.
With this amount of money, I am able to eat out, treat myself to massages, and do some things I deem luxurious.
Some more pros on living in Guadalajara: the Internet speed is superb and it's very cheap! The weather is also warm all year round and unlike Mexico City, GDL has good air quality.
It is also very easy to make friends if you're new in the city. The roads are pretty safe – I biked here a lot and cars were always very kind to me.
People can speak basic English especially if you go to bars and cafes. Guadalajara is also safe for women and very friendly to LGBTQ+.
As for the cons, there aren't a lot of things to do here. Many expats who live in Guadalajara travel all the way to Puerto Vallarta or to the beach areas of Nayarit (Sayulita, San Pancho,etc).
That's the only con I can see especially if you are looking to travel around Mexico. However, Guadalajara has an International airport so I still think that it's a good expat base.
💲 Cost of living in Guadalajara
I find Guadalajara really cheap (cheaper than where I live now in Nuevo Vallarta, Mexico) but to better understand pricing, $1 USD = $20 MXN (or a bit less but I always do $20).
Most foreigners who come to Mexico for the first time are confused with the $ sign in Mexico and they end up paying actual USD so don't be confused. Mexico uses the same sign.
Food costs in Guadalajara
Of course, when you decide to live in GDL, you won't be eating out a lot (actually, I did eat out a lot the first few weeks) so you should familiarize yourself with supermarkets.
Soriana, Waldo's, and Chedraui are the main supermarket chains in Guadalajara but you can also buy fruits and vegetables in mini super tiendas (store) or abarrote (grocery).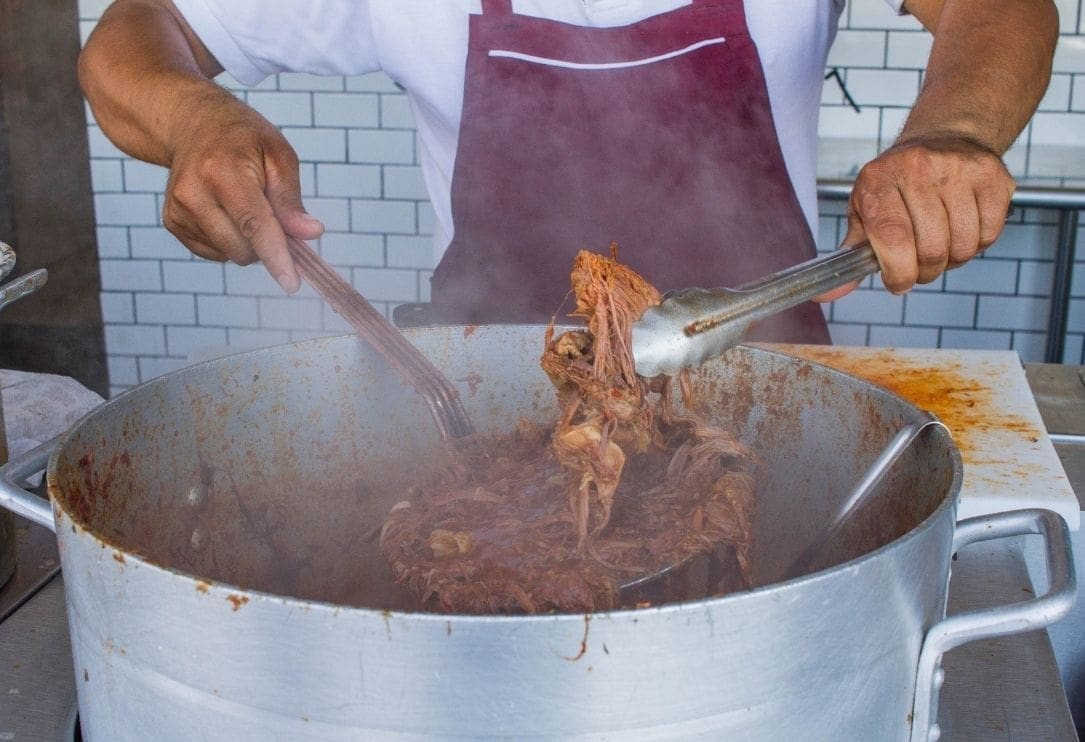 Rent costs in Guadalajara
Although this varies per area, I paid $200 USD for a studio apartment in the center (about 15 minutes by walk to Chapultepec). I was living by myself. It was a great space and there was a big terrace.
Getting cheap rent in Guadalajara really depends on your Spanish-speaking skills. The prices tend to go up whenever it's a foreign-speaking tenant (sad reality in Mexico).
You can join Guadalajara Short and Long Term Apartments Expats for more local tips from fellow foreigners and expats who have been living in Guadalajara for years.
They can give you some insights on how to haggle for rent because seriously, GDL is cheap!
I know a $500 USD rent is cheap for Americans and Canadians but here in Mexico, that's a lot. It's also not very hard to find furnished accommodations.

I always rent furnished ones since I move around a lot. If you have pets like me, clarify this to your landlord but some of them don't allow pets. I had to sneak in my dogs in one of my apartments but GDL is very pet-friendly.
Before coming to Guadalajara without any plans of long-term rent yet, I recommend you stay in vacation homes or hotels first to get a feel of the place.
I stayed in a lot of serviced apartments in GDL and they're not expensive! This way, you can ease up and research more while you are in the area.
The bad thing about getting a rental apartment before coming here is that maybe you won't like the area or the house itself.
I myself am not comfortable in just basing my apartment on pictures. I need to have a feel of the neighborhood. The energy of the house is very important to me so I have to see it in person.
I also have dogs so if I pay rent in advance without seeing it, and eventually, there is no space for my dogs, I'm going to get really pissed.
🏠 Where to find housing: Check out these apartments in Guadalajara!
Shopping costs in Guadalajara
Amazon functions very well in Mexico but you need to be on the Amazon.mx website for to receive your orders. Some products on Amazon US are not available in the MX version but it has pretty much everything!
For a more local merchant, Mercado Libre is the most popular but they don't accept international credit cards. What you can do is place the order on the MercadoLibre website and pay it at the Oxxo (convenience store in Mexico).
If you want to shop physically, Guadalajara is home to a lot of shopping malls so you also don't have to worry about that. Everything you need is here!
It's like you're just back home. When I moved here, I was worried I won't have access to things I really need for work (especially gadgets).
In the beginning, I was asking friends from the US to buy them for me and bring them to Mexico because I had no idea about shopping in Mexico but when I learned about it, I found out that I can get everything here, as in everything! Mexico has H&M, Forever21, etc.
Personal care
As there are many supermarkets in Guadalajara, everything you need for your home is available. There are also lots of pharmacies in Guadalajara and they are very big on this.
One of the biggest pharmacy chains in the country is called Farmacia Guadalajara and you will find it all over Mexico.
🛃 Mexico residency visa
Applying for a temporary resident visa in Mexico is very easy as long as you have all the documents. Actually, in my case, they only ask for a bank statement since I wasn't employed in Mexico.
It's not a problem as long as you can prove that you are earning from a company outside of the country and that you can support your lifestyle while living here.
If you are working for a Mexican company, you need to obtain a work permit and unfortunately, I do not have experience in applying for this.
For digital nomads, the good news is that Mexico has a generous 180-day tourist visa. Upon entry, you will automatically receive a 6-month stay and that's pretty long than other countries!
However, if you overstay, you cannot declare that you are working as a digital nomad (Mexican company or not) because they can fine you.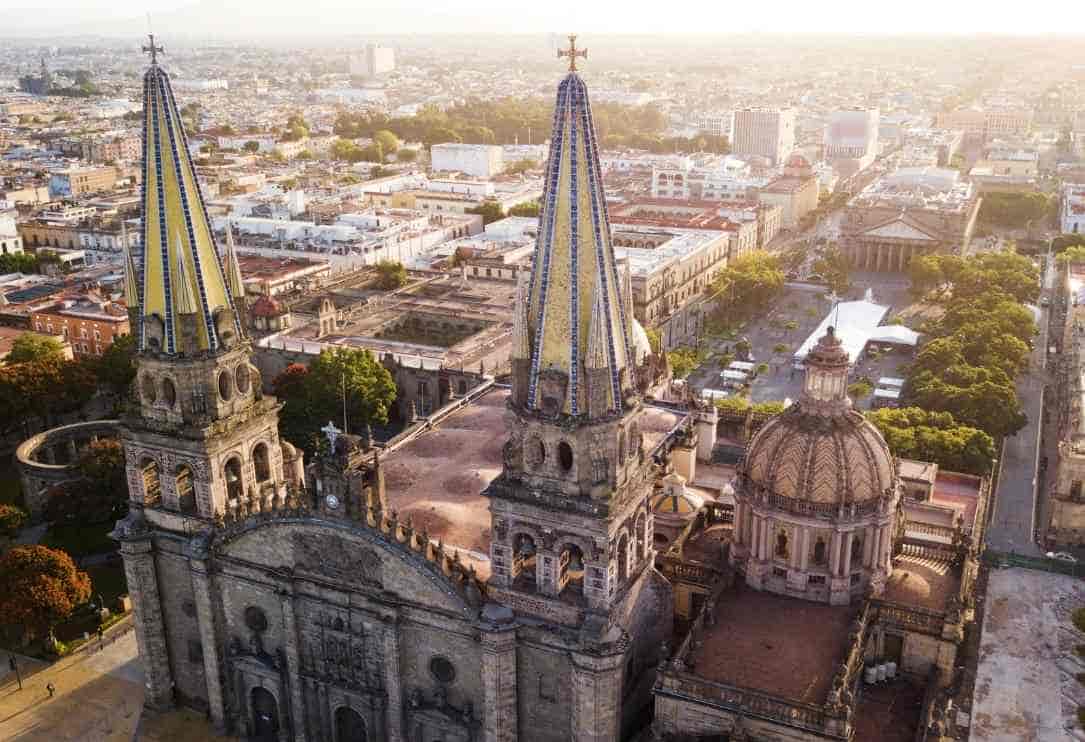 Technically, if you are in Mexico with an expired visa and are working online, you need a residency visa or a working visa. But that's only if you get caught.
There are lots of overstay cases in Mexico and I really don't understand why, when you have enough time to go out of the country and come back – Mexico will still give you 180 days no matter how many days you are gone.
You can always do a visa run to the US or neighboring countries like Guatemala or Belize. I already have a 4-year temporary resident visa in Mexico so I don't need to do visa runs anymore. Woohoo!
🛂 Need residency visa help for Mexico? Get in touch with a Mexican lawyer!
⁉️ FAQ: Living in Guadalajara
Trisha is one of those people who left their comfortable life to travel the world and learn about life. Her style is to stay in one place she likes for 3 months (or more) to know what it feels like to eat, cook, speak, and sleep in another culture that isn't hers. She'd like to believe she's not traditionally traveling but she just chooses to be somewhere else all the time. In no particular order, her favorite cities in the world are Barcelona, Buenos Aires, Hong Kong, Mexico City, and Tel Aviv.