☕ Support this blog's honest and transparent journalism. Help us add value to what we are sharing. Keep P.S. I'm On My Way free for all by donating to our coffee fund.
Guanajuato solo travel: is it safe? I visit Guanajuato regularly by myself since it's close to Mexico City. Here are my experiences traveling alone as a woman in Guanajuato City.
📬 Reader Mail: Hola, Trisha! Thank you for all your resources about Mexico. I enjoy your writing because it really helps me a lot in preparing for my trip.
I have scrolled about 4 blogs and yours is what I like the most so thank you for everything that you do! I have seen on your Instagram that you traveled to Guanajuato a lot.
I want to pick your brain about my upcoming solo trip to Guanajuato City. My backpacking trip in Mexico will start in Mexico City. I read that Guanajuato will be a great stop.
However, I also read that many people got robbed in GTO. Is this true? How safe is Guanajuato? Do you recommend it to solo female travelers? Thank you in advance and I hope to meet you in this trip!
-Elena Ramos, San Diego, CA
Here we go with safety again… but let's get to it. When I first arrived in Guanajuato in 2018, I had no idea what to expect but I know that one of the reasons I visited Guanajuato is to see its colorful city. It really is one of the most vibrant in terms of architecture in the country.
Many people don't know about Guanajuato so when I told my family and friends that I will come here, they weren't as worried as they were when I was in Guadalajara and Mexico City.
Guanajuato did not ring a bell which I find funny because Mexico has a bad press when it comes to safety in general – not its individual destinations.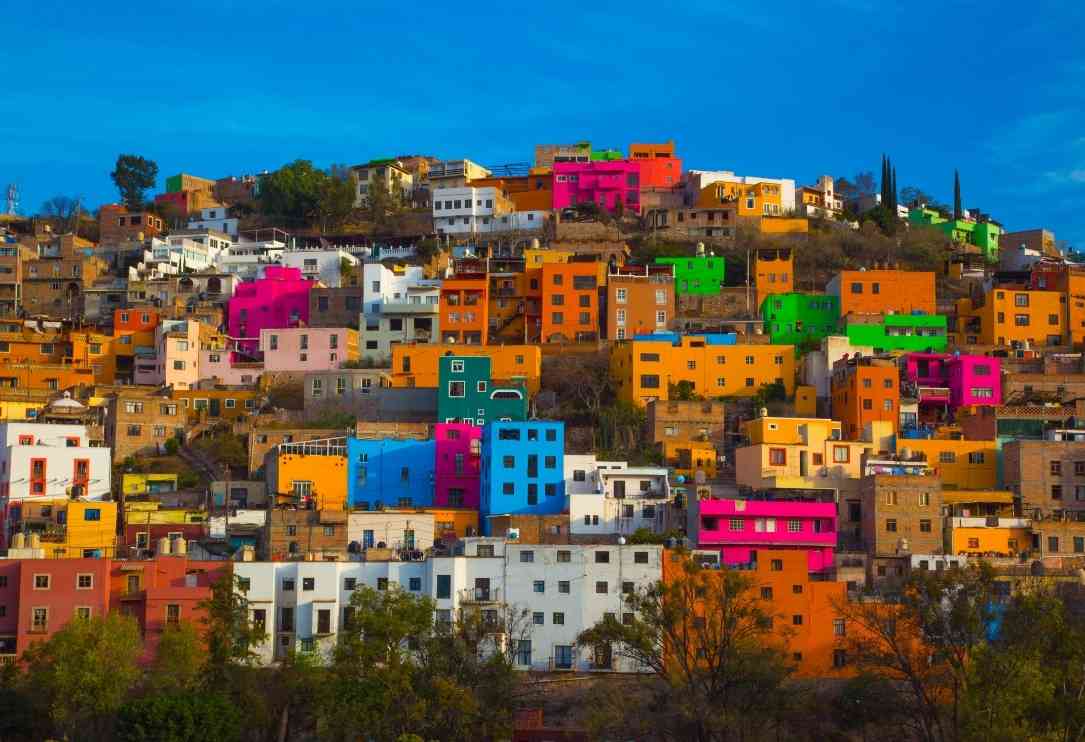 In this post, I will share with you my genuine experience about generally feeling safe in Guanajuato. I know it's super hard to travel solo, especially in Mexico.
However, this does not stop you to travel around Mexico because this is really a great country to be in. To be honest, in the years that I am living in Mexico, I was never harmed.
You will be surprised that recently, I went to Georgia (the country, not the state) and was harassed. With this experience, I appreciated how safe I feel safer in Mexico than in Europe. Then again, safety is very objective and personal.
Anyway, if you wish to visit Guanajuato, I can connect you with some people I met while traveling there. I know that knowing someone gives you more confidence when traveling so feel free to get in touch if you need local contacts.
🇲🇽 Guanajuato at a glance
How safe is Guanajuato City?
I always make sure that I share my personal experiences in my blog but I also don't ignore the facts. I did not research heavily on safety in Guanajuato City because I already know locals there so I always feel comfortable visiting this city.
During my first time, I was surprised by how many foreigners and digital nomads are living in Guanajuato. I met many cool expats who fell in love with Guanajuato City and they shared their experiences with me.
I always wonder how people fall in love and choose the place to live in Mexico and from their stories, I deeply understood the GTO charm.
America's favorite destination San Miguel de Allende is also in Guanajuato state where many foreigners and expats retire. Other major GTO destinations include Leon, San Jose Iturbide, Irapuato, Silao, and Tarimoro.
Meaning, you have to check the specific city in Guanajuato that you want to visit to check safety. In this blog post, I will only focus on Guanajuato City as it is the main destination I have expertise in.
Is Guanajuato City a good destination for solo travel?
ABSOLUTELY! I find it one of the most-friendly terrains for solo travel in Mexico. You can easily walk around the city. The streets are super narrow so I would recommend you to walk to see more of its local scene.
The street is always super lively and is always with people. Families with kids are on the streets late at night which gave me the opportunity to really see the Mexican culture there.
Within the city, there are already many things to do. I suggest you stay at least 2 nights for a full experience but if you want to stay longer, I will give you more options as I know some of you are backpackers and long-term travelers.
I was lucky to have a newfound friend who had a car so he also got to introduce me to nearby destinations outside of Guanajuato City.
GTO is such a beautiful state and the activities vary from outdoors to city. There are so many things to do for any type of traveler and the best thing is that this city is not as discovered as other Mexican destinations (yet).
💃🏽 This article is supported by the Guanajuato Tourism board but all opinions are my own and are based on my experiences. Check out all their helpful resources about Guanajuato travel!
✈️ Guanajuato solo travel: trip planning
This is the funny thing when I traveled solo to Guanajuato. I was sitting at a cafe when a Mexican guy approached me and asked, "are you Trisha?"
I was so surprised because I did not arrange any Couchsurfing meet up there or not even Facebook groups. It turns out, I posted a picture on Instagram and he saw me in the Guanajuato hashtag.
He sat down and we briefly chatted but he had to go because he needed to go to work.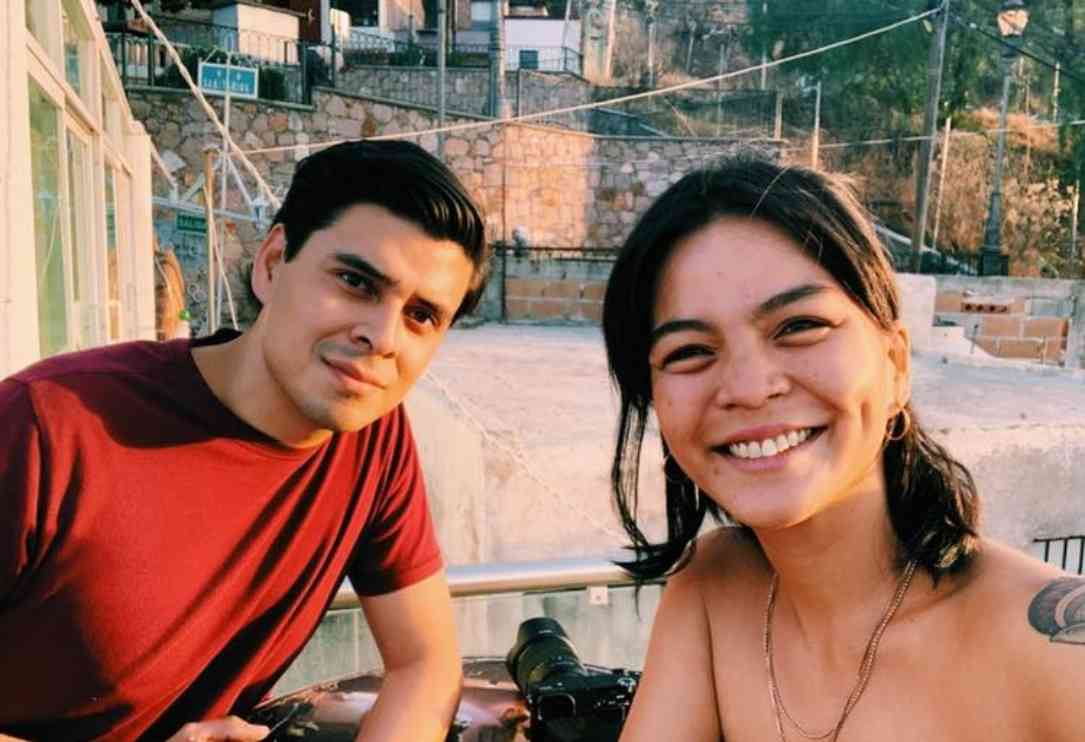 The next day, he offered to pick me up at my hostel to drive around. I agreed to a meeting time and he came in a car! Look, I am not some crazy girl who'd jump on a car with someone I don't even know but when things like this happen, I just know the vibe. On how I know that vibe, I do not really know but it's instinct. There's always that feeling that draws me to people.
This guy that I met was a young boy studying arts at the University. He told me that he was studying photography and was really impressed with my photos on Instagram.
He even had a professional camera with him when we met. It could just be all for show but believe me, the way I feel towards people is always right.
We went around the city and he took me to the highest points – mind you, the streets of Guanajuato are really uphill. I've tried to walk uphill at least once but having a car (and a local tour guide) was way easier.
It was also great to have a photographer! After that, we explored the nightlife in Guanajuato but this is not about bars and clubs. It was all about the music and dancing on the streets, street food at midnight, alleys with interesting cocktail bars, etc.
I did not expect Guanajuato to be that lively till late.
🗺️ Things to do in Guanajuato
Stroll the streets of Guanajuato
💲 from US$43 per person
👉🏽 Book a Guanajuato City walking tour
I'm sure you've seen all these pictures on Pinterest – Guanajuato is the most colorful city in Mexico! Wander the narrow streets and get to know the culture through this walk. You can even do this by yourself without the tour. The center of Guanajuato is very pedestrian-friendly and cars are not even allowed in most of them.
If you prefer to know more history and/or don't have the luxury of time, you can book a 3-hour Guanajuato City walking tour that only costs US$17 with a local guide!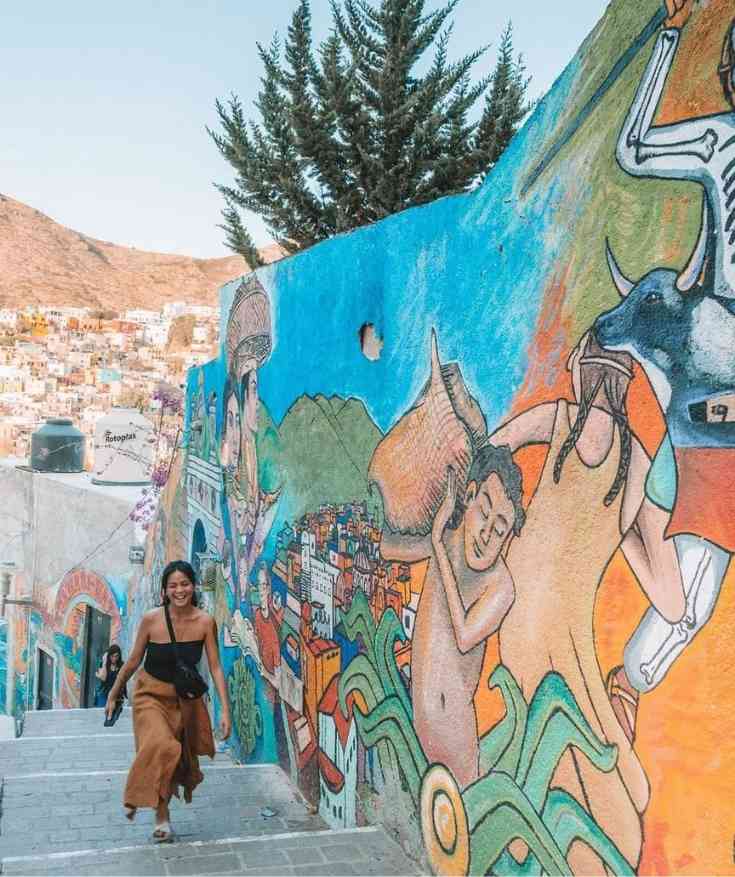 Visit El Callejon de Beso (Alley of Kiss)
This place is from popular folklore where a young couple would sneak out and meet at this alley. The female was from a well-off miner's family and the male was from a poor family. With this societal conflict, they kept their love a secret and would meet (and kiss) in this narrow street. The rich family was living above the alley while the young lad is renting an apartment opposite it.
The late-night escapade became the talk of the town but the female's father said he won't believe it until he sees it. He then stayed up one night to catch the couple in action. To his dismay, he saw his daughter with the young man, and out of shock, the young man jumped and tripped off the edge of the balcony.
The folklore has a tragic ending since the young man died from the jump.
Mountain ATV
💲 from US$218 per group
👉🏽 Book a Guanajuato ATV tour
Guanajuato was one of the world's silver-extraction capital during the 18th century. There are many mines adjacent to the city and you can actually go on an ATV tour to see this area.
Tunnels, underground streets, and the viewpoint of the Rayas mine are some of the highlights of this visit. Apart from that, this is also a great way to see the monument to Pipila.
Visit Diego Rivera's home
💲 from US$65 per person
👉🏽 Book a Diego Rivera Museum tour
Frida Kahlo's lover Diego Rivera grew up in Guanajuato and not everyone knows this since Frida Kahlo's blue house in Mexico City is a more popular spot. Both of them pursued their artistic endeavors in Guanajuato City as well. The Diego Rivera Museum (which was the house Diego grew up in) is a popular spot for artists visiting GTO.
Here, you will see Diego's studio and many other relics that historically narrates the love story (and artistry) of Diego and Frida.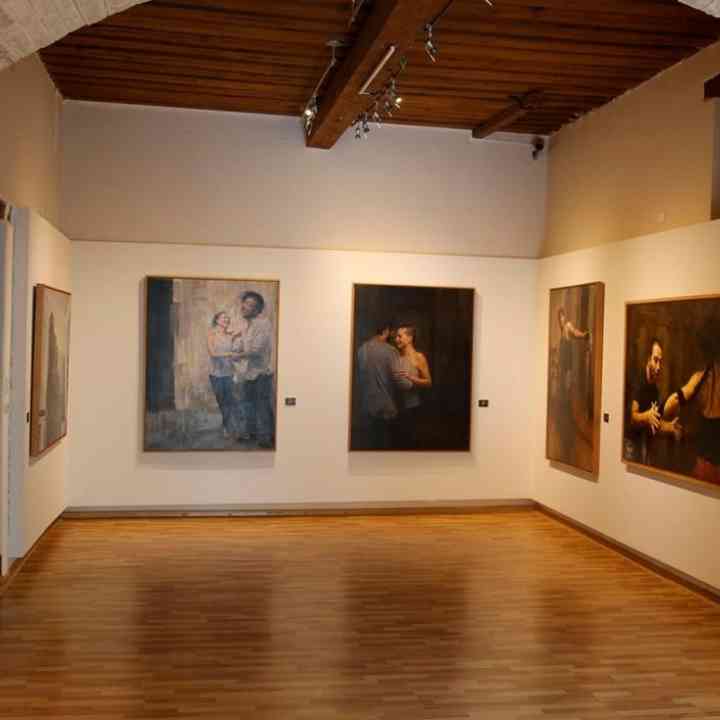 Funicular ride for city views
My friends thought I was crazy when I walked the steep roads all the way to Pipila but nobody told me there was a funicular! I never really research when I go on trips since I always stay long (up to 1 month) so when I discovered I can take a ride up, I did it again and it was so much faster!
The funicular is one of the best ways to see the whole city of Guanajuato. The ticket is only US$1.50 (one-way). You don't need to book these tickets in advance – just go to the Funicular Station behind Teatro Juarez.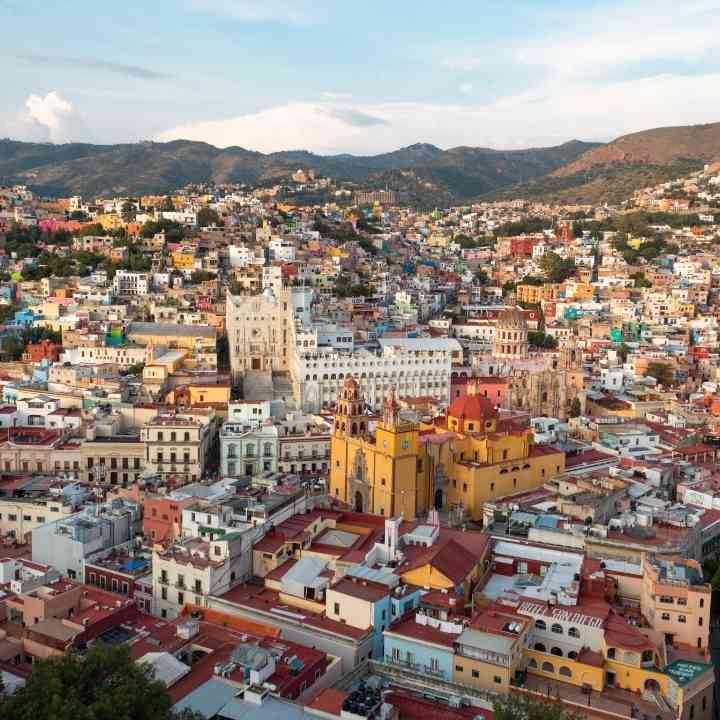 Visit the Mummy Museum
As one of the historical cities of Mexico, there are many interesting Guanajuato museums to visit. The most popular is the Mummy Museum which has a rather peculiar history as it is not like the Egyptian-style mummies.
The mummies in this museum were removed from the cemetery because their families didn't have the money to pay for the cemetery fees. They were moved to an underground room and the climate kept the bodies from decomposing.
Most tourists skip it because of the horrifying expressions on the faces of some of the mummies.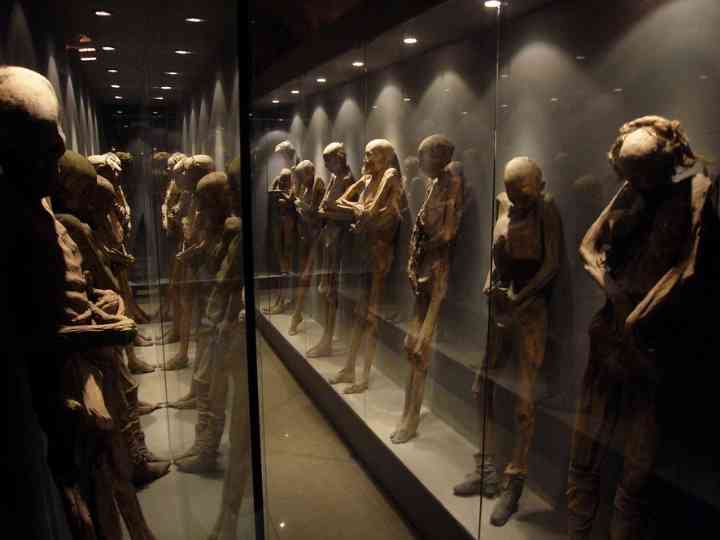 🛏️ Guanajuato hotels
Corral D Media Hostel: best in location
💲 from US$13
👉🏽 Book your stay at Corral D Media Hostel
Walking distance to almost everything, you can get a bed in a 6-bed dorm room for as low as US$13! They also have double rooms for US$25 so if you don't want to share with other travelers, you can opt for the double room.
When I stayed here, they were not filling all the dorms because of COVID so for the 6-bed dorm, there were only three of us which made my trip more affordable and comfortable.
Hostal Casa de Dante: best in panoramic views
💲 from US$19
👉🏽 Book your stay at Hostal Casa de Dante
I stayed here twice because I always loved the rooftop views. The rooms are painted with splashes of different Mexican colors – I really loved the design of this hostel and the space is really great. You will also meet a lot of people here because, unlike other hostels, it is actually nice to hang out here because of the common areas with panoramic views. I met a lot of travelers when I stayed here!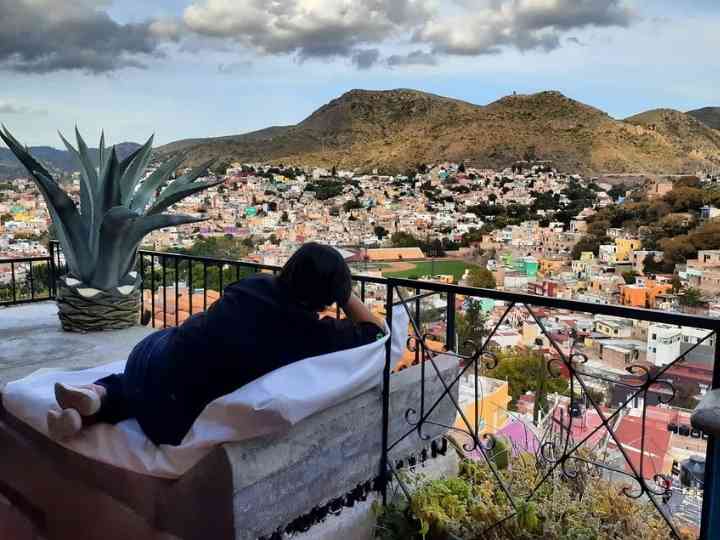 Cactus Hostel: best in design
💲 from US$17
👉🏽 Book your stay at Cactus Hostel
Bohemian, rustic, wooden look with accents of Mexican blue and pink. I really loved the minimalistic design of this hostel and was so surprised they had a 20-bed dorm. The dorms are super private and are capsule-style. I vote for this as the best hostel in Guanajuato City!
In the beginning, this was what I booked (for US$17) but when I arrived, I changed it to a private room which they offered me for US$35 per night. They also have a deluxe room for US$59 but I was already very happy with the room that I got so I stick with it.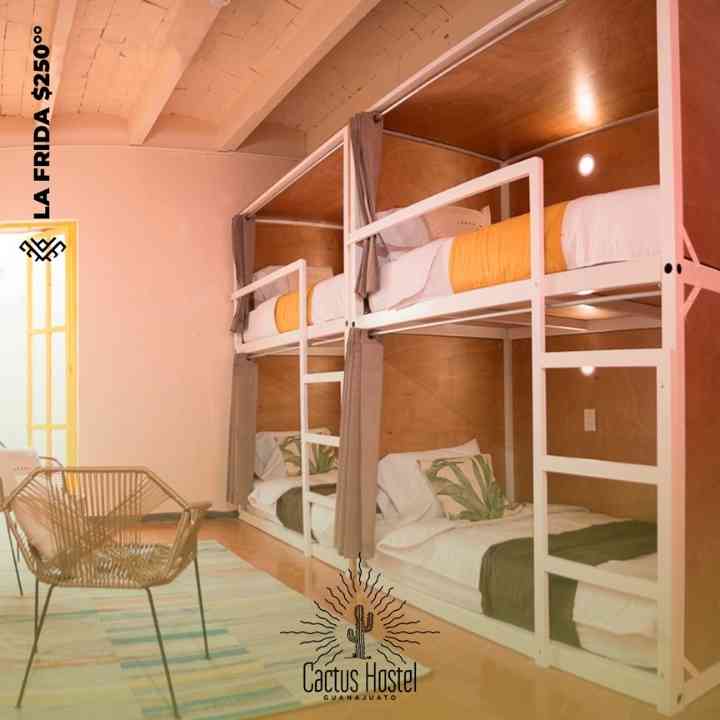 Casa del Rector Hotel Boutique: best boutique
💲 from US$172
👉🏽 Book your stay at Casa del Rector Hotel Boutique
For those who have an extra budget, I recommend this boutique hotel for one night towards the end of your trip. This hotel has an outdoor pool with great views of the city! Though you might need to time your visit during the summer since it will be too cold to hang out in the pool during winter.
They also have a bakery, cafe, and restaurant if you plan to do a staycation. There are also many common areas like the garden and the patios. This is my favorite boutique hotel in the city!
La Cañada: best for digital nomads
💲 from US$127
👉🏽 Book your stay at La Cañada
Some days, I just want to stay in and work so finding peaceful accommodation is my top priority. I discovered La Cañada on my third visit to Guanajuato City when I decided to work while traveling around the state.
This may be a hotel but I totally felt like it was a house because of its format. There is also a garden where I spent most of my days working. The wifi works pretty well and I didn't have to go out to work in cafes!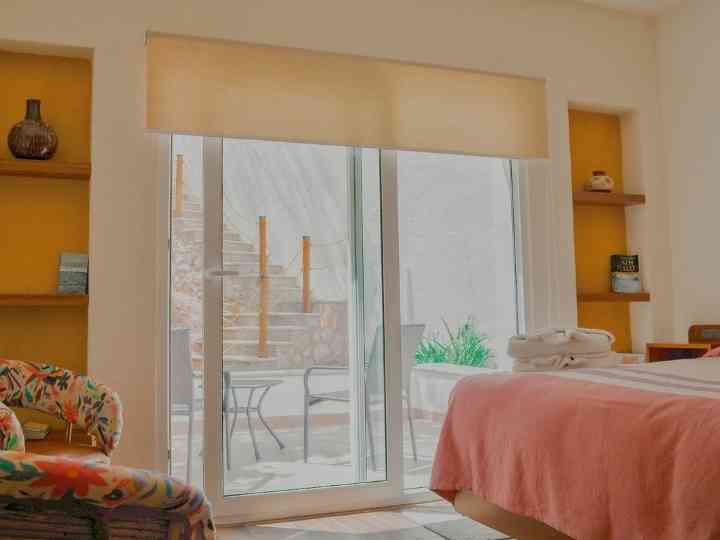 Casa Rofo: best bed and breakfast
💲 from US$77
👉🏽 Book your stay at Casa Rofo
Casa Rofo definitely reminded me of my time in Tangier, Morocco where you have breakfast on the rooftop with railings that don't block the view. It's just the best way to start your day! For less than US$100 per night, I got breakfast and nice views of the city while staying at Casa Rofo. Order their signature chilaquiles for breakfast – it won't fail!
🌮 Guanajuato restaurants
Estacion Gelato: best coffee
This is actually a gelato place but they also have really good coffee. I spend many afternoons here (after having lunch) with dessert and coffee. Their wifi is strong too so I sat down here with my computer.
The balcony is overlooking the street but it's really hard to get the best table since they are occupied! This is probably the best people-watching spot in Guanajuato City while having delicious gelato under the sun.
Pecatto di Gola: best Italian
📍 Carretera estatal – Marfil km 3, Fraccionamiento de los Santos
Not very close to the center but definitely worth the trip if you are craving Italian food. When I went here in 2018, they had a Monday promo where you can order anything on the menu and it was only US$15 per person! They also have 2 for 1 pizza from 7:00 PM.
Many friends say their specialty is seafood but I didn't try them here since I am adamant about seafood in the city. Pizza is highly recommended and pair it with great Italian wine!
Costal Cultura Cafetera: best Mexican
Costal Cultura Cafetera is upper-class creative dining and is one of the best restaurants in Guanajuato City. Here, you will find Haute dishes that are only not pretty but are also very delicious. It is one of the best dining experiences in Mexico.
I've done a full-course Italian meal here (yep, I ordered a lot for myself) starting with a vegetarian roll (US$4.47) with yogurt, ajonjoli, and honey. Their salads are also good and are less than US$8. My favorite pasta is the Al Poblano with poblano chili (US$8).
This place is always full so it's best if you make a reservation to guarantee a table.
Habibti Falafel: best vegetarian/vegan
📍 Sostenes Rocha 21, Centro Histórico
You may find it hard to eat as a vegetarian/vegan in Guanajuato so this Middle Eastern restaurant will be your go-to. I went here quite often even if I am not vegan because their falafel is really good!
I lived in Israel so when I get tired of Mexican food, I always walk to a Middle Eastern restaurant if there are any. They are not very popular in Mexico so this was a treat for me in Guanajuato City!
Mercado Hidalgo: best local/street food
📍 Av. Benito Juárez Mercado, Hidalgo
To complete your local experience, head to Mercado Hidalgo, a food market where all the locals go. Mercado means "market" in Spanish so you will find many things here apart from food.
Here, you will get to sample different Mexican dishes home-cooked by the Mexican mamas so don't worry about cleanliness and hygiene here.
You will also have a front-row seat to how Mexican food is prepared at home so I recommend you not skip this market!
Other restaurants in Guanajuato
Now, I always add the 'other' options in all my articles because some of you readers are not fans of Mexican food (and/or are very sensitive to it).
There are also many people who are wondering if colonial cities like this have fast-food chains – the answer is YES. There is KFC, Subway, and McDonald's in Guanajuato City but that's all I know since I don't really eat fast food.
For those who want to order at your accommodation, UberEats, Rappi, and DidiFood are the apps where you can order food for delivery. But not all the good ones are in the apps! It's still best to go out and explore.
🍸 Guanajuato bars
Parlamento Bar
📍 P.º de La Presa #97, Barrio de la Presa
Located in a really white-washed building with spiral stairways that will make you feel like you're entering a museum, Parlamento Bar is the place for gin-lovers. They have over a hundred gin cocktails!
I don't even drink gin but when I sat down by myself, I was pretty much educated by the bartender about gin. They have many gins that I have never even encountered before like Gin Xoriguer (Spain), Empress 1908 (Canada/Mexico), and Four Pillars (Australia).
The place is really classy and they also serve food. Pets are also very welcome! If you want to learn about gin in a gentleman's club environment, Parlamento Bar is a must!
The Beer Company
📍 Cantarranas No. 56, Zona Centro
Open as early as 1:00 PM, The Beer Company is obviously, for beer lovers. I don't drink beer a lot but whenever there are places like this (where I can also try different beers apart from the national beers), I always make sure to check it out.
They have all types of artisanal beers from every part of the world as well as those that are brewing locally like Ambulante. There are also events every weekend (like live bands/DJs).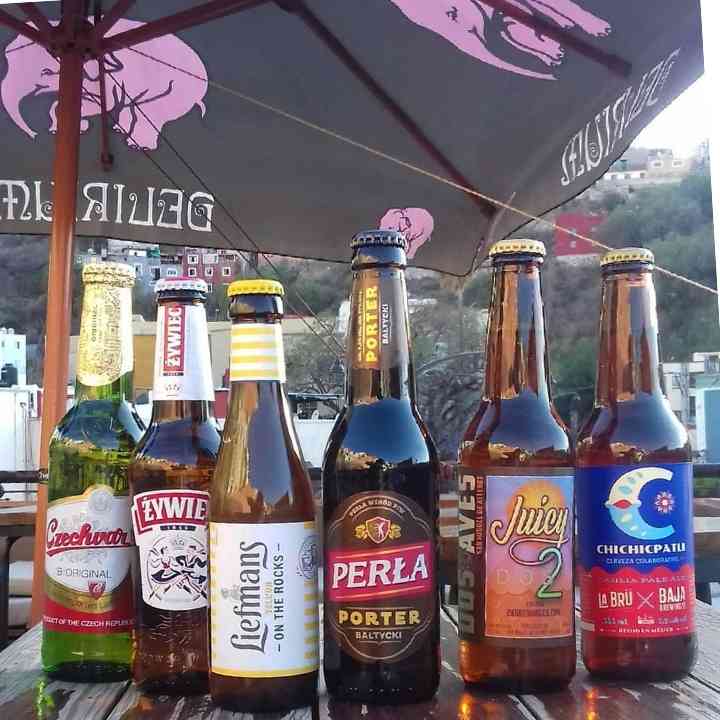 Nigromante Rooftop
I really love this rooftop bar not only because of the views but because they have live bands every Sunday. The bands vary from percussions to brass – I once went here with a band playing the violin, maracas, flute, etc.
Their mezcal cocktails are their signature and very unique to this establishment. My favorite is the Axhe with pineapple and lime, garnished with Mexico's favorite tajin.
Condesa Rooftop
📍 Plaza de la Paz #36 Tercer Piso, Centro
Another popular rooftop spot, Condesa is super popular and is flocked by locals. I would recommend this for Sunday brunch (which means, let's be honest, day drinking while snacking). They have DJs every Sunday at noon!
Like Parlamento, Condesa is also very big on gin cocktails but there are many other drinks in the selection if you are not a gin fan. Lastly, there are many late-night parties here, and is usually the go-to til late.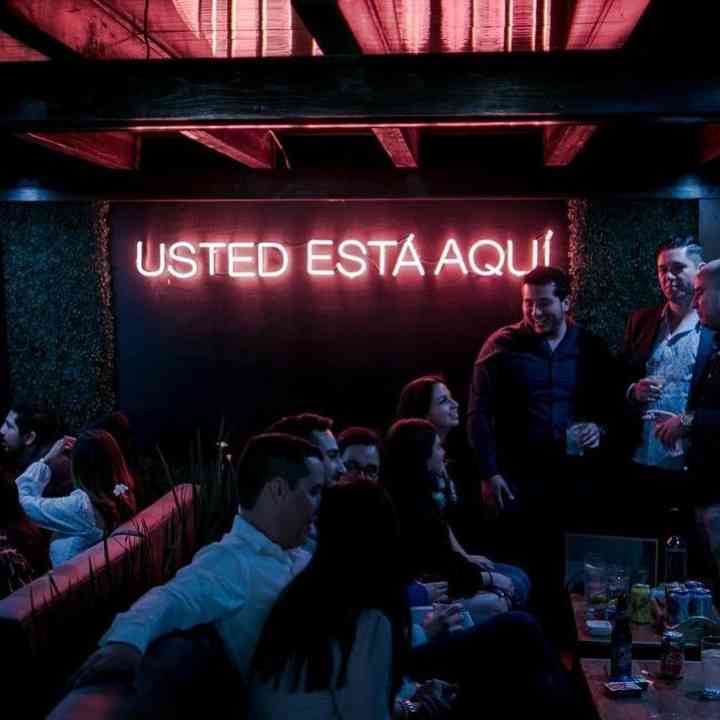 ✨ Guanajuato travel tips
Is it safe to walk alone in Guanajuato?
As someone who blends in (with my skin color and Spanish language skills), I am comfortable walking by myself at night in Guanajuato City.
During my first visit, I did not feel that comfortable yet and I sort of booked a hotel at the top of the hill so at night, I took a taxi to go back to my accommodation.
If you are not confident, take the taxi after 9:00 PM. As usual, don't go into dark areas and avoid places that have fewer people, which, in my opinion, are only a few in GTO.
There were always people when I was out at night which made me so confident and safe.
Get in touch with locals on Couchsurfing
I stopped staying in people's couches a long time ago but I still use Couchsurfing for getting in touch with locals. I have proven and tested this platform to be the best community if you really want a deep dive into a city's culture.
I was also quite surprised by how active the CS community is – many people are hosting and welcoming travelers into their homes! As usual, make sure to read the reviews and/or contact the Couchsurfers who stayed with the host you are viewing and ask questions.
Couchsurfing reviews are always legitimate (in my experience) so don't worry as it is really hard to make a fake review on this platform. I love this for connecting and meeting with people (better than Tinder or Bumble).
Find a volunteering exchange gig
I've always been lucky to meet many local families in this lifetime – volunteering and staying with them for years gave me that opportunity. This is not a paid opportunity as you do 5 work hours (5 days a week) in exchange for food and accommodation.
I use Worldpackers when looking for volunteering opportunities and you can get 10% off on your membership if you use my code PSIMONMYWAY10.
There are many types of volunteering (not limited to family stay) like language exchange, hostel work (my favorite as a teenager), ranch work, eco projects, etc. Just browse the website above and see what works for you!
Rent a car in Guanajuato
The good thing about staying in hostels is that you can always invite people to join you on day trips. There are many spots outside the city that you can visit and it's good shared with friends!
Renting a car in Guanajuato only costs US$20 per day so you can even afford it even if you are going to drive alone.
Take Uber at night
Never walk by yourself at night – take the Uber! It's cheap and it is widely used in Guanajuato. My Uber rides within the city were never more than US$5 except when I went to eat at Costal which was US$8 for the ride.
Don't hang out with people you don't know
Mexico can become too welcoming especially if you are going to participate in the nightlife. I sit at Guanajuato bars by myself and within minutes, there will be people around approaching you to chat.
And it's not just the Mexicans. Many foreigners from all over the world visit Guanajuato so you will find yourself hanging out with a lot of people. Don't just go with people you don't know especially if you don't feel comfortable about it.
Get travel insurance that covers COVID-19
Never ever travel without insurance! Since I am on the road consistently, I make sure to have a digital nomad insurance that costs US$40 per month. It has COVID coverage and I don't have to worry about traveling anywhere in the world!
This travel insurance also covers you back home in the US for a few days after your travel.
Consider your source
I understand that you always base your travel plans according to the news and Guanajuato gets a lot of bad press (as of all Mexico). My best advice is to only talk to people who have been to Guanajuato City so that you can get first-hand experiences.
After your trip to Guanajuato, you will be the most credible source to others because of your experiences! All you have to do is visit and see it for yourself.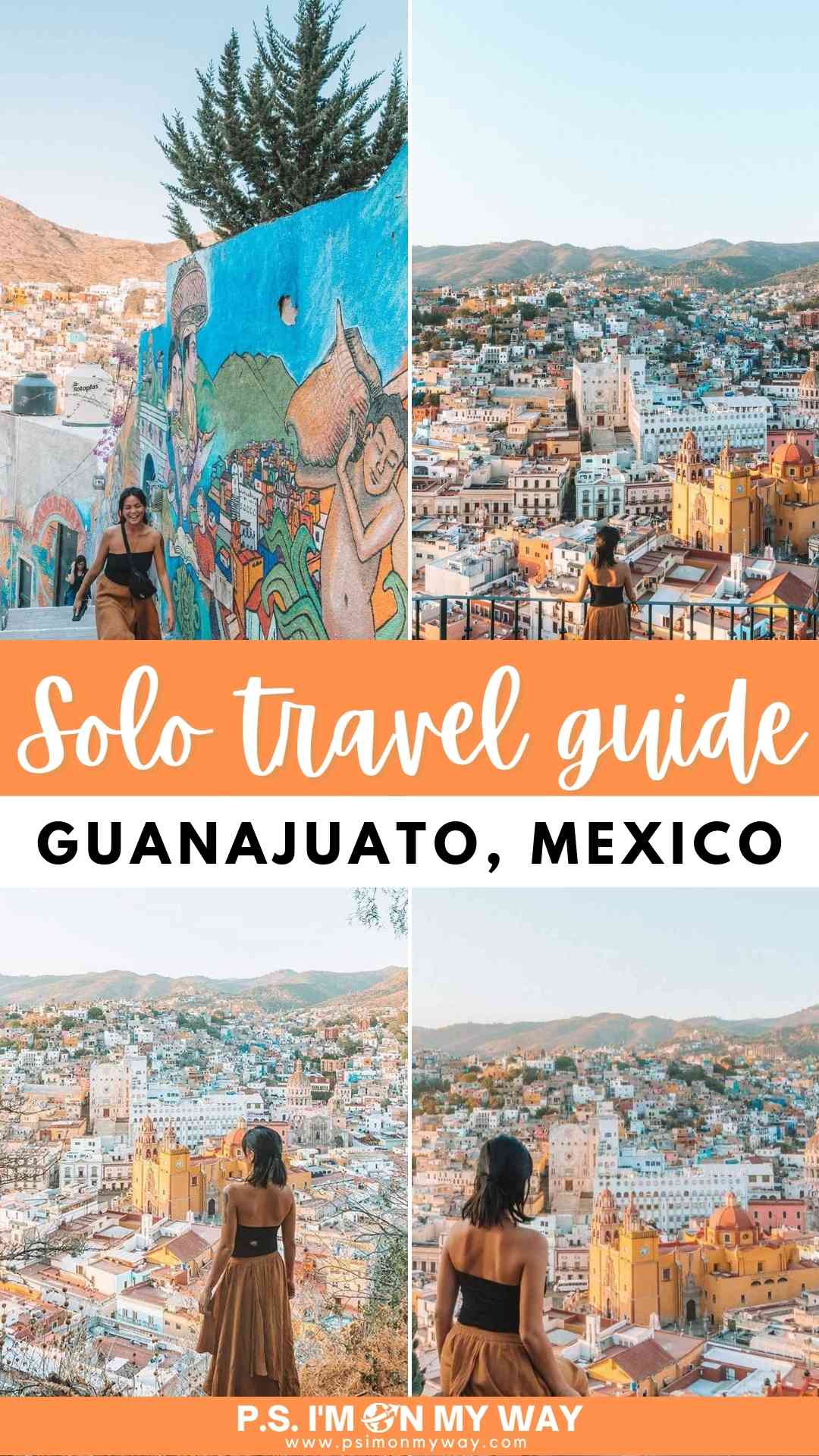 ✈️ Ready for your trip to Guanajuato? This blog thrives on reader questions so feel free to ask questions about Guanajuato travel by using the comment box below. You can also sign up for 1-on-1 coaching with me if you need more help!
Trisha is one of those people who left their comfortable life to travel the world and learn about life. Her style is to stay in one place she likes for 3 months (or more) to know what it feels like to eat, cook, speak, and sleep in another culture that isn't hers. She'd like to believe she's not traditionally traveling but she just chooses to be somewhere else all the time. In no particular order, her favorite cities in the world are Barcelona, Buenos Aires, Hong Kong, Mexico City, and Tel Aviv.