This Guanajuato digital nomad guide was written by Jessica Drier, a traveler at heart and is the co-author behind the travel adventure blog, Unearth The Voyage. In this guide, she will share her personal experiences about being a digital nomad in Guanajuato.
📬 Reader Mail: Dear Trisha, first I want to thank you for all the digital nomad blogs in Mexico. They really help a lot in planning my move to Mexico!
Although I heard that Mexico is no longer giving 180 days visa, I will still try my best to get 6 months. I really want to stay in Mexico!
Can you please give me an insight about being a Guanajuato digital nomad? I love all your photos there that I saw on Instagram. I feel like it's going to be my city!
Thank you for all the work that you do in this blog. I hope to meet you in Mexico if we ever cross paths!
-Corey Weidner, New York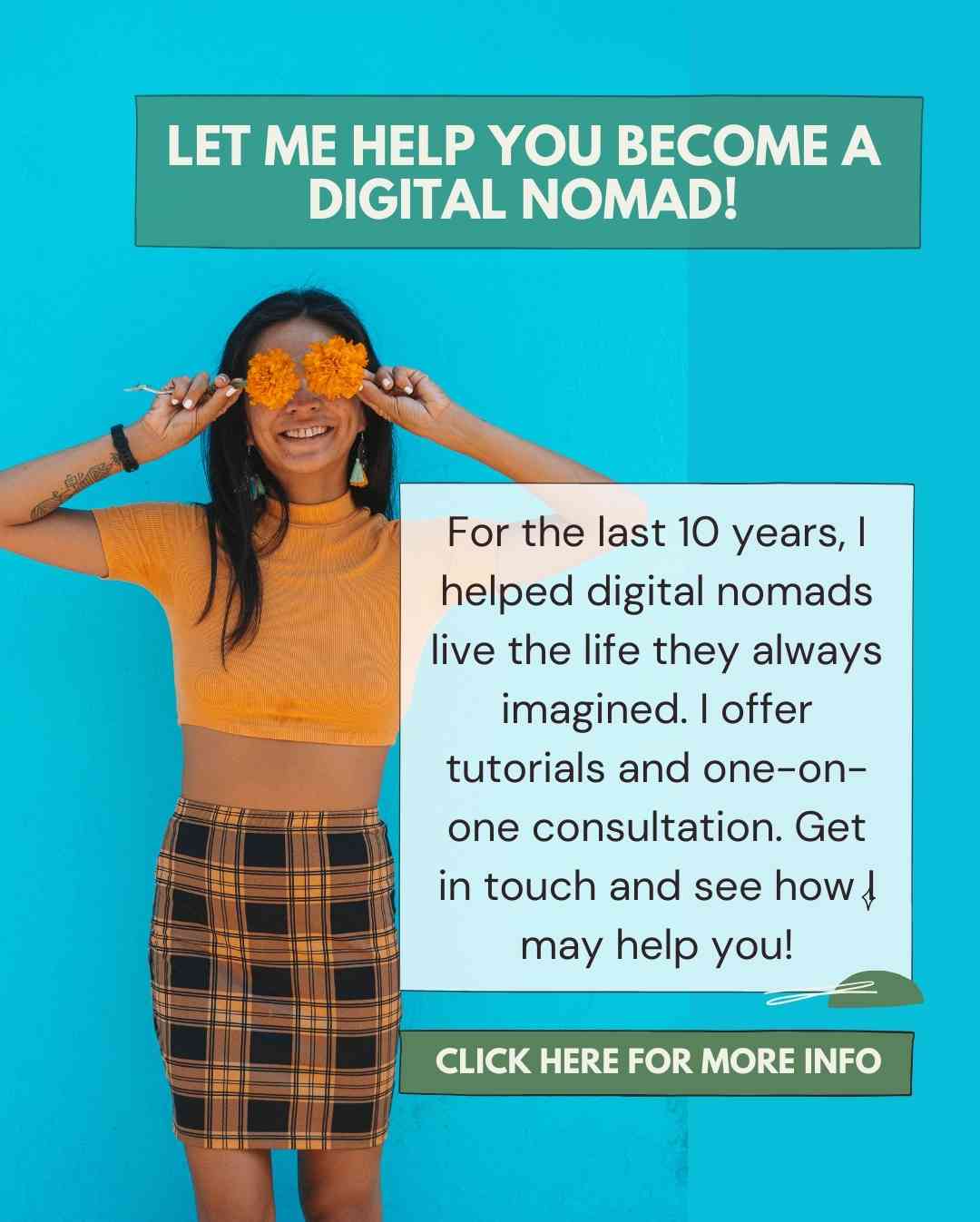 Dear Corey,
Thank you for reaching out and I am glad you are eyeing Mexico! I haven't updated all my Guanajuato blogs but I really loved that city.
I stayed there for a month (between GTO and San Miguel de Allende) and I love both cities. I just don't think I will move there because of personal preference.
However, I invited a fellow digital nomad who will give you her first-hand experience with Guanajuato digital nomad. Jessica is a traveler at heart and is the co-author behind the travel adventure blog, Unearth The Voyage. She wrote this guide and if you ever have any questions, please feel free to reach out to her.
I am currently living in Mexico so if you have further questions about other places to visit in Mexico, just send me a message on Instagram, @psimonmyway.
Good luck and may the force be with you!
Xx,
Trisha
Is Guanajuato a good place for digital nomads?
When we decided that we wanted to
live in Mexico
as digital nomads, we decided 6 months would be a good amount of time to try out living in a few different cities in Mexico. Our first city as
digital nomads in Mexico
was Guanajuato, and we lived there for 3 months.
We are from the United States and picked Guanajuato as our first digital nomad location because of how cheap it is to fly from the USA and how cheap the cost of living is in Mexico.
View this post on Instagram
We also have always been interested in Mexican culture, and already knew a bit of Spanish from traveling and high school Spanish classes.
We started our own digital marketing company in 2018 and design social media advertising campaigns for small businesses.
We also started a travel blog in 2015 and planned to gather as much content as possible about Guanajuato to use for our travel blog.
Is Guanajuato expensive for digital nomads?
We spent about $1,050 USD each month living in Guanajuato. That included rent, food, transportation, and fun money (going to museums, drinks, tours, etc.) We rented a two-bedroom Airbnb for around $450 a month.
View this post on Instagram
For Mexican standards, that is quite high but honestly, if you are living in the US, you will not get the same quality for that amount. I would say that living in Guanajuato is affordable for digital nomads, especially if you are earning USD.
Other Mexico digital nomad destinations you might be interested in:
☕ Support this blog's honest and transparent journalism. Help us add value to our content! Keep P.S. I'm On My Way content free for all by donating to our coffee fund.
The ultimate Guanajuato digital nomad guide: everything you need to know about living in GTO
Guanajuato digital nomad personal experience
Because our business was rather new at the time, the low cost of living in Guanajuato was definitely a huge factor in making a decision to move there! We flew straight from our hometown, St. Louis to the town next to Guanajuato, León.
We also decided to move to Guanajuato honestly because we thought it was so beautiful from the pictures we had seen. I joined different Facebook groups in different towns throughout Mexico to get a feel for what the town was like and the ex-pat community in Guanajuato was engaged and seemed to really like it there.
Guanajuato city center is on the list of UNESCO World Heritage Sites in Mexico and there is a lot of interesting history that also attracted us to this incredible city! There are also lots of different fun and unique things to do in Guanajuato and we were so excited to check them out during our stay.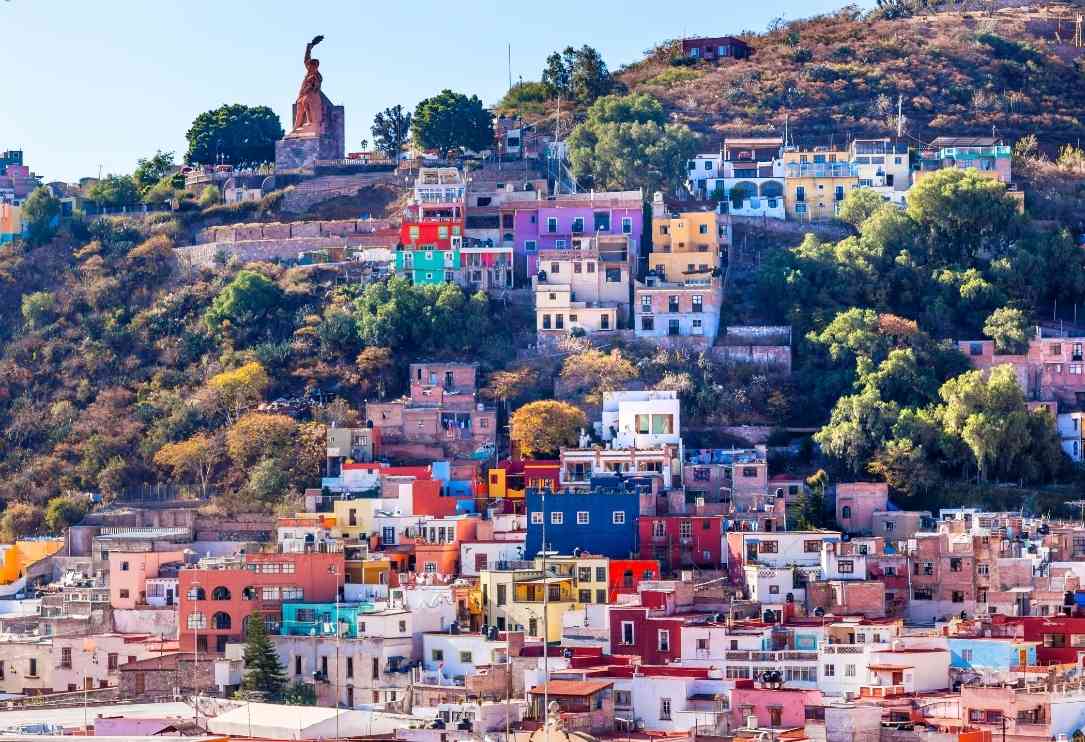 Being a digital nomad in Guanajuato was incredibly easy. There is a large university in Guanajuato, which means there are also lots of options in terms of coffee shops to work at, bars and restaurants to drink and eat at, and different events and festivals going on.
There is an abundance of Airbnbs in the city and many hosts are willing to rent their places for the long term at a discounted price. A lot of these hosts know that digital nomads are looking to rent their place, so they will either post on their listing the upload and download speeds of their internet or they are willing to do a test for you.
Guanajuato is built in a valley, so the houses and streets are all built on the sides of mountains, making it a little difficult to drive around in the city. Because driving is a bit difficult, people walk everywhere throughout the city and a lot of streets are actually for walking only.
This was great for us since we didn't have a car and planned to walk everywhere anyway. If there was ever a situation where we didn't want to walk or where we wanted to go was too far- taxis are safe, easy to use, and extremely cheap!
Guanajuato digital nomad scene
Being a digital nomad in Guanajuato was extremely easy and quite fun. It's definitely an up-and-coming city for digital nomads so it feels more genuine and makes it easier to meet locals.
There is an abundance of cafes to choose from to work at, and you will see students doing the same thing. The only problem we found when working at a cafe was finding outlets close by our table to charge our computers.
We would check out different places before settling in to make sure we could find an outlet, and sometimes the tables near an outlet were already taken by someone working. Getting there early is your best bet!
There are a few different coworking spaces in Guanajuato but we honestly enjoyed the vibes of cafes better.
Connecting with other digital nomads our age was a bit of a challenge in Guanajuato, as a lot of the foreigners living in Guanajuato are people from the US who retired and moved to Mexico. There are lots of groups to join for retirees and a few language exchange groups.
We found it extremely easy to meet locals though. The locals were so friendly and welcoming! We found it so easy to meet people at cafes, strike up a conversation and become friends instantly.
There are a few bars in the city that host different fun game nights or have a band playing. Guanajuato TQM and Guana What are good groups to join on Facebook to find different events and meet people.
Guanajuato Internet speed
We found the WIFI speeds were sufficient enough for us to work from, and even make calls from. We set up a google phone number that allows you to call on WIFI and we talked to all of our clients in the United States that way.
We did want to have access to the internet and google maps while walking around the city though so we got a SIM card at a local cell phone store.
We requested a "pay as you go" SIM card which came with an app where you could top off your credits whenever you needed to. We found this was a cheap and easy way to have internet while not at a cafe or at home!
The app was a bit difficult to figure out though, and we ended up asking a local at a bar to walk us through it. They were super friendly and showed us the ropes and we were easily able to navigate the app after that!
WIFI speeds at cafes and restaurants were always up to par and we never had an issue working from one of the abundances of rooftop cafes overlooking the city.
We would recommend getting a SIM card simply for using maps, researching, or messaging people when out and about, but a SIM card is not needed for working in Guanajuato.
Guanajuato cost of living
Our Airbnb was about a 20-minute walk to the city center and it had a patio overlooking the city. It was actually a 3 story house split into 3 different Airbnbs, so we had neighbors that we shared a courtyard with as well as a washer and dryer.
The Airbnb was 100% furnished and had bedding, all kitchenware, and a nice bathroom. We didn't have a TV but didn't mind as we watched Netflix on our computer.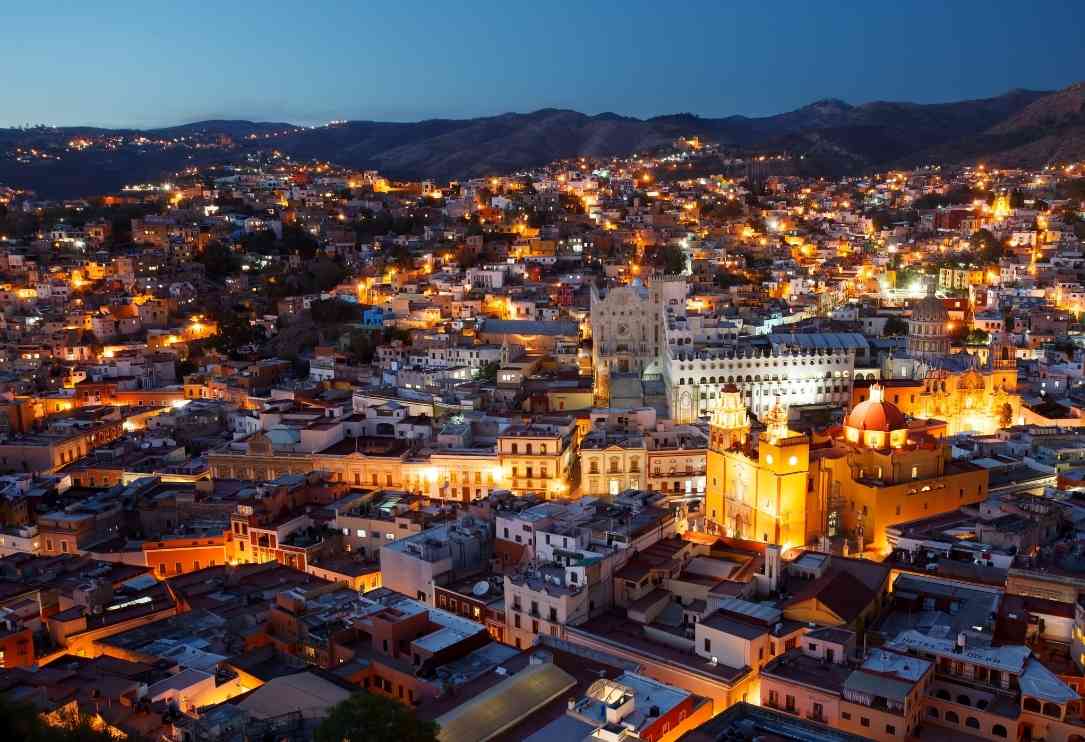 Finding the Airbnb was easily done on the Airbnb website and our hosts were extremely friendly. They were a couple from the US and Canada that had lived in Mexico for quite some time and recently bought another house to rent on Airbnb. They had us over to their house a few times for dinner and drinks which was lovely.
We ate out 2-3 times per week and got multiple drinks most times we ate out. We ate at a variety of fancy expensive restaurants and cheap hole-in-the-wall restaurants. An expensive meal in Guanajuato was around $10 per meal and $2-$5 per meal for a cheap meal.
Drinks never cost more than $5 and if they did cost $5, it was at a fancy restaurant and you got a really nice cocktail for that price. Most of the time local beer cost about $1.50 and a craft beer cost $2-$3 USD.
We went grocery shopping about every 5-6 days and spent $20-$30 at the large chain grocery store. Shopping at the local fruit and veggie markets was extremely cheap and you could bring home 2 full bags of fruits and veggies for $5.00 or less.
Mexico visas, entry/exit requirements, etc
If you are from Canada, the US, the UK, Japan, any country of the Schengen space, or any country from the Pacific Alliance you do not need a visa to enter Mexico. You will be granted a tourist visa on arrival that lasts for a duration of 180 days.
This is provided that you do not carry out any paid activities and you do not earn any money from your activities in Mexico.

Guanajuato Cafes with strong Wifi
Estación Gelato
Estacion Gelato was our favorite cafe to work in while in Guanajuato. The owners are so friendly and we even became friends over time. They have a cute rooftop space that has a couple of plugs where you can set up shop and there are plants and fun colors everywhere.
The WIFI is excellent and coffee or gelato will cost you $2-3 USD. This cafe is quiet and a place where people go with their friends on a sunny afternoon to get a coffee or ice cream.
Cafe Tal La Presa
There are 3 different Cafe Tals in Guanajuato but we really preferred the one in La Presa even though the location in Centro was closer to our Airbnb. Cafe Tal in La Presa has a huge rooftop area with a couple of different plugs and it overlooks an area of Guanajuato where there are fewer houses so you can see the mountains better.
The inside cafe is nice and spread out so you can work away from the sun as well. The Wifi is average at Cafe Tal but functioned well enough for us to work. A nice coffee will cost you $1-$2.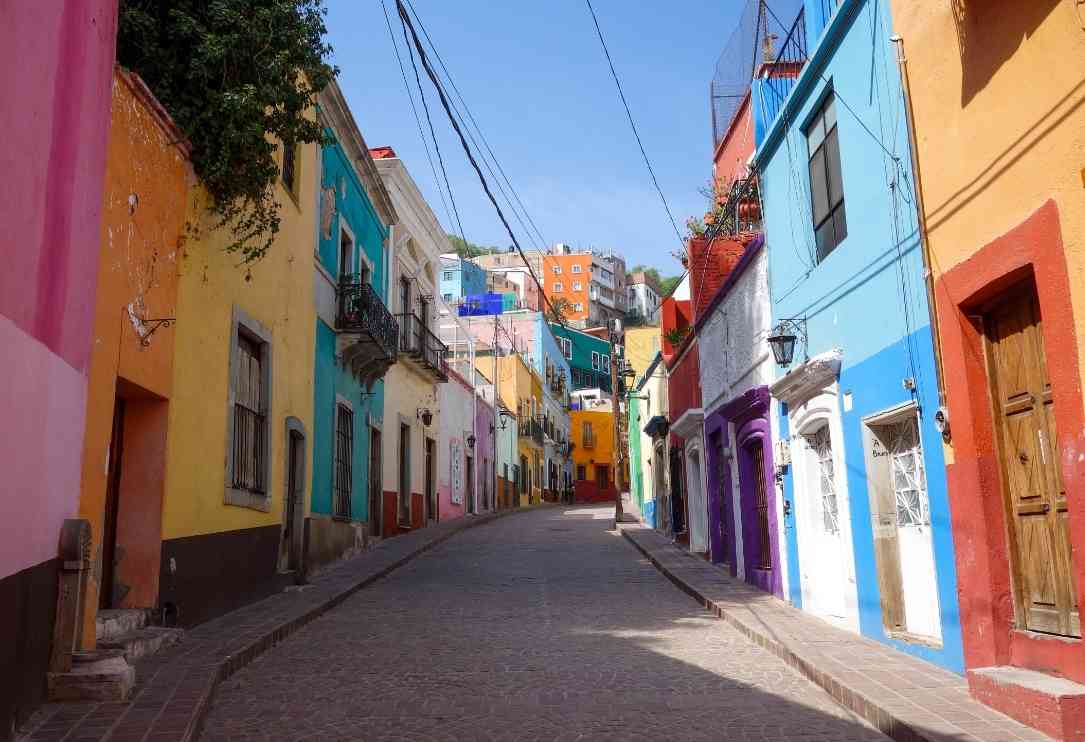 Café Carcamanes
A little indoor/outdoor cafe that is tucked inside a cute little garden. It has plants growing everywhere and is a wonderful place to work because it is super quiet during the day.
The Wifi is average but good enough to get things done. There aren't any plugs in the outdoor area but you can go around the corner inside to charge up. Again a coffee will cost you $1-$2 and a bite to eat for lunch is around $5 USD.
Escarola
A healthy food restaurant that has a sprawling garden area with lots of different little sections. It is a little busier during the day since it's a lunch food restaurant but if you get there early enough you're bound to find a corner where you can work for the day.
The WIFI is average and generally better the closer you sit to the inside. There aren't any plugs in the garden area but there is some inside. Lunch will cost you around $5 and a coffee or beer will cost $1-$2.
Co-working spaces in Guanajuato
Guanajuato is a little behind when it comes to co-working areas. There are so many different cafes to choose from with good WIFI that there really isn't a need for a co-working space.
Tercer Piso Work and Chill
This is the only coworking space we could find during our time in Guanajuato. We didn't end up working there but we did check it out and it was a nice little rooftop area that had private conference rooms for holding a conference or making a phone call and had printers. It cost $2.50 per day and included unlimited WIFI, coffee and water or $7.50 per hour to use the conference room.
[Update]: As of January 7, 2021, Tercer Piso Work and Chill is permanently closed. That leaves Guanajuato with no co-working spaces at the moment.
GUANAJUATO DIGITAL NOMAD GUIDE ON PINTEREST: SAVE IT FOR LATER!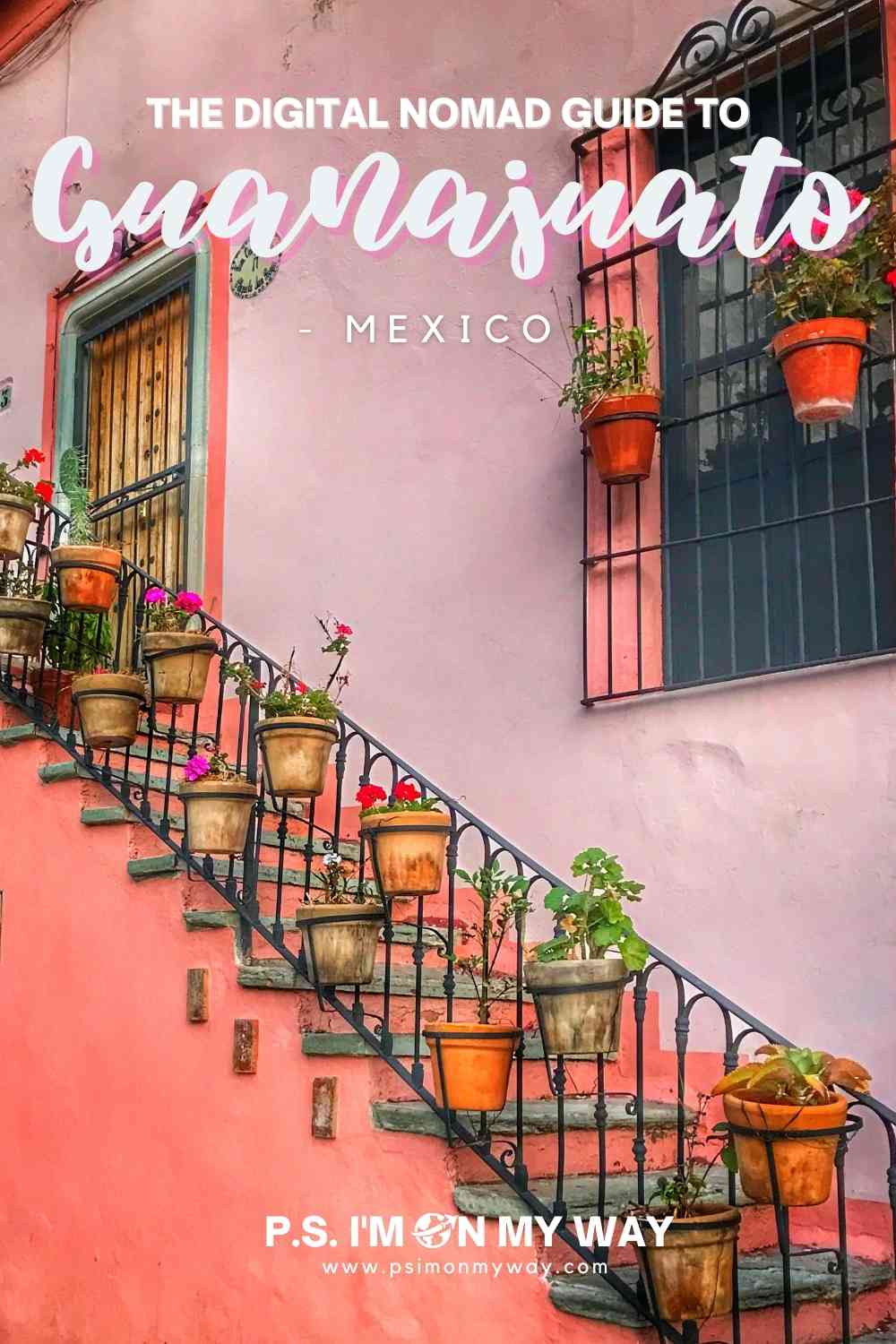 Jessica is a traveler at heart and is the co-author behind the travel adventure blog, Unearth The Voyage. She and her husband Ron have been traveling the world together since they met in 2013. Their first trip overseas together started with teaching English in South Korea and led them to explore 15 more countries. After they blew all their saved money from teaching English, they quickly realized they were hooked on the travel life and started their own business so they could continue living and working abroad. Their first year as digital nomads brought them to Mexico where they lived and worked for 6 months in 2 different Mexican towns. They have recently switched gears and now share about their travels around the United States while living out of their camper.