☕ Support this blog's honest and transparent journalism. Help us add value to what we are sharing. Keep P.S. I'm On My Way free for all by donating to our coffee fund.
I did my Costa Rica solo travel twice and even if I did not like this country a lot (I know, right. more on this later), I still want to share my personal experience about my trip to Costa Rica.
???? Reader Mail: Hello Trisha! I found you on Pinterest and I love your Costa Rica picture in Tabacon Hot Springs! Aside from that, do you have any more recommendations on things to do in Costa Rica? I am planning to visit Costa Rica on my own this summer and I hope you can give me some tips! Thanks for your help and your blog. Have a nice day!
-Nicholas Harris (Houston, TX)
For a small country, Costa Rica packs a punch. It's home to miles and miles of both Pacific and Caribbean coastlines. You can catch the sunrise on one side and drive to the other for sunset. It has a number of active volcanoes. You can choose from cloud forests or rainforests.
Five percent of the world's biodiversity resides within its borders. At least 25% percent of its land is dedicated to wildlife conservation.
It's one of the leading countries in the world for renewable energy. Ticos and Ticas live generally long and happy lives. Life expectancy is 77 years old! Pura Vida, indeed!
???????? Costa Rica travel at a glance
Capital: San Jose
Currency: Costa Rica uses US dollars
Power plug: Like many Latin American nations, Costa Rica uses Type A (two flat parallel pins) and type B (two flat parallel pins and a grounding pin)
Visa: Americans, Canadians, Australians, British, and most European citizens don't need a visa to enter Costa Rica. You will be given a 90-day tourist visa when you arrive at an international airport in Costa Rica (San Jose).
Language: The language in Costa Rica is Spanish but almost everyone speaks English! They love speaking English here – I almost didn't use my Spanish while traveling around Costa Rica. You won't have a hard time communicating with locals.
Transportation: Busses are expensive in Costa Rica compared to renting a car. Whenever I visit Costa Rica, I almost just exclusively rent a car because it is cheap and easy. I will discuss more about transportation in the getting around section of this article.
Wifi/Internet in Costa Rica: Internet in Costa Rica is challenging in beach areas. I bought a Costa Rican sim card and had my portable wifi device with me because I drove a lot. In San Jose, the wifi was fair and worked for me as a digital nomad. I did not have any problem although I would say it wasn't that fast for Youtube video uploads.
Costa Rica sim card: Claro and Movistar is popular in most Latin American countries but in Costa Rica, I got a sim card from the network provider called Kolbi. 5GB of Internet plan with Kolbi costs US$25 and can last for a month.
Suggested travel duration: A trip to Costa Rica can be easily done within a week, especially if you are traveling around in a car. Costa Rica is not a big country but when I was planning my route, I only had 2 weeks so I couldn't travel slowly as I normally do. The East and the West have good places to visit so the drive route planning got complicated for me since I wanted to see both places. Unlike other backpacking destinations, there aren't many common routes in Costa Rica that travelers take. I will explain it more in the routes and itineraries section of this article.
You may also like:
✈️ Costa Rica travel planning
Best time to visit Costa Rica
The best time to visit Costa Rica is from December to April. The weather during these months is good for outdoor activities like hiking. This is relatively summer/dry in Costa Rica but there will be occasional rain showers. This is the ultimate high season since Northern Americans and Europeans are trying to escape the cold in their countries.
My first visit to Costa Rica was during the shoulder season of May to July. There weren't a lot of people and accommodations were cheaper than usual. However, it was raining a lot so it was challenging to drive off-road or go hiking. I did it anyway since I liked hiking when it was raining. The canopy rainforests are also covered so you won't really get wet at this time of the year.
The low season in Costa Rica is from August to November but this is also the time when surfers visit Costa Rica. Some hotels deep in the jungle close at this time because roads are impassable. If you are a surfer, make sure to book accommodation in Costa Rica that is close to your surf spot or ask the hosts about the weather. They will usually say if it's good to go or not. But hey, I know you all like to surf after a strong rain!
Below are the yearly events in Costa Rica that you may be interested in:
January: Feast of Sta Cruz (homage to the Holy Christ of Esquipulas that is 100 years old), Jungle Jam (music festival in Jaco), and Las Fiestas de Palmares, another music festival full of Costa Rican musicians and bands.
February: Envision Festival (music, art, yoga, workshops, festivals in Uvita), Fiesta Cívica de Liberia (with crazy bull riding and races), Danza de Los Diabelitos (a festival that commemorates the Brunka tribe's victory over the Spanish conquistadors), Carrera Chirripo (a pro race in Chirripo's mountains)
March: Feria de la Mascarada (parades, folk and popular music, fireworks, traditional foods, cultural activities), Día del Boyero (an ox parade to commemorate how Costa Ricans used oxcarts for transporting crops), Vuelta al Arenal (a cycling event in Arenal)
April: Día de Juan Santamaría (commemorating the Battle of Riva in 1856)
May: Feast of San Isidro Labrador (Spanish medieval saint)
June: Festival de las Artes (biggest art festival in Costa Rica), National Surfing Championship
July: Festival of the Virgin of the Sea (the fishing boats and yachts are brightly decorated with lights and flags and sailed on the sea), Guanacaste Day, and Walter Ferguson Calypso Festival
August: La Virgen de los Ángeles (celebrating the patron saint of Costa Rica)
September: Independence Day in Costa Rica, Whale & Dolphin Festival (Bahia Ballena in Uvita)
October: Día de la Raza (Day of the indigenous resistance)
November: Costa Rica also celebrates the day of the dead like Mexico; La Ruta de los Conquistadores (cycling event)
December: High season in Costa Rica for the holidays (Christmas and New Year). There will be a grand Christmas festival in Jaco, Costa Rica.
???? Places to visit in Costa Rica
Mal Pais and Santa Teresa
Located on the Pacific coast of Costa Rica in the province of Puntarenas. Here, you will find the neighboring beach towns of Mal Pais and Santa Teresa. Rest assured you will get the best of both worlds if you plan a trip to this area. Santa Teresa is a famous surf town with an abundance of things to do, places to go, and sights to see.
Mal Pais, on the other hand, is a quiet beach hamlet with fishing as the main attraction. Apart from all the activities, you could possibly do on these two beaches, visitors can also enjoy outdoor excursions in and around the area. Cabo Blanco National Park is not too far away.
Snorkeling on nearby Tortuga Island is worth the trip. Yoga is also a popular choice and fitting to the vibe. Enjoy the stoke.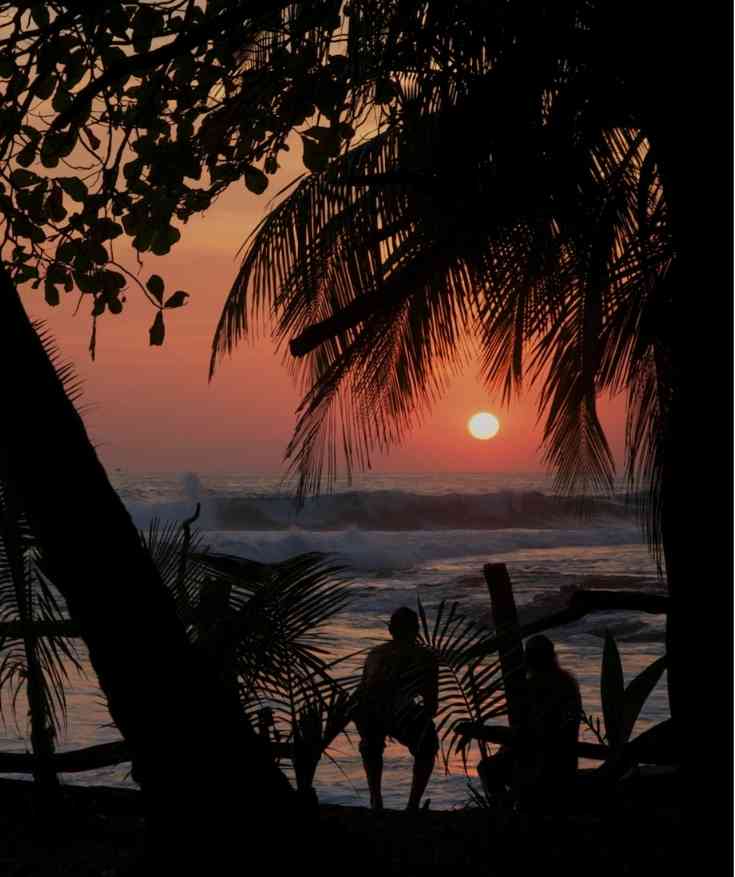 Montezuma
Hippie, tropical, bohemian, eclectic, artsy, these are just some of the few adjectives that best describe Montezuma. This small beach town situated on the Nicoya Peninsula is home to a diverse, laidback, and free-spirited community.
If you need that much-needed break from fast-paced traveling, this is for you. You can spend your days exploring the happenings of the town itself or enjoy a leisurely stroll through the rocky coastline. You might even stumble upon a tide pool to relax in. The waterfalls within the town are worth the visit, too.
Sarapiqui Valley
Just two hours northeast of San Jose lies the Sarapiqui Valley. This area is now one of Costa Rica's prime destinations for wildlife spotting and thrill-seeking. Just like anywhere else in the country, the biodiversity within the valley is impressive.
For avid birdwatchers, this is paradise. This is where some unique species of birds congregate. Hikes are aplenty so it won't be too hard to spot species in their natural habitat. White water rafting or kayaking through the wild rapids of Rio Sarapiqui is also commendable.
Another Sarapiqui activity would be to indulge in a chocolate tour and learn about how this prized product is cultivated. Yes, yes, and yes.
The capital city of San Jose
Travelers usually skip the capital of any country and primarily use it as a transportation hub. San Jose deserves a day or two of your time. It's considered one of the most important cities in Latin America and for good reason. It does not lose its historical and cultural charm despite modernity.
If you're at a loss with what to do or where to go, the best option would be to walk down Central Avenue. The walk will lead you to some of San Jose's famous museums and will give you a glimpse of San Jose's daily life. Another must-see is the Mercado Centrale.
Here you'll find some of the country's most prized produce. Cool off after a busy day of going around town at Parque Metropolitano La Sabana. All this and more in San Jose. You'll see.
????‍♂️ Things to do in Costa Rica
Costa Rica beaches
Cocles Beach
Playa Cocles is one of Costa Rica's most popular Caribbean beaches. Located in Puerto Viejo, this beach is well known for surfing. Get a lesson or rent a board from the countless surf shops that dot this 2-kilometer stretch. People from all levels of surfing can enjoy here depending on the forecast.
You are likely to find good conditions from January through March. Besides the surf, Playa Cocles is just generally a good place to soak up some sun and maybe play some beach volleyball and football. Just like any surfing beach, you'll be treated to all-around good vibes.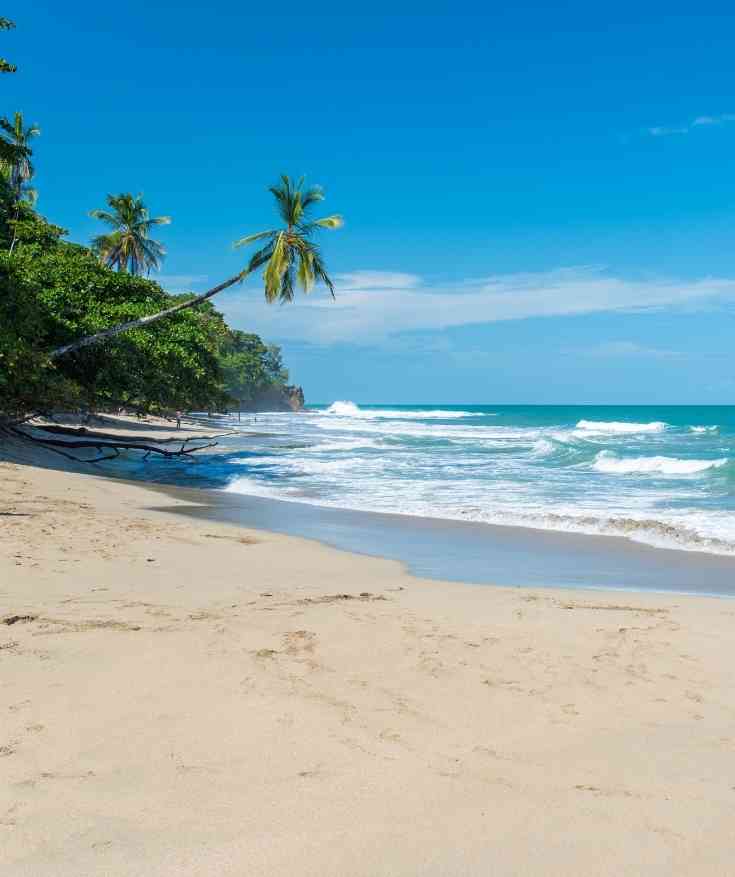 Samara Beach
Samara is another gem of Guanacaste. Sitting at the foot of a hill is a famous and laid-back resort town perfect for a family getaway. The five-kilometer stretch of Playa Samara is the place to go. It's safe. Exotic flora and fauna can be found as you walk along the beach.
Swimming, stand-up paddle boarding, yoga, kayaking, and even surfing can be enjoyed here. Backpackers can immerse themselves in the vibe and grab a beer with locals. Others can opt for a relaxing day of lounging peacefully at the beach or go horse riding at any time of the day.
Try renting a boat and you can visit the nearby Isla Chora. Playa Samara is a perfect day trip break from all the national parks hoping that you'll do in this country.
Nosara
World-class surfing. Exceptional yoga studios and retreats. Healthy organic cafes and restaurants. Hip bars. Beautiful beaches. Exotic wildlife. Diverse and multicultural community. This is Nosara. This town on the Pacific coast is almost a dream come true. It has retained its small-town charm despite the development it has seen over the years.
You'll get deserted shorelines but you will still have all the first-world comforts that your heart desires. Make sure you check out Playa Nosara, Ostional, and Pelada. There's so much to do here that the only problem you will have is having to choose how to enjoy your day.
Costa Rica National Parks and Reserves
Corcovado National Park
Can you imagine the array of flora and fauna that could exist and thrive in an area with 13 ecosystems? Embark on a trek in Costa Rica's Corcovado National Park and you might be able to grasp the biodiversity that this country is famous for.
The challenging trails have more to offer than wildlife. It's an extreme adventure in itself. Take the coastal trail and you'll cross rivers and have empty Pacific beaches to yourself. If you opt for the inland route, you'll be rewarded with a variety of forest types.
Guides are essential and provide proper guidance through this mystical terrain in the Osa Peninsula. If you get lucky, you might get sightings of the rare harpy eagle, the endangered Baird's tapir, and/or elusive neotropical wild cats.
Caño Negro Wildlife Refuge
Near the Nicaraguan border lies Caño Negro Wildlife Refuge. With changing seasons comes changing landscapes. This is what makes this refuge one of the region's most biologically important areas. The water cycle of Rio Frio throughout the seasons has fostered an environment in which biodiversity can continue to thrive undisturbed.
This massive wetland shelters large numbers of migratory birds and endangered mammals. January to March is the best time for birdwatchers. Fish enthusiasts will also enjoy the abundance of species in Caño Negro. Nature lovers will find a way to enjoy this place in any season.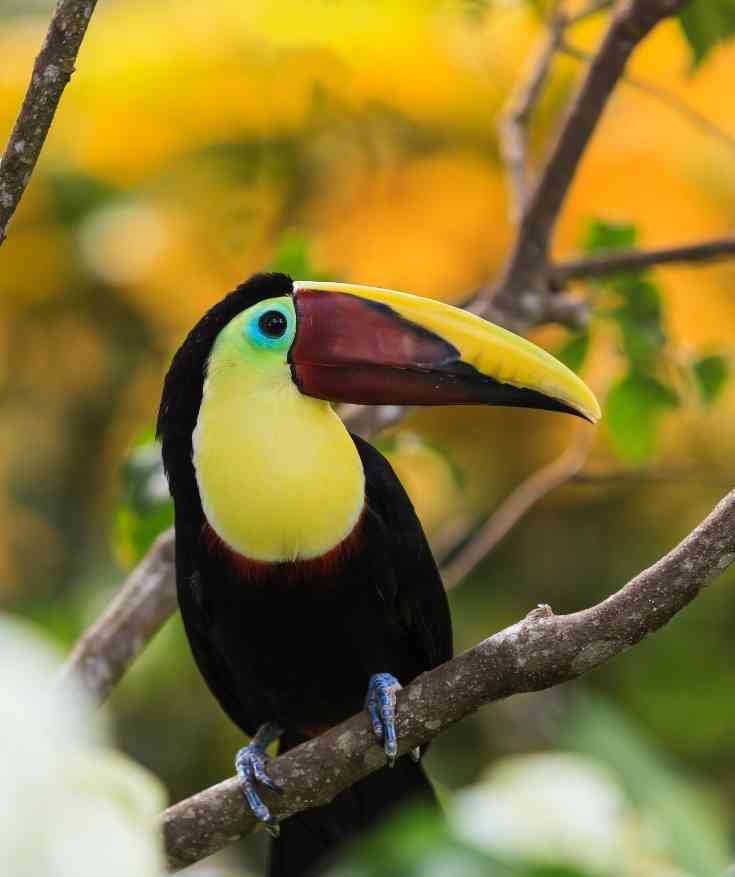 Rara Avis Rainforest Lodge
If you ever find yourself in Braulio Carrillo National Park, please don't miss out on Rara Avis Reserve. This remote and wild 3300-acre reserve is created with the aim to promote environmental conservation and sustainable tourism.
Rara Avis is, of course, a place where nature does not shy away from showing off. A hike through the reserve will leave you in awe of the animal and plant life that calls the area home. Rappelling excursions are available to the more adventurous ones.
Hiking trails and waterfalls are aplenty. Note that Rara Avis' secluded location is only accessible via horseback or a three to four-hour tractor ride so an evening at Waterfall Lodge is highly encouraged.
Manuel Antonio National Park
Costa Rica is home to a good number of national parks. Located on the Pacific coast of the country is the charming Manuel Antonio National Park. Despite the tourism boom in the last few years, it retains its undeniable allure. Think about lush forests meeting tropical beaches.
This is what Manuel Antonio offers. The place is more than its beauty though. The area's biodiversity makes up for its size in the area. Spend your day going on trails or on a boat tour through the mangroves and immerse yourself in the wildlife. End a day of adventure by taking your sweet time lounging on the beach. The hype is real for this one.
Rincón de la Vieja National Park
Imagine a dramatic volcanic setting, an arid landscape, lush vegetation, thermal springs, and waterfalls. All this you will find within the confines of this roughly 34,000-acre national park. The park is divided into two parts, Santa Maria and Las Pailas, allowing visitors to experience both the Pacific and Caribbean sides of the Cordillera de Guanacaste.
With two volcanoes, visitors will have plenty of outdoor activities to choose from. Camping grounds are available. Hiking trails are not so crowded and well kept. Relax your muscles after a long day of exploring, soak in sulfuric hot springs, and finish off in a waterfall or a stream.
Best check out the weather to find an activity best suited for the season. If you ever find yourself in the northern part of Costa Rica, Rincón de la Vieja National Park is a definite must-see.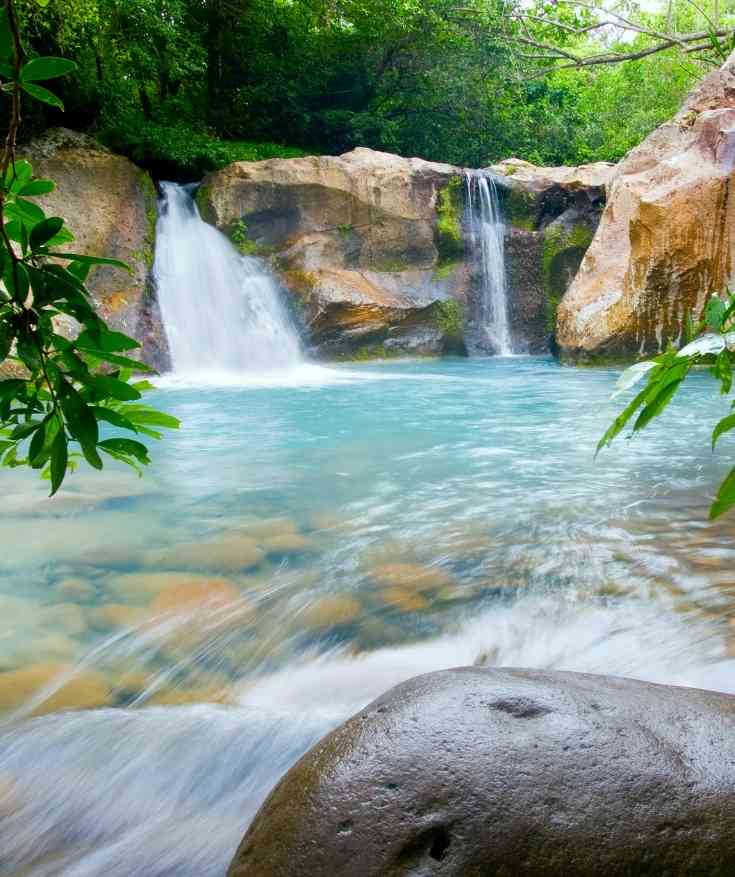 Monteverde Cloud Forest Reserve
In the country's Cordillera Central lies an important cloud forest reserve called Monteverde Cloud Forest Reserve. Its elevation coupled with its lush vegetation harbors the perfect environment to allow biodiversity to thrive. All the moisture trapped by the trees created a unique surrounding for flora and fauna.
It's no surprise that 2.5% of the planet's biodiversity can be found here. This reserve is highly regarded for its commitment to sustainable tourism and dedication to conservation. Enjoy a number of day or night trails, try to spot some endemic orchids and ferns, look out for elusive birds and mammals, and simply just enjoy your time amidst the wonders of the natural world. Cloud forests are generally wet all year round so best to come prepared.
Tortuguero National Park
Eleven different habitats exist within the confines of Tortuguero National Park. Just by this fact, it's no wonder it's so well visited despite its remote location on the northeastern part of the country. Being so biologically diverse, this massive wetland area near the Caribbean coast is home to flora and fauna.
Tortuguero is considered a safe haven for a number of endangered species. Worth mentioning are the loggerhead, hawksbill, and leatherback sea turtles that nest here. Visit if you want to see Costa Rican wildlife in its purest form.
Cultural things to do in Costa Rica
Pre-Columbian Gold Museum
Gold has always been considered a symbol of authority in Costa Rica. When Christopher Columbus and his men first set foot in the country, they were greeted by local inhabitants clad with golden jewelry pieces. Pre-Columbian Gold Museum exhibits Costa Rica's intricate history with gold.
One area showcases an extensive collection of pre-Columbian artifacts. Some dating back to 500AD. Another displays the evolution and history of the local currency. The museum is located right in the capital of San Jose.
Visit a coffee farm
Arabica coffee first arrived on Costa Rican shores in the 1700s. Since then, coffee has played a role in shaping the country's social, cultural, economic, and political landscape. Up to this day, coffee remains one of the country's top exports. Costa Rica is blessed to be in one of the world's best geographical locations.
The weather and climate, the topography, and the biodiversity make it extremely perfect for coffee cultivation. Modern-day techniques and technologies have only boosted the production and quality of coffee produced in Costa Rica.
Enthusiasts will find a variety of specific tours in beneficios or coffee plantations. Best to book it during the production and harvest season from October to March. It's safe to say that coffee is one of the reasons why Costa Rica is what it is today.
Outdoor activities in Costa Rica
Tabacon Hot Springs
The area surrounding Arenal Volcano is home to a number of hot springs. After traveling extensively across the country and spending a lot of time hiking, treat yourself to a therapeutic hot spring getaway to relieve your sore body.
Visitors can choose from a good number of resorts and hotels that cater to your rest and relaxation needs in and around Tabacon. We sometimes forget that rest is integral while on vacation.
Poás Volcano
Poas Volcano is an active stratovolcano in central Costa Rica. Here, you will witness the powerful geothermal forces that shaped our planet. Poas gained popularity over the years for its countless eruptions. But the main attraction here is the beautiful and massive crater lakes Laguna Caliente and Lago Botos.
The surrounding national park offers trails that will allow you to soak in the beauty and magnitude of this landscape.
Rio Celeste Waterfall
Envision yourself walking through a tropical rainforest completely at the mercy of Mother Nature. Immerse yourself in the sights and sounds. You'll witness nature showing off its beauty in biodiversity. You'll hear the calls of the different species just going about their usual.
As you get deeper into the trail, you will hear the sound of a roaring waterfall. Following the sound then leads you to an unbelievably blue and almost mystical body of water. Welcome to Rio Celeste Waterfall.
Locals believe it got its color when God dipped his brush in the river while painting the sky and seeing it will make you believe that God's hand indeed has something to do with its beauty.
Best to go early because only a limited number of people are allowed within the confines of Parque Nacional Volcan Tenorio.
Surf Costa Rica's big waves
Costa Rica is considered a word-class surf destination and for good reason. It's a tropical haven. There are beaches of all kinds on both coasts. Sunny days are aplenty. Water temperature remains relatively warm all throughout the year.
It's safe. It was inexpensive. There's surf all year round. The surf community is growing and becoming stronger than ever. Surfers of all levels can find the right time and place to maximize their water time. Surf camps and surf charters are abundant so visitors can get a chance to practice and/or improve their surfing.
You can also just rent a car and do a DIY surf road trip across the country. If you're a surfer, there shouldn't be a doubt in your mind about embarking on a Costa Rican surf trip. Live out your wildest Endless Summer dreams.
White water rafting in Turrialba
Not too far from San Jose lies the charming town of Turrialba. It's home to a number of scenic destinations–pre-Colombian ruins to the Turrialba Volcano National Park. What it is best known for though is as the main town for world-class white water rafting in Rio Pacuare.
If you're an adrenaline junkie, this experience is one for the books. It's not an activity for the fainthearted with intermediate rapids ranging from Class III and IV. Book a certified tour operator and enjoy every single part of this wild ride.
Hike Cerro Chirripo
Brace yourself for the land of eternal waters and Costa Rica's highest mountain. Cerro Chirripo is a magical place. The ascent will reward you with panoramic views of mystical cloud forests, ethereal paramos, deep valleys, and glimmering lakes. If you get lucky with the weather, the summit will please you with distant sightings of both the Pacific and the Caribbean.
Despite all this, it's not exactly for the faint-hearted. Experienced climbers can traverse the rugged terrain in a day while it's suggested for non-pros to take a day or two. Best believe that whoever takes on the challenge will be exposed to wild and untouched natural beauty and biodiversity.
Bioluminescence Kayak Tour
Honestly, bioluminescence is one of nature's most underrated wonders. I mean, come on, how can one not be bewildered and amazed at the sea lighting up like a sky full of stars? Paquera Bay is probably the best place to witness this natural wonder.
Sign up for a kayak tour and bask in the spectacle of bioluminescent dinoflagellates with Bahia Rica! Timing is key to this venture though. Best to go at the darkest hour of the night and make sure to avoid the full moon.
Arenal Volcano
For 42 years, Arenal Volcano has been a constant source of wonder and awe. Its constant activity draws visitors from all over the world. From 1968 to 2010, you can be a spectator to the sheer power of the Earth with constant earth-shaking and massive explosions.
Streams of lava can be seen streaming down its almost perfectly conical shape. Today, Arenal is still worth a visit. The surrounding area is rugged and home to lush rainforests and thriving wildlife. Not to mention natural hot springs.
Other popular activities in the area include ziplining through the forest canopy and horseback riding to the La Fortuna Waterfall. Visitors can enjoy a whole day of activities and go soak in thermal pools afterward.
???? Costa Rica Cuisine: what to eat and drink
To be honest, if you are staying more than a week like I did, Costa Rica Cuisine was repetitive for me. The staple food of Costa Rica include beans, rice… Well.. then more beans and rice. Almost all their dishes have these two but below are the ones I tried, which I really liked.
Casado
Casado is the comida typica of Costa Rica. Big, big portions at lunch are a must. Casado is typically a hearty plate of rice, beans, tortillas, salad, meat, some kind of potato, and plantains. You'll find this in every restaurant in Costa Rica. No chance of you missing out on this dish.
Chifrijo
Chicharrones + Frijoles = Chifrijo. This popular Costa Rican dish started as a well-loved appetizer in San Jose bars but can now easily be found all throughout the country. Chifrijo consists of pork rind, beans, rice, pico de gallo or chimichurri served with chips or tortillas on the side. Enjoy your bowl.
Coffee
Are you really going to miss out on coffee while you are in Costa Rica? They take their coffee seriously here. This is the only country in the world where it is actually illegal to produce anything other than 100% Arabica. All beans are handpicked. There are eight coffee regions to choose from. With all this in mind, you can be sure that you'll be drinking coffee of the highest quality.
Flan de Coco
Coconut flan gained popularity in areas that border the Caribbean. And of course, it's popular in Costa Rica. It's one of those desserts that you won't be able to stop eating once you have a bite. It's light and not overwhelmingly sweet. It practically melts in your mouth. It's delicious. Try it.
Gallo Pinto
Breakfast? Go for gallo pinto. Literally meaning spotted hen, gallo pinto is the Costa Rican go-to. It's primarily a dish of rice and beans mixed together. Sometimes bell peppers, onions, and other things are added for additional flavor. Don't miss out on the Salsa Lizano!
Guaro
Guaro is the best selling liquor in Costa Rica. It is even sometimes considered the country's national drink. This distilled spirit is made from sugar cane and it's strong. You can try drinking it neat but it's really best enjoyed as a Miguelito or as a guaro sour. Time to loosen up. You're in Costa Rica. Pura Vida.
Olla de Carne
Olla de Carne is Costa Rica's rendition of a beef stew. This is beef slow-cooked with a hearty portion of some of the country's most loved produce. Imagine melt-in-your-mouth beef, carrots, corn, sweet potatoes, plantains, and cassava combining to give you a symphony of flavors. Eat it with white rice during dinner. Trust me. Even if you're not Costa Rican, you'll feel at home.
Patacones
Patacones are essentially plantains fried twice. Cut in rounds then fried. Mashed and then fried again. I know it does not sound like much. But when you find patacones served to you with ground beans and chimichurri, I bet you that you will not be able to stop munching. It's so simple yet so satisfying.
Pejibaye
Go to any mercado in Costa Rica and for sure you will find pejibaye. It's a seasonal fruit of a specific type of palm tree. Once the fruit is picked, it is then boiled for hours. The skin and the pit are removed and you're left with a snack that tastes similar to cashew or a chestnut. Ticos sometimes eat it with lime. Definitely a must-try in the country.
Sopa Negra
We all know by now that Costa Ricans love their beans. It's no surprise that there would be a black bean soup that's well-loved here. What makes sopa negra stand out though are the garnishes. You can add whatever suits your cravings. It's inviting, delicious, healthy, and filling. Best consumed hot and with a good number of corn tortillas.
Trisha is one of those people who left their comfortable life to travel the world and learn about life. Her style is to stay in one place she likes for 3 months (or more) to know what it feels like to eat, cook, speak, and sleep in another culture that isn't hers. She'd like to believe she's not traditionally traveling but she just chooses to be somewhere else all the time. In no particular order, her favorite cities in the world are Barcelona, Buenos Aires, Hong Kong, Mexico City, and Tel Aviv.