👉🏽 Book Bandos Maldives now: Expedia | Booking.com | Agoda
If you are going on a honeymoon in the Maldives and are on a tight budget, is there such thing as cheap resort islands in this world-famous honeymoon destination? Introducing Bandos Maldives – affordable luxury accommodation in the Maldives.
[Disclaimer]: My stay at Bandos Maldives was complimentary but all opinions are my own. Bandos Maldives made my trip to the Maldives possible but they do not have any editorial say on what I write or publish. Sponsors like Bandos Maldives make trips like this happen so that I could share more meaningful content with you.
The boat came at 12:30 pm just like it promised. I was in the Maldives for 2 weeks already and this was the third time I was moving to another hotel.
I got so used to the long-speed boat rides so by the time I was transferring to Bandos, I didn't feel any different – I was ready for another boat ride.
A skinny-looking-fluently-speaking-in-English local helped me with my bags. "This way, madam." Like India, this side of the world likes using the word madam for women guests.
I took out my jacket and was ready for a wind-slamming speed boat ride accompanied by an orange life vest. As soon as we went down the harbor, I was surprised to see a big white with a blue-roofed yacht that says Bandos Maldives.
Sweet! I wasn't going to spend time finding a good spot to sleep for the whole ride! The yacht was equipped with air conditioning, a refrigerator, and a mini-bar (literally, a bar bar).
On the table, a bottle of champagne was sitting untouched. I was never good at drinking on boats so it's better to stick with water.
At this point, it's not even worth it to pour half a drink because Bandos Maldives is just 15 minutes away from the port. And this was one of the things that impressed me.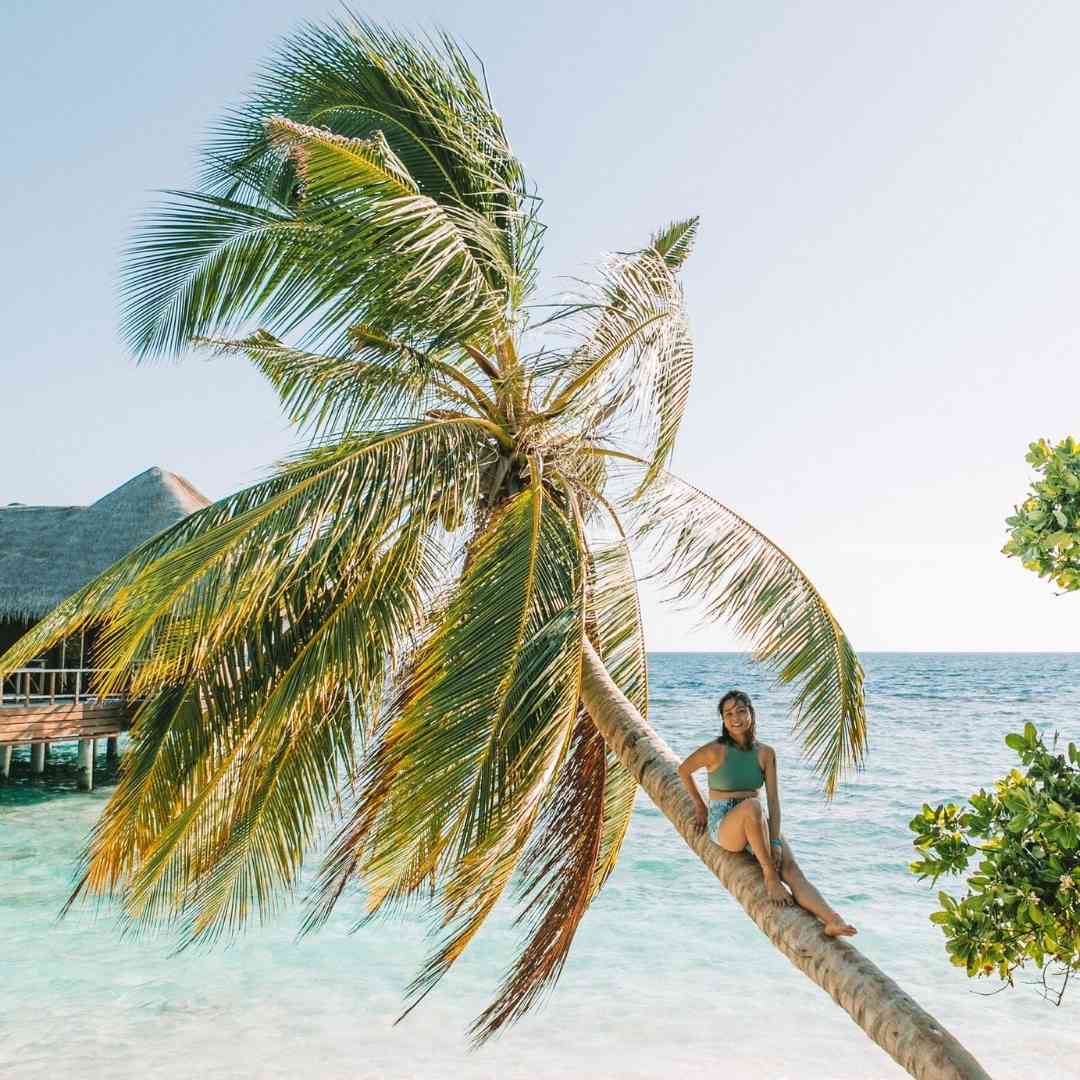 When I first arrived in the Maldives, I flew from Tel Aviv, Hong Kong, Singapore, then Male. After that, I had to take a 35-min boat ride to the first hotel I was staying in.
The minute I arrived, I couldn't even feel my feet. I say this with so much truth – Bandos Maldives has the best location in the Maldives.
A 15-minute boat ride and that's it. For those of you who's been to the Maldives, you'll understand this is a big deal because some of us are really not very good with boats.
Now I know you're wondering why I am writing that Bandos is a cheap accommodation in the Maldives and not even discussing it in the beginning.
Is Bandos Maldives open?
Yes! In fact, COVID in the Maldives is pretty much controlled because of the country's layout. Remember that resorts have their own islands and they're quite big.
You won't really mingle with a lot of people. Their rooms are actually cheaper now that it's COVID and they also offer discounted rates for monthly stays!
The Maldives encourages tourists to isolate themselves in their islands so the prices have dropped. I would've gone right away but the wifi situation in the Maldives will be a problem for my job.
When to visit Bandos Malvides
But first, like many countries, hotel prices in the Maldives depend on seasons. The Maldives is undeniably gorgeous all year round, with average temperatures of 23-31 degrees celsius.
Still, December and March are called high seasons because of the holidays and the unbearable winter in Europe, the USA, and Canada.
The high season normally means 'best time to visit' but in this case, November and April are still the best months to go to the Maldives because of the bearable temperatures.
If you want to spend less and are okay with a little splash of monsoon rains, May – October is the rainy season in the Maldives.
I visited in June, the peak of the monsoon rains and yes, it was pretty rainy. I spent most of my days in the ocean villa but going out was still okay, especially for the surfers.

Why stay in Bandos Maldives?
I've stayed in a lot of resort islands in the Maldives and I feel like Bandos Maldives is the one that has best in value. It is considerably affordable to stay here as the per person rate is all-inclusive.
This resort also has everything (like every other resort in the Maldives) but I felt so much at home when I was here. It definitely turned out to be one of my homes for a month in the Maldives!
Is Bandos Island good?
ABSOLUTELY! The room rates are all-inclusive. You don't have to worry about food. There are multiple restaurants within the island that will suit your food mood.
There are also different beach clubs within the resort and my favorite part is that the beaches are always empty! I feel like I am staying in an island by myself!
How far is Bandos from Male?
The boat ride from Male to Bandos Maldives is only 10 minutes away. What I love about Bandos is that it's the closest resort island to the airport!
I am very bad with riding boats and during my vacation in the Maldives, I took a lot of boats it always made me sick!
How much will I spend to stay at Bandos Maldives?
COVID made Bandos Maldives drop their prices and offer long-term stays for vacationers. A 5-day stay for 2 people at Bandos Maldives (including food) starts at $1,250 USD.
This is the best getaway deal and rest assured that you will not worry about COVID on this island!
Bandos Maldives review: affordable luxury in the Maldives
The rooms at Bandos Maldives
Bandos Maldives has 7 different room categories: Classic, Standard, Deluxe, Garden Villas, Beach Villas, Beach Pool Villa, and Water Villa.
I am not going to discuss the difference between these villas because that's really tedious. Just go to their website to see the difference. But I can help you choose the best option.
After all, these villas have a very small price difference. Most of them don't differ from what's in the hotel room: mini bar, tub, hairdryer, housekeeping – these are things that are normally in luxury resorts and often not maximized by guests.
If you are coming to the Maldives for a honeymoon, your best choices for cheap accommodation in the Maldives are Classic and Standard rooms.
They have very little price difference (not more than $30 USD) but the rooms are very beautiful. If you opt for the upper-class rooms, the only difference is that these higher-priced accommodations have gardens, a beach view, or an outdoor bathroom.
But pretty much, everything else is the same. If you have an extra $100 – $200 to spend, then go for it!
Remember that whatever room you book, you can use the same amenities as everyone else. Diving is one of the main activities that people visit the Maldives for.
You don't need to be certified in order to do fun dives. Each dive starts at $42 USD. If you're an experienced diver and only want to rent gears, Bandos offers that too.
To see the full price list of diving in Bandos Maldives, click here.
If you only want to snorkel, this property has a lot of areas for that – I even saw a lot of baby sharks near the shore. I didn't have to go that far! Bandos has a lot of beach areas that you can choose from and they're usually empty.
My favorite activities at Bandos Maldives
Night fishing was one of my favorite activities because, in my tour group, I was the only one who was able to catch a fish! I wasn't expecting to catch one as we only did this tour for fun (and mostly for a sunset cruise) but I ended up getting one!
In the end, the kitchen made a dish out of the fish I caught and served it for dinner. I got to catch my own dinner that day and that was pretty amazing!
Bandos has a Dhoni, a traditional fishing boat in the Maldives. The dhoni is not only for fishing escapades but also for island hopping experiences.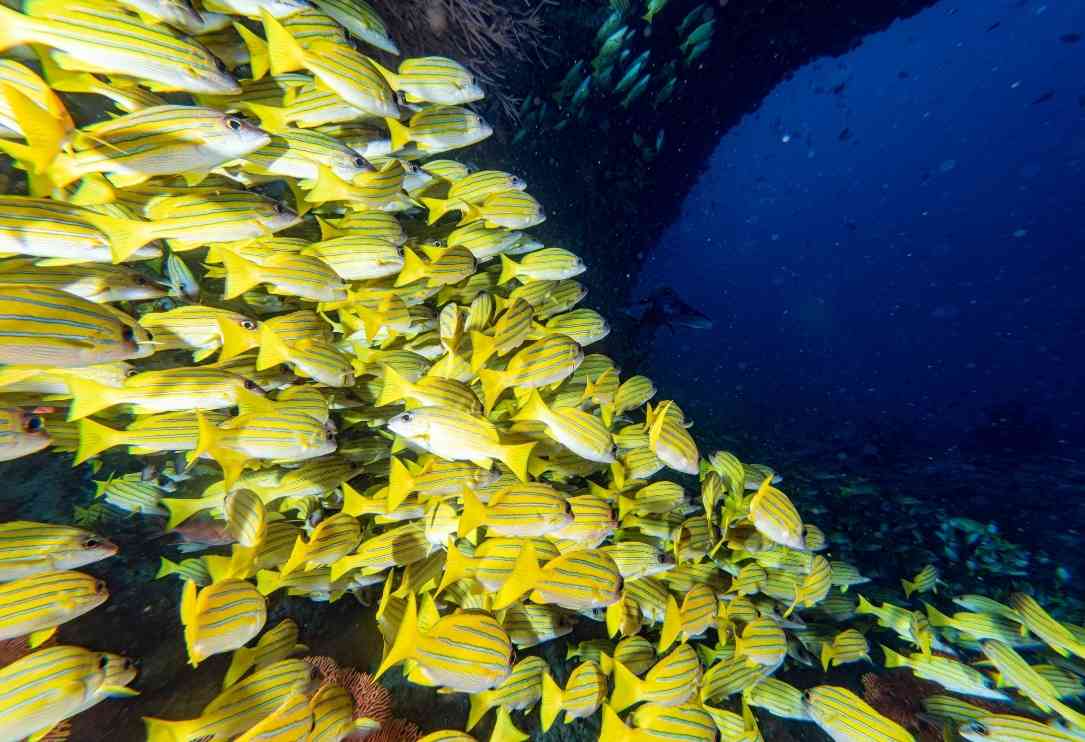 This tour will bring you sailing across the Male Atoll and explore the different islands within Male. Snorkeling, swimming, or just napping at the dhoni are the best highlights of this tour.
This full-day tour includes a picnic lunch on the beach. There is also a half-day tour that starts after breakfast and returns to the island resort of Bandos for lunch.
Other activities in the Bandos Maldives include fun-filled watersports experiences such as jetski, water skiing, parasailing, banana boat riding, wakeboard, kneeboard, and fun tubes.
All these can be availed at the Bandos Watersports Center but are not included in the price of the stay.
Food and drink: Bandos Maldives restaurants
Let me just make this clear: breakfast, lunch, and dinner buffet are available when you pay for an all-inclusive package in Bandos Maldives.
Meaning, you don't need to worry about food for the duration of the stay! You may think that not availing of food together with the accommodations will be cheaper but most resort islands in the Maldives are private.
Meaning, you will not find street vendors or other restaurants than what the resort has.
There are 7 different restaurants within Bandos Maldives and my favorite is Umi Yaki, which means 'Grill by the sea.' It was a total seafood show from a funny Filipino chef who served me the best menu of the house.
This is an open restaurant and there is a sea view so don't worry about getting a lot of smoke from the grill!
I also liked the Sea Breeze Cafe because it is a large outdoor over-water deck. I got to see the baby sharks while I was having a cocktail for the sunset!
The restaurant offers a wide variety of dining options from a la carte offerings such as spaghetti or even authentic Indian curries to alternative fast-food fixes such as pizza and burgers.
Koon Thai Restaurant comes next – an authentic Thai restaurant in Bandos Maldives. Elegantly designed, guests can choose to dine inside or savor the view and gentle breeze outdoors on the deck overlooking the lagoon.
Chefs at Koon Thai are very good Thai cuisine chefs from around the world so the quality of the food and the authenticity of the cuisine is ensured.
Other restaurants in the Maldives include the Pool Bar, literally a bar in the middle of the pool. I went here almost every day because I couldn't take the heat of the sun.
This bar has a lot of cocktails and serves snacks as well. Huvan, which means blue skies and calm seas is a dinner venue and is the best place to view the stunning Maldivian sunsets.
Located at an enormous sundeck, Huvan's view is definitely a dinner view worth availing at the Bandos Maldives.
You will visit The Gallery Restaurant a lot because this is where breakfast, lunch, and dinner buffets happen. If they are to do it in another venue, it will be announced on the whole island resort.
Private dining can also be availed at Bandos Maldives. They set up a dinner for me and my friends by the beach and it was really an experience!
We were served by private chefs and had candles all around us. The dark blue sky was also a pleasing view. The Lobster Dinner package is definitely worth the try for honeymooners!
The spa at Bandos Maldives
Who would come to the Maldives without having a massage? The Orchid Spa in Bandos was such a treat! After 3 days of stay (I stayed for 7 days), it was so hard to book a massage therapy session at the Orchid because the demand was really high – every guest is looking for a massage!
As soon as I was able to secure my appointment, I went to the spa (golf cart service from my villa) and enjoyed a luxury body treatment.
After which, I had a 1.5-hour massage. In the beginning, I asked if room service is possible but they highly encouraged me to visit the spa so I can use other amenities such as the sauna.
It was my birthday weekend during this trip and I am so happy I chose Bandos Maldives for this event!
The service at Bandos Maldives
The Maldives is a popular resort island destination so everyone aims to deliver a high level of hospitality. Sometimes, I felt very overwhelmed by the crazy service – they literally do everything for you!
Additionally, if you're staying in an ocean villa, a butler will be assigned to you. The butler will pick you up and he's the only person whom you can call if you need anything.
All staff of Bandos Maldives and highly trained (no to mention they're all Filipinos) so I really had fun conversing and interacting with their staff.
You can literally ask for anything while you are staying at the Bandos Maldives. The Maldives is of the top countries where I received great hospitality and service.
Bandos for families
Families who wish to visit the Maldives will have plenty of options (and space). There are many types of villas in this resort so you'll have the option to choose what suits you.
There are also villas with connecting rooms (for when you need time away from the kids). There are also a lot of activities for kids (like a child's daycare) so you can enjoy your vacation without worrying about their safety.
Booking and reservations at Bandos Maldives
You can directly book through the Bandos Maldives website but I am not sure if rates there are cheaper. I booked through Booking.com so I was able to get a great deal.
Agoda is also widely used in Asia so you will see a lot of coupons and hot deals, especially during the low season.
I also use Expedia often. If you're from North America, this is the preferred booking platform.
☕ Do you like what you're reading? Does it help? I take a lot of time creating valuable and meaningful content. If you like to support my content creation and my blog, consider donating to my coffee fund. Thank you in advance!
Bandos Maldives review on Pinterest: save it for later!
Trisha is one of those people who left their comfortable life to travel the world and learn about life. Her style is to stay in one place she likes for 3 months (or more) to know what it feels like to eat, cook, speak, and sleep in another culture that isn't hers. She'd like to believe she's not traditionally traveling but she just chooses to be somewhere else all the time. In no particular order, her favorite cities in the world are Barcelona, Buenos Aires, Hong Kong, Mexico City, and Tel Aviv.