After being hospitalized twice this year, I decided to convert to standing desks in my home office. It took me a while to get the best stand up desk and in this article, I am going to tell you about my journey.
Dear remote workers: I've been in this business since I was 19 years old. I am 34 now. I have been a digital nomad most of my life moving to different countries and I never have to worry about setting up an office – my office is everywhere!
Of course, 19 is so much different than 34 and I proved that to be true when I got into physical therapy this year. My hands started to become numb and the doctor did not know what was causing it.
After a few tests and MRI, it turned out that I have a neck problem and I pretty much had a clear idea of how I arrived at this point: I simply sit down everywhere and work as I please.
2022 was the year that I finally have a place to call home. Although I am a little bit rattled about my set-up and transition, I certainly am learning how to work from home since I already know how to work remotely.
Here's my journey about shopping for the best standing desks including some tips on how to find the standing desk that works for you.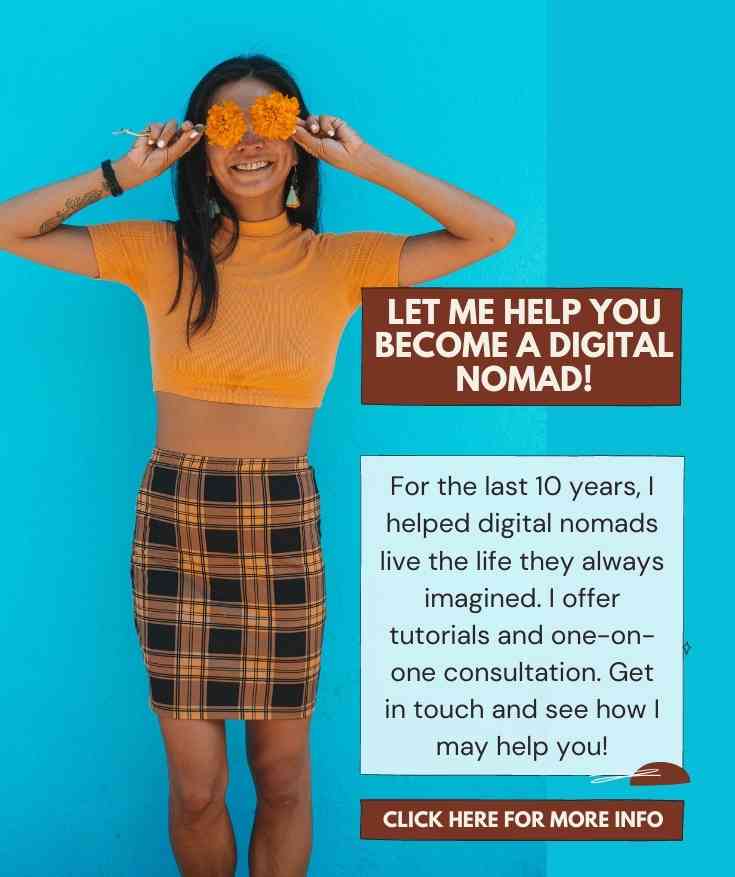 ???? Why you need to switch to a stand up desk
I don't know how old you are right now but I am writing about this switch from experience. I have worked online and from home for most of my life and this has never been important to me.
In fact, it did not even cross my mind how important it is to have a proper working space, mostly because I was moving around constantly.
If you already transitioned to work from home, there will be a lot of distractions and for that reason, you need a proper space at home for your productivity.
Having a proper office desk (standing or not) should be on top of your list so that each time you wake up and go to work (a.k.a. your home office), your brain will be programmed to be in work mode.
Never ever work in your living room or in your bed for long hours. Believe me, I learned my lesson from being hospitalized – you don't want to wait until something happens to set up your home office properly.
I'm sure that if you are under 30, you will not take this seriously like I did because you have different priorities on where to spend your money. But when you reach 30, you will definitely understand (and feel) what I mean.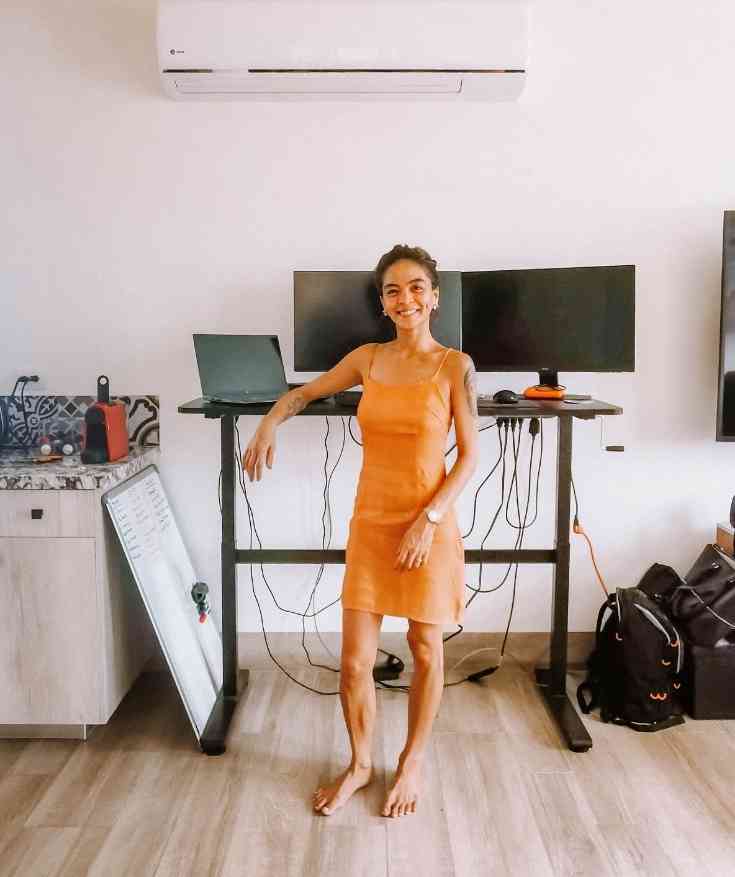 ???? Benefits of standing desks
When I first heard about standing desks, I wondered, "why would one work standing up? Isn't that tiring?!" I never believed in it until my physical therapist recommended that I try it.
First, I learned that it is very uncomfortable to stand up for hours barefoot so I bought memory foam house slippers that I can wear while working. It certainly had a huge difference from working barefoot!
Here are some of the benefits of switching to standing desks:
Weight loss: studies show that working while standing up contributes to weight loss. You can lose up to 170 calories by standing up!
Lower blood sugar levels: in a study conducted in small office settings, there was a 43% decrease in sugar levels for those who have worked standing up for 180 minutes (3 hours).
Promotes heart health: sitting down has higher risk of heart disease than standing up.
Good for back health: when working long hours, you should never slouch or crunch. It is hard for us to be mindful of these things so a standing desk really helps without you even realizing it.
Improves energy levels: when you stand up while working, you are more aware of your surroundings and you can move freely around your workspace. I sometimes find myself dancing while working at a standing desk. I must admit, it did improve my mood!
???? Are standing desks expensive?
There are affordable standing desks but my advice is to not buy anything lower than US$200 because you'll end up buying another one. The best ones in the market are around US$500 and above as they are more ergonomic and automatic.
I understand that it could be a lot for an office desk but if you are an employee who transitioned from office work to working from home, you can definitely talk to your employer about paying for your home office set-up.
I don't know if your employer would agree but if you don't ask, you don't get. I know many friends who tried this advice and some employers rarely say no because they are not paying for overhead expenses (a.k.a. office building, electricity bills, etc).
I also believe that your employer will be appreciative that you want a better home office set-up for yourself but make sure to choose a standing desk that you will really use. Don't just have it on display in your office and continue your habits of working on the couch or the bed.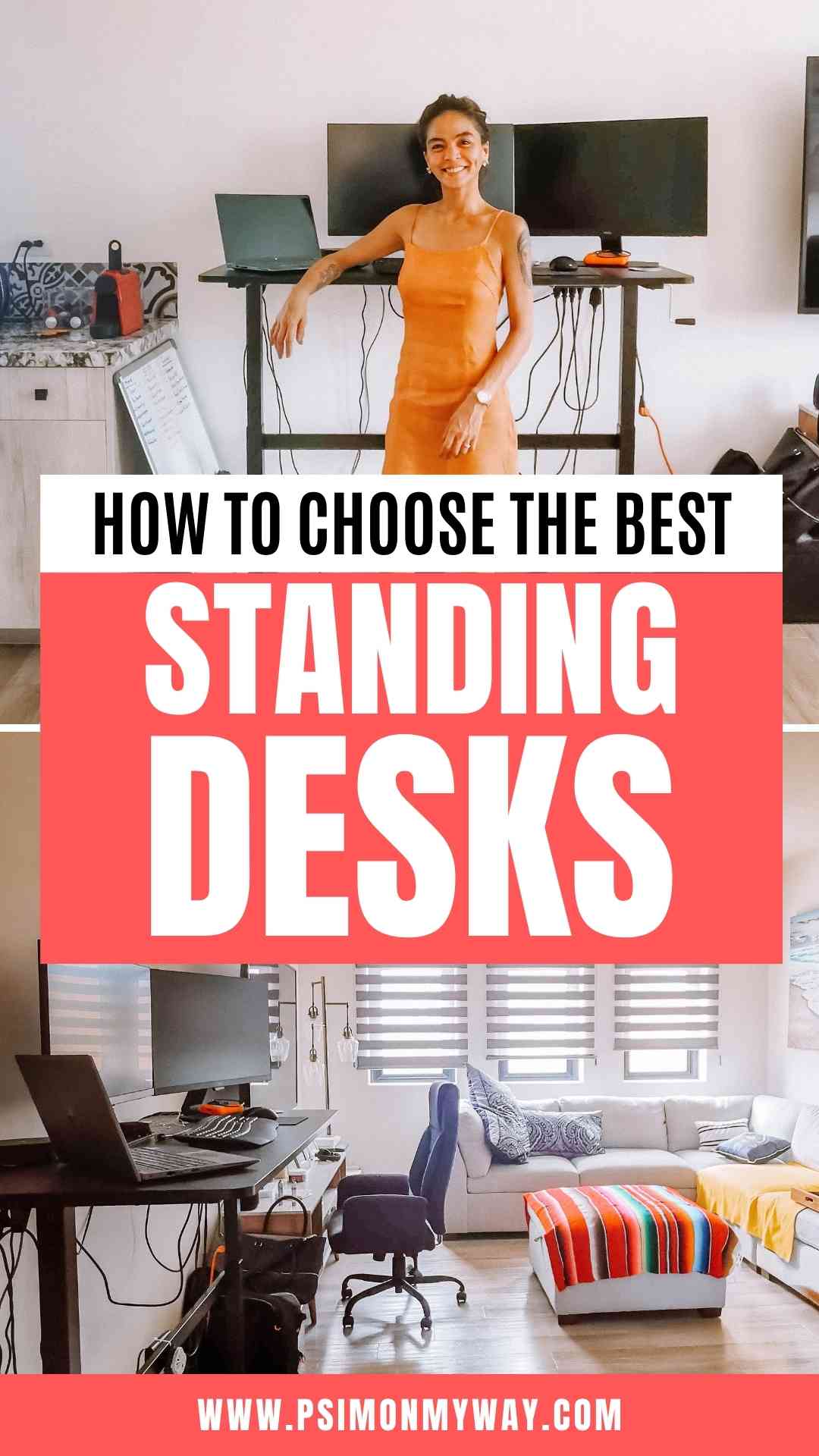 ????️ Best standing desks in the market right now
#1: FLEXISPOT EP4 Classic Electric Standing Desk
???? from US$500
???????? Buy on Amazon
The Flexispot EP4 Classic is the best standing desk in the market right now. You can choose from three different sizes but I always prefer the 63×30 which is the widest of all standing desks.
This is an automatic standing desk that will enable you to lift and lower the desk with ease and on the level that you are more comfortable. There are also three different levels no matter what your height is. It is suitable for adults up to 6'5.
What I love about the Flexispot E4 Classic is that it has a built-in USB port for charging. You won't be needing an extension cord with this stand up desk!
The automatic control panel is a gem as you can do everything according to your work style. The best feature of the remote is that you can set a time (let's say 30 minutes) for you alternatingly to stand up and sit down. The sit-stand alert button works wonders, especially if you are buried in a middle of a tedious task!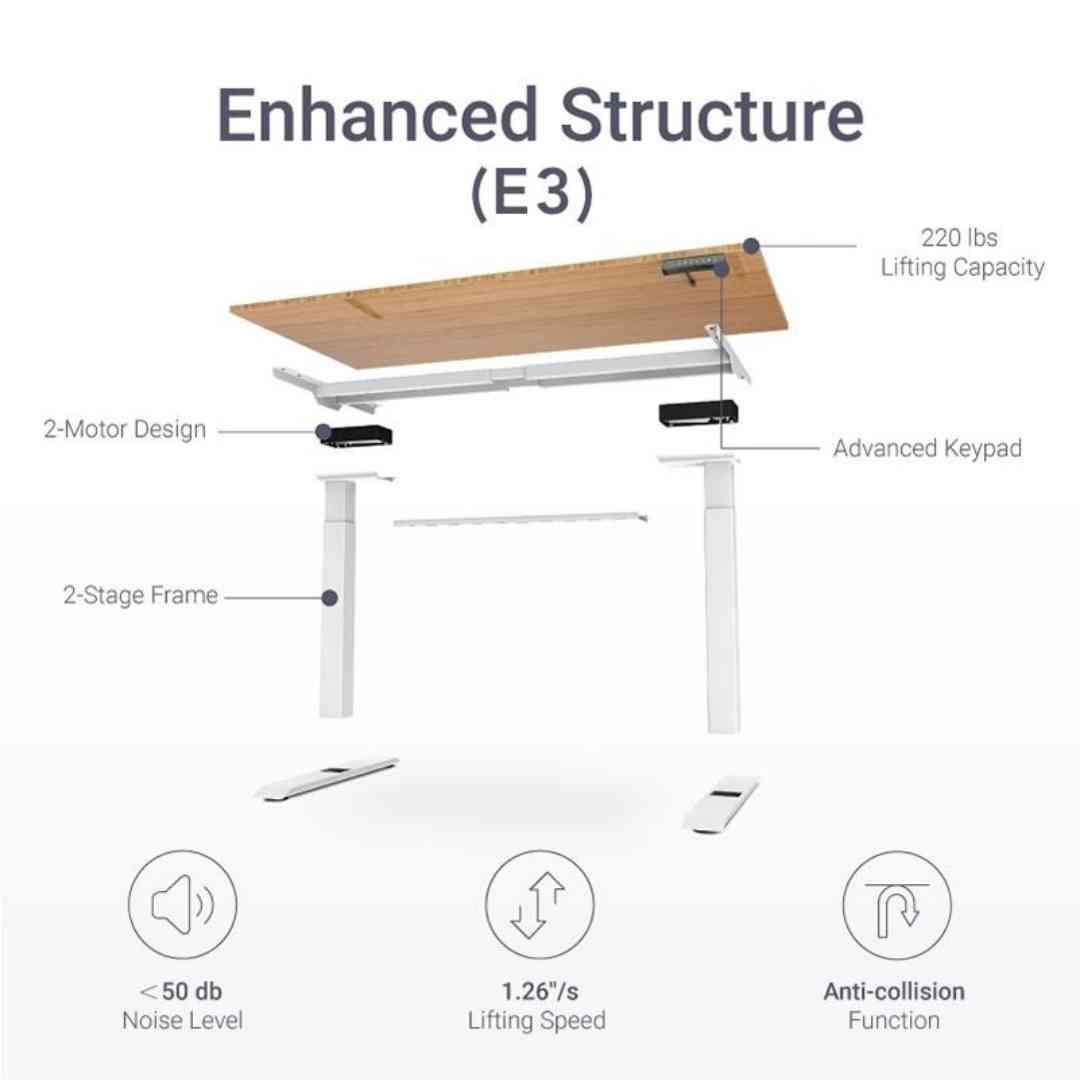 #2: Outfine Dual Motor
???? from US$450
???????? Buy on Amazon
Outfine Dual Motor's best feature is the Height Memory Function, which you can manually set with your remote. You don't want to adjust the desk each time you work so it's best to set it (i.e. standing or sitting). Once set, this standing desk will do everything automatically for you!
Another good thing about Outfine Dual Motor's standing desk is that it has a cup holder which can also fit a drinking bottle. This one is detachable so you can place it wherever you feel comfortable. This way, you can also avoid spilling liquid on your gadgets – I know it has happened to you at least once!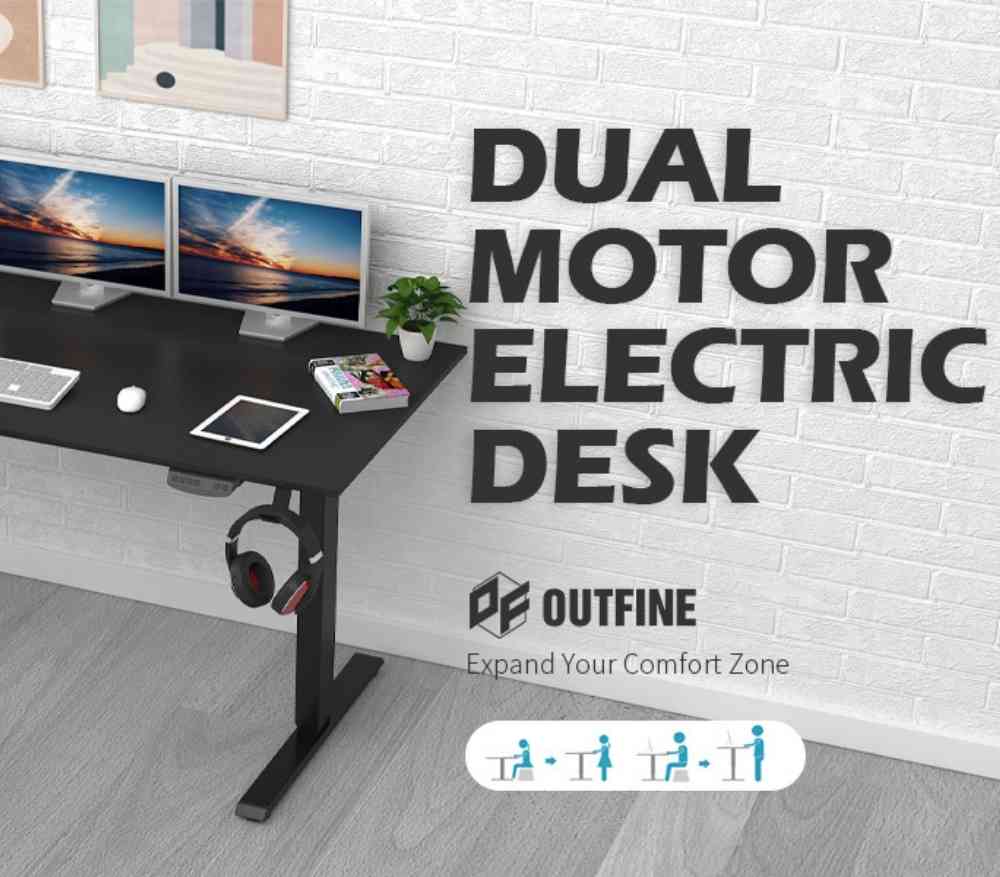 #3: Eureka Ergonomic Desk
???? from US$540
???????? Buy on Amazon
Eureka Ergonomic Desk may be the most expensive in the market right now but it's worth the penny. This brand originally designed its desks for gamers who use multiple screens so the first good feature of this desk is the space and large surface.
I don't know how you set up your home office but I use two big screens (see the photos of my home office) and one laptop. I definitely need a large space when working with three screens and Eureka meets that requirement!
There is also a controllable RGB lighting armor but if you're not a gamer, you won't really need to use that feature. One of my friends is a gamer and is using this desk and he said that the lights are for the ambiance of the game. It's just for an added adrenaline rush while playing.
Adjusting the height of this desk is super easy and can be done in one click. There is also a heating system that you can use during winter and/or for different working positions.
Like Outfine Dual Motor, you can also adjust the settings of the different heights and levels that you want. The Eureka Ergonomic Desk comes with 4 USB charging ports, a cup holder, and a headset hook.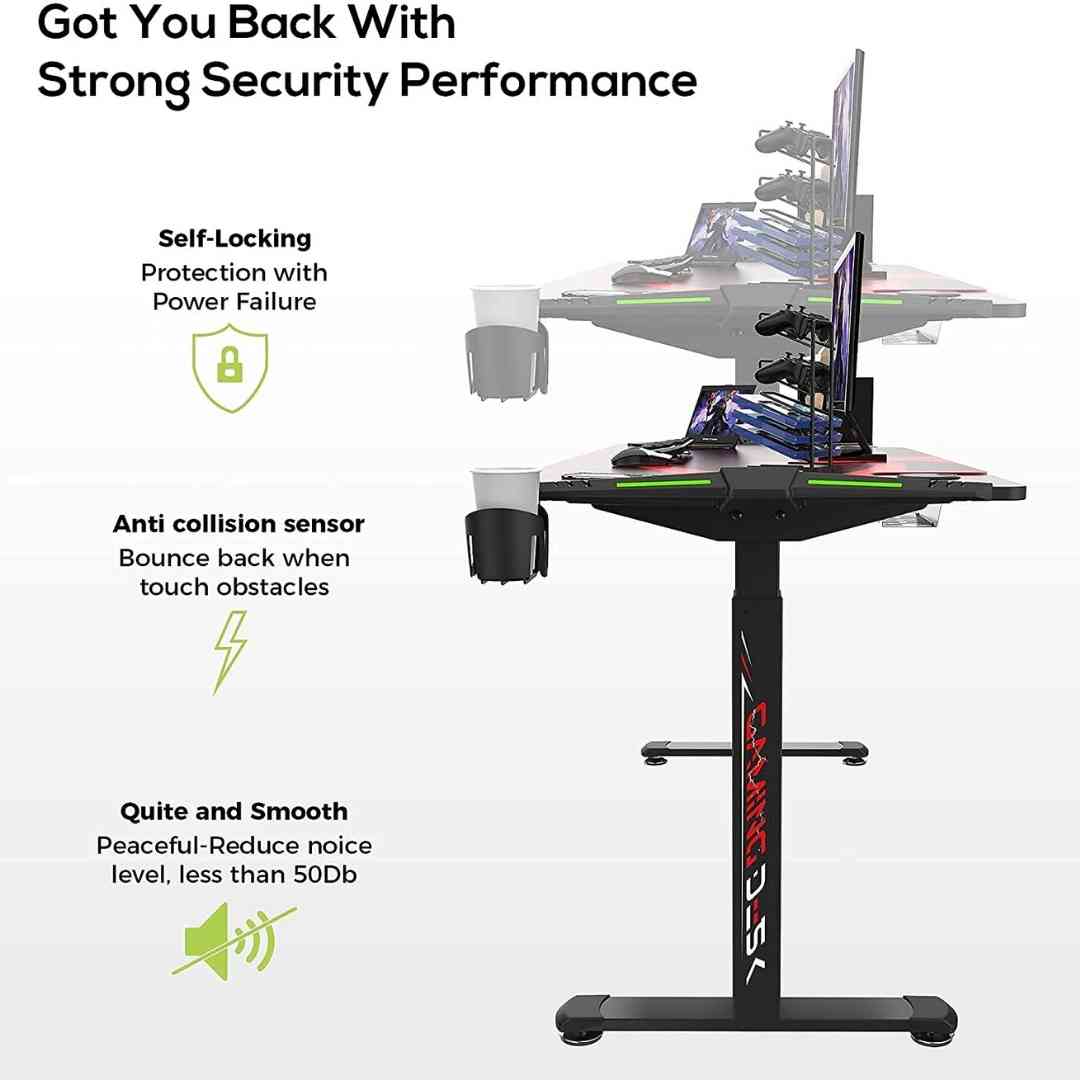 ???????? Disclaimer: P.S. I'm On My Way is an affiliate of Amazon LLC. I might earn a small commission when you purchase these products but all opinions in this post are my own. Amazon does not tell me what to write or how to review products on my blog.
#4: It's Organized
???? from US$520
???????? Buy on Amazon
It's Organized is another stand up desk with a large surface and was also originally designed for gaming. This desk measures 62.36 inches (length) and 27.56 inches (width). As for the height, it can go as low as 29.92 inches and as high as 48.43 inches.
There are 4 different preset buttons to set the height that you want for your desk. This also has a memory function so everything is automatic.
The best feature of this desk is the fully covered mousepad tailored with durable stitched edges. This table is a zero-slip base so you don't have to worry about spilling water or coffee on the table while working. The mousepad can truly change the way you work – it makes such a huge difference!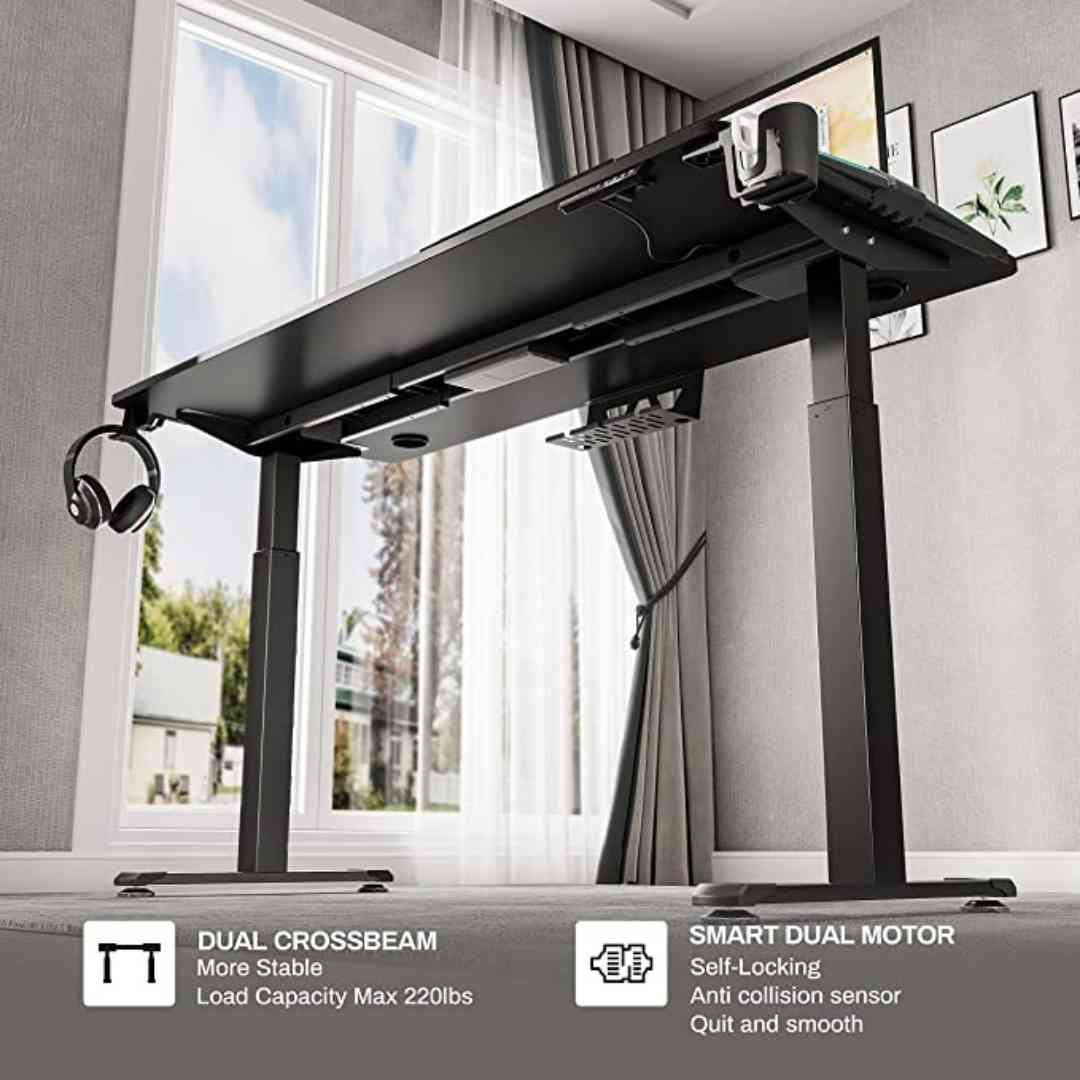 #5: Fezibo
???? from US$346
???????? Buy on Amazon
Fezibo is a cheaper option and is recommended to those who are just starting to set up their home office. It is very durable and can hold items up to 145 lbs! The legs are also pretty stable there will be no interruptions while you are working.
There are three preset buttons to set the height (automatically). You can customize it from 27.16 to 46.06 inches but my best advice is to always follow your neck and eye levels.
It might be similar to the other standing desks in this post but the best feature of Fezibo is its casters. You can move your standing desk around the hose and lock the casters when you are using it.
This is ideal for those who have large spaces at home and wants to change their environment while working at home.
#6: Klvied Standing Desk
???? from US$64
???????? Buy on Amazon
Yup, you read that right! The Klvied Standing Desk is only US$64! Now, I know I said you shouldn't opt for cheap gear for setting up your home office but let me explain why Klvied will still work for you.
I would recommend this standing desk for those who are working from home part-time (i.e. 4 hours a day). It is smaller than most standing desks and you can move it around the house: work in the living room, kitchen, adjust it to your bed height — this thing might be small but it is quite powerful!
The maximum height you can adjust this desk to is 37.2 inches while the lowest is 27.9 inches. The surface is 23.6 x 15.7 inches so it is good enough for a laptop. You can't use this for a multi-screen set-up but I have it in my living room just in case I want to work in different parts of the house.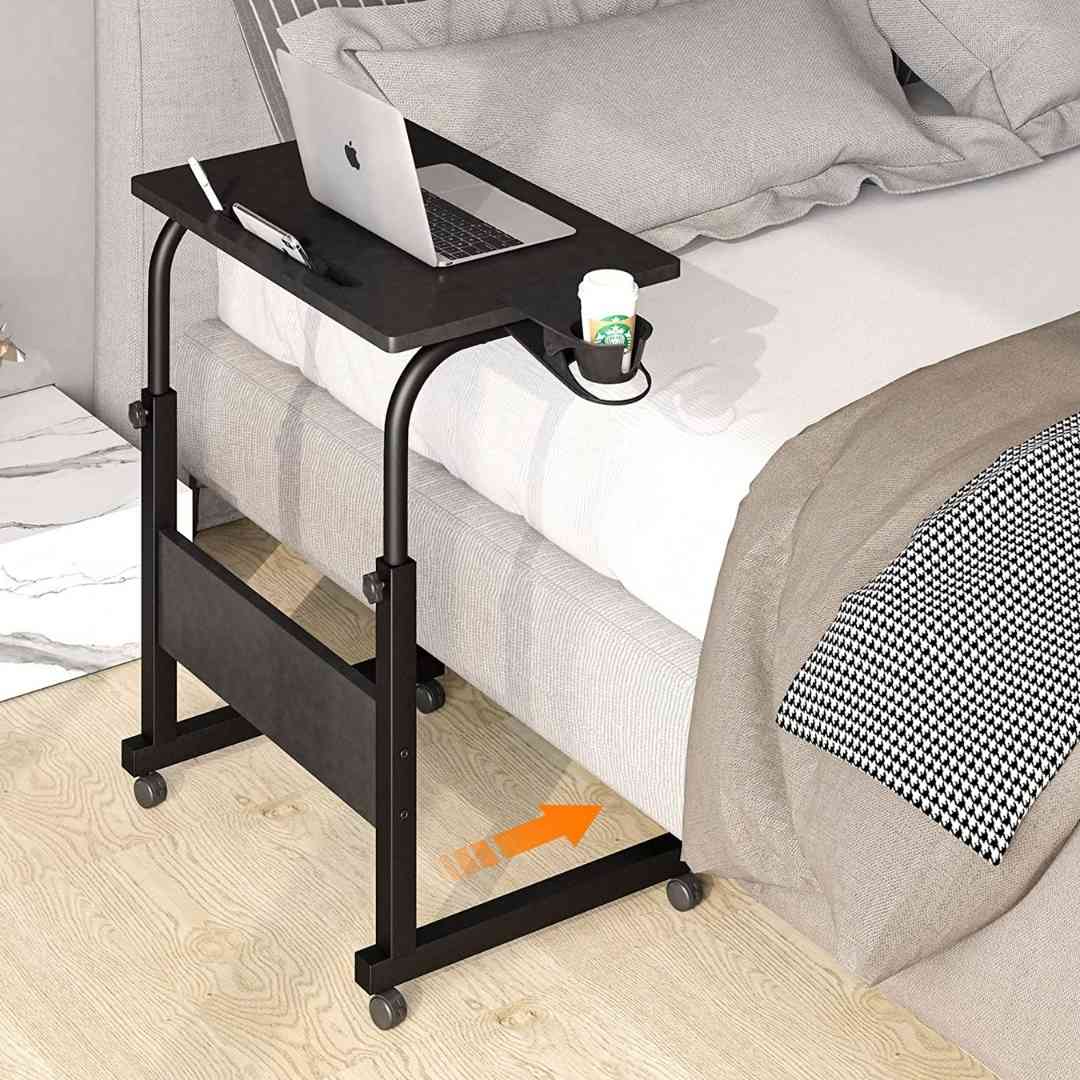 #7: Costco Standing Desk
???? from US$799
???????? Buy on Costco website
A Costco Standing Desk would make more sense because they can deliver to your home but my issue was Costco was more expensive than anywhere else I looked! And mind you, I didn't find the selection better.
There are over 20 different standing desks on the Costco website but none of them are automatic. Most of them have levers on the side for adjusting the desk. I didn't find anything automatic or remote-controlled.
Another issue I found from Costco is that most of the standing desks on their website are not available in the physical store. I don't even understand why they are putting it online if it's not available!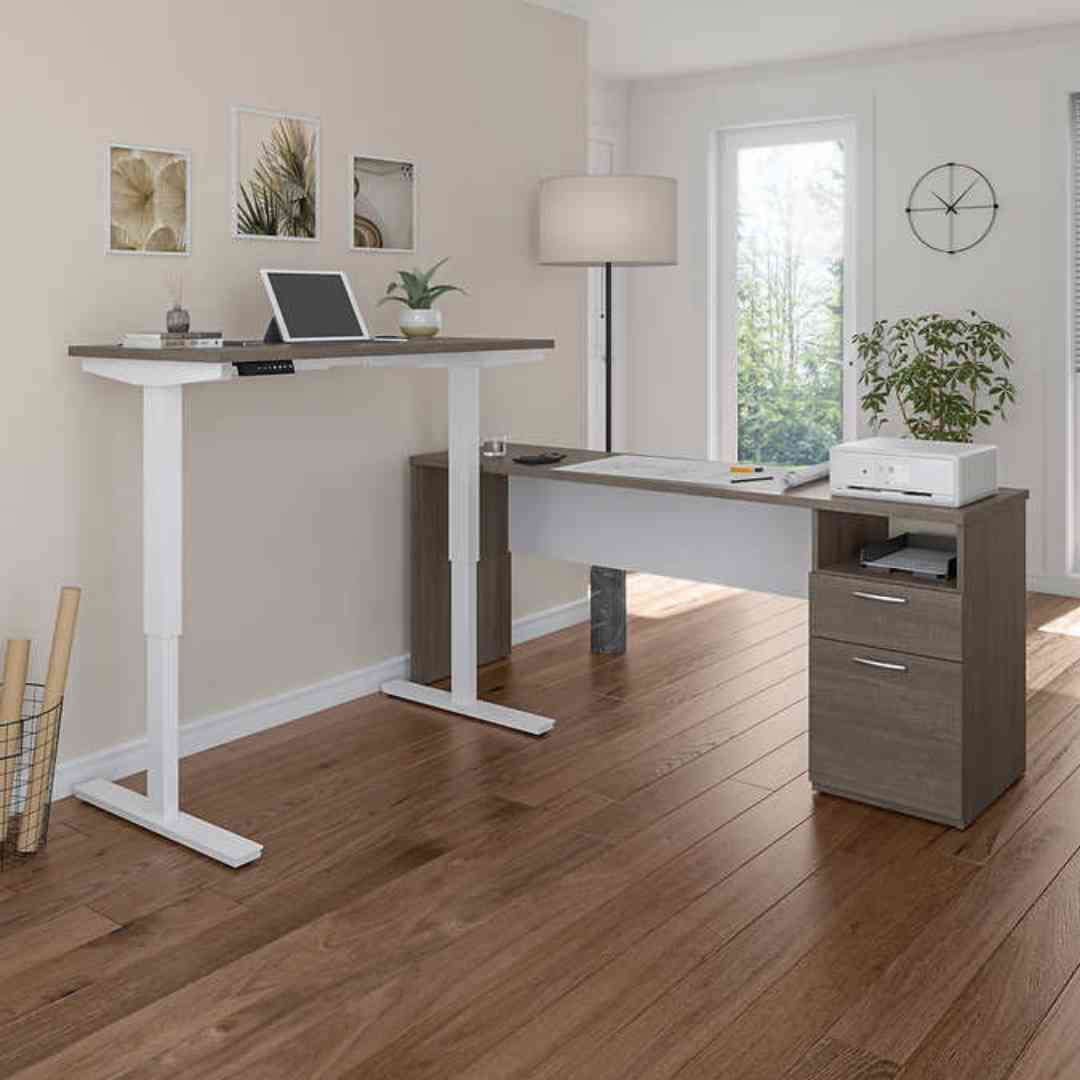 #8: Ikea Standing Desk
???? from US$279
???????? Buy on Ikea website
The Ikea Standing Desk is the easiest to purchase and assemble. It is also the cheapest of all standing desks because the hand crank to adjust the height of the table is manual. I had this one too and working with a non-automatic table was just the same as the automatic ones.
This is the best option for those who are on a budget and for its price, the quality of this product is really top-notch. There are many other options on the Ikea website but this is the best in value under US$300.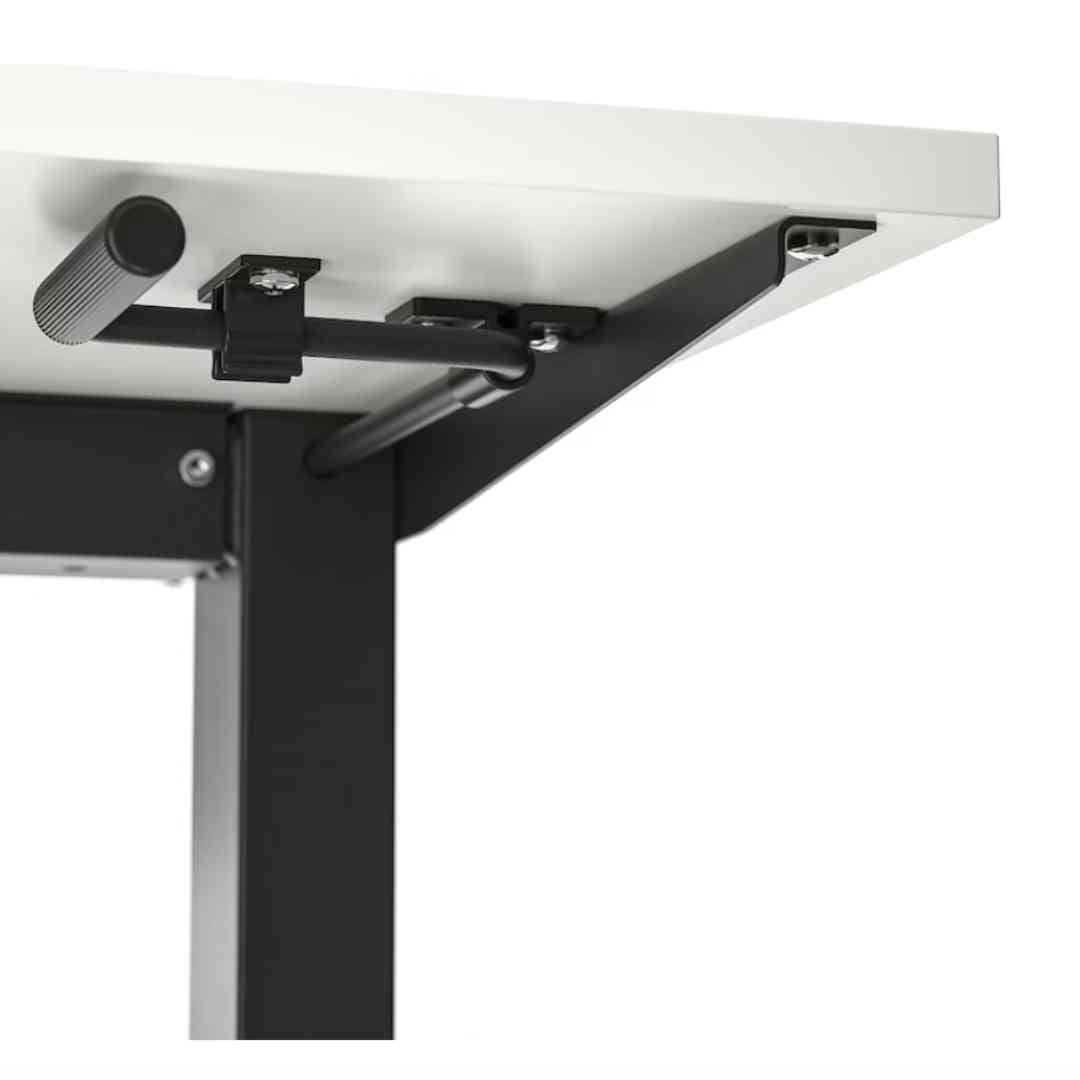 Trisha is one of those people who left their comfortable life to travel the world and learn about life. Her style is to stay in one place she likes for 3 months (or more) to know what it feels like to eat, cook, speak, and sleep in another culture that isn't hers. She'd like to believe she's not traditionally traveling but she just chooses to be somewhere else all the time. In no particular order, her favorite cities in the world are Barcelona, Buenos Aires, Hong Kong, Mexico City, and Tel Aviv.