There was a recent buzz about the 180 days Mexican tourist visa in our expat and digital nomad communities here in Mexico. Though it is directed at tourists, here's what I know so far.
📬 Reader Mail: Trisha, I am going backpacking in Mexico for 3 months. Your blog helped me a lot in planning for my trip so thank you so much!
I read in digital nomad groups that Mexico is no longer giving a 180 days Mexican tourist visa. Any tips? What should I do in order to get a maximum of 90 days?
My trip is already booked and I have an itinerary so if you could give me some tips, that will be amazing! I would also like to confirm this information since you have an immigration lawyer in Mexico as I read in your temporary resident visa in Mexico post.
Thank you so much for all your hard work and great information! I donated to your coffee fund – I hope that helps you create more!
Cheers,
Crystal B., The Netherlands
Hi Crystal!
You are right. A week ago, there was a buzz in our Facebook groups about Mexico no longer giving 180 days Mexican tourist visa. Thank God I already have a 4-year temporary resident visa!
In order to make this article more informative, I talked to my lawyer and I will discuss the reasons why in this article. I will also give you tips on how to get a 180 days Mexican tourist visa. I still know people who were able to get it but they fought for it with good reasons and intentions.
Good luck on your trip and whatever you need with your travels, you know where to find me!
Xx,
Trisha
Can I stay more than 180 days in Mexico?
Staying in Mexico for more than 180 days requires a different type of visa. I've been living in Mexico for the past 3 years and I've applied for 2 visa types:
(1) Mexico Digital Nomad Visa which is also known as the non-lucrative visa. Meaning, you have to prove that you are earning $2,000 USD per month from a company outside of Mexico. This is usually for entrepreneurs, digital nomads, or retirees.
(2) The regularization program of Mexico started this year. People also call it the pandemic visa. Meaning, if you got 'trapped' in Mexico from 2019-2000 and you can prove that your country is still closed, you can apply for this visa without proving that you are earning $2,000 USD per month.
🛂 If you want me to connect you with a trusted lawyer in Mexico, fill out the form on my contact page.
View this post on Instagram
I was granted a 4-year residency visa in Mexico under the regularization program because I entered Mexico in December 2019. I also proved that my home country, the Philippines is still closed.
Up until today, the Philippines have very strict COVID restrictions, and some parts of Asia are still closed so I was able to have this as a backup.
Of course, I also had a Mexican immigration lawyer by my side which made it all easier.
Can I stay in Mexico for 6 months?
Citizens who don't need to apply for a visa to enter Mexico are automatically given 180 days Mexican tourist visa however, that changed two weeks ago.
FYI, the 180-day Mexican tourist visa or what we call FMM (forma migratoria múltiple) is not valid for 6 months but 180 days. Tourists often lose count of their visas since they are counting the months, not the days.
What happens if I stay in Mexico more than 6 months?
When you overstay your tourist visa in Mexico, you will be charged around $25 USD. Many foreigners do this because it's not that expensive to pay for it.
View this post on Instagram
But then again, this is the old way and this might change since immigration laws have changed in the country this year. I know a few people who overstayed in Mexico and were given fewer days of visas when they came back.
I will update this article as soon as I have news. My lawyer regularly updates me on immigration laws.
☕ Support this blog's honest and transparent journalism. Help us add value to our content! Keep P.S. I'm On My Way content free for all by donating to our coffee fund.
180 days Mexican tourist visa: is it dead?
2 weeks ago, when I first read in our groups that tourists are given 10 days. At first, the posts and sharing were from 1-2 people but as days passed by, I kept reading the same thing from different people!
Before receiving my temporary resident visa in Mexico, I used to enter Mexico every 6 months. That didn't really give me any problem since it was between 2018-2019. The process was smooth and like everyone else, regardless of my nationality, I was given 180 days.
That's when I knew that it was official. You won't automatically get 180 days Mexican tourist visa upon entry. With this, I talked to my lawyer and consulted since the INM website did not give any information about it.
First, my lawyer discussed that there are many undocumented Americans and Canadians in Mexico. Most of whom are running businesses here without legal permits.
For example, you don't really need a residency visa in order to rent an apartment in Mexico. These apartments are converted into Airbnbs and foreigners who own them just go out of Mexico every month to renew their tourist visas. They are automatically given 180 days anyway – easy peasy.
This is not just the case for Airbnb owners but the same goes for everyone who just wants to make Mexico their base – digital nomads, entrepreneurs, backpackers, etc – the tourist visa is easy which makes Mexico one of the most convenient vacation spots in the world. Long-term travel also became popular during COVID.
Second, since many Latin American economies are down, everyone comes to Mexico to travel and work but is not doing proper documentation.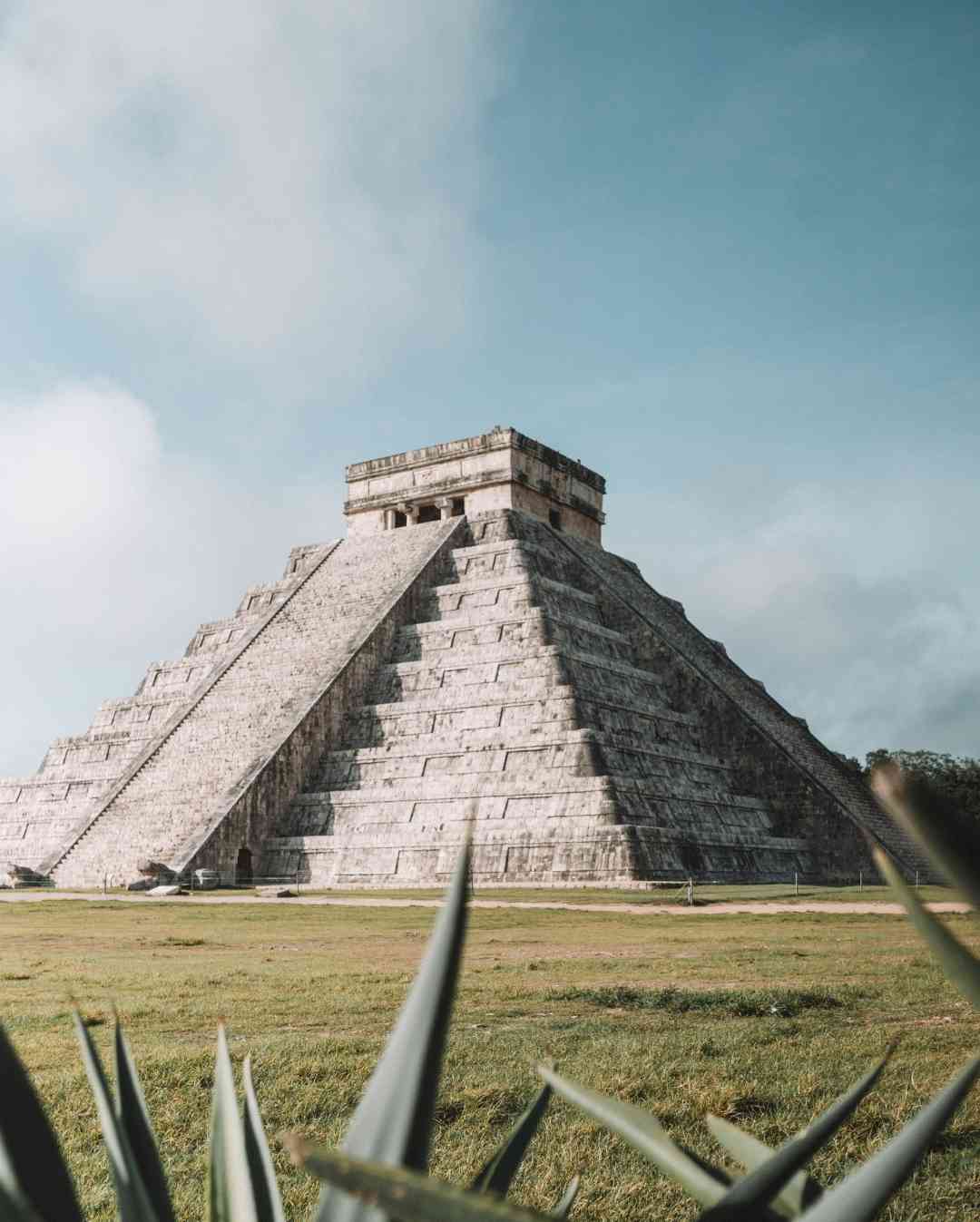 I knew about this in 2019 when INM had random checkpoints in Sayulita, the town I was living in at the time. I was driving my golf cart from the beach with my dogs so they didn't stop me because it was obvious that I lived there. I can also pass to be a Mexican.
The following day, I drove the same route to the beach but this time, with a friend visiting from Colorado. They stopped us and asked for both our documentations.
We didn't bring our documents because who brings their FMMs and passports to the beach?! The INM officer told us that we should call someone to bring our documents to the checkpoint otherwise, they wouldn't let us go. It was insane!
I had to call a friend to go to my house and go to my friend's Airbnb to get the documents. We waited about 30 minutes just sitting there. I also saw a lot of people who were crying because they had expired FMMs and they are being deported.
In another odd instance that same year, I was in Cancun on board a van to Tulum when we were stopped by the INM. I had my documents with me but they didn't even ask me because they were particularly looking for Americans, Canadians, and Argentines.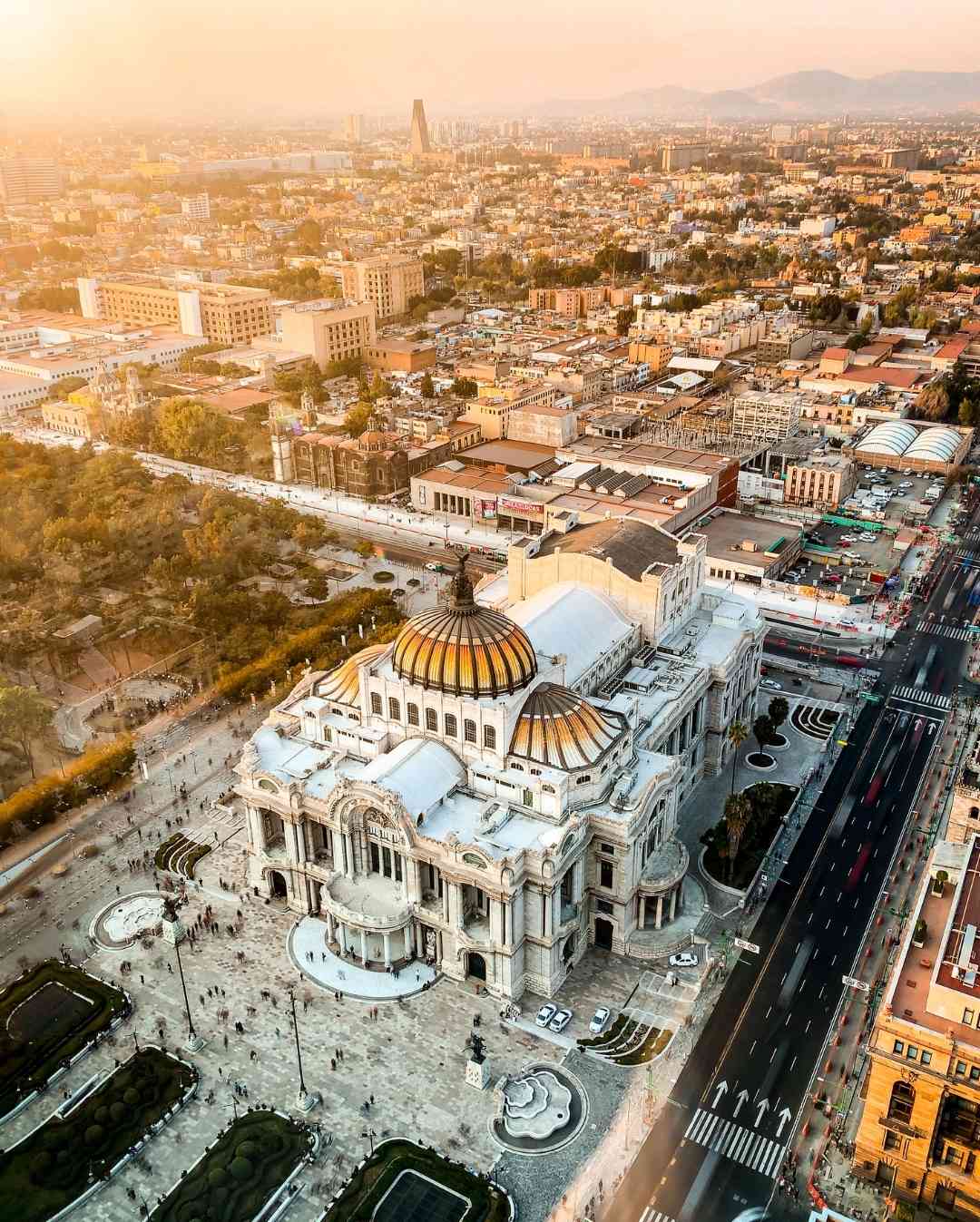 Which I found strange because I can be American for all they know but they skipped me. A friend from the UK was with me and they checked her as well. In both instances, I was still on a tourist visa and thankfully, it wasn't expired.
In the third instance, I was stopped with an expired FMM card. I was super scared but it was at the time when the INM was so lenient because it was the beginning of COVID (April 2020).
They looked at my expired FMM and asked why my visa was expired. I told them that the Philippines was closed and I couldn't go back. I was ready to dial my Mexican immigration lawyer in case it turns into a shit show but they didn't really care and they let me go.
Do Americans still get 180 days Mexican tourist visa?
It may look like they are very particular with nationalities at the time but things have changed since then. Right now, everyone is checked in detail no matter what passport you are holding.
When I saw that people are getting 5-day or even 3-day visas in Mexico, I thought it was just the mood of the officer. They also give different days on land border crossings vs if you arrive at an airport which was normal for Mexico immigration.
View this post on Instagram
I thought the less than 180 days Mexican tourist visa only happens on the land borders (i.e. Tijuana) but now, it happens in all entry points of Mexico, be it land or air.
My lawyer said that this rule change does not have a concrete explanation but it really depends on the immigration officer. There are many Americans who are living here on tourists visas. I even know a lot who have been here for more than a decade illegally. The numbers are insane!
How can I extend my tourist visa in Mexico?
The process of extending a tourist visa in Mexico used to be very easy. You just go to the INM and say you want to extend your tourist visa. You pay a fee then they will give you extra days.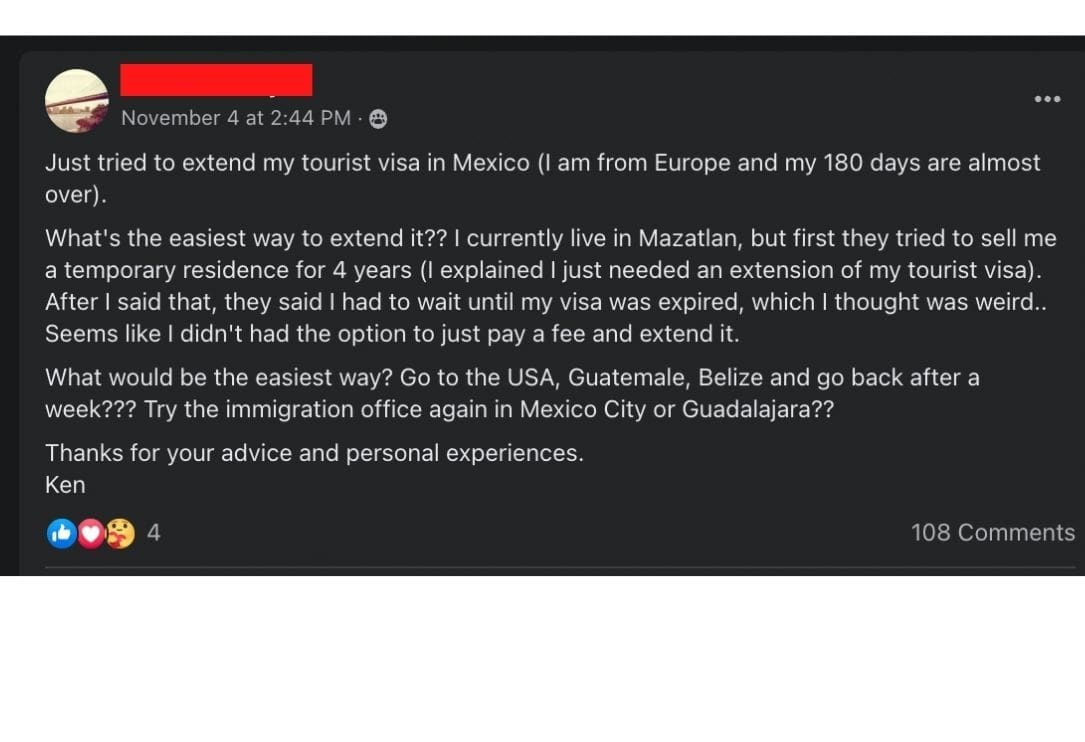 At present, I've seen many friends who have failed in extending their tourist visas. The INM is being hard on it and I have not heard of anyone who has successfully extended it. I will let you know when I hear more stories!
Tips on getting a 180 days Mexican tourist visa: what to present at immigration
Many people I know who were given only 5 days of stay in Mexico told me that they appealed to the immigration officer by showing the following documents:
Hotel booking/reservation and outbound flights
Even if you booked on VRBO or Airbnb, you should have a PDF copy of your booking reservation on your mobile phone. Print it if you want to but a digital copy is sufficient.
If you were given a 5-day visa for a 10-day vacation, your booking will show it and they will give you more days. Remember that a confirmed booking means that you already paid for the hotel and that you are spending money in Mexico. They like that.
They also used to not ask for outbound flights but now you need a return ticket in order to enter Mexico. Make sure to have that handy, too.
I know someone who rented an apartment in Mexico City for 6 months and when he showed that rental contract or payment receipt, they gave him 180 days.
If staying with a friend, show your friend's contact details and ID
I have a friend from San Francisco who is staying with me right now and all she did was present my residency ID card, my address, and my phone number.
She told them she's staying with me for two weeks and they gave her a one-month visa. Of course, if your friend is not a documented/legal resident of Mexico, then don't mention anything about that friend because they might get into trouble. Only use contacts that have residency ID cards.
Be persistent
If you are given fewer days and you need to stay more, talk to the immigration officer and insist that you have a booking and a return flight.
Most people don't even insist on the immigration officer since they know they only need to pay $25 USD for overstaying but as I told you, that rule can change anytime and you don't want to be caught in that situation!
Also, look at the FMM card where they write the number of days before you leave the immigration counter.
Overall, there is still no concrete explanation on why the 180 days Mexican tourist visa is not a thing anymore but this article just wishes to inform you on what to expect, especially if you are used to receiving that number of days.
Many Americans and Canadians plan their trips here for 6 months without knowing they will not get those 180 days anymore. Good luck and share your stories on the comment box below!
180 days Mexican tourist visa on Pinterest: save it for your trip!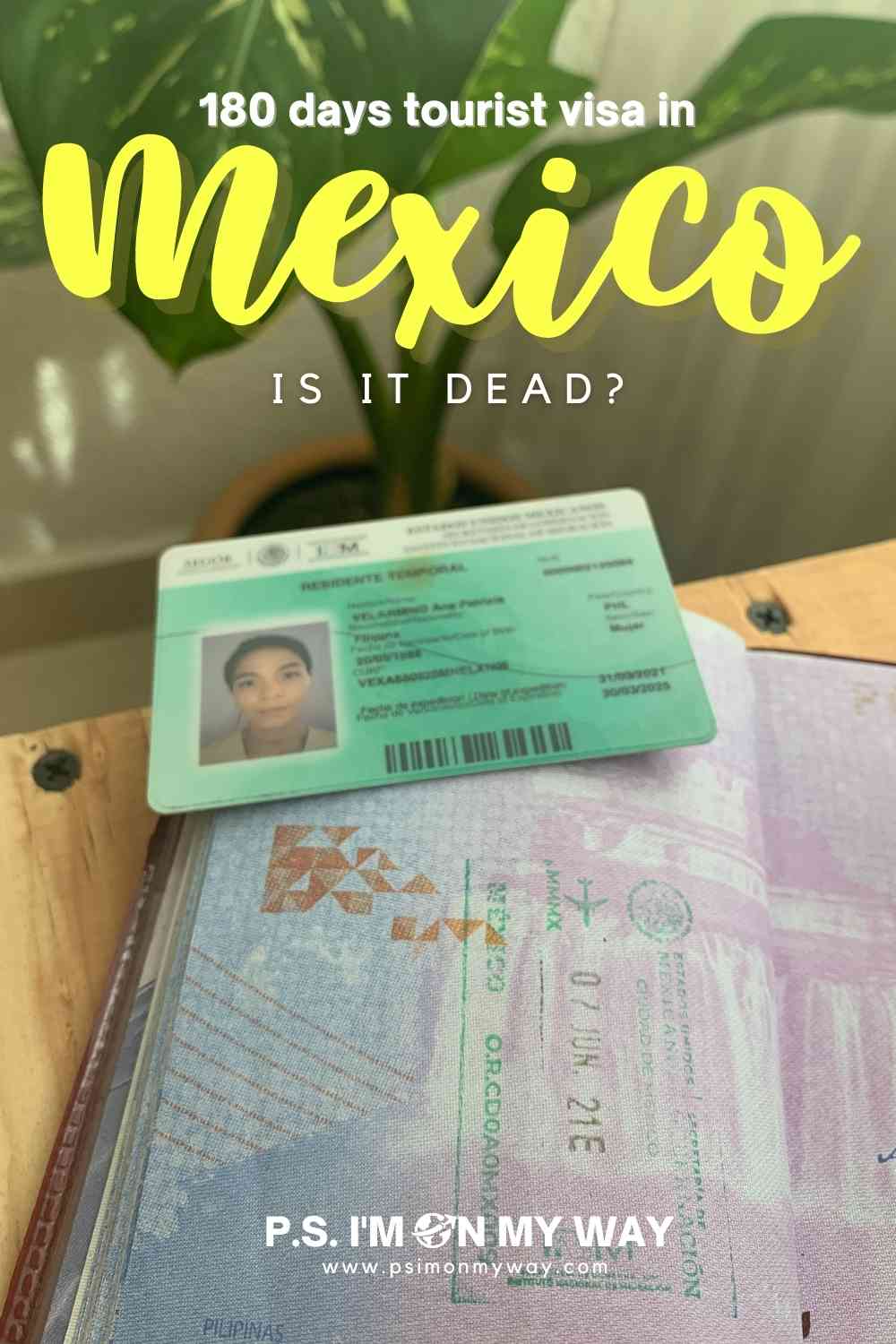 Trisha is one of those people who left their comfortable life to travel the world and learn about life. Her style is to stay in one place she likes for 3 months (or more) to know what it feels like to eat, cook, speak, and sleep in another culture that isn't hers. She'd like to believe she's not traditionally traveling but she just chooses to be somewhere else all the time. In no particular order, her favorite cities in the world are Barcelona, Buenos Aires, Hong Kong, Mexico City, and Tel Aviv.